Labor Day at a Snail's Pace
John Hamann's Weekend Wrap-Up
August 30 - September 2, 2002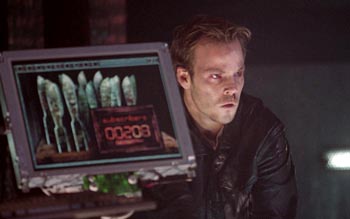 After a small film like Jeepers Creepers set a Labor Day box office record last year, one might think that Hollywood would muster its troops for the long weekend, but that wasn't the case this year. The lone new release was again a horror flick, this time feardotcom, but the marketing failed to inspire moviegoers. Labor Day Weekend 2002 was about smaller fare from smaller studios, as The Good Girl and One Hour Photo were able to take advantage of the slow weekend.
Labor Day weekend has always been an off weekend for studios. Because they feel that school is starting and the strongest movie-going demographic has other things on their minds, the studios tend to ignore the first weekend in September. While it is true that openers have never really clicked over this weekend, that thinking should have changed after 2001, when the little MGM movie, Jeepers Creepers, managed a $15.83 million open. The studio had a movie with no stars and a questionable-at-best trailer, but still managed to open it quite well, making its $10 million budget back in less than three days. This year, the lone new release is feardotcom, again a horror flick, but this time a much darker and foreboding picture. Audiences clicked on Jeepers because it was perceived as much lighter fare, a good time at the movies; feardotcom looks like an exercise in pain. When will the studios realize they are wasting a weekend? Quality, well-marketed films work at any time of year, and yet this weekend continues to be ignored.
<% sqlstr = "SELECT * FROM box WHERE" sqlstr = sqlstr + " movie like 'Jeepers Creepers' OR" sqlstr = sqlstr + " movie like 'O' OR" sqlstr = sqlstr + " movie like 'Crow: City of Angels' OR" sqlstr = sqlstr + " movie like 'First Kid' OR" sqlstr = sqlstr + " movie like 'Highlander: Endgame' OR" sqlstr = sqlstr + " movie like 'Chill Factor' OR" sqlstr = sqlstr + " movie like 'Outside Providence' OR" sqlstr = sqlstr + " movie like 'Knock Off' OR" sqlstr = sqlstr + " movie like 'Fire Down Below'" sqlstr = sqlstr + " ORDER BY open DESC" max = 100 header = "Labor Day Weekend Openers Chart" tstyle = "release" skin = "bop" x = Drawtable(sqlstr,max,header,tstyle,skin) %>

There was hope that indie release My Big Fat Greek Wedding might be able to take the box office crown this weekend, but it wasn't to be. Signs reigned again, taking the first place crown by a fair margin. The M. Night Shyamalan film grossed $16.51 million over the four day holiday weekend, an increase of 15.58% compared to last weekend's three-day gross of $14.29 million. Still ultra-wide on 3,437 screens, Signs had a less-than-stellar venue average of $4,804. The total for the alien invasion flick stands at $195.1 million, with the $200 million mark in range for next weekend.
Signs may have grossed more than My Big Fat Greek Wedding, but for exhibitors, the IFC film is the winner this weekend. MBFGW grossed $14.6 million this Labor Day weekend, continuing its unorthodox assault on the box office. In this holiday frame, Greek Wedding added 293 screens to its run, bringing the total in its 20th weekend to 1,619. That equates to a venue average of $9,018, its best average so far, although it was aided by the extra day. The total for Joel Zwick-directed comedy is now $82.3 million, definitely headed for $100 million, with the only question now being how far beyond the century mark it will go. Produced for only $5 million and helped along by a marketing budget about three times its size, Greek Wedding is shaping up to be one of the best investments ever in Hollywood, á la The Blair Witch Project and El Mariachi. Let the Oscar campaign begin.
Third spot goes to xXx this weekend, as the Vin Diesel romp scored $13.1 million in its fourth weekend. Still the widest film in release with 3,536 venues, xXx scored a not very good average of $3,704. Down 1.2% compared to the three-day frame last weekend, it begs the question of where xXx would have ended up if there had been any competition at all for its demographic. The total for the Sony release stands at $123.9 million; the high end estimate for the total is $150 million.
Fourth this weekend is Spy Kids 2, the only legitimate kid fare on the chart this week. The Dimension release scored $7.3 million in its fourth frame, down 3.8% from its gross last weekend. Its total has now hit $69.1 million, with another $20 million still to come.
The lone new release this weekend, feardotcom, lands in fifth. The folks at Warner Bros. should have sent this one straight to home video, but instead will trade for a four-day $7.12 million opening weekend and a final gross that will most likely end up at less than $15 million. Stephen Dorff has equated his name with box office poison this summer, after opening the oft-delayed Deuces Wild in May to only $2.7 million. feardotcom had hideous CinemaScores, some of the worst that I have ever seen. The overall score was the little seen F, with the highest ranking coming from males under 21; they gave a C-. Reviews were just as bad. Rotten Tomatoes collected 36 reviews of this stinker and only <b>two</b> - yes two - were positive. For those of you still playing along at home, that's a Fresh rating of only six percent.
Austin Powers in Goldmember moved from seventh last week to sixth this weekend with a four-day gross of $7.08 million, proving just how slow it is at the box office. Nobody is complaining at New Line, as APinG has now crossed the $200 million line with a total gross so far of $203.5 million. Surprisingly, Goldmember is going to gross more than the first sequel in the series did; The Spy Who Shagged Me crossed the $200 million mark in its tenth weekend and had a final total of $206 million. Look for Goldmember to get to at least $215 million.
Seventh is Universal's Blue Crush, a film that never quite caught on like the studio was hoping. Blue Crush grossed $5.36 million over the four-day holiday weekend, down 18% from last weekend's gross. The total for the surfer girl pic stands at $34.5 million.
Eighth goes to Serving Sara, the only film from last weekend's trio of new releases to hang onto a top ten slot. The Matt Perry/Liz Hurley comedy grossed $4.2 million in its second week, and should be off the chart come next weekend. Its gross so far has reached $11.8 million, which isn't the end of the world, considering the production budget was only $20 million.
Ninth spot goes to the smart folks at Fox Searchlight. Taking a very interesting approach to the long weekend, the folks at Fox Searchlight dramatically expanded The Good Girl to 667 venues, bringing with it a gross of $3.6 million. The studio behind such successful art-house fare as The Full Monty expanded The Good Girl after the Jennifer Aniston flick grossed $1.46 million from only 188 screens last weekend. Did they ramp up the platform release too quickly? Girl eked out a screen average of $5,397, and has now grossed $7.3 million.
Tenth goes to another film that had exited the top ten, only to make a repeat appearance. Road to Perdition, a film that I said wouldn't make it to $100 million, now has. RtP had a four-day gross of $3.34 million, bringing its total to $99.1 million. Perdition was up 22% from its gross of $2.72 million last weekend.
Out of the top ten this week are two of last week's new releases, Undisputed and S1m0ne, along with Clint's Blood Work. Stepping up to the plate next weekend are Robert DeNiro in City by the Sea and the teen suspense flick, Swimfan.
Overall this weekend, box office was quite soft. The top ten could only gather $82.21 million over the four-day weekend, which compares badly with last weekend's three-day gross of $71.44 million, given the extra day.
Top 12 for Weekend of August 30 - September 2

Rank

Film

Number of Sites

Change in Sites from Last

Estimated Gross ($)

Cumulative Gross ($)

1

Signs

3,437

-16

16.51

195.05

2

My Big Fat Greek Wedding

1,619

+290

14.60

82.35

3

xXx

3,536

-19

13.10

123.87

4

Spy Kids 2: The Island of Lost Dreams

3,250

-57

7.30

69.08

5

feardotcom

2,550

New

7.12

7.12

6

Austin Powers in Goldmember

2,506

-299

7.08

203.48

7

Blue Crush

2,820

-195

5.40

34.50

8

Serving Sara

2,174

+20

4.2

11.76

9

The Good Girl

667

+479

3.60

7.34

10

Road to Perdition

1,763

-100

3.30

98.40

10

One Hour Photo

164

+157

3.30

3.84

12

Undisputed

1,117

+15

3.10

9.00