Reese Witherspoon Kicks
Jackie and Julia's Asses
John Hamann's Weekend Wrap-Up
September 27 - September 29, 2002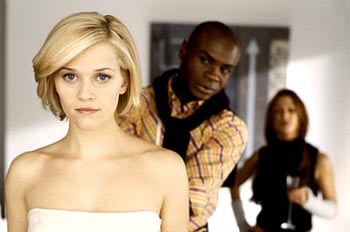 It's not often that Jackie Chan gets the crap beat out of him but it happened twice this weekend, both times by Reese Witherspoon. Sweet Home Alabama didn't need a magic suit to trump Jackie Chan's The Tuxedo; instead it needed a sure-fire marketing campaign, a huge screen count and the woman that will probably be the It Girl for the next decade. Reese also beat Jackie in the record-September-gross department. Sweet Home Alabama became the number one opener ever in September, beating Jackie's $33 million open with the original Rush Hour by a landslide.
Poor Julia Roberts. The queen of the romantic comedy must be having a sad day today, as poor Julia has lost a few box office records that used to belong to her. Runaway Bride has had the top opening weekend for a rom-com since July 1997, when that film opened to $35.1 million, but it no longer holds that record. Runaway Bride was also Julia's biggest opening (the Ocean's 11 ensemble piece excluded), and now Sweet Home Alabama has crushed that figure. In fact, the only female star-driven pics to open bigger than Alabama are Charlie's Angels ($40.13 million) and Tomb Raider ($47.73 million). Julia had better watch out, because Reese Witherspoon's resumé is going to read as follows: Legally Blonde, Sweet Home Alabama, and Legally Blonde 2, which opens July 4, 2003. MGM, the owner of the Legally Blonde franchise, must be very happy today.
Sweet Home Alabama is the number one film this weekend by a long shot, as the rom-com opened in a huge amount of venues: 3,293, again a record for a romantic comedy. Sweet Home Alabama managed to gross $37.5 million over the weekend, setting a record for September opening weekends. The film to beat was the 1998 release of Rush Hour, which grossed $33 million during its debut. Alabama had a fantastic screen average of $11,388, making excellent use of its powerful screen count.
What happened? Why did this obviously light and contrived tale draw such a large audience? As usual, it comes down to marketing and timing. While box office hasn't been making headlines the last few weeks, it hasn't been completely terrible. Usually the box office is extremely slow the weekend before a breakout hit, but over the last few weeks we have had great successes from My Big Fat Greek Wedding, Barbershop and even, to a lesser extent, The Banger Sisters. However, look at the target demographic for those films: older, urban, and older, respectively. Along comes Reese and Sweet Home Alabama, which has presented itself in front of female-oriented films like Greek Wedding and The Banger Sisters. It has filled a niche for the younger female, often a very under-estimated portion of the movie-going world (remember Titanic?). The marketing then took over, making the film look light and fun. It all adds up to a coup for Buena Vista, which is coming off a huge hit with Signs.
As Julia Roberts knows, thanks to Runaway Bride, Sweet Home Alabama is the perfect example of a film that doesn't need good reviews to open huge. Reviews at Rotten Tomatoes were rotten; of the 92 reviews received by the site, only 33 were positive, for a Fresh percentage of only 36%. None of that matters, as audiences are the big critics on a film like this. CinemaScores were fantastic. The all-important under-21 and 21-34 female demographic gave Alabama its best mark, an A, which should make the comedy a widely-discussed film at work and school on Monday morning. All the other demographic sets gave an A-, making the average grade an A-. Buena Vista could not ask for better news than this. I expect that this film will become Reese's biggest hit, overcoming Legally Blonde (which grossed $96.5 million overall) in about three weeks.
The number two film this week was The Tuxedo, which didn't do too badly but came nowhere close to Sweet Home Alabama's success. Starring Jackie Chan and Jennifer Love Hewitt, The Tuxedo also opened on an ultra-wide 3,022 screens, and grossed $15.1 million. It ended up with a not-bad screen average of $4,997. Jackie doesn't often open his films in this middle success range; usually his films are either über-successes like the Rush Hour franchise, or big North American misses like Mr. Nice Guy and Operation Condor. Shanghai Noon is probably the most comparable box office-wise, as that film opened to $19.7 million. Critics hated The Tuxedo, as it only garnered 18 positive reviews out of a possible 90, for a very low Fresh rating of 20%. CinemaScores were better, averaging a B; however, with this type of film, the fan-base comes out on opening night, when the CinemaScores are tallied. This leads to A-minuses from both sets of under-21s and only C-plusses from the over-35 set. The Tuxedo will have a tough row to hoe in the next few weeks.
It was a close race for third, as Barbershop tussled with My Big Fat Greek Wedding for the bronze. Barbershop snuck into third this weekend, and still had a fantastic hold when comparing the gross to last week. The Ice Cube flick grossed $10.1 million in its third weekend of release, losing only 21% of its audience. The much-talked-about "controversy" in the film may have helped the hold, but I'd say it's rather a good expansion of a good film. Barbershop found 157 more venues this weekend, bringing its total to 2,051 and giving it a screen average of $4,924. Barbershop now has a total of $51.4 million, as Ice Cube looks to beat his grosses from Anaconda ($65.6 million) and Three Kings ($60.7 million).
The unstoppable My Big Fat Greek Wedding grossed $9.8 million this weekend, good enough for fourth place. More impressively, this is a 0% drop-off from last weekend. Greek Wedding is running out of theaters into which it can expand, as the IFC film actually lost 12 venues this weekend. This marks the first time it's decreased its venue count in the last 11 weeks. Its screen average this week was $5,323, and its total after 24 weeks has now hit a remarkable $137.0 million. Below is a list of venerable films that Greek Wedding has passed in terms of total gross.
<% sqlstr = "SELECT * FROM box WHERE" sqlstr = sqlstr + " movie like 'Godzilla' OR" sqlstr = sqlstr + " movie like 'Patch Adams' OR" sqlstr = sqlstr + " movie like 'Lara Croft: Tomb Raider' OR" sqlstr = sqlstr + " movie like 'Minority Report' OR" sqlstr = sqlstr + " movie like 'Flintstones, The' OR" sqlstr = sqlstr + " movie like 'American Beauty' OR" sqlstr = sqlstr + " movie like 'Crouching Tiger, Hidden Dragon'" sqlstr = sqlstr + " ORDER BY open DESC" max = 100 header = "Greek Wedding Roadkill" tstyle = "release" skin = "bop" x = Drawtable(sqlstr,max,header,tstyle,skin) %>


Fifth is where the good box office weekend goes bad. The middle mark goes to The Banger Sisters, which couldn't hold much of its $10 million open from last weekend. The chick flick grossed $5.4 million, losing an alarming 46% of its opening weekend audience. IMDb lists the budget for Banger at only $10 million, but I can only imagine that Goldie Hawn and Susan Sarandon traded in their up-front costs for a portion of the backend of this flick. Hopefully for them it's a large portion of the backend, as the gross stands at $18.8 million with chances of its passing $30 million quickly going by the wayside.
Finishing in sixth is The Four Feathers. Supposedly made for $35 million, Feathers is starting to look like a big loss for the folks at Paramount. This weekend the epic grossed a low $3.6 million, dropping 48% of its audience compared to last frame, even though it added 275 venues. Its total of 2,187 venues gives it a lame-duck screen average of $1,646, and its total stands at $12.4 million.
Coming in seventh is Robin Williams in One Hour Photo. The once super-hot indie is now hemorrhaging its audience base. Last week the thriller grossed $4.6 million, while this weekend it lost 35% by grossing only $3.0 million. This all may seem like bad news, but it really isn't. One Hour Photo has now grossed $26.1 million against a cost of only $12 million.
Eighth is where the box office really starts to suck, as the next three flicks on the list couldn't muster more than $3 million. Holding down the eighth position is Ballistic: Ecks vs Sever. If you think the title is bad, I dare you to see the movie; it's much worse. Ballistic grossed $2.7 million this weekend, dropping a huge 62%. The worst thing about this flick is going to be its balance sheet. The film cost $70 million and has only grossed $11.5 million after ten days. Ballistic will be lucky to reach $15 million, which is little better than 20% of the cost (not including marketing). Yeesh.
Next up in ninth we have Signs, whose $2.3 million gross this weekend doesn't really suck as the movie enters its ninth weekend of release. The Mel Gibson/Joaquin Phoenix flick has now grossed $221.1 million.
Rounding out the top ten is another classic, Swimfan. Gross this weekend: $1.52 million. Total: $26.6 million.
Out of the top ten this weekend are Stealing Harvard and Trapped, two films that didn't really belong there anyway.
On this weekend last year, three new films opened: Don't Say a Word, with Michael Douglas; Zoolander, with Ben Stiller; and Hearts in Atlantis, with Anthony Hopkins. Combined, the three flicks opened to $41.6 million, very close to what Sweet Home Alabama found this year. Beyond the openers, there was very little success last year. The top ten grossed $61.2 million, which compares with the $91.0 million the top ten managed this year. That's an increase of over double last year at this time, and things should get even better next weekend, when the Red Dragon open is combined with the second weekend of Sweet Home Alabama.
Two new films enter the marketplace next weekend. The expected blockbuster will be Red Dragon, the new Hannibal Lecter flick with a much better cast than Hannibal. The other opener with a shot at the top ten is a strange little religious film called Jonah: A VeggieTales Movie. No really, I'm not kidding. Other films with a shot at the top ten could be Spirited Away, the new animated film from Japan, which looks a lot like Princess Mononoke, and Moonlight Mile, which opened this weekend in limited release. Check out BOP's release schedule for more information on these films.
Top 12 for Weekend of September 27 - 29, 2002

Rank

Film

Number of Sites

Change in Sites from Last

Estimated Gross ($)

Cumulative Gross ($)

1

Sweet Home Alabama

3,293

New

37.5

37.5

2

The Tuxedo

3,022

New

15.1

15.1

3

Barbershop

2,051

+157

10.1

51.4

4

My Big Fat Greek Wedding

1,841

-12

9.8

137.0

5

The Banger Sisters

2,738

No Change

5.4

18.8

6

The Four Feathers

2,187

+275

3.6

12.4

7

One Hour Photo

1,303

-29

3.0

26.1

8

Ballistic: Ecks Vs. Sever

2,705

No Change

2.7

11.5

9

Signs

1,783

-555

2.3

221.1

10

Swimfan

1,840

-732

1.5

26.6

11

Stealing Harvard

2,323

-43

1.5

12.7

12

Trapped

2,227

No Change

1.5

5.7