Barbershop Severs Feathers and Sisters
John Hamann's Weekend Wrap-Up
September 20 - September 22, 2002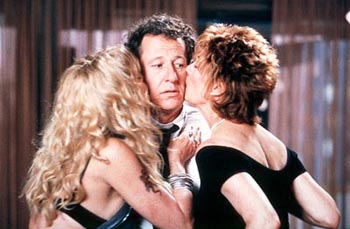 You know it's slow at the box office when MGM has the first place film two weeks in a row. Yes, four new releases hit the charts this weekend to varying degrees of success, but none of them could challenge Ice Cube's Barbershop, which had a surprise $20 million opening last weekend. With four new entries, almost all of the holdovers from summer have slid off the chart, leaving us with the rabble of the September movie season.
Last week, Barbershop surprised and set the screen-average record for the month of September. This week we have a record going the opposite way. Sony's Trapped became the lowest-grossing September release that debuted on more than 2,000 screens. Only a few months ago, Sony was trumping MGM's Crocodile Hunter: Collision Course with Men in Black II, and now MGM's Barbershop has beaten up on two Sony pictures; this week's Trapped and last week's Stealing Harvard. Barbershop is in no way going to save the deplorable year that MGM has had, but it does take a bit of the bite off the financial sheet, as the Ice Cube pic cost only $12 million to produce.
Top spot on the chart this weekend goes again to Barbershop, another September little-film-that-could scenario. Barbershop added 289 screens to its run this weekend, bringing the total screen count up to 1,894, as MGM added some new markets for this urban release. The ploy worked, as Barbershop grossed $13.3 million this weekend to remain in first place, but the key factor is that the comedy only lost 35% of its audience. Other urban-targeted films have been front-loaded, meaning the second weekend often drops by more than 50%. Some examples: All About the Benjamins opened above $10 million, but dropped 50% in its second weekend; Next Friday grossed over $16 million in its opening weekend, but dropped 53% in the next frame; and Martin Lawrence's Runteldat dropped 58% in its second weekend. Barbershop may have also been front-loaded, but MGM has taken steps to reduce the carnage here in the second weekend.
Playing on 1,894 screens, Barbershop had a stellar second-week screen average of $7,022, still the best in the top ten this week. Where is Barbershop headed? Another MGM flick, Stigmata, opened to a similar number in September 1999, and ended up with a little over $50 million, although it debuted on twice the number of screens. If MGM can continue to find new markets for Barbershop, and keep the week-to-week drops down, this film has a shot at $60 million plus.
Second spot this weekend goes to The Banger Sisters, the new comedy aimed at the older market. The Susan Sarandon/Goldie Hawn flick could only muster $10.3 million this weekend from 2,736 screens, good for a venue average of $3,765. The folks at Fox probably would have had a bigger gross this weekend if My Big Fat Greek Wedding hadn't ruled the roost for the last month. The older demographic doesn't get out to as many movies as the 19-25 set does. With Wedding, Signs and One Hour Photo dominating that market, it's tough to make a splashy debut on opening weekend.
Reviews aren't going to save The Banger Sisters. Rotten Tomatoes compiled 90 reviews for the Fox film, with 48 positive and 42 negative. CinemaScores were better, as the average score was a B+. Surprisingly, the best score came from males under 21, who scored the film an A. The key 35+ female demographic gave the lowest female rating, a B+, which I'm sure will disappoint the distributor.
Third spot continues the roll of My Big Fat Greek Wedding. The IFC film found another 89 venues this week, bringing the count up to 1,853 in its 23rd weekend of release. My Big Fat Greek Wedding grossed $10.0 million this weekend, garnering a screen average of $5,397. In terms of total box office, Wedding passed another successful 2002 summer release, The Bourne Identity, and will pass Mr. Deeds this week, as the Nia Vardalos comedy brought its gross up to $124.3 million. Below is a chart of some other successful releases Wedding has passed.
<% sqlstr = "SELECT * FROM box WHERE" sqlstr = sqlstr + " movie like 'Nutty Professor %' OR" sqlstr = sqlstr + " movie like 'Erin Brockovich' OR" sqlstr = sqlstr + " movie like 'Bourne Identity, The' OR" sqlstr = sqlstr + " movie like 'Sum of All Fears, The' OR" sqlstr = sqlstr + " movie like 'Big Momma%'" sqlstr = sqlstr + " ORDER BY open DESC" max = 100 header = "My Big Fat Greek Wedding Conquests" tstyle = "release" skin = "bop" x = Drawtable(sqlstr,max,header,tstyle,skin) %>
Fourth spot this weekend goes to another new release. This time it's Paramount's The Four Feathers, with hot, young Hollywood stars Heath Ledger, Kate Hudson and Wes Bentley. Paramount decided against a slower platform release, heaving Feathers out onto 1,912 screens in its debut weekend. The result was a somewhat-soft $7.1 million open, good for a screen average of $3,713. Feathers had a rough-and-tumble production phase that started way back in October 2000; the shoot endured horrible weather and a horse accident that injured six people. For a period piece like this to work on some level at the box office, reviews have to be stellar, and in this case they just aren't. Rotten Tomatoes counted 99 reviews and only 41 are positive.
Ballistic: Ecks vs Sever was only able to muster a tie for fourth with The Four Feathers, even though it's the only testosterone-filled action movie in the top ten. Ballistic sold $7.1 million worth of admissions this weekend from 2,705 venues, giving it a screen average of $2,625. Much more dramatic than its gross was its Fresh rating at Rotten Tomatoes. Sixty-four reviewers chimed in at RT, and not a single critic gave it a positive review, resulting in - yes, you guessed it - a Fresh rating of 0%. Even Battlefield: Earth got four positive reviews. I'm sure there is more entertainment in reading those reviews than seeing this film.
Sixth is One Hour Photo from Fox Searchlight. One Hour has had a rocky ride over its five weeks of release, as it's gone from indie darling to a big percentage loser, and then back to indie darling. One Hour dropped hard again this weekend, grossing $4.7 million from a still-slight 1,332 screens, giving it a venue average of $3,529. I can only imagine what a Patch Adams fan thinks of One Hour Photo, as Robin Williams loses his cuteness and dons a mask of terror in this release. One Hour now has $21.8 million in the bank, but will probably top out at around $30-35 million.
The early August release Signs falls only from sixth to seventh place this frame, even with the entry of four new wide releases. The Mel Gibson film dropped 35% this weekend, grabbing a weekend gross of $3.5 million. The total for the Touchstone release has now hit an impressive $217.9 million.
Also tying for seventh this week is last weekend's dog, Stealing Harvard. The Tom Green flick grossed $3.5 million in its second weekend, dropping 42%. Its total stands at $10.8 million.
In ninth this week is Swimfan, the teen suspense flick from Fox. In its third (and most likely last) weekend on the chart, Swimfan grossed $3.4 million from 2,573 venues. Its total has now hit an unexciting $24.4 million, considering it spent its debut weekend at the top of the chart.
Finishing tenth is Trapped, and as I mentioned before at the top of this column, this film sets a new low for a wide release debuting in September. The Kevin Bacon/Charlize Theron flick grossed an embarrassing $3.2 million from 2,227 venues, for a bad venue average of $1,437. Trapped wasn't screened for critics. Sony/Columbia made the excuse that the content of the film covered child abductions; to quote a Reuters story on the subject, "Executives reportedly were more concerned about appearing to capitalize on the recent string of real-life kidnappings". Well, on Sunday morning, reviews at Rotten Tomatoes were one good vs. nine bad. On the other hand, CinemaScores were fair, averaging a B-, with the worst grade coming from females over 35, who gave the film a C.
Out of the top ten this weekend is City by the Sea, the quickly-fading DeNiro flick. Also out of the top ten are Austin Powers in Goldmember, Spy Kids 2, and Vin Diesel's xXx. Sweet Home Alabama debuts next week and should have a good shot at being number one, along with the odd pairing of Jackie Chan and Jennifer Love Hewitt in The Tuxedo.
Overall this weekend, the box office was able to crank up $62.7 million. Compared to last year's same-weekend disastrous gross of $39.2 million, this weekend shows an increase of 60%. What happened last year? Glitter and The Omega Code 2 were the only new releases and both failed to reach the top ten. It was ugly. For information on what's coming up in the movie world, make sure you click here for BOP's upcoming release schedule.
Top 12 for Weekend of September 20 - 22, 2002

Rank

Film

Number of Sites

Change in Sites from Last

Estimated Gross ($)

Cumulative Gross ($)

1

Barbershop

1,894

+289

13.3

38.9

2

The Banger Sisters

2,737

New

10.3

10.3

3

My Big Fat Greek Wedding

1,853

+89

10.0

124.3

4

The Four Feathers

1,912

New

7.1

7.1

4

Ballistic: Ecks Vs. Sever

2,705

New

7.1

7.1

6

One Hour Photo

1,332

+120

4.7

21.8

7

Signs

2,338

-713

3.5

217.9

7

Stealing Harvard

2,366

No Change

3.5

10.8

9

Swimfan

2,573

-287

3.4

3.4

10

Trapped

2,227

New

3.2

3.2

11

City by the Sea

2,150

-425

2.0

20.2

11

xXx

1,891

-880

2.0

138.3