Movies Not Important This Weekend
John Hamann's Weekend Wrap-Up
September 16, 2001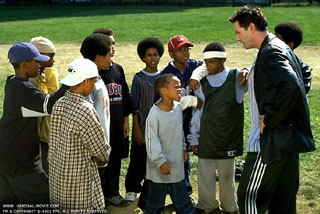 In respect to the lives lost on the US East Coast, the Weekend Wrap-Up will be abbreviated. Box office numbers just aren't important this weekend. As a Canadian, let me say that our U.S. cousins are in our hearts and minds every day, and we will be with you in the weeks and months to come.
Moviegoers made the correct decision this weekend, staying at home with loved ones and watching the coverage of the disaster on television. There were some questions on Friday about whether North American movie audiences would use film as an escape from the constant coverage on the TV. Without major sporting events and music concerts, would audiences avoid the movie house as well? The numbers this week are low, but this mid-September weekend is historically poor at the box office, and due to some excellent holdovers from the summer, this weekend actually showed an up-tick compared to years previous.
Keanu Reeves' Hardball opened to $10.10 million, which is a great number for a mid-September opener, especially with so many mitigating concerns this weekend. Hardball is released by Paramount and opened on 2,197 screens.
Leelee Sobieski's The Glass House managed the second spot with $6.10 million on 1,591 screens. The Glass House is a Sony/Columbia Pictures release.
The Musketeer, last week's number one film, flopped into third this weekend, dropping an estimated 49.6%, grossing $5.31 million. The Universal picture is fighting bad word-of-mouth and horrible reviews from the nation's critics. Its total gross stands at $17.6 million.
The Others continues its remarkable run, up one spot to fourth this weekend with a minute drop of 21%, grossing $4.8 million. Its total now stands at $73.6 million. The Others is still being marketed strongly and could end up with $85 million in the kitty.
In fifth was Two Can Play That Game, the urban comedy from Sony Screen Gems. Last week, 2CPTG had the top eight theater engagements, meaning the film played the top eight theatres in North America. Three of those screens were in New York State, where I would imagine movie-going is at an all-time low. 2CPTG dropped 43%, grossing a still-admirable $4.70 million. Its total now stands at $13.90 million.
In sixth this weekend was the unstoppable Rush Hour 2. RH2 dropped a very small 26% in its seventh weekend of wide release. It grossed $4.35 million, and rose one spot on the chart. Audiences were looking for the safe play this weekend, and a repeat viewing of RH2 is great escapist entertainment. The total gross for Rush Hour 2 now stands at a truly incredible $211.40 million, which currently gives it the number 30 spot on the all-time gross chart. With another quiet weekend at the box office next weekend, RH2 could see a final gross in the $220-225 million range.
The last four top-ten releases were very close, and all fell between $3.85 and $3.52 million. They were Rock Star, Jeepers Creepers, Rat Race, and American Pie 2. As you can see from the top ten chart below, none of them inspired audiences to attend. The biggest surprise may be the drop of Mark Wahlberg's Rock Star, which plunged 43% in its second weekend.
In terms of total box office for the top ten this weekend, compared to last year when Bait opened wide and Almost Famous hit screens in limited release, the box office was actually up 30% from last year. The total gross for the top ten films this year was $49.92 million, compared to $34.71 million last year.
Next weekend will be another quiet one for moviegoers in North America, as Mariah Carey's Glitter is the only film opening in wide release; Denzel's Training Day has been pushed back into October.
Top 12 for Weekend of September 14-16

Rank

Film

Number of Sites

Change in Sites from Last

Estimated Gross ($)

Cumulative Gross ($)

1

Hardball

2,137

New

9.39

9.39

2

The Glass House

1,591

New

5.74

5.74

3

The Musketeer

2,476

+38

5.47

17.77

4

Two Can Play That Game

1,297

No Change

4.60

13.81

5

The Others

2,843

+106

4.57

73.42

6

Rush Hour 2

2,266

-280

4.09

211.15

7

Jeepers Creepers

2,847

-97

3.84

29.67

8

American Pie 2

2,339

-438

3.60

135.93

9

Rat Race

2,495

-56

3.55

47.69

10

Rock Star

2,525

No Change

3.39

11.05

11

The Princess Diaries

2,155

-255

2.49

100.06

12

"O"

1,255

-209

1.46

12.94