Red Dragon Is a Box Office Cannibal
John Hamann's Weekend Wrap-Up
October 4 - October 6, 2002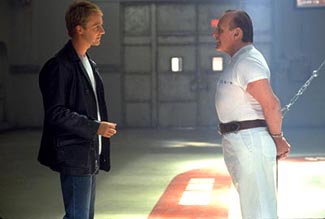 On Saturday morning, when Friday night's numbers rolled out, the folks at Universal must have been both happy and sad. An opening of $37.48 million for Red Dragon should be a joy, but I don't think expectations were met for the third Anthony Hopkins film in the Hannibal trilogy. On the other hand, Jonah: A VeggieTales Movie, the other new release this weekend, opened to what would appear to be low numbers, garnering a $6.5 million open, but the folks at Artisan are probably extremely pleased with the box office performance they received from their talking vegetable stars. With high costs and high expectations, Red Dragon and Universal put themselves into a position to lose; with low costs and low expectations, Artisan was only in a position to win.
Universal took a chance releasing Red Dragon on the first weekend of October, as it's not a normal time to release a big-budget, star-heavy film. Its predecessor, Hannibal, the baroque sequel to the Oscar-winning Silence of the Lambs, was released in February, wowing everyone when it opened to $58 million. But Red Dragon's solid opening number again proves that any film can be released at any time if the marketing is good and awareness is high. Speaking of awareness, that's something that Hannibal definitely had more of. The opening weekend anticipation was much higher for the second film, due mostly to the obvious fact that fans hadn't seen Lecter in nine or ten years and were much more anxious to get their fill. Back then, the media was filled with stories about "the return of Hannibal the Cannibal, North America's Favorite Villain", but there was definitely a lot less of this with Red Dragon. The economy, Iraq and Hurricane Lili tore up the headlines this week and there was less time for movie hype. On the other hand, Red Dragon has something that Hannibal did not; it's actually a good movie.
Red Dragon was the number one film this weekend, ousting Sweet Home Alabama from the pole position. Red Dragon opened on a very wide 3,356 screens, 126 more than Hannibal, and brought in $37.48 million over its first three days. The screen average was by far the best in the top ten, coming in at $11,168. Red Dragon easily took the October opening weekend record away from Meet the Parents, as that film grossed $28.6 million over its first three days in October 2000. It's also the biggest open for all the principal actors (Ed Norton, Ralph Fiennes, Harvey Keitel, Emily Watson) except Hopkins. For Universal Films, RD's gross is their biggest this year, beating The Scorpion King's $36.08 million, and it's their best open since American Pie 2; that film grossed $45.12 million over a year ago.
The best news for Universal is that they have a great film on their hands. Hannibal faded fast after its opening weekend, due mostly to questionable word-of-mouth. After opening to $58 million, its opening-to-total multiplier was a low 2.94, although it was the number one film three weeks in a row. I expect RD to have much better legs, pushing past Hannibal's overall gross of $165 million. Why? Word-of-mouth. CinemaScores were excellent for Red Dragon, and were rough for Hannibal. RD scored an overall average of A-, with the highest marks coming from the under-21 set. Hannibal averaged a C+, which is years away from an A- in the CinemaScore world. Reviews were also great. At Rotten Tomatoes, 110 reviewers saw the flick, and 76 liked it, resulting in a Fresh rating of 69%. Hannibal, on the other hand, garnered 52 positive reviews out of a possible 138, resulting in a Fresh rating of only 38%. If Universal keeps their marketing up, they could have a $200 million grosser here.
Second spot goes to last week's champ Sweet Home Alabama. Alabama got beat up a bit more than expected this weekend. After grossing a remarkable $35.6 million last weekend, SHA dropped 39.4%, resulting in a second weekend gross of $21.6 million. Now the second widest release on 3,303 screens, Alabama had a screen average of $6,540. It will be interesting to see if Reese Witherspoon can keep her nose above the six new releases that come down the pike next weekend. The total for Alabama now stands at $65.6 million, easily on its way to $100 million or more.
My apologies to my site mate Reagen Sulewski, but sadly The Tuxedo grossed more than $7 million this weekend. The Jackie Chan/Jennifer Love Hewitt action flick ended up in third and actually grossed $10.1 million this weekend, dropping a better-than-expected 33%. Its total now stands at $28.1 million.
In fourth this weekend is the little film that could, My Big Fat Greek Wedding. Wedding continues to amaze, knocking over a few more huge films on the all-time top grosser list. This week the comedy grossed $8.48 million, again down only 10%. In its 25th weekend, Wedding expanded again, - it found 130 more venues, raising its count back up to 1,971 - its highest number of venues in its run so far; the average was $4,302. The total for Greek Wedding now stands at $148 million, and as usual, BOP has the chart of the films it passed this weekend.
<% sqlstr = "SELECT * FROM box WHERE" sqlstr = sqlstr + " movie like 'Blair Witch Project, The' OR" sqlstr = sqlstr + " movie like 'American Pie 2' OR" sqlstr = sqlstr + " movie like 'Lilo & Stitch' OR" sqlstr = sqlstr + " movie like 'Fast and the Furious, The' OR" sqlstr = sqlstr + " movie like 'Rush Hour' OR" sqlstr = sqlstr + " movie like 'Deep Impact'" sqlstr = sqlstr + " ORDER BY open DESC" max = 100 header = "Wedding Triumphs" tstyle = "release" skin = "bop" x = Drawtable(sqlstr,max,header,tstyle,skin) %>


Fifth is Ice Cube's Barbershop, which is starting to lose a little steam. The urban comedy grossed $6.8 million, down 32% from its gross of $10 million last weekend. Its total now stands at a very impressive $60.2 million.
Jonah: A VeggieTales Movie managed to surprise, landing in sixth this weekend, coming in just behind Ice Cube's Barbershop. Jonah grossed $6.5 million from only 940 screens, giving it a fantastic screen average of $6,915. The distributor, Artisan, was able to be very selective about venues, giving this release a very modest amount. Based on popular home videos for kids from Big Idea Productions, the very successful home-vid series has made a tremendous jump to the big screen. There were no CinemaScores available, and at Rotten Tomatoes, reviews were limited. Of the 29 reviews they were able to gather, 20 were positive, resulting in a Fresh rating of 69%. Jonah is perfect counter-programming for the release of Red Dragon; I just hope no kiddies walk into the wrong screening.
Coming in at seventh is The Banger Sisters, a film that had a lot of promotion without much return. The Goldie Hawn/Susan Sarandon flick grossed $3.57 million this weekend, dropping 34%. This film is being hammered by My Big Fat Greek Wedding, as it has now only grossed $24.4 million through three weekends.
It doesn't take long to fall back into the crap of the top ten. The strong grosses of Red Dragon, Sweet Home Alabama and Jonah have made the top ten top-heavy. Eighth goes to Paramount's flop, The Four Feathers. The epic grossed only $2.08 million dollars, and looks like it will fail to make the $20 million mark. The picture, budgeted at $35 million without prints or advertising, has now grossed $15.5 million.
Ninth goes to another new entry on the chart, Moonlight Mile. Because of the poor crop of bottom-feeders this week, the limited release drama was able to slip into the top ten. The Dustin Hoffman/Susan Sarandon drama grossed $2 million from only 434 screens, for a very impressive venue average of $4,608. Look for MM move up the chart over the next few weeks.
Anchoring the pack is One Hour Photo. Red Dragon seems to have stolen Robin Williams' audience. The creepy thriller grossed $1.72 million to bring its total to $28.8 million.
Out of the top ten are Ballistic: Ecks vs Sever (yay!) and Signs. As I mentioned earlier, six new films will vie for spots on the chart next weekend (take a deep breath): Knockaround Guys, Brown Sugar, The Rules of Attraction, The Transporter, Tuck Everlasting and White Oleander, so the chart will be shaken up severely. Out of that batch, the one with probably the best shot at a number two showing is Fox's The Transporter.
Totals for the top ten come in at an impressive $100.33 million, an increase of 23% over last year. In the first weekend of October 2001, four films opened: Training Day, Serendipity, Joy Ride and Max Keeble's Big Move. That top ten totaled out at $81.03 million.
Top 12 for Weekend of October 4 - October 6

Rank

Film

Number of Sites

Change in Sites from Last

Estimated Gross ($)

Cumulative Gross ($)

1

Red Dragon

3,356

New

37.5

37.5

2

Sweet Home Alabama

3,303

+10

21.6

65.6

3

The Tuxedo

3,022

No Change

10.1

28.1

4

My Big Fat Greek Wedding

1,971

+130

8.5

148.0

5

Barbershop

2,176

+125

6.8

60.2

6

Jonah: A Veggietales Movie

940

New

6.5

6.5

7

The Banger Sisters

2,530

-208

3.6

24.4

8

The Four Feathers

2,187

No Change

2.1

15.5

9

Moonlight Mile

434

+412

2.0

2.4

10

One Hour Photo

1,261

-46

1.7

28.8

11

Signs

1,537

-246

1.6

223.4

12

Spy Kids 2: The Island of Lost Dreams

2,205

+635

1.2

83.0