Man Hit in Crotch by Football
Tops Box Office
John Hamann's Weekend Wrap-Up
October 25-27, 2002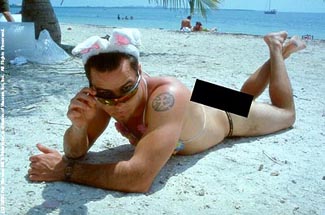 The question of the day is as follows: Is Paramount selling its soul by releasing jackass: the movie, or are they only making a sound business decision? The answer, of course, is both; Paramount and MTV Films continue to warp the minds of North American youth, and are making a fortune while doing it. Paramount released the R-rated movie on Friday, and it has already made $22.7 million dollars. Unfortunately, jackass had a budget of only $5 million, so we'd better be prepared for more of the same.
jackass: the movie is based on the once-popular and controversial MTV program; you may remember the show's name due to some unfortunate accidents that viewers had when they tried to do some of the stunts shown at home. Why does it make an excellent TV-to-big screen transition? Demographics; the TV show can stretch its huge, built-in youth market to the older-but-curious crowd. The rating is probably more of a draw than it is a detraction in this scenario; the producers were able to take the show to gross-out levels not allowed on regular cable TV. Paramount mounted a great marketing campaign that the America's Funniest Home Video watchers would have loved, along with the R-rated warning and the message that the movie would be raunchier than the TV show. This weekend the film shocked many, grossing $10 million more than most estimates. The exact same thing happened with an MTV crossover show six years ago. Despite the fact that the show was canceled, the cartoon characters Beavis and Butthead opened Beavis and Butthead Do America to $20.11 million in December 1996, shocking every box office prognosticator in the business. The real creepy thing is that when B&B's opening weekend gross is adjusted for inflation, it comes out to $25.7 million, very similar to the weekend total for jackass.
Yes, Johnny Knoxville and Co. have the number one film of the week, defying nature with jackass: the movie. The MTV adaptation grossed an amazing $22.7 million this weekend, beating out two horror films, The Ring and Ghost Ship, to snag the number one spot the weekend before Hallowe'en. Released on 2,509 screens, jackass had a venue average of $9,047. Exhibitors won't reap a lot of profit from this film. The drop-offs here are going to be huge, and the split for exhibitors is going to be minimal, unless this becomes a pop-culture phenomenon, which I highly doubt (My Big Fat Jackass Wedding?). Friday's reported gross was about $10 million, which means the film had an internal weekend multiplier of only 2.27, which is extremely low and usually is not good news at all for the future of a film. According to Entertainment Weekly, the budget was only $5 million, which jackass recouped in its first couple of hours; it's all money in the bank for the studio from here. There weren't many reviews to be found at Rotten Tomatoes, but of the 22 that were there, 13 reviewers liked the film, giving it an ungodly Fresh rating of 59%. CinemaScores were also fairly kind. Only females over 35 really detested it, giving the film a D+, but all other segments enjoyed this film. Even with the aforementioned low grade, the average came in at an A-. This is another big sign that jackass was frontloaded, as a lot of big jackass fans would have been polled.
Also a surprise at number two is The Ring, the new creep-out film from DreamWorks. The Ring added a whopping 653 screens this weekend, bringing its total up to 2,634 from 1,981. The strategy worked, as the Gore Verbinski thriller grossed $18.8 million and had a surprise increase of 20%. This week the theater average was $7,134, down only 6% from last week's average of $7,580. The total for The Ring now stands at $39.7 million, and all of a sudden it has almost made its $43 million budget back. It will be very interesting to see how this film performs in the post-Hallowe'en frame.
In at third is the movie that many people thought would be number one this weekend, Ghost Ship. The annual Warner Bros./Dark Castle Hallowe'en production hit its usual range, but failed to hit the top of the box office due to unexpected competition. The Gabriel Byrne flick grossed $11.71 million from 2,787 venues, for a so-so average of $4,202. Last year's entry was Thir13en Ghosts; that film opened at number two with just over $15 million. In 1999 it was House on Haunted Hill, which grossed $15.9 million. If jackass hadn't taken over the 18-25 demographic, Ghost Ship would have been amongst its compatriots at $15 million. What this tells WB is that even if you put bigger stars (Gabriel Byrne, Julianna Margulies) in your low-caliber (12% Fresh at RT) horror movie, the result is the same: Middling opening gross. Ghost Ship's CinemaScores were awful, averaging a C+. Expect a nasty nosedive from this one next weekend.
Fourth spot is a battle between time-weary chick flicks Sweet Home Alabama and My Big Fat Greek Wedding. Wedding is time-weary because it has been on the chart for 28 weeks, while Alabama is the same because it has been lugging over 3,000 venues around for the last five weeks. Alabama was the winner this weekend by a nose; it grossed $6.4 million from a way-too-wide 3,182 venues, for an average of $2,021 (they don't let them die gracefully these days do they?). No matter; Alabama crossed the $100 million mark on Wednesday, leaving Buena Vista very happy, not to mention MGM, who will be releasing Legally Blonde 2 in July. The total for Alabama after its fifth weekend is $107.2 million.
My Big Fat Greek Wedding dropped one spot to fifth, but still managed to keep its weekend-to-weekend drop very low. Wedding dropped 11.5%, grossing $6.3 million in its 28th week. That brings the total to an amazing $177.8 million. If the film can keep running, it should have $210 million in the bank by the end of November. Check out the chart below for more My Big Fat Greek Wedding Roadkill.
<% sqlstr = "SELECT * FROM box WHERE" sqlstr = sqlstr + " movie like 'There''s Something About Mary' OR" sqlstr = sqlstr + " movie like 'Ice Age' OR" sqlstr = sqlstr + " movie like 'Home Alone 2' OR" sqlstr = sqlstr + " movie like 'Rain Man' OR" sqlstr = sqlstr + " movie like 'Air Force One' OR" sqlstr = sqlstr + " movie like 'Apollo 13' OR" sqlstr = sqlstr + " movie like 'Matrix, The' OR" sqlstr = sqlstr + " movie like 'Tarzan' OR" sqlstr = sqlstr + " movie like 'Beautiful Mind, A'" sqlstr = sqlstr + " ORDER BY open DESC" max = 100 header = "Wedding Roadkill" tstyle = "release" skin = "bop" x = Drawtable(sqlstr,max,header,tstyle,skin) %>

Sixth goes to Red Dragon, a film that has faded faster than my expectations. The Universal release grossed $4.7 million over the weekend, down 46% from last weekend. Often these types of films will drop hard in their second weekend, and then the drop-offs decrease somewhat in the following weekends. That isn't the case here, as Red Dragon has dropped 51.7%, 50.4% and now 46%. The total for Red Dragon and Universal is $85 million, with the reported production cost being $78 million.
Punch-Drunk Love from Magnolia director Paul Thomas Anderson hits the chart for the first time this week, even though it's only showing at 481 venues. The Adam Sandler/Emily Watson film grossed $3.5 million and had a screen average of $7,277. Punch-Drunk Love seems to be a love it or hate it type of film. The Rotten Tomatoes Fresh rating was a little one-sided; of the 111 reviews posted, 88 were positive, for a Fresh rating of 79%. On the other hand, the CinemaScores are chaotic: Two C-plusses, two Fs, a D and a C. The average is a D+. It will be very interesting to see how Punch-Drunk Love performs in the next few weeks, as mainstream audiences will most likely ignore this and art-house fans may reject the film due to Sandler's presence. Regardless, the promising Punch still has a long way to go to recoup Sony's $25 million investment; its total so far stands at $6.1 million.
The battle for eighth, ninth and tenth was a dogfight. Eighth went to Jonah: A VeggieTales Movie. The kids' flick is having a quiet but successful run; the small film grossed another $2.9 million this weekend, down only 26% and bringing its gross up to $19.7 million. Jonah has turned into a nice little surprise for Artisan, as the Christian animated-vegetable movie cost only $15 million to make, and will most likely gross more on home video than it does at the box office.
The Transporter managed to grab ninth. The Fox film grossed $2.8 million over the weekend and now has a total of $21.5 million.
At the back of the pack was Brown Sugar. Sugar grossed $2.8 million in its third week. Its total now sits at $22.3 million.
Booted off the Top Ten Island this week are Abandon, Tuck Everlasting and The Tuxedo (yeah!). Next week will bring I Spy and The Santa Clause 2 to the top of the chart. Both of these films will appear on more than 3,000 screens. Another new film that could be on the chart next weekend is Michael Moore's excellent Bowling for Columbine. The partly-Canadian-funded documentary has spent a couple of weeks raking it in from theaters in New York, LA and now Canada, and with enough screens, could pull a Punch-Drunk Love, making the top ten on less than 500 screens. Check out BOP's release schedule for more information.
The total for the top ten was up significantly from last year. In the last weekend of October 2001, K-PAX and Thir13en Ghosts opened in the one-two spots, with Bones and On the Line bringing up the rear. Last year's top ten grossed $52.4 million; this year, the top three grossed $53.2 million, and the top ten grossed $82.7 million, good for an increase of 36% over last year's totals.
Top 12 for Weekend of October 25-27, 2002

Rank

Film

Number of Sites

Change in Sites from Last

Estimated Gross ($)

Cumulative Gross ($)

1

jackass the movie

2,509

New

22.7

22.7

2

The Ring

2,634

+653

18.8

39.7

3

Ghost Ship

2,787

New

11.7

11.7

4

Sweet Home Alabama

3,182

-100

6.4

107.2

5

My Big Fat Greek Wedding

1,967

-47

6.3

177.8

6

Red Dragon

2,886

-432

4.7

85.0

7

Punch-Drunk Love

481

+403

3.5

6.1

8

Jonah: A VeggieTales Movie

1,625

+44

2.9

19.7

9

The Transporter

1,880

-730

2.8

21.5

10

Brown Sugar

1,149

-199

2.8

22.3

11

The Tuxedo

1,707

-717

2.7

46.6

12

Tuck Everlasting

1,460

+12

2.6

14.0