October Hits Just Keep On Coming
John Hamann's Weekend Wrap-Up
October 24-26, 2003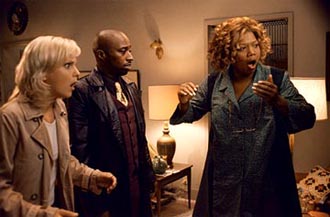 Are you ready for this? From almost out of nowhere, Scary Movie 3 has risen to the top of the all-time October box office, and closes out one of the busiest Octobers ever with a huge bang. On the complete flipside, Angelina Jolie's days of opening a film on her own are probably numbered, as Beyond Borders is a flop of enormous girth.
When did Scary Movie 3 appear on your moviegoing radar? Two weeks ago? A week ago? A couple of days? Scary Movie 3 is the number one film of the weekend, taking in an astounding $49.7 million. Miramax/Dimension released the film at a super-wide 3,503 venues, easily the biggest venue count ever for the month of October, and the David Zucker-helmed parody fest had a venue average of $14,188. SM3 beat another third-in-a-trilogy-type film in Red Dragon to become the biggest opener ever for October; Red Dragon grossed $36.5 million in its debut in 2002. SM3's opening weekend number also beat the debut weekends of the first two films in the Scary Movie series -- a box office feat that just doesn't happen. The original debuted in July of 2000 and grossed $42.3 million in its opening frame. It went on to make $157 million versus a production budget of only $19 million. The second film was tough on Miramax/Dimension, as it made less than half as much as the original but cost twice as much to make. Scary Movie 2 opened in July 2001 and found $20.5 million before going on to gross $71.3 million against a production budget of $45 million. Budget information for Scary Movie 3 was not released, but there was a lot of talk about Miramax/Dimension wanting to keep the budget on the third film lower than that of the second film, hence the departure of the Wayans Brothers and the introduction of David Zucker, director of the very successful Airplane/Hot Shots series.
As Tim Briody reported at BOP yesterday, Scary Movie 3 had a huge first Friday, grossing $18.6 million, thanks to a very effective marketing campaign. However, because SM3 is a sequel and with the Yankees/Marlins game on Saturday, the comedy was bound to have a low weekend multiplier (weekend gross divided by opening day gross). Scary Movie 3 managed a weekend multiplier of 2.68 - which isn't bad for a third film in a trilogy. RottenTomatoes was actually fairly kind to SM3; of the 66 reviews counted at the website, 27 were positive, leading to a fresh rating of 41%. This was a whole lot better than the second film in the series; it had a god-awful fresh rating of only 11%.
Last week's champ, The Texas Chainsaw Massacre, surprisingly drops only one spot to second this weekend. TCM grossed $14.7 million in its second frame, dropping a better-than-expected 48%. The drop is no sweat to New Line Cinema, as the studio spent between $9 and $13 million making the film, and it has now grossed $51.2 million. I think we can expect the line of sequels that the 1974 original saw years after its release.
Third spot goes to another opener this weekend; this time it's Radio, Cuba Gooding Jr.'s latest manipulation fest. I guess there is an audience for this type of film as Radio somehow grossed a much better-than-expected $14 million this weekend. The Sony flick also got an uber-wide opening this weekend, showing up at 3,074 locations and ending up with a not-bad first weekend venue average of $4,554. Radio is Cuba Gooding Jr.'s third film of 2003 after appearing in the awful Boat Trip in March (open $3.8 million, total $8.6 million) and the Fighting Temptations in September (open $11.8 million, total so far of $28.8 million). Radio looks to be a great investment for Sony. The production budget was only $35 million, although it appears the studio spent a small fortune on marketing, so the film will have to have some legs to recoup the costs. Reviews were mixed. Some critics hated the schmaltz while a few embraced it; Radio had 27 positive reviews at RT out of a possible 78, for a not-so-fresh rating of 35%.
This weekend's fourth place slot goes to Runaway Jury, the latest kick at the John Grisham can. After a so-so opening weekend, I'm sure Fox was hoping for an excellent word-of-mouth hold, but Runaway Jury had to be happy with average. The courtroom drama grossed $8.4 million in its second frame, losing 29% of its opening weekend audience. Now the backers of this film have a problem: the production budget was $60 million and after the first two weekends of release, the film has grossed less than half of that with a total of $24 million. Judging where a film is going to end up after only two weekends is dicey, but I'd say Fox is looking at a $45-50 million finish, which just isn't good enough considering the extensive ad campaign the film had leading up to its release.
Mystic River added a handful of screens this weekend and saw a good hold due to the venue increase, good word-of-mouth, and an ad campaign from Warner Bros that just won't quit. Mystic River grossed $7.6 million, down 27% compared to the weekend before. WB added 26 venues to River's venue count, bringing it up to a still small 1,493 venues; it had an average of $5,098 - the second best in the top ten. River cost WB only $25 million to make, and the brooding thriller now has a total of $24.6 million.
In sixth is Jack Black's School of Rock, which got crushed by the PG-13 Scary Movie 3. SOR, after drops of 21% and 29%, fell 41% this weekend, pulling in $6.5 million. All of a sudden, $100 million for School of Rock seems impossibly far away -- the total for the Paramount film has now hit $63.4 million against a tiny production budget of $35 million.
Kill Bill also took a big hit against Scary Movie 3 this weekend, as the two pop culture flicks in the top ten went head to head. Unfortunately for Miramax, Bill got Killed. Kill Bill lost 52% of last weekend's audience, as it grossed $6.0 million over the pre-Halloween frame. While the drop was big, the Tarantino flick hit the mark it wanted to this weekend, as the film's $53.7 million total just about outpaces the production budget for both Kill Bill Volume 1 and Volume 2 ($55 million).
Good Boy!, MGM's talking dog picture, got sent to the pound this weekend. Good Boy! (mercifully) dropped 46% this weekend, finishing eighth and pulling in $4.9 million. Simply put, MGM doesn't care. Good Boy! cost the studio only $18 million to make, and the kids flick has now grossed $31.9 million -- and that's just the beginning of the revenue stream this title will create for the studio.
Ninth this weekend is Intolerable Cruelty, the little-seen miss from Joel and Ethan Coen. Cruelty grossed $3.6 million in its third weekend of release, dropping 45%. It's going to be an expensive entry for Universal and Imagine Entertainment, as the $60 million production has now grossed only $28.2 million.
Buena Vista's Under the Tuscan Sun finishes in the tenth position this weekend. The Diane Lane starrer grossed $2.2 million in its fifth weekend of release and now has a total of $37.2 million.
Finishing out of the top ten is the car wreck opener this weekend -- Angelina Jolie's Beyond Borders, aka The Last Film For Whomever Greenlighted This Drivel. Beyond Borders crashed and burned, pulling in a microscopic $2 million. The romantic epic cost Paramount $60 million, and the studio will be very lucky to retrieve $10 million of that.
Even with the Beyond Borders debacle, box office for the October 24th - 26th weekend was still white hot. Estimates for the weekend top ten came in at an awesome $117.6 million - above the $100 million mark for the second weekend in a row. Last year, the top ten movies finished with $82.7 million, giving 2003 a lift by 29%.
Top Ten for Weekend of October 24-26, 2003

Rank

Film

Number of Sites

Change in Sites from Last

Estimated Gross ($)

Cumulative Gross ($)

1

Scary Movie 3

3,503

New

49.7

49.7

2

The Texas Chainsaw Massacre

3,018

+2

14.7

51.2

3

Radio

3,074

New

14.0

14.0

4

Runaway Jury

2,815

No Change

8.4

24.0

5

Mystic River

1,493

+26

7.6

24.5

6

School of Rock

2,951

-274

6.5

63.4

7

Kill Bill Vol. 1

2,633

-469

6.0

53.7

8

Good Boy!

2,762

-463

4.8

31.9

9

Intolerable Cruelty

2,290

-280

3.6

28.2

10

Under the Tuscan Sun

1,224

-439

2.2

37.2

11

Beyond Borders

1,798

New

2.0

2.0

12

Out of Time

1,565

-779

1.5

37.7