Another Weekend of Blah Numbers
John Hamann's Weekend Wrap-Up
October 21, 2001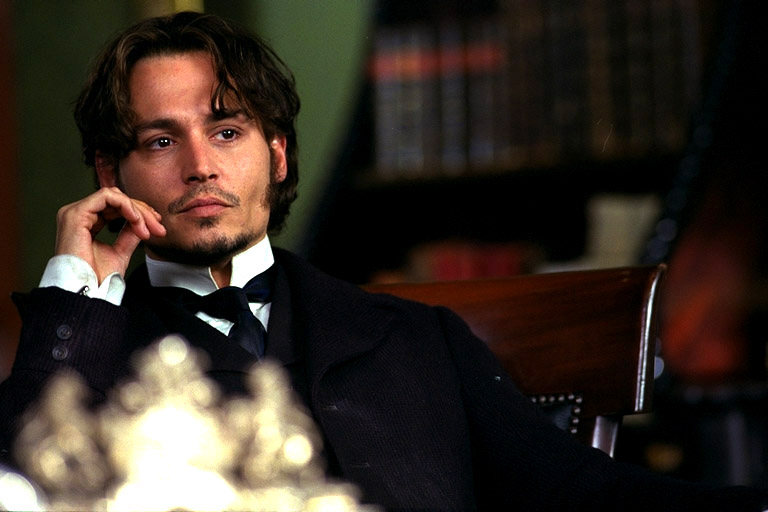 What was it this weekend that kept people away from the movie theaters this weekend? Ground troops? Baseball playoffs? Anthrax fears? Moon phase?
One of these reasons will be spewed by the studios as to why the October 19-21st period was so slow at the box office. Last year, Meet the Parents scored $16 million in its third weekend to take top spot. This year, three big titles failed to open above $15 million.
Again this weekend, it was a surprisingly close fight for the top spot at the box office between two very different films. The number one film this week is From Hell, starring Johnny Depp and Heather Graham, which only grossed an estimated $11.325 million from 2,305 venues to take the blue ribbon; the screen average was a less-than-endearing $4,913. For the second time is as many weeks, prognosticators had high hopes for the star-driven From Hell as a breakaway contender, which looked like a carbon copy of the ultra-successful Sleepy Hollow. Hollow opened to $30.06 in November 1999, and went on to gross a little over $100 million. No such luck for the Hughes Brothers directing team, as the From Hell opening weekend fails to land it in the top ten openers of October, losing to films like Stallone's The Specialist, and Kurt Russell's Stargate.
So where is everyone? With the ground invasion breaking on Friday, some audiences may have chosen to stay very close to home and keep an eye on the news. It was also a big weekend for baseball playoffs, with a of couple popular teams nationwide still in the hunt.
Critics were mixed on From Hell, and the CinemaScores weren't great at all. The highest grade from the key over-21 portion of the audience was a B from over-35 males. As Halloween quickly approaches the film's distributor, 20th Century Fox, better hope more horror fans show up to support this movie. Next week, 13 Ghosts opens, fighting with From Hell for the same horror box-office dollar.
The runner-up in a close race for the top spot was Riding in Cars with Boys, the new Drew Barrymore starrer from director Penny Marshall. The Laverne and Shirley crowd supported the flick, serving up $10.8 million at the box office this weekend. Sony Releasing screened the film at 2,770 venues, surprisingly high for a romantic drama, netting a screen average of $3,899. CinemaScores reflect that female audiences were happy with the film, with an A rating from the under-21 females, an A- from the 21-34 group and a B+ from females over 35.
RiCwB isn't dead yet. Drew Barrymore and Penny Marshall have some very leggy films in their respective repertoires. Barrymore starred in Ever After: A Cinderella Story, which opened to $8.35 million in July '98, wound up grossing $65.64 million, and had a four-week multiplier of just under five. Marshall directed A League of Their Own, which opened to $13.74 million over the July 4th weekend in '92, and ended up with $107.53 million in the kitty.

<% sqlstr = "SELECT * FROM box WHERE movie like 'Ever After%' OR movie like 'Wedding Singer%' OR movie like'Scream' " sqlstr = sqlstr + " OR movie like '%Never Been Kissed%' OR movie like '%League of their own%' OR movie like 'Awakenings' ORDER BY open DESC" max = 100 header = "Drew Barrymore and Penny Marshall Films" tstyle = "release" skin = "bop" x = Drawtable(sqlstr,max,header,tstyle,skin) %>


In third this week was the previous champ for the last two weeks, Training Day. The Denzel Washington film grossed $9.5 million in its third week, bringing its total to $57.46 million, on its way to $70 million. The good cop/bad cop movie was down 29% this weekend, as three new films focusing more on adults entered the marketplace. It will be interesting to see if Denzel gets any Oscar talk from a film that opened in October and grossed a middling $70 million.
The WB film has been a relief for the studio, who has been desperate for a hit film since the Stanley/Steven collaboration, AI and the kids' flick, Cats & Dogs. At this point, Training Day seems to be no Remember the Titans, but should still push ahead to the $65-70 million mark in box-office revenues.

<% sqlstr = "SELECT * FROM box WHERE movie like '%Hearts in Atla%' OR movie like 'Rock Star%' OR movie like'%Summer Catch%' " sqlstr = sqlstr + " OR movie like '%American Outlaws%' OR movie like '%Osmosis Jones%' OR movie like 'A.I.' OR movie like 'Cats and Dogs' ORDER BY open DESC" max = 100 header = "Recent Warner Bros Releases" tstyle = "release" skin = "bop" x = Drawtable(sqlstr,max,header,tstyle,skin) %>


In fourth this week was last week's number two film, the ensemble caper comedy Bandits. The Bruce/Billy Bob/Blanchett film dropped 35% this weekend, grossing $8.425 million from a huge 3,207 screens, for a very sad screen average of $2,627. MGM has to be disappointed with the effort. Two weeks ago, it seemed MGM had a huge hit on their hands but to their disappointment, this isn't the case. Look for Bandits to steal about $35 million from movie-goers before retiring from its run.
In fifth was the third new release this weekend, Robert Redford's The Last Castle. The distributor of the film, DreamWorks Pictures, was forced to delay the military prison movie after the World Trade Center incidents, and it looks like the patriotic film still did not have an impact on moviegoers. Castle grossed $7.1 million this weekend from 2,262 screens, for a screen average of $3,139. Maybe the incursions of ground troops into Afghanistan kept the potential audience for this one at home watching CNN. Surprisingly, CinemaScores for TLC were the best of the opening group. The film scored two As, two A-s and two B+s. Word-of-mouth will be key to this release, as the star power is limited for Castle; Redford is losing a bit of his bang, and James Gandolfini is a name that only fans of the TV show The Sopranos recognize.
The release of The Last Castle marks the end of the 2001 season for DreamWorks, barring a Christmas re-release of their super-hit, Shrek. This year was rough for DreamWorks, after coming off a very surprising and successful 2000 slate of films. This year, the biggest hit for the startup studio was the aforementioned Shrek, but disappointments came in the form of The Mexican, Evolution, and The Last Castle. Look for DreamWorks to trump their 2000 numbers with their 2002 slate, which includes Minority Report with Tom Cruise, the special-effects film The Time Machine and the Tom Hanks' film, The Road to Perdition.

<% sqlstr = "SELECT * FROM box WHERE movie like 'Mexican%' OR movie like 'Shrek%' OR movie like'%Evolution%' " sqlstr = sqlstr + " OR movie like 'Curse of the ja%' OR movie like '%Last Castle%' OR movie like 'A.I.' ORDER BY open DESC" max = 100 header = "Recent DreamWorks Openings" tstyle = "release" skin = "bop" x = Drawtable(sqlstr,max,header,tstyle,skin) %>


In another close battle, Serendipity ended up in the sixth spot this week, grossing $5.8 million. The John Cusack starrer dropped 34% from last weekend, as Riding in Cars with Boys rode into its demographic territory. It looks to end up with about $40-45 million by the end of its run. Serendipity is from Miramax, which has had a tough couple of years. Miramax has released 31 films since the start of 2000, and their only real hits from those 31 are Bridget Jones' Diary, The Cider House Rules, and Chocolat. Miramax has two high-profile Christmas releases they will be relying on, The Shipping News with Kevin Spacey, and the time travel romance Kate and Leopold, starring Meg Ryan and Hugh Jackman.
In seventh was last week's number three film, Corky Romano. Corky, the brainchild of SNL vet Chris Kattan, somehow gathered another $5.3 million this weekend, bringing its two-week total to $16.1 million. Last week, Corky opened with a higher-than-expected $9.3 million from 2,062 screens, coughing up a screen average of $4,510. Corky falls perfectly in the SNL skit-to-movie box-office continuum, even though Corky Romano was not an original SNL character. For some reason, audiences seem to love this stuff, as Corky had better CinemaScores than the very well-reviewed Bandits.

<% sqlstr = "SELECT * FROM box WHERE movie like 'Night at the rox%' OR movie like 'Ladies Man%' OR movie like'Superstar%' " sqlstr = sqlstr + " OR movie like 'Joe Dirt%' OR movie like '%Almost Heroes%' ORDER BY date DESC" max = 100 header = "Recent SNL Cast Releases" tstyle = "release" skin = "bop" x = Drawtable(sqlstr,max,header,tstyle,skin) %>


In eighth this week is Don't Say a Word. The Michael Douglas vehicle gathered another $4.4 million this weekend from 2,260 screens, down 469 from last week. After opening to $17.09 million, Word dropped 42% in its second weekend, and 34% in its third. The film looks to end up with about $55-60 million.
In ninth was Ben Stiller's action-comedy film, Zoolander. The wacky comedy gathered $3.3 million in its fourth weekend from 2,285 screens. I'm sure the studio's box-office goal for Zoolander was box office around the original Austin Powers' numbers ($53 million gross). With $40.18 million in the kitty so far, their goal should be achieved, and the film should have a very active life on home video and DVD. If it does reach $50 million, expect the sequel announcement by May of next year.
In tenth was last week's number six film, Iron Monkey. The kung-fu pic grossed $3.2 million this week from only 1,235 screens. Rarely do I champion films in this column, but Iron Monkey is a special movie. Shot in 1993, Iron Monkey is from the fight choreographer used in classic films like The Matrix and Crouching Tiger, Hidden Dragon. IM uses the fight scenes extremely well, but also surrounds the incredible action with a great sense of humor. Iron Monkey is an action film for the whole family, but the subtitles may limit the audience. I hope that word-of-mouth will carry the release, and IM will increase its fortunes in the weeks to come.
The total for the top 12 this week was $74.525 million, up 3.71% from the same weekend last year, when Meet The Parents spent its third week at number one, and Bedazzled, Pay It Forward and Legend of Drunken Master opened at numbers two, four and five, respectively. Compared to last weekend, box office-totals were down 4.14%.
Next week, things get even busier. The pre-Halloween box office heats up the release of the Kevin Spacey movie K-PAX, from Universal; the creepy 13 Ghosts, from Warner Bros.; the N'Sync movie On the Line; and Bones, starring Snoop Dog. Keep your eye on BOP's Release Schedule for more info about these movies and their respective print counts.
Top 10 for Weekend of October 19-21, 2001

Rank

Film

Number of Sites

Change in Sites from Last

Estimated Gross ($)

Cumulative Gross ($)

1

From Hell

2,305

New

11.32

11.32

2

Riding in Cars with Boys

2,770

New

10.80

10.80

3

Training Day

2,603

-109

9.50

57.46

4

Bandits

3,207

No Change

8.42

25.00

5

The Last Castle

2,262

New

7.10

7.10

6

Serendipity

2,610

+7

5.80

34.80

7

Corky Romano

2,094

+32

5.30

16.10

8

Don't Say a Word

2,261

-468

4.40

48.07

9

Zoolander

2,285

-237

3.30

40.18

10

Iron Monkey

1,235

10

3.20

10.75