DreamWorks Wins but Loses with The Ring
John Hamann's Weekend Wrap-Up
October 18 - October 20, 2002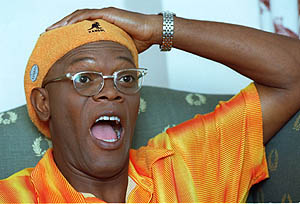 It was a soft weekend at the box office over the October 18-20th frame, with hardly any of the nine wide-release films that have opened over the last two weekends showing any signs of life. The lone bright spot is The Ring, which was able to unseat Red Dragon and Sweet Home Alabama from the top spot; those two blockbusters have dominated the market for the last few weeks. Even My Big Fat Greek Wedding had a slower weekend than usual, suffering its biggest weekend-to-weekend drop-off in 20 weeks.
DreamWorks' The Ring is another classic example of whether or not a $15 million opening for a movie should be deemed a success. The film had no stars to draw audiences other than Naomi Watts; she was great in last year's Mulholland Drive, but isn't close to being a draw at the box office. The film's marketing, while excellent - it had a great trailer and TV ad - hasn't created a big stir. The premise of a killer video is interesting, but it won't draw many viewers over the age of 30. Based on these facts, a $15 million open for a horror film would be fantastic, but the film's budget is $60 million, meaning it will have to work very hard to recoup the costs associated with making the film. With next weekend being the pre-Halloween movie-going weekend, maybe The Ring can draw strongly again. That strategy didn't work last year for Johnny Depp's From Hell; that film dropped 45% in its second weekend, even though it was closer date-wise to Halloween. Speaking of horror films, BOP's staff has created an excellent piece on the top 50 horror films of all time. Click here to have a look.
Three opening titles hit screens this weekend, and for the second weekend in a row, one of those openers didn't even make it to the top ten. Last week it was Roger Avary's Rules of Attraction; the Lions Gate title finished out of the top ten at number 12 with $2.5 million, even though it opened on 1,437 screens. This week's victim is Formula 51, the Samuel L Jackson/Robert Carlyle caper movie. Formula 51 opened on 1,857 screens, and failed to make it into the top ten, a feat that I thought would be reserved for Katie Holmes' Abandon.
The number one film this week is The Ring, a DreamWorks remake of the Japanese box office champ, Ringu. The Gore Verbinski film grossed $15.0 million from a surprisingly-low 1,981 venues, for an average of $7,587, the best in the top ten. Why did DreamWorks open the film at such a low number of venues? My guess would be that the studio will ramp up the screen count for next weekend, relying on word-of-mouth from last weekend's preview screenings and this weekend's number one showing. The problem is, word-of-mouth isn't good at all. CinemaScores from Friday night were soft; the under-21 demographic gave the film a B, and the overall score was a B-, as grades went down as viewers got older. Reviews were much better. Of the 107 reviews posted at Rotten Tomatoes, 74 were positive, resulting in a Fresh rating of 69%. Unless word-of-mouth differs from those CinemaScores, The Ring is already in trouble. If it drops 50% next weekend, it most likely won't make it to the $50 million mark.
DreamWorks is another major studio that's having a rough year. So far this year, the Spielberg/Katzenberg/Geffen company has released six films, including The Ring, and only one has been an outright profitable venture (Road to Perdition). Spirit: Stallion of the Cimarron came close, grossing $73.2 million against a cost of $80 million. DreamWorks does look to have a winner with Catch Me If You Can, starring Tom Hanks and Leo DiCaprio. That film opens on Christmas Day, and has a fantastic trailer. Check the chart below for other DreamWorks results from 2002.
<% sqlstr = "SELECT * FROM box WHERE" sqlstr = sqlstr + " movie like 'Time Machine, The' OR" sqlstr = sqlstr + " movie like 'Hollywood Ending' OR" sqlstr = sqlstr + " movie like 'Spirit: Stallion of the Cimarron' OR" sqlstr = sqlstr + " movie like 'Road to Perdition' OR" sqlstr = sqlstr + " movie like 'Tuxedo, The'" sqlstr = sqlstr + " ORDER BY open DESC" max = 100 header = "DreamWorks Chart" tstyle = "release" skin = "bop" x = Drawtable(sqlstr,max,header,tstyle,skin) %>

Second spot is a bit of a surprise. In its fourth weekend on the chart, Sweet Home Alabama hopped over Red Dragon to snag the number two slot. The Reese Witherspoon starrer grossed $9.6 million from a still-very wide 3,282 venues, for an average of $2,925. The other good news for the Buena Vista release is that it will cross the $100 million mark sometime over the next couple of days. The bad news is that the film still dropped 33% this weekend, and will probably top out at around $130 million. Nonetheless, with a reported production budget of $30 million, BV will be laughing all the way to the bank on this one.
Third spot this weekend is Red Dragon, the Universal release that started strong but is very quickly losing steam. Down another 50% this weekend, the Silence of the Lambs prequel grossed $8.8 million from 3,305 venues, for an average of $2,663. After three weekends, Hannibal had grossed $128.5 million; Red Dragon, on the other hand, has only grossed $77.8 million over the same period. A movie that was once considered to be a lock for $100 million is now a long shot to even hit that amount. Go figure.
Up one spot to number four is My Big Fat Greek Wedding. In its 27th weekend, the IFC release grossed $7.2 million, down 15.4% compared to the previous weekend. The drop is its biggest since May 31st, when it dropped 26%. Last weekend, the estimate came in low by about $600,000, most likely due to the Columbus Day holiday in the States and Thanksgiving in Canada; I doubt the distributor will make the same mistake twice. The total for the Nia Vardolos film now stands at $169.3 million. Check the chart below for films over which MBFGW has triumphed.
<% sqlstr = "SELECT * FROM box WHERE" sqlstr = sqlstr + " movie like 'Meet The Parents' OR" sqlstr = sqlstr + " movie like 'Bug''s Life, A' OR" sqlstr = sqlstr + " movie like 'Hannibal' OR" sqlstr = sqlstr + " movie like 'Big Daddy' OR" sqlstr = sqlstr + " movie like 'Batman Returns' OR" sqlstr = sqlstr + " movie like 'Waterboy, The'" sqlstr = sqlstr + " ORDER BY open DESC" max = 100 header = "My Big Fat Greek Wedding Conquests" tstyle = "release" skin = "bop" x = Drawtable(sqlstr,max,header,tstyle,skin) %>

Fifth goes to Brown Sugar, last weekend's number three film. The urban rom-com dropped a hard 50.7% in its second weekend, grossing $5.3 million from 1,378 venues. The Fox Searchlight film has now grossed $18.6 million.
Finishing just $100,000 behind Brown Sugar is the thriller Abandon, the new film from Traffic writer Stephen Gaghan. Although it was the widest new release this weekend with 2,341 screens, Abandon couldn't keep up with The Ring, as the Katie Holmes flick grossed only $5.3 million for a very low opening-weekend screen average of $2,264. The marketing for Abandon was nowhere near as good as it needed to be, leaving awareness very low. Word-of-mouth won't save it. CinemaScores were awful; the average score was a D. The $25 million pic will most likely be off the chart next weekend, and Paramount will easily lose $15 million on this property, without calculating losses from prints and advertising.
20th Century Fox is the studio behind The Transporter, which ended up a very close seventh this weekend. The Jason Statham flick grossed $5.0 million and now has a total of $17.1 million.
After several good holds over the last few weeks, Jackie Chan's The Tuxedo took a big hit this weekend. Down one spot to number eight, The Tux grossed $4.1 million, which equates to a drop of 42%. The total for the $60 million picture is now $43.1 million. Jennifer Love Hewitt must have stopped buying out theaters. Making a surprise appearance on the chart this weekend is Jonah: A VeggieTales Movie. After dropping off the chart last weekend, Artisan, the distributor behind Jonah, continued to add theaters for this kidpic. The result was great; Jonah grossed $4.1 million, increasing its gross to $16.2 million.
Tuck Everlasting dropped into last place this weekend, even though Buena Vista added 263 venues. Tuck grossed $3.7 million, and while it added theaters, the film still lost 29% of its audience. Its total has now hit $10.6 million.
Banished from the top ten this week are the very successful Ice Cube film, Barbershop, the not-at-all successful Knockaround Guys and White Oleander. Opening next week is Warner Bros.' annual Halloween pick; this time it's Ghost Ship, with Gabriel Byrne and Juliana Margulies. Also opening is Universal's The Truth About Charlie and jackass: the movie from Paramount.
Overall this weekend, box office was narrowly up compared to last year, when three new films opened. In the second-to-last weekend of October 2001, From Hell and Riding in Cars with Boys opened at number one and number two respectively, with Robert Redford's The Last Castle debuting at number five. The top ten came in at $67.43 million. This year, the total for the top ten was $68.11 million, an increase compared to last year of a huge 1%.
Top 12 for Weekend of October 18-20, 2002

Rank

Film

Number of Sites

Change in Sites from Last

Estimated Gross ($)

Cumulative Gross ($)

1

The Ring

1,981

New

15.00

15.00

2

Sweet Home Alabama

3,282

-31

9.60

98.50

3

Red Dragon

3,307

-56

8.80

77.84

4

My Big Fat Greek Wedding

2,014

-2

7.15

169.30

5

Brown Sugar

1,378

+6

5.31

18.60

6

Abandon

2,341

New

5.30

5.30

7

The Transporter

2,610

+37

5.01

17.12

8

The Tuxedo

2,424

-561

4.10

43.10

9

Jonah: A VeggieTales Movie

1,581

+407

4.10

16.20

10

Tuck Everlasting

1,448

+263

3.70

10.60

11

White Oleander

1,510

No change

3.21

10.81

12

Formula 51

1,857

New

2.90

2.90