Chainsaw Massacres Hot Box Office
John Hamann's Weekend Wrap-Up
October 17-19, 2003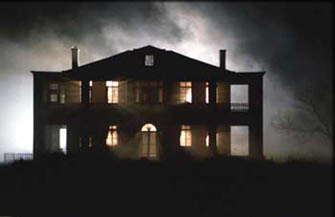 There's been a lot of blood spilt at the box office over the last two weekends. Quentin Tarantino's Kill Bill mopped up last weekend, and this frame the bloodletting was even more successful with The Texas Chainsaw Massacre. Yes, two R-rated, excessively violent films have grossed a combined $51.2 million in their opening weekends, and the trend will continue as debut of The Matrix Revolutions is only 16 days away.
The number one film of the weekend is New Line Cinema's remake of The Texas Chainsaw Massacre, as a very cool trailer ignited a huge level of awareness. The dark horror flick opened to $29.1 million, not quite the $36.4 million debut that Freddy vs, Jason managed; however, considering the budget was tiny at $13 million, the studio has to be very happy with the outcome. New Line was certainly going for a huge opening weekend; they sent their film out to 3,016 venues, and it garnered a decent average of $9,649. As BOP reported yesterday, TCM had a first day Friday gross of $10.9 million, and like most horror films with a built-in remake audience, it had a low weekend multiplier (Friday gross divided by weekend gross) of 2.67. Like last weekend's Kill Bill, TCM was apt to be frontloaded due to a fanbase that needed to be first to see the reissue of a classic horror title. What kind of chainsaw freak would you be if you didn't see this one opening night?
New Line has always been good at releasing horror films, although their last remake, Willard, didn't meet expectations. Willard, starring Mr. Creepy Crispin Glover, failed to draw an opening weekend audience as it grossed only $4 million in its first three days. On the other hand, the studio has been having success with its Freddy Krueger and Jason Voorhees franchises for years. In 1991, with the studio still in its infancy, New Line released Freddy's Dead and hit the windfall. The umpteenth sequel in the Nightmare on Elm Street franchise grossed $13 million in its first three days and did $35 million domestically during its run. It would have been the studio's biggest opening if Teenage Mutant Ninja Turtles hadn't hit screens a year earlier. The company had further success with The Lawnmower Man (total $32 million), Se7en ($100 million total), the two Final Destination films (combined $100 million plus total) and the Blade series, which grossed a combined $150 million domestically. In 2003, New Line has released four horror flicks (excluding The Real Cancun): Freddy vs. Jason, Willard, Final Destination 2 and The Texas Chainsaw Massacre. Production budgets for the four films equaled $89 million, while opening weekends alone grossed $85.5 million. I'd say we'll be seeing more horror from New Line Cinema.
A big question heading into the weekend was how Quentin Tarantino's Kill Bill would behave in its second weekend of wide release. Would the heavy violence and divisive word-of-mouth keep audiences away in the film's second weekend? Kill Bill grossed $12.5 million over the October 17th - 19th weekend, coming in second and dropping a not-bad 43% compared to its number one debut last weekend with $22.1 million. There was no question the film would see a significant drop this weekend; the genre and the content of the film called for it, but at 43%, the studio has to be very happy. Kill Bill has now grossed $43.3 million against the two-film production budget of $55 million. It's still tough at the point to say where this film is going to end up, but just the fact that it kept its nose well above a 50% drop is great news for Miramax.
Further back than Fox expected is the studio's Runaway Jury, which features an all-star cast that includes A-List names like Dustin Hoffman, Gene Hackman and John Cusack. Despite reviewing well, Runaway Jury grossed a lower-than-anticipated $12.1 million from 2,815 venues and had an average of $4,298. Viewer apathy seemed apparent as 20th Century Fox promoted the hell out of this one throughout the baseball playoffs. Jury's fifth place showing against the eight filmed John Grisham novels might suggest it's time to move on to something other than "the courtroom drama." However, before we recite Mr. Grisham's movie project eulogy, let's remember that these types of films often have big legs; even The Rainmaker, Grisham's smallest opener, had a decent open-to-total gross multiplier of 4.5 -- and that was the lowest of all his films. Check out the chart below to see how leggy his other projects have been.
<% sqlstr = "SELECT * FROM box WHERE" sqlstr = sqlstr + " movie like 'Firm, The' OR" sqlstr = sqlstr + " movie like '%Pelican Brief%' OR" sqlstr = sqlstr + " movie like 'Client, The' OR" sqlstr = sqlstr + " movie like 'Time to Kill, A' OR" sqlstr = sqlstr + " movie like 'Chamber, The' OR" sqlstr = sqlstr + " movie like 'Rainmaker, The'" sqlstr = sqlstr + " ORDER BY open DESC" max = 100 header = "Grisham Legs" tstyle = "release" skin = "bop" x = Drawtable(sqlstr,max,header,tstyle,skin) %>

In at fourth is The School of Rock, as the movie with wide demographic appeal continues to find a big audience. The comedy, starring Paramount employee of the month Jack Black, grossed $11.3 million, dropping only 27% compared to last weekend and staying above $10 million for the third weekend in a row. Paramount added another 22 venues, bringing the count up to 2,951, giving SOR a venue average of $3,829. School of Rock has found its niche, and it can be a very big niche -- the safe family/date movie. Look what it did for films like How to Lose a Guy in 10 Days and Bringing Down the House - both became $100 million plus earners. SOR has now grossed $55.2 million, with a keen eye on $100 million.
The Clint Eastwood film Mystic River debuts in wide release in fifth this weekend, coming in slightly lower than expected, but performing well nonetheless. River grossed $10.4 million from 1,467 venues, giving it a great venue average of $7,062 - the second best in the top ten. The production budget for MR was $30 million, and because of a smart marketing and release plan, that's going to be an excellent investment. Its total after a week of limited and wide release stands at $13.4 million.
Sadly, Good Boy! is the only real kids flick in the top ten, so it actually held well in its sophomore frame. The talking dog "movie" grossed $9 million this weekend from a ridiculously wide 3,225 venues. It dropped 31% compared to the weekend before, and I think that percentage would have been higher if there had been other kid product to choose from. IMDb now lists the production budget at $18 million and the film has pulled in $25.8 million, so Good Boy! is proving to be a shrewd investment for MGM. I'll have to keep my fingers crossed that the sequel goes to direct-to-video.
It was a busy weekend at the box office, and if any film got lost in the shuffle, it was Intolerable Cruelty, which got knocked down to seventh. The Coen Brothers rom-com took a beating this weekend, grossing $6.9 million, down 45% from its debut last weekend of $12.5 million. So far, the Imagine-Universal project has grossed $23.1 million, and will need a miracle to find domestic box office to equal the production budget of $60 million.
Out of Time is out of time in eighth this weekend. The Denzel Washington thriller grossed $4.1 million, dropping 53% compared to last weekend. The $50 million MGM project has now grossed $35.3 million.
Ninth goes to Under the Tuscan Sun, Diane Lane's Unfaithful follow-up. In its fourth weekend, Tuscan Sun grossed $3.4 million, down 31%. The Buena Vista chick flick has now grossed $33.7 million.
The Rundown finishes off the top ten this weekend, as The Rock starrer grossed $2.8 million in its fourth weekend. The disappointing Universal action flick dropped 45% this weekend, and has a total gross so far of $44.6 million.
Overall this weekend, the box office was on fire. The top ten for the third weekend in October 2003 came in at a massive $101.6 million. Last year the box office was struggling as two longterm holdovers, My Big Fat Greek Wedding and Sweet Home Alabama held the second and fourth positions. 2002's top ten movies came in at $68.1 million, so we have a huge increase this year of 33% compared to last.
Top Ten for Weekend of October 17-19, 2003

Rank

Film

Number of Sites

Change in Sites from Last

Estimated Gross ($)

Cumulative Gross ($)

1

The Texas Chainsaw Massacre

3,016

New

29.1

29.1

2

Kill Bill Volume 1

3,102

No change

12.5

43.3

3

Runaway Jury

2,815

New

12.1

12.1

4

School of Rock

2,951

+22

11.3

55.2

5

Mystic River

1,467

+1,444

10.4

13.4

6

Good Boy!

3,225

No change

9.0

25.8

7

Intolerable Cruelty

2,570

+6

6.9

23.1

8

Out of Time

2,344

-732

4.1

35.3

9

Under the Tuscan Sun

1,663

-38

3.4

33.7

10

The Rundown

2,095

-728

2.8

44.6