Flooding the Market
John Hamann's Weekend Wrap-Up
October 11 - October 13, 2002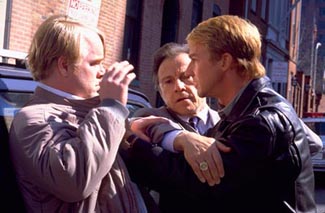 An avalanche of new movies hit theaters this weekend, bringing many new choices to the North American moviegoer. While new releases gobbled up 9,903 screens, they only averaged about 1,600 venues per new release, robbing most of them of any real power. None of the six had a chance at knocking the big dogs off the top rung, as Red Dragon and Sweet Home Alabama held their perches in the top two slots for the second straight weekend. Still, there was good news in the crop of new releases; Taye Diggs' Brown Sugar and Jason Statham's The Transporter both got off to decent starts.
Not only did we have six new wide releases, but there were eight limited releases as well, for a total of 14 new films. Over the last few years, Hollywood has opened more and more films over the second weekend in October. Last year, we had three wide releases and seven limited releases, capped off by Bandits on 3,207 screens and Mulholland Drive on 66. In 2000, we had four new releases and six limited releases, the only one of note being Billy Elliot, which opened on ten screens before going on to make over $20 million. In 1999, there were two wide releases and ten limited releases; of note in that year was the debut of Boys Don't Cry and the failure of Harrison Ford's Random Hearts. What do all of these weekends have in common? Even with all the new releases, holdovers from previous weekends took the top spot every time: In '99 it was Double Jeopardy; in 2000, it was Meet the Parents; and in 2001 it was Training Day, even though that film lost 40% of its opening-weekend audience. So even though a great deal of product comes out on this weekend in October, it doesn't mean that there are a lot of films with decent box office potential.
The number one film for the second weekend in a row is obviously Red Dragon, but the drop it's taken from its opening weekend is somewhat surprising. Red Dragon grossed $17.61 million in its second weekend from 3,356 venues, down an alarming 52% compared to its open of $36.5 million last weekend. Even with better reviews and CinemaScores, Red Dragon still had a similar second weekend drop compared to Hannibal (48% - some sites report a second weekend drop at 42%, but that number includes the holiday Monday over the President's Day long weekend). Please do not think for a second that the drop for RD this weekend is due to competition. Yes, Red Dragon went up against six new releases, but in its second weekend, Hannibal faced three new releases, as well as Crouching Tiger, Hidden Dragon at the peak of its run. Openers took up 7,413 new screens over the 2001 President's Day long weekend, and grossed a combined $44.5 million. The high drop for Red Dragon this weekend was most likely due to things away from movies, like NFL, college football and MLB playoffs. The total so far for Red Dragon is $63.2 million, and it's starting to look as if it will have to work to make it to $100 million.
Universal has to be disappointed with the drop for Red Dragon. It's been a pretty quiet year for Universal, with only The Bourne Identity and now Red Dragon coming close to blockbuster status. The studio has also had some decent earners in Big Fat Liar and The Scorpion King, but 2002 will come nowhere close to what Universal grossed in 2001. Check out the chart below for Universal's 2002 releases.
<% sqlstr = "SELECT * FROM box WHERE" sqlstr = sqlstr + " movie like 'Brotherhood of the Wolf' OR" sqlstr = sqlstr + " movie like 'Big Fat Liar' OR" sqlstr = sqlstr + " movie like 'Dragonfly' OR" sqlstr = sqlstr + " movie like 'Scorpion King%' OR" sqlstr = sqlstr + " movie like 'About a Boy' OR" sqlstr = sqlstr + " movie like 'Undercover Brother' OR" sqlstr = sqlstr + " movie like 'Bourne Identity%' OR" sqlstr = sqlstr + " movie like 'Blue Crush'" sqlstr = sqlstr + " ORDER BY open DESC" max = 100 header = "Universal Class of 2002" tstyle = "release" skin = "bop" x = Drawtable(sqlstr,max,header,tstyle,skin) %>

Second spot again went to Sweet Home Alabama, which had a better hold this weekend than the 40% drop it faced last weekend. This frame, the Reese Witherspoon comedy grossed $14.1 million and dropped 34%, compared to its $21.33 million gross in its sophomore slot. The total for the Buena Vista film stands at $84.6 million, with $120 million still in its sights.
In third we see the first of this weekend's new releases, and leading the pack is Brown Sugar. Made for only $8 million, Brown Sugar grossed its production budget and part of its p&a budget back in its debut weekend, as the urban romantic comedy grossed $11.1 million. The Fox Searchlight film debuted on only 1,372 screens, and had the highest theater average in the top ten at $8,054. The future for Brown Sugar bodes well. CinemaScores were excellent; all six demographic sets gave this film an A.
Fox Searchlight has made some excellent choices this year. The Banger Sisters, while not a huge hit, made its production budget back in its opening weekend ($10 million cost vs. $10 million open). One Hour Photo cost $12 million to make and has now grossed $30 million. The budget for The Good Girl was $8 million, and it has now made $14 million. Searchlight's first two releases this year, Super Troopers and Kissing Jessica Stein, both cost a combined $4 million and together have grossed $25 million.
In fourth position we find The Transporter, the action film that was knocked back a few weeks so that 20th Century Fox could spend a few more dollars promoting the film. Did it work? Probably. The Transporter grossed $9.2 million from 2,572 screens for a not-great venue average of $3,558. Reviews for the film were mixed, with 36 positive reviews out of a possible 66 for a 55% Fresh rating at Rotten Tomatoes. CinemaScores were scattered, as the film scored all the way from an A to a B-. The average score was a B+. Made for about $20 million, it looks like Fox will have a successful film after international grosses are counted.
Coming in at fifth is the elder statesman of the top ten, My Big Fat Greek Wedding. Last weekend it looked like Greek Wedding was finally starting to slow somewhat, but you had better hold the phone. The $5 million IFC film grossed $7.87 million as it enjoyed its half-year birthday and to celebrate, it only dropped 4.3% from its gross last weekend. The comedy crossed the $150 million mark on Friday, and has now grossed $158.4 million. Check the chart below for films over which Wedding has recently triumphed.
<% sqlstr = "SELECT * FROM box WHERE" sqlstr = sqlstr + " movie like 'X-Men, The' OR" sqlstr = sqlstr + " movie like 'Mummy, The' OR" sqlstr = sqlstr + " movie like 'What Lies Beneath' OR" sqlstr = sqlstr + " movie like 'Jerry Maguire' OR" sqlstr = sqlstr + " movie like 'Scooby-Doo' OR" sqlstr = sqlstr + " movie like 'As Good as it Gets' OR" sqlstr = sqlstr + " movie like 'Beauty and the Beast'" sqlstr = sqlstr + " ORDER BY open DESC" max = 100 header = "My Big Fat Greek Wedding's Most Recent Conquests" tstyle = "release" skin = "bop" x = Drawtable(sqlstr,max,header,tstyle,skin) %>

The Tuxedo found itself in fifth place this weekend. The Jackie Chan pic grossed $7.0 million, down 30%. The DreamWorks film has now grossed $37 million, with its $60 million cost seemingly out of reach.
Seventh goes to Tuck Everlasting, a fantasy film for kids. Tuck grossed $5.7 million for Disney this weekend, and the Mouse House better hope for good word-of-mouth from its target audience to keep it on the chart for more than a weekend. Reviews were good; 48 reviewers liked it out of a possible 72, giving it a narrow Fresh rating at 62% (60% positive and up qualifies a film as Fresh). Its CinemaScores were good demographically (A- from girls under 21), but the overall was weaker at a B+. I'm not sure how the CinemaScore organization comes up with the overall score, as the film scored an A-, B+, B+, B, C+ and D+. If an A+ equals a 1 and a D- equals a 12, then the average should be a C+. Tuck started with a very limited screen count of 1,185, giving it an average of $4,658, which was the third best in the top ten, behind Brown Sugar and Red Dragon.
Landing in eighth this weekend is White Oleander, the star-studded chick flick from Warner Bros. White Oleander grossed $5.7 million in its opening weekend from a quiet 1,510 venues. The screen average came in at $3,748. White Oleander was once thought of as a potential Oscar fave, but its gross this weekend will pretty much kill that idea. The budget for the WB flick was only $16 million, as the cast took a cut in pay to be in this highly regarded book-based property, so the studio should recoup their investment.
Ninth goes to Knockaround Guys, another film with a big cast that couldn't draw compared to the big boys. The Mob drama starring Vin Diesel, Seth Green, Barry Pepper and John Malkovich grossed a disappointing $5.0 million this weekend from 1,806 venues. Knockaround Guys has been sitting on the New Line shelf for almost two years, as its original release date was supposed to be January 12, 2001. It won't be knocking around much after this weekend.
Dropping five spots to tenth is Barbershop, probably the only true victim of competition this weekend. Barbershop would have lost much of its audience to Brown Sugar, as that film came in strongly at number three. Barbershop grossed $4 million this weekend, down 40% compared to the last frame. The total for the Ice Cube flick is now a fantastic $65.4 million.
The biggest surprise of films not appearing in the top ten is Jonah: A VeggieTales Movie, which dropped 42% this weekend, even though the family-friendly movie added 234 screens. Also out are The Banger Sisters, The Four Feathers, Moonlight Mile, and One Hour Photo. Due up next weekend are Formula 51 with Sam Jackson and Robert Carlyle, Abandon with Katie Holmes, and The Ring, a remake of a Japanese horror film.
The top ten this weekend grossed a decent $87 million. Last year, the box office was led by the second weekend of Training Day, which grossed $13.4 million. The top ten last year grossed $73.64 million, leading to a 18% increase this year over last.
Top 12 for Weekend of October 11 - 13

Rank

Film

Number of Sites

Change in Sites from Last

Estimated Gross ($)

Cumulative Gross ($)

1

Red Dragon

3,363

+6

17.6

63.2

2

Sweet Home Alabama

3,313

+10

14.1

85.0

3

Brown Sugar

1,372

New

11.1

11.1

4

The Transporter

2,572

New

9.2

9.2

5

My Big Fat Greek Wedding

2,016

+45

7.9

158.4

6

The Tuxedo

2,985

-37

7.0

7.0

7

White Oleander

1,510

New

5.7

5.7

8

Tuck Everlasting

1,185

New

5.5

5.5

9

Knockaround Guys

1,806

New

5.0

5.0

10

Barbershop

1,911

-265

4.0

4.0

11

Jonah: A Veggietales Movie

1,174

-234

3.8

11.1

12

The Rules of Attraction

1,430

New

2.4

2.4