Tarantino Kills With Bill
John Hamann's Weekend Wrap-Up
October 10-12, 2003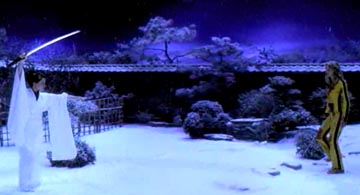 The Columbus Day holiday frame gave us two films from much-loved directors who usually don't bring big dollars to the box office, but that all changed this weekend. Quentin Tarantino and the Coen Brothers released their most commercial projects to date (and the most expensive), and both achieved decent results. On the cheap and quick side, Good Boy and House of the Dead also debuted, and if success can be determined from cost, the box office batted four for four on openers.
In the '80s and '90s, many critics cried that film was being dragged down by the sequel. Moviegoers loved the sequel and voted with their dollars, and because of that we see more and more happening today. However, now the monster has grown a new head: sequels that are filmed concurrently with the original. After the Superman films and Back to the Future 2 and 3, Peter Jackson was the first of the recent era to do multiple films in a single shoot with the Lord of the Rings, and because of the financial and artistic success of the trilogy, more and more of these "two-shoots" are springing up. The LOTR films started shooting way back in October 1999 (actually this weekend four years ago) and the last film won't be seen until December 2003. It was a huge gamble -- New Line and partners spent $300 million plus producing the epic series and easily another $100 million on marketing. As we all know, the gamble paid off big time, as the series has a worldwide theatrical box office of $1.8 billion so far, with potentially another billion coming from the third film. Joel Silver thought that if Peter Jackson could do it, he could do it with the Wachowski brothers and The Matrix films. Warner Bros. spent $300 million making the second and third films in the Matrix trilogy and already have a $727 million worldwide take, with the third film due next month. Kill Bill was a bit of a different beast. Tarantino went into the production of Kill Bill with the idea of making one film, and ended up with two. Quentin thought the film was too long and didn't want to have to snip his vision, so in July, only three short months before its release, Miramax agreed to split the film in half and release it as two movies. The studio now has two films on its schedule that were made for a combined $55 million. After executives see the opening weekend gross of the first volume, they'll know a very smart move was made financially.
The number one film of the weekend is Kill Bill Volume 1, and it marks Quentin Tarantino's first big opening weekend box office success. Bill popped over the Columbus Day weekend, pulling in a very healthy $22.7 million from 3,102 venues. It had the best venue average in the top ten at $7,312. For Miramax, it's the studio's best opening weekend since Scream 3 debuted in February 2000 with $34.7 million. As Tim Briody said in his Saturday update yesterday, Kill Bill grossed $8.1 million on its opening Friday. There was some question as to how front-loaded this Tarantino film would be, as it was his first film since Jackie Brown was released six years ago. Often, if a film has a director, actor or story that has a huge fanbase, the Friday gross becomes the big number for the weekend, and the weekend multiplier (Friday gross divided by weekend gross) can be very low. Offsetting this somewhat would have been the Columbus Day holiday on Monday (43% of US students have the day off) and the fact that critics (and potentially moviegoers) love the gorefest that Tarantino and Lawrence Bender have come up with. The multiplier ended up at 2.73, which indicates that all of these factors came into play. Reviews were phenomenal -- RottenTomatoes gathered 131 reviews, and 106 were positive, leading the film to a 81% fresh rating. However, because of the high level of ultra-violence in the film, word-of-mouth has been mixed.
The original budget for Kill Bill started at $39 million, but ballooned up to $55 million as shooting went on. As we discussed above, the decision was made to split Bill into two parts with the second piece to come in February (can't wait). With the $22.7 million open and a low-end estimated total gross of $60 million, Miramax is going to have an almost free film to release in February, much like the third parts of the LOTR and Matrix trilogies. It looks like Miramax has sold off some of the worldwide rights to the film (I would have definitely kept Japan), with Miramax parent Buena Vista holding onto a few foreign markets. Whatever the case, domestic grosses alone will make these two Tarantino outings a huge success.
Second spot this weekend is a bit of a surprise, but it should remind us of the power of a word-of-mouth success. Jack Black's School of Rock held very well in its second weekend, dropping only 21.5% compared to its powerful debut last weekend. The comedy is definitely a crossover hit as it grossed $15.4 million in its second frame. Paramount increased the venue count by 315, bringing it up to 2,929 screens, and the comedy had a still-hot venue average of $5,258. So far, Paramount's $20 million investment (before marketing) has grossed $39.6 million, and if it continues to hold well without big venue increases, it could finish in the $85 to $100 million range. Way to go, Jack Black!
The Coen brothers and their new film Intolerable Cruelty take the third spot. The George Clooney/Catherine Zeta-Jones flick grossed $13.1 million this weekend, a few million below expectations. Universal and Imagine Entertainment teamed up for this one and released the film at 2,562 venues, the widest release ever for a Coen Brothers film; it drew a venue average of $5,105. There's no reason why Cruelty shouldn't have opened better; as it had a lot of things going for it. It had two big stars in Clooney and Zeta-Jones, and appeared to be a bright, romantic comedy that should have been easy to sell. Somehow it wasn't. The marketing for it was muddled, the advertising did not convey the story well enough, and it wasn't funny. It's not like Universal and Imagine had nothing riding on the opening weekend. IMDb reports the budget at $60 million, and the film is going to have to work hard both domestically and internationally if its ever going to see a return for investors. However, the Coens are known for good movies with good legs, so you never know.
Fourth this weekend (unfortunately) is Good Boy! from MGM. The dumb-looking kids flick grossed a decent, if not surprising $13 million this weekend from a powerful 3,225 venues. It had a venue average of $4,031. Good Boy! cost MGM only $18 million, so no matter how it looks, it should have a chance at making money theatrically, and earning a whole bunch more on DVD and home video.
Denzel Washington's disappointing Out of Time, another MGM film, comes in at the fifth spot. Thankfully, MGM has Good Boy! to make them some money, as Out of Time dropped 47% this weekend, pulling in $8.6 million. However, with a moderate $50 million budget, Out of Time isn't going to cause the studio too much hurt as it has a ten-day cumulative gross of $28.7 million.
Sixth is Artisan's pickup House of the Dead, which may have had the dumbest TV ad for a movie I've ever seen. Somehow, it still attracted some moviegoers, as it made $5.5 million this weekend from 1,520 venues. It will be gone in no time and will be lucky to make $11 million overall. However, the film cost $12 million to make, so home video/DVD should save the day. An interesting RottenTomatoes note about House of the Dead: it received zero positive reviews.
The Rundown, which got The Rock -this close- to being an action star, is the film at the seventh spot. The action flick grossed $5.3 million this weekend, down a mighty 45% from last weekend when it dropped 48% from the weekend before. Cumulatively, The Rundown has grossed $40.3 million, not close to the film's production budget of $85 million.
Slipping down five spots to eighth is Under the Tuscan Sun. Despite big competition from Intolerable Cruelty and a tumble down the top ten list, Tuscan Sun still held up fairly well, drawing $4.8 million and losing only 38% of last weekend's audience. Its total now stands at $28.2 million, still a large distance from the $45 million it needs to recoup its production and marketing budgets.
Ninth goes to Secondhand Lions, which struggles to hold onto a top ten position. The young/old flick grossed $3.3 million in its fourth weekend of release and has now grossed $35.4 million.
Tenth is the arthouse flick Lost in Translation, which has been living near the bottom of the chart for the last few weekends. LiT grossed $2.9 million this weekend from 864 venues, as Focus Features chose not to increase the venue count for their picture. The film dropped 31% as a result. LiT has now grossed $18.2 million, which most likely won't be enough to attract serious Oscar recognition. This where the entire debate about the Oscar screeners ends up. A film like Lost in Translation will likely play in small release now for another eight weeks and not make it to DVD in time for the Oscar deadline, which really hinders its chances for nominations.
Last year was a madhouse at the box office. Six new wide release films debuted on the same weekend in 2002, with none of them beating holdovers Red Dragon and Sweet Home Alabama. Last year's top ten came in at $87 million. This year, better success from the openers resulted in estimates for the top reaching $94 million, 8% ahead of last year's frame.
Top Ten for Weekend of October 10-12, 2003

Rank

Film

Number of Sites

Change in Sites from Last

Estimated Gross ($)

Cumulative Gross ($)

1

Kill Bill Volume 1

3,102

New

22.7

22.7

2

School of Rock

2,929

+315

15.4

39.6

3

Intolerable Cruelty

2,564

New

13.1

13.1

4

Good Boy!

3,225

New

13.0

13.0

5

Out of Time

3,076

No change

8.6

28.7

6

House of the Dead

1,520

New

5.5

5.5

7

The Rundown

2,823

-331

5.3

40.3

8

Under the Tuscan Sun

1,701

+4

4.8

28.2

9

Secondhand Lions

2,563

-469

3.3

35.4

10

Lost in Translation

882

+18

2.9

18.2

11

Underworld

1,906

-809

2.3

48.7

12

The Fighting Temptations

1,168

-594

1.9

27.3