Black Rocks School
John Hamann's Weekend Wrap-Up
October 3-5, 2003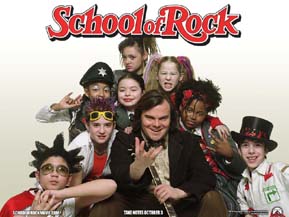 Come on kids, let's all say it together: Jack Black is King. Jack Black faced off against Denzel Washington this weekend as Black's School of Rock opened up against Denzel's Out of Time. Audiences responded to both, but School of Rock found wider demographic appeal and won the weekend.
There is a case to be made about keeping a movie budget under control, and making smaller, $20-$30 million films. Sure, big box office bets can bring glory to studio heads, but recent indications say that the smaller movie is the better financial choice. Before we get into successful, more moderately budgeted films, remember that it takes at least another $25 million to market any film successfully and that the grosses we talk about aren't even close to pure profit for the studios. However, what these numbers can do is act as a general guideline as to who is making money -- and who's not -- in a very broad sense. Take current release Under the Tuscan Sun from Buena Vista. The film reportedly cost the studio and production companies $18.5 million to make and took in $9.8 million in its opening weekend, giving it the appearance of easy profit. However, with marketing, the "cost" for Tuscan Sun approaches $45 million, and even with a minute 19% drop this weekend, Disney will still have to wait for ancillary revenues like DVD and home video grosses before hoping to put the red ink away. Disney is the current master of the "small" movie. They successfully released Freaky Friday and Lizzie Maguire over the summer. Both were made for $20 million or less and combined they grossed $149.5 million domestically. Holes, Disney's DVD release of the week, cost the studio $20 million to make, grossed $67.4 million theatrically, and is now the number one home video. Other recent healthy small films include Underworld, with its $22 million production budget and $44.5 million gross (and sure to be HUGE on home video). It should be profitable in the end for distributor Sony Screen Gems -- if they haven't sold off the video rights. Jeepers Creepers 2 is another that should be bailed out on home video. The cost of the horror sequel was reportedly $17 million and it has grossed roughly $35 million. These films may not have the legendary status of a Hulk or Charlie's Angels 2, but they do put money in the studio coffers.
One of those $20 million films is the number one movie of the weekend, as Jack Black's School of Rock came up with a victory over Out of Time. The Paramount comedy grossed $20.2 million this weekend, mostly thanks to Mr. Black and an effective marketing campaign from the studio. The film had an excellent venue average of $7,727 as the distributor chose to go with a moderate run of 2,614 venues. For Jack Black, SoR is not the biggest opening weekend of his career as he had Gwyneth Paltrow to help him out in Shallow Hal, which opened to $22.5 million. After very positive word-of-mouth screenings last weekend, Paramount rolled into the weekend with outstanding critical regard as RottenTomatoes counted 114 reviews and could only find seven -- yes, seven -- negative notices. That being said, the news should only get better for Paramount in the coming weeks. If School of Rock can manage an opening weekend to total box office multiplier of 4.5, indie director Richard Linklater could have an $91 million hit on his hands.
Second spot goes to Denzel Washington and MGM, as Out of Time sputtered a bit this weekend. Out of Time grossed $17 million this weekend from a very wide 3,076 venues, for a so-so average of $5,527. Out of Time was an expensive movie to make for MGM. The production cost is listed at $50 million with easily another $25-$30 million spent on marketing, which wasn't very well used. The TV ad and trailer were everywhere, but they were muddled and confusing, leaving the viewer unsure of what one was going to get for their $8-$10 at the Cineplex.
Third spot goes to last weekend's champ, The Rundown, starring wrestler The Rock. Universal can't be happy with the 47% drop its film took this weekend as the buzz seemed to be there after opening weekend. The Rundown grossed $9.8 million from 3,154 venues this weekend, but that 47% drop is what the studio had to be concerned about. The action flick was an expensive production, with Universal on the hook for two thirds of the $85 million production budget. It looks like The Rock's latest will top out around $60 million despite the great word-of-mouth. Its current take stands at $32.7 million.
Under the Tuscan Sun drops two places to number four this weekend, as Buena Vista added 471 venues with the hopes of propping up the percentage drop this weekend. The move worked, as Tuscan Sun fell only 19%, pulling in a second weekend gross of $7.9 million. Now at a still-small 1,697 venues, Tuscan Sun had a healthy second weekend average of $4,661. As was stated above, with marketing costs, can the Diane Lane flick make the $45 million it needs to break even on paper? It still looks to be tough, but let's wait until next weekend to make that call; so far the film has grossed a total of $21 million.
Fifth goes to Secondhand Lions, another film with a relatively small budget that is working hard to make some money for its parent company, New Line. Lions grossed $5.4 million this weekend, down 35% from last weekend when it grossed $8.3 million. Excluding prints and marketing, Lions was made for $30 million, and now has a cumulative gross of $30.8 million.
Coming in at sixth is Screen Gems' fright flick Underworld, starring Kate Beckinsale and Scott Speedman. Underworld grossed $4.8 million in its third weekend of release, dropping 49%. It now has a total gross of $44.5 million.
Moving up three places to seventh is Bill Murray in Lost in Translation. The Focus Features film added 376 venues this weekend, and brought its weekend take up to $4.3 million, 15% more than the previous frame. Unfortunately, the venue average is lower than expected at $4,942; the film is going to have to work hard to stay in the top ten as some big films come down the pike in the next couple of weeks. So far, Lost in Translation has made $14.1 million.
Eighth goes to Paramount's other music-themed feature in top ten, The Fighting Temptations. TFT grossed $3.3 million in its third weekend, down 48.5% from the weekend before. The $30 million film has now made $24.5 million, which can't make Paramount happy.
Sony's successful Mariachi pic, Once Upon a Time in Mexico, takes the ninth spot. OUATIM grossed $2.6 million in its fourth weekend, down 49%. It has pulled in a total of $53 million.
Finally in tenth is Cold Creek Manor, the big Buena Vista miss. CCM grossed $2.5 million in its third weekend, but has yet to cross the $20 million mark. A budget figure on this one is elusive, but I'd bet it's at least twice the $18.3 million that the film has pulled in so far.
Despite a great performance by Jack Black and School of Rock, overall box office was down sharply compared to last year. A year ago, Red Dragon opened to $36 million, which helped to lift the top ten movies at the box office to $100 million for the weekend. This time out, estimates for the top ten came in at only $77.7 million, 22% behind last year's tally.
Top Ten for Weekend of October 10-12, 2003

Rank

Film

Number of Sites

Change in Sites from Last

Estimated Gross ($)

Cumulative Gross ($)

1

The School of Rock

2,614

New

20.2

20.2

2

Out of Time

3,076

New

17.0

17.0

3

The Rundown

3,154

+2

9.8

32.7

4

Under the Tuscan Sun

1,697

-471

7.9

21.0

5

Secondhand Lions

3,032

-6

5.4

30.8

6

Underworld

2,715

-213

4.8

44.5

7

Lost in Translation

864

+376

4.3

14.2

8

The Fighting Temptations

1,762

-264

3.3

24.5

9

Once Upon a Time in Mexico

2,097

-825

2.6

53.0

10

Cold Creek Manor

1,938

-97

2.5

18.3

11

Matchstick Men

2,007

-659

2.4

34.3

12

Duplex

2,191

+2

2.1

7.8