Bond is Money
John Hamann's Weekend Wrap-Up
November 22-24, 2002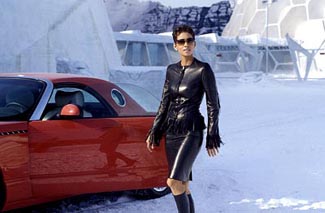 MGM's James Bond franchise isn't going to die this day, in fact, today will save the famed studio, considering the abysmal year they have had. Intense marketing again paid off for Bond and Die Another Day; not a promotional stone was unturned for the 20th film in the franchise. The other story of the week is the quick decline of Harry Potter and Eminem, as both of their films took monstrous hits over the pre-Thanksgiving weekend. Also, could this be the last weekend for a My Big Fat Greek Wedding appearance in the top ten?
It's been an ugly year for MGM. The legendary studio has struggled to get anything going from its release schedule this year, and as each film came down the pike, they crashed into flopsville. The list of flops could become infamous: Rollerball - cost: $70 million, final gross: $19 million. Hart's War - cost: $70 million, final gross: $19.8 million. Next up, Deuces Wild - cost: $10 million, final gross: $6 million. Here's my favourite: Windtalkers - cost: $115 million, gross: $41 million. After that, Crocodile Hunter didn't hurt too much, but certainly wasn't the hit that the studio needed for the summer, and then Barbershop broke out, which enabled MGM to write off one of those superflops. It got so bad that up until this weekend, MGM was behind IFC Films, distributor of My Big Fat Greek Wedding, in terms of yearly box office - totals were $213.9 million for IFC versus $205.2 million for MGM. Now we have Die Another Day, which is budgeted at (according to IMDb) $142 million Bond-bucks. None of the above budget and gross numbers include two very essential elements: cost of the marketing for these films, and the international grosses. For example, the last James Bond film, The World Is Not Enough, grossed $126.9 million domestically, but added another $225.1 million internationally for a total of $352 million. We know that The World is Not Enough had a production budget of $120 million, but the studios have always been very cagey about releasing marketing budgets for films.
<% sqlstr = "SELECT * FROM box WHERE" sqlstr = sqlstr + " movie like 'Rollerball' OR" sqlstr = sqlstr + " movie like 'Hart''s War' OR" sqlstr = sqlstr + " movie like 'Deuces Wild' OR" sqlstr = sqlstr + " movie like 'Windtalkers' OR" sqlstr = sqlstr + " movie like '%Crocodile Hunter%' OR" sqlstr = sqlstr + " movie like 'Barbershop'" sqlstr = sqlstr + " ORDER BY open DESC" max = 100 header = "2002 MGM Chart" tstyle = "release" skin = "bop" x = Drawtable(sqlstr,max,header,tstyle,skin) %>

Die Another Day was the number one film this weekend, beating most estimates and the second weekend of Harry Potter and the Chamber of Secrets. The 20th James Bond experience grossed $47.0 million over the pre-Thanksgiving weekend, easily becoming the highest opening weekend for the lucrative MGM franchise. It also sets the mark for the widest opening for a Bond flick, as the movie opened at 3,314 venues, and had an average of $14,182. On a studio level, Die Another Day is the second largest opening ever for MGM, coming in behind Hannibal's $58 million open two Februarys ago. Considering the amount of promotion for the film, I'd have to think that a $50 million open was the target for the studio, so they have nothing to be disappointed about, but nothing to do the happy dance about, either. Compared to previous Bond opening weekends, Die Another Day almost doubled GoldenEye, as the first Pierce Brosnan effort opened to $26.2 million, Tomorrow Never Dies found $25.1 million in its first frame and The World Is Not Enough grabbed a $35.5 million debut. After having a rough time of it at the box office in the '80s, the Bond franchise has done well through the '90s and new century, with all three films grossing more than $100 million and a fourth on the way to that number.
How are audiences reacting to Die Another Day? The people polled by Cinemascore sure seem to like it. Both sets of demos under 34 gave the film an A-, with the two older brackets giving B+'s for an average score of A-. For comparison, The World Is Not Enough scored slightly more poorly, getting a B+ average with four B+s and two A-s. Reviews were mixed; RottenTomatoes gathered 115 reviews, and 66 were positive, for the slight Rotten rating of 57%.
The other story this weekend is the dive bomb that the Harry Potter gross is taking. It shouldn't really surprise anyone. Last year, Thanksgiving weekend was the second weekend for Potter, so its drop was muted. The week following Thanksgiving last year saw Harry have a 59% drop, so this weekend's plunge of 52% is troubling for the franchise, but it isn't complete cause for alarm. Harry Potter and the Chamber of Secrets grossed $42.4 million in its sophomore weekend, and should gross that plus at least 10% next weekend. Still at 3,682 venues, the venue average this weekend comes out at $11,507. Potter crossed the once-fabled $100 million dollar line on Wednesday, its sixth day of release. The first film took only five days to do the same feat, but again, the difference in Thanksgiving weekends would play a large part in that. The total for the second Potter film now stands at $148.5 million, with another extremely lucrative weekend still to come.
Third spot finds Ice Cube in another successful film; this time it's the third Friday film, Friday After Next. The urban comedy grossed $13.1 million from only 1,616 screens for a fantastic venue average of $8,082. This is another soft surprise this weekend; the second film in the series was the one that opened some eyes. Next Friday, released in January 2000, grossed $17 million in its opening weekend, and that film only had 1,103 venues to work with. Next Friday cost only $9.5 million and grossed $58 million; I can't see the budget of this one being much more - the final gross should end up in the same ballpark as well.
The Santa Clause 2 is down to fourth this weekend, but was able to climb past 8 Mile. The Tim Allen Disney release grossed $10.3 million this weekend, down 32% compared to last weekend. After four weeks, SC2 has grossed $95 million, and will become another film to cross the $100 million mark this year some time over the next week.
Fifth this weekend, shockingly by a nose, is 8 Mile. Last week's drop of 62.3% was not an aberration; it was the beginning of a trend. 8 Mile dropped another 55% this weekend, grossing less than $10 million, coming in at $8.7 million. I find it incomprehensible that a film can open well over $50 million and still limp over the $100 million line, especially a film of this caliber. Marketing disappeared after last weekend's tumble, and Universal will have to settle for $110 million from this release, which is nothing to sneeze at in terms of box office, but it's no jackass: the movie either. It's current total stands at $97.7 million.
Sixth spot goes to The Ring, which is still holding quite well for a horror film. Down 29% this weekend, The DreamWorks fright flick grossed another $7.6 million in its sixth great weekend. The hold is surprising due to the fact that it lost 254 locations in its first big pullback of screens since its release. The Ring has now grossed $110.9 million, and should make at least $130 million, which will be about eight and a half times its first weekend gross.
Two films vying for similar markets battled for seventh and eighth this weekend. The Emperor's Club faced off with My Big Fat Greek Wedding for the older demographic, with The Emperor winning by a nose. The Universal picture starring Kevin Kline started its platform release on 808 screens this weekend, and the film grossed $4.1 million, good for a venue average of $5,037. Universal had to be hoping for a better gross, but will be happy with Cinemascores. Audiences gave the film an average of an A-, with an A coming from women under 21 and over 34.
My Big Fat Greek Wedding continued its exit from the top ten, but like all the other things it has done at the box office, it's doing it slowly. IFC Films dropped another 226 screens from the film's total, but the long-running title refuses to quit, as it lost only 19% of its audience compared to last weekend. MBFGW grossed $3.8 million this weekend, bringing its wacky total up to $204.7 million. With five new releases coming next weekend, this could be Wedding's last appearance in this column. It has set a record for appearances in the BOP wrap at 17. Below is a chart of films that Wedding will pass as it slowly makes it way to $220 million.
<% sqlstr = "SELECT * FROM box WHERE" sqlstr = sqlstr + " movie like 'Mrs. Doubtfire' OR" sqlstr = sqlstr + " movie like 'Ghost' OR" sqlstr = sqlstr + " movie like 'Aladdin' OR" sqlstr = sqlstr + " movie like 'Saving Private Ryan' OR" sqlstr = sqlstr + " movie like 'Mission:Impossible 2' OR" sqlstr = sqlstr + " movie like 'Austin Powers in Goldmember' OR" sqlstr = sqlstr + " movie like '%Spy Who Shagged Me%' OR" sqlstr = sqlstr + " movie like '%Terminator 2%' " sqlstr = sqlstr + " ORDER BY open DESC" max = 100 header = "My Big Fat Wedding Chart" tstyle = "release" skin = "bop" x = Drawtable(sqlstr,max,header,tstyle,skin) %>

Half Past Dead landed in ninth this weekend, selling $3.3 million worth of tickets to unsuspecting children. The action film has now grossed $12.7 million, and should be out on video in a few weeks.
Tenth goes to Frida, which grossed more last weekend on 519 screens than it did this weekend on 794 screens. The Salma Hayek/Alfred Molina film grossed $2.4 million in its first weekend of semi-wide release, dropping an astonishing 17.5% even with the additional screens. That noise you just heard was Frida's Oscar chances running away. The film so far has grossed $12.1 million.
Out of the top ten this week are the very successful jackass: the movie and Sweet Home Alabama, along with the not at all successful I Spy, which is already playing in the cheapie theater where I live. Hitting screens over next weekend's five-day Thanksgiving frame are Disney's Treasure Planet, Solaris, Adam Sandler's Eight Crazy Nights, Universal's Extreme Ops and the film that doesn't have Wes Craven's involvement, Wes Craven Presents: They.
Overall this weekend, box office was tough to compare due to last year's same weekend being Thanksgiving. The top ten this weekend grossed a very lucrative $142.5 million.
Top 12 for Weekend of November 22-24

Rank

Film

Number of Sites

Change in Sites from Last

Estimated Gross ($)

Cumulative Gross ($)

1

Die Another Day

3,314

New

47.0

47.0

2

Harry Potter and the Chamber of Secrets

3,682

No Change

42.4

148.5

3

Friday After Next

1,616

New

13.1

13.1

4

The Santa Clause 2

3,251

-95

10.3

95.0

5

8 Mile

2,585

+89

8.7

97.7

6

The Ring

2,628

-254

7.6

110.9

7

The Emperor's Club

809

New

4.1

4.1

8

My Big Fat Greek Wedding

1,585

-227

3.8

204.7

9

Half Past Dead

2,113

No Change

3.3

12.7

10

Frida

794

+275

2.4

12.1

11

jackass: the movie

1,522

-891

1.7

62.1

12

Far From Heaven

259

+205

1.7

259