Potter 2 Less Than Potter
John Hamann's Weekend Wrap-Up
November 15-17, 2002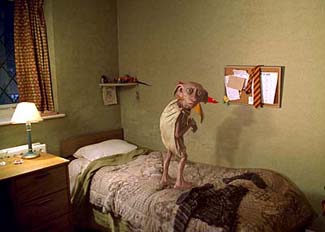 Harry Potter and the Chamber of Secrets did the obvious this weekend, becoming the number one film by a landslide. While very successful, Chamber of Secrets couldn't overcome totals or records that the first film achieved; no box office records were broken this weekend by Harry Potter, except one for size of release.
The question wasn't whether Harry Potter would be the number one film, but instead by how much it would eclipse the runners-up. Potter and his home studio, Warner Bros., did not disappoint, but didn't overwhelm box office watchers either. The Friday number told the tale of the tape. $28.9 million was reported as the Friday total, and BOP's box office calculators went to work. Sunday morning the Saturday number was given as $33.6 million, meaning Potter had a formidable increase from Friday to Saturday of $4.7 million, or a surprisingly large 17% increase. The Saturday gross was actually larger than any of the single day totals from the opening weekend of the first film, coming in at number three on the biggest days list behind the two opening days for Spider-Man. With this information, we know that Sunday is being estimated at $25.2 million.
Harry Potter and the Chamber of Secrets was the number one film this weekend, taking in $87.7 million over the three-day period. Released at a record 3,682 venues with a print count of 8,500, Chamber of Secrets had a fantastic venue average of $23,816, and an individual print average of $10,316. Other than breadth of release, Chamber of Secrets couldn't touch any of the records broken by The Sorcerer's Stone a year ago. Spider-Man hadn't come down the pike yet, so at the time the original Harry Potter set records for opening weekend and biggest single day among others. This time around, the total for the opening weekend will put Chamber of Secrets on the all-time opener list at number three, while its estimated Saturday gross puts it on the top single-day list at number three, with the Friday gross in at number nine. I still find it hard to believe that Spider-Man almost grossed more in its first two days ($83.0 million) than Potter 2 did in three days.
Is there any chance that Chamber of Secrets may end up being a bigger film than The Sorcerer's Stone? Globally, probably not, as the first film finished in second place all-time on the worldwide box office chart. Still, domestically there might be a shot - the studio will love the big increase from Friday to Saturday, always a good sign of a leggy film. The Cinemascores appear to be better than the original, but they aren't really. The first film's average Cinemascore was an A, after it received three A+'s from under 21s and female 21-34s, with the rest of the demos giving A's. Chamber of Secrets accumulated the exact same scores, but, oddly enough its overall grade was a higher A+. At RottenTomatoes, Chamber of Secrets had 128 reviews posted, with 104 being positive, for a fresh rating of 81%. The first film gathered 156 reviews, with 122 positives, for a fresh rating of 78%. There is no data that suggests that Chamber of Secrets will be bigger that Sorcerer's Stone, unless something odd happens in the next few weekends. We'll have to wait and see.
Second spot is a story unto itself, and that is the drop that Eminem's 8 Mile took this weekend. Due to distinctly different demographic patterns, there was no real competition factor from Harry Potter for 8 Mile, but it still got the wind knocked out of it. 8 Mile dropped a stunning 58.4% in its second weekend, indicating that the crossover for the rap film is going to be limited. 8 Mile grossed $21.3 million this weekend from 2,499 venues, an increase of only 28 screens, for a still-great venue average of $8,535. One might have thought that after 8 Mile opened so dramatically last weekend that Universal would have increased the venue count more drastically, taking the film into smaller markets. This weekend's number strips the wonder from last week's open for 8 Mile, and now makes it more of a typical severely front-loaded urban release, just on a larger scale. This chuckage will most likely cease any Oscar talk that once surrounded the film. Still, with a ten-day gross of $86.4 million and a budget of $50 million, no one at Universal can be too upset. And for that matter, let's not drive the stake into 8 Mile until next weekend's performance is added to the trend.
In at third is the remarkably resilient Santa Clause 2. There was some question as to how SC2 would perform in the face of Harry Potter. BOP's main prognosticator, Reagen Sulewski, was quick to point out on Thursday that Monsters, Inc., the venerable title from Pixar and Disney, lost 50% of its audience when it faced off against the first Potter, although it was coming off of a $45.5 million weekend. Even with a smaller previous weekend on its side, Santa Clause 2 still dropped 39% this weekend, resulting in a $15.1 million weekend. Monsters, Inc. had the saving grace of the following weekend being Thanksgiving, when it actually increased 5%. SC2 doesn't have that benefit next weekend and after that, competition will again be a factor over the coming holiday. In this case, the threat will come from its own sister studio in the form of Disney's Treasure Planet (although I think that TP is in big trouble). SC2 sits at $82.5 million right now, and will have an outside shot at breaking the $100 million barrier next weekend.
In at fourth is The Ring, the Halloween movie that held up better than the Christmas movie. The Ring dropped only 29% this weekend and crossed the $100 million line today, its 31st day of release. The successful horror flick grossed $11.0 million this frame, keeping its nose above the $10 million mark for the fifth straight week. For the first time in its run, the DreamWorks film lost screens, as the total dropped 45 to 2,882 for a screen average of $3,827. The total for The Ring sits at $101.6 million, with at least another $25-30 million still to come.
Fifth spot goes to Half Past Dead, a film that I had hoped would finish further down so that it would allow My Big Fat Greek Wedding to enter the top five again. It wasn't to be, as Half Past Dead opened with a stronger than expected $8.2 million from 2,113 screens, for a not-so-good opening weekend average of $3,881. It's hard to believe, but Steven Seagal is still getting work. I guess the surprise open of Exit Wounds ($18.5 million) helps. With three new releases next weekend, maybe we'll get lucky and this will be off the chart by that time.
Hanging onto the six spot is My Big Fat Greek Wedding, the long-time top ten box office resident. Down a surprising 19.5%, the IFC film grossed $4.7 million in its 31st week, and suffered its biggest drop since May 31st, when it was down 26% on a small number of screens. For the first time in its remarkable run, MBFGW lost 163 screens compared to the week previous. I sincerely hope that IFC is playing this right - this film has been a success story for seven and a half months due to a smart roll-out strategy. Is Wedding done? We'll know a lot more after we examine its performance over the US holiday in a couple of weeks. The total now stands at $199.6 million, and the film will break the $200 million mark some time this week. Check the chart below for films on the all time grosser chart that Wedding has either passed this week, or will pass in the next seven days.
<% sqlstr = "SELECT * FROM box WHERE" sqlstr = sqlstr + " movie like 'Mummy Returns, The' OR" sqlstr = sqlstr + " movie like 'Armageddon' OR" sqlstr = sqlstr + " movie like 'Pearl Harbor' OR" sqlstr = sqlstr + " movie like '%Indiana Jones and the Last Crusade%' OR" sqlstr = sqlstr + " movie like 'Toy Story'" sqlstr = sqlstr + " ORDER BY open DESC" max = 100 header = "Wedding Triumphs" tstyle = "release" skin = "bop" x = Drawtable(sqlstr,max,header,tstyle,skin) %>

In at seventh is jackass: the movie. jackass got crunched this weekend as it lost 43% of its audience, grossing $4.0 million. The film will go down as one of the great success stories of the year, as it had a Greek Wedding budget and now has a total of $59.5 million.
Eighth place goes to I Spy, the box office disappointment starring Eddie Murphy and Owen Wilson. I Spy had a fairly good hold last weekend, only losing 31%, but couldn't come close to matching that feat this week. I Spy grossed a miniscule $4 million in its third (and probably final) weekend on the chart. The film dropped 54.6% this frame, bringing its paltry total up to $30.9 million. For those playing at home, I Spy had a budget of $70 million.
Ninth is a nice surprise as Frida enters the chart for real this weekend. Last weekend, Frida had been estimated out of the top ten, but when actuals showed up on Monday afternoon, it turned out that the film had grabbed the ten spot. This weekend, Frida scored $2.9 million from a still very low 519 venues. Its weekend-to-weekend comparison was up 5%, and it had a nice venue average of $5,568. Frida stars Salma Hayek as the famed Mexican painter, who was married twice in her lifetime to the even more famous muralist, Diego Rivera. From a historical aspect, Frida isn't that great, but it works well as a film, especially the performance of Alfred Molina, who is great in the Diego Rivera role. If this film is playing in your area (and you're over 18) you should check this film out. The box office total for Frida has now reached $8.6 million, and with a budget of only $12 million, this art film should turn the trick with ease.
Enjoying its last weekend on the chart is Sweet Home Alabama, barely hanging onto the top ten. Down 38%, SHA grossed $2.4 million, and has brought its total up to a quite impressive $122 million.
Booted out of the top ten this weekend are Ghost Ship (yay!) and Femme Fatale, the latter gone after only one weekend. Three new releases hit next weekend, including the new Bond flick, Die Another Day and the third film in the 'Friday' trilogy, Friday After Next. Opening most likely on a smaller level is The Emperor's Club, the new Dead Poet's Society rip-off with Kevin Kline. Check out BOP's release schedule for more information on these films, as well as the upcoming Thanksgiving releases.
Totals for the weekend were closer to last year's figures than expected, even with the big drop from 8 Mile. Last year, with the first Harry Potter and Monsters, Inc., the top ten grossed an out-of-this-world $150.08 million. This year, with Chamber of Secrets and 8 Mile, the box office grossed a still out-of-this-world $161.3 million. Shockingly, this weekend was up over last year by 7.5%.
Top 12 for Weekend of November 15-17, 2002

Rank

Film

Number of Sites

Change in Sites from Last

Estimated Gross ($)

Cumulative Gross ($)

1

Harry Potter and the Chamber of Secrets

3,682

New

87.7

87.7

2

8 Mile

2,496

+26

21.3

86.4

3

The Santa Clause 2

3,346

-6

15.1

82.5

4

The Ring

2,882

-45

11.0

101.6

5

Half Past Dead

2,113

New

8.2

8.2

6

My Big Fat Greek Wedding

1,812

-163

4.7

199.6

7

jackass: the movie

2,413

-119

4.0

59.5

8

I Spy

2,611

-571

5.0

30.9

9

Frida

519

+200

2.9

8.6

10

Sweet Home Alabama

1,469

-535

2.4

122.0

11

Bowling for Columbine

248

+26

1.4

8.9

12

Femme Fatale

1,066

No change

1.3

5.7