Elf: Box Office Master and Commander
John Hamann's Weekend Wrap-Up
November 14-16, 2003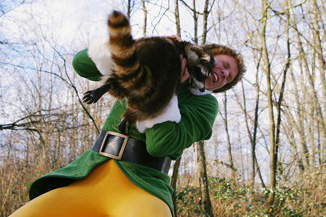 Monday Update
New Line's hit Elf managed to hang on to the top spot at the box office, although its margin of victory got a little smaller when actuals came out Monday afternoon.
Elf was downgraded from a weekend take of $27.2 million by almost a million, with its final tally coming in at $26.3 million. Unfortunately for Fox and its production partners, Master and Commander: Far Side of the World was also over-estimated, going from $25.7 million to $25.1 million. Looney Tunes: Back In Action was also slightly over-estimated, as its score was lowered from $9.5 million to $9.3 million.
The column below is updated with the rest of the weekend actuals. (John Hamann/BOP)
It was a showdown of oddballs this weekend as Russell Crowe took on the Looney Tunes team, Neo and the gang, Will Ferrell's Elf and the ghost of Tupac Shakur. With The Matrix franchise falling apart, it was open season on top spot at the box office -- even holdover Elf had a chance.
The two big openers this weekend cost Fox and WB about $230 million to produce, but the number one film of the weekend is not Master and Commander: Far Side of the World or Looney Tunes: Back In Action. The top spot at the box office over the November 14th - 16th weekend goes to New Line's sweet Christmas movie Elf, the Grinch-opposite. Elf grossed a fantastic $26.3 million this weekend, dropping only 15% from its outstanding $31.1 million take in the last frame. New Line added 44 venues, bringing the theatre count up to 3,381; it had a continued strong venue average of $7.786. The Will Ferrell comedy had a Friday haul of $7.4 million and weekend multiplier of 3.58, which shows how broadly this film is playing demographically, as an even higher multiplier would indicate mostly children were seeing it (Brother Bear's multiplier this weekend was 4.8).
Even with the "isn't it too early for a Christmas movie?" question, New Line last weekend picked the perfect frame to open their movie, as Elf is matching the performance of The Santa Clause 2 a year ago. The Buena Vista Santa movie opened to $29 million on November 1st in 2002 and dropped only 15% in its second weekend. SC2 went on to gross $139.2 million, a total Elf should have no problem matching, as it's playing much broader than the Tim Allen kid-flick. Elf now has a running total of $70.4 million, and faces off against The Cat in the Hat next weekend. Last year in its third weekend, The Santa Clause 2 had to face the huge opening of Harry Potter and the Chamber of Secrets, and it still lost only 39% of the previous weekend's audience.
The number two film of the weekend is Master and Commander: The Far Side of the World, Russell Crowe's latest historical epic after starring in LA Confidential and Gladiator. M&C opened at a wide 3,101 venues, and the wide release partnered with impressive reviews and a decent ad campaign worked well for distributor 20th Century Fox, but failed to put it in the top spot for the weekend. Master and Commander: The Far Side of the World grossed $25.1 million over its first three days, pulling in a venue average of $8,096. Produced by Fox, Universal and Miramax, the epic had an out-of-this-world production budget of $150 million.
The opening weekend take for Master and Commander may be considered a bit of a disappointment considering the success of Gladiator, which had many of the same things going for it. Gladiator was also a good-looking, easy-to-sell historical epic that had a great director (Ridley Scott) and a decent release date (early May). Gladiator grossed a much better $34.8 million over its opening weekend in 2000 before going on to find $187.7 million in domestic box office receipts and Oscar glory for DreamWorks. Will the lower opening weekend keep Fox executives up at night? Doubtful, as good legs are pretty much assured. When Gladiator came out, Russell Crowe was nowhere near the box office superstar he has become. He's appeared in two $150 million plus hits over the last three years in Oscar-geared films, so I doubt this will behave any differently than the leggy Beautiful Mind and Gladiator. Those legs come at a cost, as Crowe tends to appear in very expensive movies. Gladiator cost Dreamworks $100 million to make, The Insider cost BV $90 million (and only made $30 million domestically), and now Master and Commander has hit up Fox and Company for an astounding $150 million. According to my records, that's the sixth most expensive movie ever, but because the costs are spread out among three studios, the impact will not be as large.
The number three film this weekend is The Matrix Revolutions, as the franchise's fortunes continue to plummet. Revolutions grossed a worse-than-expected $16.4 million this weekend, down a huge 66%. The second film in the series, The Matrix Reloaded, also had a big drop in its second weekend of 60%, but that was a drop from $91.8 million to $36.9 million. The Warner Bros. sci-fi epic crossed the $100 million mark on Friday, its tenth day of release, and now has a total of $114.3 million. The question now becomes whether or not Revolutions can match the grosses of the original Matrix, which finished with $171.5 million. To say that The Matrix has gone from box office darling to box office dreck is the understatement of the year, as WB had to be hoping for at least $250 million domestic from this one. The studio can spin as much as they want, but this kind of disaster is going to hurt not only at the box office, but it will also hurt DVD box-set sales, which could have been a huge cash cow for the franchise.
Fourth this weekend is Disney's Brother Bear, one of the studio's last 2-D animation attempts (although that's starting to sound like "Buy Beauty and the Beast now, before we lock it in the vault forever!"). Brother Bear grossed $12.1 million this weekend, and had a big-for-Disney drop of 35% compared to the previous weekend gross of $18.5 million. The good news for the Mouse House is that BB has now grossed $63.1 million against a production budget that is much lower than my estimate last weekend of $100 million. A more realistic figure would be in the $60-80 million range.
Winding up in fifth is Looney Tunes: Back in Action, this weekend's loser in the family/kid movie genre and another disappointment for Warner Bros. Released at 2,903 venues, Looney Tunes grossed a much lower-than-expected $9.3 million and had a venue average of $3,209. The mix of live action and animation proved to be a costly gamble for WB, as the production budget for the film came in at $80 million before the expensive (and ineffective) marketing campaign. Why WB chose to go with Brendan Fraser as the male lead still mystifies me. Yes he's goofy, but he was also the star of Monkeybone, the live action/animated mix that grossed only $5.4 million domestically and cost 20th Century Fox $70 million to make. If parents looked at reviews before heading to the cinema with the kids, they would have taken the family to Elf, as the Looney Tunes film did not review well; of the 77 reviews counted at RottenTomatoes, only 41 were positive, resulting in a 53% fresh rating. Elf, on the other hand, did quite well at the review compilation website, pulling in 95 positive reviews out of a possible 116 for an 82% fresh rating.
Sixth this weekend goes to Universal's Love Actually, which expanded to 1,177 venues from last weekend's count of 576. The increased venue count led to a 26% increase in business as Love Actually grossed $8.7 million, pulling in a still-strong venue average of $7,390. It will be interesting to see how much Universal broadens the release next weekend, as this wasn't a cheap film to produce. IMDb lists the production budget at 30 million British pounds, or a little over $50 million US, and it has so far grossed $18.9 million stateside. It sees its premiere in the UK next weekend.
Scary Movie 3 drops two spots to seventh this weekend, but crosses an important milestone in the process. Somehow this movie has decent legs for what it is; it grossed $6.1 million this weekend, dropping 43% compared to the previous frame. Scary Movie 3 has now reached a point the second film in the series did not - $100 million in domestic receipts. It has a total of $102.3 million.
Eighth this weekend is Radio, as the Sony's feel-good film finds a way to stay in the top ten. Radio grossed $4.8 million and now has a cume of $43.5 million.
The documentary Tupac: Resurrection lands in ninth, and is the third film to open this weekend with a colon in the title. Tupac grossed $4.6 million this weekend, an out-of-this-world gross for a documentary (Michael Moore's Bowling for Columbine never had a weekend above $2 million). Released to a quite-wide 801 venues (Columbine never saw more than 248), Tupac had an average of $5,817 - the fourth best in the top ten.
Landing in tenth is Clint Eastwood's Mystic River, which is most likely spending its last weekend in the top ten. Mystic River grossed $3.2 million and has a total of $45.6 million.
With the failure of The Matrix Unraveling, box office totals didn't have a chance of catching last year's Harry Potter-influenced totals. Last year's top ten box office performers came in at a massive $161.3 million. This year, the top ten couldn't hold a candle against that awesome gross, as 2003's $116.7 million lagged behind 2002 by 28%.
Top Ten for Weekend of November 14-16, 2003

Rank

Film

Number of Sites

Change in Sites from Last

Estimated Gross ($)

Cumulative Gross ($)

1

Elf

3,381

+44

26.3

70.4

2

Master and Commander: The Far Side of the World

3,101

New

25.1

25.1

3

The Matrix Revolutions

3,502

No change

16.4

114.3

4

Brother Bear

3,030

No change

12.1

63.1

5

Looney Tunes: Back in Action

2,903

New

9.3

9.3

6

Love Actually

1,177

+601

8.7

18.9

7

Scary Movie 3

2,960

-328

6.1

102.3

8

Radio

2,416

-395

4.8

43.5

9

Tupac: Resurrection

801

New

4.6

4.6

10

Mystic River

1,550

+31

3.2

45.6

11

Runaway Jury

1,582

-551

2.8

44.5

12

The Texas Chainsaw Massacre

1,607

-1,071

2.6

77.6