Monsters Inc is a Bonafide Monster
John Hamann's Weekend Wrap-Up
November 11, 2001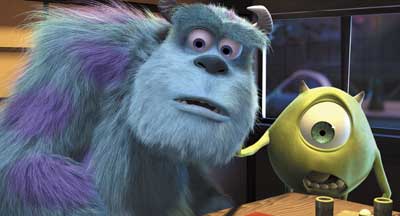 Monsters, Inc. did it again this weekend - the blockbuster held off some very good competition. New flicks Shallow Hal and The Heist performed above expectations - just like The One last week - but it was Monsters, Inc. that was dominant again.
Last week, the Disney release wowed industry watchers, grossing $62.58 million over the three-day weekend and thereby shattering several records. Was Monsters, Inc. front-loaded? Did it lose half its audience in its second weekend? No way.
Monsters, Inc. was the number one film again this weekend, grossing $46.17 million, down a very small 26% when considering the record-breaking opening gross. Still on 3,237 screens, the box office Monster had a screen average of $14,133. Its total already stands at a very impressive $122.88 million after only ten days of release. It crossed the $100 million mark on Saturday, its ninth day of release, and is the fourteenth release of 2001 to reach that mark.
How did Monsters Inc. hold up compared to some other Disney/Pixar presentations? Quite well. A Bug's Life, which opened to $33 million in November of 1998, lost almost 50% of its audience in its second weekend. Toy Story 2 opened over the Thanksgiving holiday in 1999, but when comparing the Fri/Sat/Sun block of its opening weekend, it dropped 51.6%. Star Wars: The Phantom Menace, which had a similar opening weekend to Monsters, fell 20.7% in its second frame.
There is no doubt that Monsters, Inc will have decent legs; however, many are asking how much of an impact the Harry Potter film will have on its upcoming third weekend. Both are family movies that have huge buzz and a built-in audience. I would say that anyone under the age of 20 unlucky enough not to get Harry Potter tickets (and there will be many) will be thrilled to see Monsters. For this reason, I think the film will have a larger drop-off next weekend (40-50% drop), but not completely devastating (60+%). The third week drop will be key, because the numbers will drop rationally with the third week gross. Excluding US Thanksgiving weekend, expect 30% drops every weekend after next, so Monsters, Inc. should easily hit $200 million by the first week of December.
In second spot this week is the 20th Century Fox, Farrelly Brothers comedy, Shallow Hal. Yes, those distasteful brothers are back, and are almost on top of the box office with a comedy about a man who sees inner-beauty as outer-beauty. The Fox film grossed $23.28 million on 2771 screens. Hal managed an impressive screen average of $8,401. Interestingly, last week's The One scored a similar gross opening against Monsters, showing that the second choice film of audiences can still produce large numbers in the face of a blockbuster. The last two weeks have proven that the box office expands with quality, a lesson that will be driven home next weekend as Harry Potter and Monsters, Inc. vie for supremacy. The key word is 'quality' - The One and Domestic Disturbance had large drops this weekend, but I think most moviegoers would say that these two films are not close to the quality of Monsters, Inc., and for that matter, of the unseen Harry Potter movie. Will Shallow Hal take a large hit next weekend? My guess would be yes, but it's too early to tell. The Cinemascores for Hal would suggest a yes answer as well, as the highest marks were from males under 21 who gave the film a B. Women certainly were not impressed with the quality of Shallow Hal. The highest score on the female side of the Cinemascore chart was a B- from the 21 to 34 group. Females 35+ gave the rarely seen C, which spells trouble for the Fox release. I expect Hal to get buried next week, but on the other hand, it could be the lone choice for non-Harry Potter or Monsters, Inc. fans.
How does the $23.28 million open for Hal compare to other films from Peter and Bobby Farrelly? The Jim Carrey film, Me, Myself and Irene opened to $24.2 million, and the legs of There's Something About Mary are historic- that film grossed $176 million after opening to only $13.74 million. But, before you bet the ranch on their next film, The Ringer about fixing the Special Olympics, remember the grosses of Kingpin and Say It Isn't So. Here's a chart with a few more examples of the Farrelly films.

<% sqlstr = "SELECT * FROM box WHERE movie like 'Shallow Hal' OR movie like 'Osmosis Jones' OR movie like'Say It Isn''t So%' " sqlstr = sqlstr + " OR movie like 'Kingpin' OR movie like 'There''s Something About Mary' OR movie like 'Me, Myself%' OR movie like 'Dumb and Dumber' ORDER BY open DESC" max = 100 header = "Farrelly Brothers Releases" tstyle = "release" skin = "bop" x = Drawtable(sqlstr,max,header,tstyle,skin) %>


Fox has a decent fall schedule. They opened the season with the disappointing Glitter with Mariah Carey, but then wowed with thriller Don't Say A Word. They then had consecutive semi-disappointments with Joyride and From Hell (how many thrillers can Fox release in a one-month period anyway?) but moved on to success with Shallow Hal. Good things are on the horizon for the studio as well. Black Knight with Martin Lawrence opens in two weeks, and Behind Enemy Lines, the new patriotic war drama has been moved to the November 30th slot.
Here's a look at how the Fox year has gone so far:

<% sqlstr = "SELECT * FROM box WHERE movie like '%Say a Word%' OR movie like '%From Hell%' OR movie like '%Glitter%' " sqlstr = sqlstr + " OR movie like '%Planet of the Apes%' OR movie like 'Shallow Hal' OR movie like '%Kiss of the Dragon%' OR movie like '%Dolittle 2%' " sqlstr = sqlstr + " OR movie like '%Moulin Rouge%' OR movie like '%Freddy Got Fingered%' " sqlstr = sqlstr + " OR movie like '%Someone Like You%' OR movie like '%Say it Is%' OR movie like '%Monkeybone%' ORDER BY open DESC" max = 100 header = "Recent Fox Releases" tstyle = "release" skin = "bop" x = Drawtable(sqlstr,max,header,tstyle,skin) %>


In third this week is the Jet Li pic, The One. The film with singular title got hammered in its second week, grossing $9.1 million, down a mighty 52% from its debut last weekend. Jet Li has a devoted audience, but this often causes large second week drops for his films at the box office. Kiss of the Dragon dropped 54.8% and Romeo Must Die shed 48% in its second weekend. The Sony release cost the studio about $70 million, and with this drop, it looks like it will have a tough time making the production budget back, but the home video gross will easily put this flick in the black. So far, The One has grossed $31.9 million.
Fourth spot goes to last week's other crapola release, Domestic Disturbance. Surprisingly, the John Travolta thriller didn't drop significantly, losing 39% in its second weekend. The Paramount film grossed $8.5 million, and looks to be filling a niche in the market.
In a tight race for fifth, The Heist ended up battling with Domestic Disturbance. The Heist grossed $8.01 million from only 1891 screens. That gave the David Mamet flick an impressive screen average of $4,236. Moviegoers seem to be catching on to the fact that David Mamet films often mean quality, as his box office grosses seem to be increasing over the years. He's had an especially good year and a half, as he had a go at the screenplay for Hannibal, and wrote and directed the excellent State and Main.
Here's some recent WB openings leading up to Harry Potter next weekend:
<% sqlstr = "SELECT * FROM box WHERE movie like 'Cats and Dogs%' OR movie like 'Hearts in Atlantis%' OR movie like '%Summer Catch%' " sqlstr = sqlstr + " OR movie like 'Rock Star%' OR movie like 'The One' OR movie like '%Osmosis Jones%' OR movie like '%American Outlaws%' " sqlstr = sqlstr + " OR movie like '%Thirteen Ghosts%' ORDER BY open DESC" max = 100 header = "Recent Warner Bros. Openings Prior to Harry Potter" tstyle = "release" skin = "bop" x = Drawtable(sqlstr,max,header,tstyle,skin) %>


Sixth this week is the Kevin Spacey/Jeff Bridges film K-PAX. The Martian movie grossed $6.25 million this week, dropping 38% in the process. The total for the Universal film now stands at $40.3 million.
In seventh was the Halloween holdover, Thirteen Ghosts. This week the scary flick dropped 47%, grossing $4.17 million. It total now stands at $34.0 million. Its predecessor, The House on Haunted Hill, had grossed $34.7 million after its first three weeks of release.
Opening in seventh spot is the Kevin Kline drama Life as a House. The heavy drama which features the soon-to-be Anakin Skywalker, Hayden Christensen, as Kline's son, grossed only $3.67 million on 1288 screens. Life as a House had a screen average of $2853. Life had been playing a limited run up to now on less than a hundred screens, so its total stands at $4.9 million including previous box office.
In the usual dogfight for the ninth and tenth spots were Riding in Cars With Boys, From Hell and Training Day. Riding in Cars grabbed the ninth spot with $2.1 million, and Training Day got tenth with $1.94 million. Their totals now stand at $27.8 million and $72.5 million respectively.
Total box office for the weekend was way up again this week. Compared to a year ago when four films grossed more than $10 million dollars, box office was up 20.2%. The same weekend of November last year saw Little Nicky gross only $16 million, but Men of Honor surprised with a $13.3 million gross. Charlie's Angels was the number one film for the second weekend in a row, grossing $24.6 million, a 38.6% drop. Compared to last week, box office was down 12.17%.
Next week, of course, is Harry Potter. How much can Harry realistically gross? My guess would be somewhere in the $80 million to $90 million range, but we'll have to wait for next week to find out. The Wash makes a good alternative choice for teens and adults not into either of the younger skewing flicks. The Dr. Dre / Snoop Dogg release looks to get about 1000 screens.
Top 10 for Weekend of November 9-11, 2001

Rank

Film

Number of Sites

Change in Sites from Last

Estimated Gross ($)

Cumulative Gross ($)

1

Monsters, Inc.

3,269

+32

46.20

122.80

2

Shallow Hal

2,771

New

23.28

23.28

3

The One

2,894

No change

9.10

31.90

4

Domestic Disturbance

2,910

No change

8.50

26.04

5

Heist

1,891

New

8.01

8.01

6

K-PAX

2,581

+36

6.20

40.30

7

Thirteen Ghosts

2,351

-430

4.18

34.00

8

Life as a House

1,288

+1,200

3.68

4.92

9

Riding in Cars with Boys

2,182

-372

2.10

27.80

10

Training Day

1,407

-398

1.94

72.52