The Real Slim Shady
John Hamann's Weekend Wrap-Up
November 8-10, 2002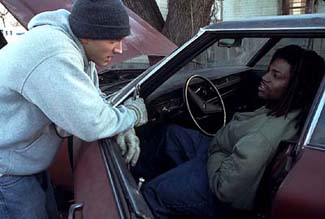 Bam! Eminem's opening of 8 Mile may not out-gross the record-breaking opening weekend take of Spider-Man, but it will probably create more of a stir in box office circles. Spider-Man will always be the champion of buzz, but Eminem's 8 Mile has to be considered a close second. Universal Pictures deserves an award for creating buzz on this one; 8 Mile has been nurtured and loved all the way up to its release date. The soundtrack CD release for the movie was perfectly timed; when the soundtrack sold 702,000 units in its first week, the media took over, ensuring a huge opening for the rapper's first film.
The number one film this weekend is 8 Mile, the super-cool new movie from Eminem, Curtis Hanson and Universal Pictures. The semi-autobiographical tale grossed an absolutely amazing $54.5 million this weekend from only 2,471 screens. The screen average was $22,040, which with its lower screen count comes pretty close to Harry Potter and the Sorcerer's Stone's first weekend average ($24,510) and this year's Star Wars Episode II: Attack of the Clones ($25,317). 8 Mile comes in at number 21 on the biggest opening-weekend ever chart, narrowly sliding in front of the June surprise, Scooby-Doo. It also becomes the second-highest opening weekend ever for an R-rated film, behind Hannibal, but first for a semi-musical, for an actor making his film debut, and for films opening on fewer than 2,970 screens. It is the fifth biggest opening for 2002, and the fifth biggest November opener. It is Universal's fourth-biggest opening, behind The Lost World, The Mummy Returns, and Grinch. It also has to be considered the biggest surprise in the top 20 opens of all time.
How did Universal and the producers of 8 Mile grab such a big open? They were smart, and they were lucky. The release of the aforementioned soundtrack has to be the pinpoint of their marketing strategy. With The Eminem Show still holding on to the charts at number eight after going platinum six times, the 8 Mile soundtrack entered the charts with a bullet, debuting at number one with sales of 702,000 units, almost doubling the sales of Christina Aguilera's new disc. On top of that, Eminem's Lose Yourself, the first track released off the soundtrack, sits at number one on Billboard's Hot 100 Singles. Every time that single gets airplay on the radio or on MTV, it's like running a 90-second ad for the movie. Apart from the soundtrack, Universal also marketed to the non-rap fan, making a large issue of the pedigree of its producer and director, Brian Grazer and Curtis Hanson, respectively. Grazer has had a few huge hits over the last few years, two of which were directed by Ron Howard; the Oscar® winning A Beautiful Mind (final gross $170.7 million), and 2000's How the Grinch Stole Christmas ($260 million).
After such a huge opening, where is this film heading? Currently, it's like telling someone's fortune using tealeaves. In the past, these big-open films have dropped off quickly, but Universal has been very smart with the positioning of this film. Next week, the big story is the second Harry Potter film, which will hardly touch the demographic for the R-rated 8 Mile. Word-of-mouth appears to be fairly good; on the CinemaScore Web site, the all-important under-21 demos both gave this film As, while scores declined as viewers got older. The average grade was a decent, but not fantastic, B+. Reviews were also used in marketing this film. Rotten Tomatoes currently has 101 reviews for the film, with 78 of them being positive, good for a Fresh rating of 77%. Surprisingly, the cream-of-the-crop reviewers liked it even more than the "regular" media; their Fresh rating stands at 84%.
The other nice thing about 8 Mile is that it sold $54.5 million worth of tickets, and there wasn't a single story on the news about violence at screenings.
Waaaayyy back in second place is The Santa Clause 2. The Disney flick is quite a success story unto itself, whether by hook or by crook. Why do I say that? Santa Clause 2 grossed $24.8 million this weekend, down a mere 14.5% from last frame. Often, when a popular R-rated film is number one and the kids want to see it, they purchase a ticket for a G- or PG-13-rated film and sneak into the R-rated film. This can skew the box office. When Friday numbers came out, SC2 was down only 18.7% compared to its opening-day Friday last weekend. So the question is, are the kids being sneaky, or is SC2 well on its way to becoming a bigger hit than the original, showing great legs in its second weekend? We'll know a lot more next weekend, when SC2 faces off against HP2 as the Chamber of Secrets opens for business. The total so far for The Santa Clause 2 stands at $60.1 million, which looks very good for a second weekend gross of a film that was budgeted at $65 million.
Landing in third is The Ring, making it three for three for surprises so far on the chart. The Ring seems to be taking lessons from My Big Fat Greek Wedding and The Sixth Sense, as the weekend-to-weekend drop for the fright-fest was only 11.3%; the film grossed another $16.0 million this weekend. Weekend drops for The Ring have gone as follows: Up 23%, down 2% and now down 11%. These numbers aren't bad for a film that played two of those weekends after Halloween. It's still tough to say where The Ring will end up, but right now $150 million isn't out of the question. Its current total is $86.2 million.
Fourth spot goes to I Spy, another film that may have benefited from sneaky kids. Last weekend's disaster grossed $9.0 million in its second weekend, down a better-than-expected 29.5%. The $70 million-budgeted TV rip-off has now grossed $24.7 million. It's been a tough couple of months for Sony since the release of xXx. Since last August, Sony/Columbia has released eight films of various sizes, and I Spy is the highest grossing of the group, which is nothing to crow about. One of those releases was Madonna's Swept Away, which was recently announced to be heading straight to video in Britain, skipping theaters in the director's home county.
Academy Award® lock jackass: the movie lands in fifth this weekend, down only one spot. The MTV/Paramount collaboration grossed $7.2 million, and must have lost a lot of its audience to 8 Mile, as the film dropped 43.5%. Its total stands at $53.3 million, which will be very profitable considering its $5 million budget. I'm surprised we haven't heard about jackass 2 yet.
Sixth goes to the Grande Dame of the box office, My Big Fat Greek Wedding. In its eighth month of release and 30th weekend, MBFGW grossed $5.8 million, amazingly up 2.2% from its gross last weekend. When looking at this Friday versus the previous Friday estimates, Wedding was only off by about $3,000. If Half Past Dead doesn't do anything next weekend and I Spy drops 50%, Wedding could climb back into the top five. The monster total for the minor film has now reached $192.8 million. Films that it has passed in the last week are listed below.
<% sqlstr = "SELECT * FROM box WHERE" sqlstr = sqlstr + " movie like 'Toy Story' OR" sqlstr = sqlstr + " movie like 'Men In Black II' OR" sqlstr = sqlstr + " movie like 'Gladiator' OR" sqlstr = sqlstr + " movie like 'Dances With Wolves' OR" sqlstr = sqlstr + " movie like 'Fugitive, The'" sqlstr = sqlstr + " ORDER BY open DESC" max = 100 header = "Wedding Roadkill" tstyle = "release" skin = "bop" x = Drawtable(sqlstr,max,header,tstyle,skin) %>

Sweet Home Alabama comes in at seventh this weekend after being on the chart for seven weeks. The Reese Witherspoon flick grossed $3.8 million, dropping only 15% (anyone seeing the trend yet?), bringing its total to $118.6 million.
Eighth, ninth and tenth were a sad set, finishing with just $500,000 separating them. Eighth was Ghost Ship, which grossed $3.2 million. Its total has now hit $26.2 million. Ninth was the other new release this weekend, Femme Fatale. Warner Bros. pretty much abandoned this film last week when they announced it would only appear on only 1,006 screens over its opening weekend. Female Fatale died, grossing only $2.8 million over the frame and $3.5 million since its open on Wednesday. Tenth goes to Punch-Drunk Love, the PT Anderson flick that isn't working with either mainstream Adam Sandler fans or art-house-film types. The film grossed only $2.6 million this weekend, and has a total of $14.6 million. Many are saying Punch-Drunk Love is an under-appreciated film. If you agree or disagree, check out BOP's study on the 50 most under-appreciated films, it's a great read.
Out of the top ten this weekend are Universal's Red Dragon and Brown Sugar from Fox Searchlight.
As for totals for the weekend, Eminem has made up some serious ground for 2002 box office, just when things were starting to look bad in the year-to-year comparison department. Last year over this same weekend Monsters, Inc. was having its second smash weekend, grossing $45.5 million. Opening a year ago were the fantastic Shallow Hal and David Mamet's Heist; those two films took in $22.5 million and $7.8 million, respectively. Overall, the top ten for the second weekend in November 2001 took in $111.5 million. This year the top ten grossed $129.7 million, a surprise increase of 16%. Studios and exhibitors couldn't be happier, heading into what looks to be a very lucrative Thanksgiving and Christmas box office season.
Opening next weekend on more than 3,500 screens is Harry Potter and the Chamber of Secrets, along with the Steven Seagal punch-and-kick fest, Half Past Dead. Check out BOP's release schedule for more information.
Top 12 for Weekend of November 8-10, 2002

Rank

Film

Number of Sites

Change in Sites from Last

Estimated Gross ($)

Cumulative Gross ($)

1

8 Mile

2,470

New

54.5

54.5

2

The Santa Clause 2

3,352

+2

24.8

60.1

3

The Ring

2,927

+119

16.0

86.1

4

I Spy

3,182

No change

9.0

24.7

5

jackass: the movie

2,532

+2

7.2

53.3

6

My Big Fat Greek Wedding

1,975

-2

5.8

192.8

7

Sweet Home Alabama

2,004

-437

3.8

118.7

8

Ghost Ship

2,361

-426

3.2

26.2

9

Femme Fatale

1,066

New

2.8

3.5

10

Punch-Drunk Love

1,293

+41

2.6

14.6

11

Frida

319

+272

2.6

4.3

12

Bowling for Columbine

222

+60

1.7

6.9