Another Scary Weekend
John Hamann's Weekend Wrap-Up
October 31 - November 2, 2003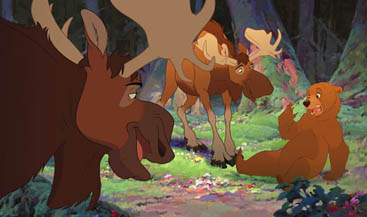 Save for the odd film debuting on a Christmas Saturday, Hollywood did something they never do this weekend: open a film on a Saturday. Disney's Brother Bear avoided the Halloween curse, and rolled out at 3,030 venues on the first day of November. Would two days be enough to take down Scary Movie 3? If it didn't, would it mark failure for the Mouse House and 2-D animation? The answer to both questions: no.
The last time Halloween landed on a Friday was 1997 - and the box office was hurt badly because of it. Debuting films were weak and hardly worth remembering. Red Corner and Switchback opened, Red Corner with Richard Gere took in only $7.4 million from 2,244 venues and Switchback took in a dreadful $2.7 million from 1,128 venues - continuing the Dennis Quaid curse (which was spooky in itself). The top film for the weekend (not surprisingly) was the horror film I Know What You Did Last Summer with $9.4 million in its third frame - down only 25% from the weekend before. Red Corner was second and Devil's Advocate was third, also showing a small drop of 28%. As BOP reported yesterday, horror was hot again this Halloween as The Texas Chainsaw Massacre saw the smallest Friday-to-Friday drop in the top ten at 28.5% - and Scary Movie 3 was the opposite, tanking with a 75% drop. Horror is king on Halloween, and in the end, Disney made a very smart move with the Saturday release of Brother Bear.
After breaking records last weekend, Scary Movie 3 hit the brakes this weekend, but still managed to take top spot for the weekend, despite the huge Friday-to-Friday dropoff. Scary Movie 3 came back after Halloween quite well, dropping 56% compared to last weekend, taking in $21.1 million compared to its $48 million debut last weekend. While Scary Movie 3 may have lost a ton of audience this weekend, it also recouped its marketing and production budgets. Scary Movie 3 cost $75 million to make and market domestically, and has now grossed $78.6 million.
Considering it only had two days to work with while all the other films had three, the very young-skewing Brother Bear grossed a remarkable $18.5 million over its first two days from 3,030 venues. Brother Bear got off to a great start in limited release last weekend, taking in $292,000 from only two screens (although one of those screens was the El Capitan, where admission is between $14 and $23 dollars). For the weekend, comparing Brother Bear to other films is tough because of the two-day open. For reference, Pirates of the Caribbean took in $31.8 million over its first Saturday and Sunday, and Finding Nemo took in $50 million over the same period; however, they both went on to be $300 million grossers. The Santa Clause 2 also opened on November 1st last year, and it took in $21.5 million on its first Saturday and Sunday, which is very similar to Brother Bear. Looking at Disney's troubled animation department, Treasure Planet grossed a little over $7 million over Saturday and Sunday, and Atlantis came up just shy of $14 million. For Brother Bear, Disney has to be exceptionally pleased with the two-day open of their latest fare; the last thing the studio needed from its second-to-last 2-D animation project was soft numbers over opening weekend. Critics weren't as kind as moviegoers. The review-compiling Web site Rotten Tomatoes found 70 reviews from North America's critics, and only 20 were positive for a rotten rating of 40%. We'll have to wait until next weekend to see if that will cause Disney any financial problems with this release.
Third spot goes to the film helped most by Halloween, The Texas Chainsaw Massacre. The New Line scare-fest grossed $10.9 million this weekend, and had a weekend drop of 25% compared to last weekend's gross of $14.5 million. The film, with a budget of only $9.5 million, has now grossed $66.1 million, and should approach Freddy vs. Jason's take of $82 million.
Radio, Sony's latest Cuba Gooding Jr. offering, comes in at fourth place. Radio grossed $10.2 million this weekend, down 23% compared to the previous frame. Sony has to be very pleased about that drop, as I'm sure the studio was counting on good word-of-mouth and staying power. The production budget was $35 million, and Radio has now grossed $26.8 million.
Fifth goes to Runaway Jury; it grossed $6.9 million in its third frame, dropping a very low 19% compared to last weekend. The $60 million film has now grossed $33.7 million, so it still has a long way to go to recoup its production budget.
Clint Eastwood's Mystic River came in at sixth with a weekend gross of $6.3 million from only 1,551 venues (Runaway Jury had 2,736 venues). It had a site average of $4,049 and also dropped a cool 19% compared to the previous frame. For Warner Bros, Mystic River is a terrific investment, as the film cost only $25 million to make and has a cume so far of $33.6 million.
Quentin Tarantino's Kill Bill is seventh this weekend, and has suffered a huge slide since its big $22 million dollar opening frame four weekends ago. Kill Bill Volume 1 grossed $4.7 million this weekend, down 26% from last weekend. The uber-violent flick has now outgrossed the production budgets of both Volume 1 and Volume 2 with a total gross of $61 million.
Eighth spot goes to Jack Black and School of Rock. The Paramount comedy got rocked by Halloween - its Friday-to-Friday drop was a big 62%, but the film came back over the rest of the weekend. School of Rock grossed $4.4 million from a still- powerful 2,786 venues -- its weekend drop ended up at 33%. While on the downside of its run, let's remember that the Jack Black flick cost Paramount only $35 million (and a whole lot more to market - credit Paramount for continuing to advertise this wonderful film) and has now grossed $69.1 million.
Ninth goes to Intolerable Cruelty, but it should have an asterisk beside its ninth place entry. Intolerable Cruelty grossed $2.7 million, down 27% from its last frame, mostly due to the fact that sneaks of Love Actually happened this weekend, which would have boosted IC's fortunes. Often, when a studio offers a sneak preview of a film, they'll attach it to another title, and the box office is associated with the film out in general release. Intolerable Cruelty needs all the help it can get - the film has grossed $32.1 million against a production budget of $60 million.
In the Cut, Meg Ryan's new film, finds itself in tenth place. Sony could have called this one Below the Radar, as audience awareness wasn't where it had to be to take this film to a pseudo-wide release. In the Cut grossed $2.3 million this weekend from 825 venues, managing a site average of only $2,788. Things don't look good early for the $12 million film - maybe Meg should go back to Tom Hanks movies.
Overall, box office bounced back largely after Hell Night, but it couldn't maintain the streak of $100 million plus weekends that the last two frames have enjoyed. Weekend box office came in at $88 million, 12% below the $100 million that the November 1st - 3rd weekend pulled in last year.
Top Ten for Weekend of October 31 - November 2, 2003

Rank

Film

Number of Sites

Change in Sites from Last

Estimated Gross ($)

Cumulative Gross ($)

1

Scary Movie 3

3,505

+2

21.1

78.6

2

Brother Bear

3,030

New

18.5

18.9

3

Texas Chainsaw Massacre

2,970

-48

10.9

66.1

4

Radio

3,074

No Change

10.2

26.8

5

Runaway Jury

2,736

-79

6.9

33.7

6

Mystic River

1,551

+58

6.3

33.6

7

Kill Bill Volume 1

2,429

-204

4.7

61.0

8

School of Rock

2,786

-165

4.4

69.2

9

Intolerable Cruelty

1,661

-629

2.7

32.1

10

In the Cut

825

+819

2.3

2.5

11

Good Boy!

2,415

-347

2.2

35.2

12

Under the Tuscan Sun

1,142

-82

1.7

39.8