A Stunning Victory for Sony and Spider-Man
John Hamann's Weekend Wrap-Up
May 3-5, 2002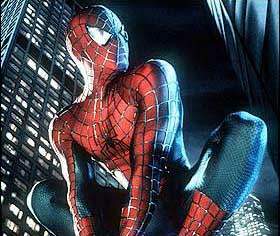 Today is a very special day in box-office history. The astounding $114 million opening of Spider-Man re-writes the record book, smashes records, and shows that huge expectations can still be met and exceeded. It shows that studios and exhibitors continue to become more and more savvy in terms of booking and scheduling, basically eliminating the idea of a sold-out movie. It also shows that Spider-Man was very well hyped, and had perfect opening conditions and was a Perfect Storm at the box office.
First, let's look at the statistics. Spider-Man opened to $114 million on 3,615 screens, good for an awe-inspiring theater average of $31,535. Now please remember, that's a per-venue average; these days, some venues can show a single film on many screens. Cineplexes can schedule these blockbusters so that there is a new showing every ten minutes during prime-time. The actual print count was around 7,500, giving Spidey a print average of $15,200, which is truly remarkable. The opening weekend destroys Harry Potter's opening three-day record of $90.2 million. In fact, Spider-Man's Friday/Saturday total of $87.9 million nearly equals Potter's three day total. Spider-Man's Saturday gross of $46.51 million (estimated) embarrasses the previous one-day record, set by Potter's first Saturday at $33.5 million by almost forty percent. It also breaks the opening Friday record set by Potter. Potter grossed $32.3 million on its opening day; Spidey grabbed $41.8m on its first Friday. It also becomes the fastest film to hit $100 million; Spidey did it in just two-and-a-half days, where it took Potter and Star Wars Episode I: The Phantom Menace five days to reach that goal. One more thing to really make you think: The Friday gross of Spider-Man exceeded the entire opening weekends of a number of big hits from last year, including The Fast and the Furious and Ocean's Eleven, as just two examples.
What happened here? Why did Spider-Man beat Harry Potter's opening of $90.2 million? How did it beat last year's box-office phenom by such a large margin? Well, there are many theories on that question. Potter opened on more screens, and had more prints in circulation compared to Spider-Man, so it's obvious that the Sony Distribution Department did a smash-up job choosing theaters, and how many prints to allot to each venue. The days of the sold-out theater concept have ended. Nowadays, a sold-out show means that one has to wait mere minutes before catching a different screening of the same movie, meaning no one goes home unhappy. Also, with bigger audiences showing up for a number of films last year, exhibitors have now learned how to maximize this windfall through better scheduling.

<% sqlstr = "SELECT * FROM box WHERE" sqlstr = sqlstr + " movie like 'Scream' OR" sqlstr = sqlstr + " movie like 'Batman and Robin' OR" sqlstr = sqlstr + " movie like 'Goldeneye' OR" sqlstr = sqlstr + " movie like 'Gone in 60 Seconds' OR" sqlstr = sqlstr + " movie like 'American Pie' OR" sqlstr = sqlstr + " movie like 'Patriot, The' OR" sqlstr = sqlstr + " movie like 'Spy Kids' OR" sqlstr = sqlstr + " movie like 'Enemy of the State'" sqlstr = sqlstr + " ORDER BY open DESC" max = 100 header = "Entire Runs Beaten By Spiderman's 3-day" tstyle = "release" skin = "bop" x = Drawtable(sqlstr,max,header,tstyle,skin) %>

To best represent Spider-Man's ticket sales this weekend, consider this. According to NATO, the average ticket price in North America is currently $5.65. For Spider-Man to have made $114 million in three days, an astonishing 20 million people would have to go see it. That's a total equal to the largest 7 cities in Canada and the United States combined.
When focusing on Harry Potter's opening weekend last November, we can see that the competition was a little more fierce than what Spider-Man had to deal with. Monsters, Inc. was enjoying its third weekend, grossing $22.71 million, and Shallow Hal was in its second frame, grossing $12.1 million. Did that competition hold Potter back from reaching the heights of Spider-Man? We will never know for sure, but my guess is that Monsters may have taken some business from Potter, but not enough to have any real effect. There was nothing facing Spider-Man this weekend. The Scorpion King had dropped off last weekend, so there was no real fight there, and the two openers from last week were basically roadkill. What Spider-Man did have was a record-setting March, allowing legions of audiences access to the red-hot trailer and hitting every demographic segment there is. The conditions were perfect for the timing of this release.
For the studio behind Spider-Man, Sony Pictures, the huge opening of the movie will only touch off what is going to be a huge summer for the company. Including Spider-Man, Sony has eight films on their slate for the summer, including two big sequels for the Men in Black and Stuart Little franchises, which had their trailers attached to Spider-Man. Along with the sequel properties, Sony also has three big star vehicles on the summer slate, including Mr. Deeds with Adam Sandler, Enough with Jennifer Lopez and xXx with Vin Diesel. It's important that Sony has a fantastic season, as last year was not memorable for the studio, as you'll see by the chart below.

<% sqlstr = "SELECT * FROM box WHERE" sqlstr = sqlstr + " movie like '%Knight''s Tale, A%' OR" sqlstr = sqlstr + " movie like '%Animal, The%' OR" sqlstr = sqlstr + " movie like 'Baby Boy' OR" sqlstr = sqlstr + " movie like '%Final Fantasy: The Spirits Within%' OR" sqlstr = sqlstr + " movie like 'America''s Sweethearts' OR" sqlstr = sqlstr + " movie like '%Ghosts of Mars%' " sqlstr = sqlstr + " ORDER BY open DESC" max = 100 header = "2001 Sony Summer Chart" tstyle = "release" skin = "bop" x = Drawtable(sqlstr,max,header,tstyle,skin) %>

Where is Spider-Man headed? All signs point to super-huge. Reviews were fantastic for the Sam Raimi-directed film. The scores at Rottentomatoes.com were excellent: an 83% Fresh rating, meaning that out of the 78 reviews counted, 65 were positive. Harry Potter also scored well, but not as well as Spidey; the junior magician achieved a 79% Fresh rating. Some other blockbusters' scores: Planet of the Apes - 45% Fresh; The Lost World - 71% Fresh; The Mummy and its sequel - 47% Fresh; and Pearl Harbor - 27% Fresh. This is an excellent sign for Spider-Man's future potential. Cinemascores were good, but not fantastic. The overall grade was A-, but the under-21 set loved it, giving it an A. Legs should be good for the Sony film; it has next weekend basically to itself, and the film should hit $200 million within the first ten days of release. The film that reached $200 million fastest is The Phantom Menace; that film passed $200 million in 13 days, a record that should be easily beaten by Spider-Man.
Falling one spot to number two on the chart this weekend is The Scorpion King. The Rock took his film into the black in its third frame, grossing another $9.6 million from a still-very wide 3,466 screens. The film dipped an unremarkable 46.7% this weekend, even in the face of the mighty Spider-Man. The Universal flick has now grossed $74.8 million against a cost of $60 million. While a bit of a longshot, TSK could make it to $100 million.
Changing Lanes also fell one spot to third this weekend, grossing $5.6 million from 2,642 screens. The Paramount flick has quietly raised its total above the $50 million mark, as its total now sits at $52.3 million. With a cost of only $45 million, Changing Lanes has become a nice endeavor for Paramount. Look for the film to end up with about $70 million by the end of its run.
Fourth went to another holdover, Sandra Bullock's Murder by Numbers. MbN grossed a soft $3.78 million this weekend, and must be a disappointment for Warner Bros. With a 41% drop in its third frame, MbN has now grossed $24 million. Hopefully, Ms. Bullock will do better for WB in her next film, Divine Secrets of the Ya-Ya Sisterhood.
Disney's The Rookie continued to hold well, up one spot to fifth place. The Dennis Quaid baseball flick grossed $3.3 million this weekend, bringing its total up to $65.1 million. The Rookie should make it to about $75 million.
In sixth was Life or Something Like It, with Angelina Jolie and Ed Burns. The second week drop was pretty dramatic for the romantic comedy. It grossed $3.28 million this weekend, good for a weekend-to-weekend plunge of 47%. The total for the Fox film has now reached $11 million.
Way down in seventh is another of this weekend's openers, Deuces Wild, the oft-delayed gang pic from MGM. Deuces scored almost-universally negative reviews, and its gross of $2.7 million this weekend matched the wretched critiques. MGM knew what was coming, and only released the film in 1,480 venues for a horrible average of $1,486. Deuces will be lucky to make $7 million over its run.
The Fox film Ice Age landed in eighth this week. It gorssed $2.5 million, bringing its cume to $169.2 million. Ninth spot went to last week's number-three film, Jason X, which, as expected, dropped very hard in its second frame. After getting out of the gate last weekend with $6.65 million, the slasher flick lost 64% of its audience this week, grossing $2.4 million in its second week, good for a total of $10.3 million.
In tenth is Fincher's Panic Room. The thriller grossed another $2.2 million this weekend, bringing its total to $91.1 million. I am simply amazed that Spider-Man can gross more than that in a single weekend.
This weekend was obviously dominated by Spider-Man; the web-slinger took 76% of the $149.36 million generated at the box office by the top ten films. The first weekend in May last year brought The Mummy Returns to googolplexes across North America; it grossed $68.14 million in its opening frame. But even with the giant opening of Mummy Returns, last year's top ten in the first weekend in May grossed $97.22 million, less than Spiderman's opening this weekend, leading to an increase this year of 34%.
Next weekend is another soft weekend at the box office, but it will be very interesting to see how much of Spider-Man's huge opening can be retained. New wide releases include The New Guy, a comedy also from Sony; and Unfaithful, a Fatal Attraction-type film starring Diane Lane and Richard Gere. For more information, click here to visit BOP's Release Schedule.
Top 12 for Weekend of May 3-5

Rank

Film

Number of Sites

Change in Sites from Last

Estimated Gross ($)

Cumulative Gross ($)

1

Spider-Man

3,615

New

114.00

114.00

2

The Scorpion King

3,466

+17

9.60

74.80

3

Changing Lanes

2,642

No Change

5.60

52.30

4

Murder by Numbers

2,565

-98

3.78

24.00

5

The Rookie

2,351

-192

3.30

65.10

6

Life or Something Like It

2,609

+3

3.28

11.00

7

Deuces Wild

1,480

New

2.70

2.70

8

Ice Age

2,137

-459

2.50

169.20

9

Jason X

1,879

+1

2.40

10.30

10

Hollywood Ending

765

New

2.20

2.20

11

Panic Room

1,827

-636

2.20

91.10

12

High Crimes

1,452

-608

1.72

37.69