Jim Carrey Reloaded
John Hamann's Weekend Wrap-Up
May 23-26, 2003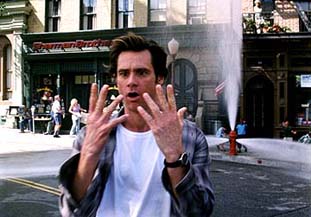 We really are a fickle audience, aren't we? Movies switched gears this Memorial Day Weekend; going from the super sci-fi Matrix sequel to a wacky Jim Carrey comedy about God. One thing that didn't change was big numbers and broken records for the opener as Carrey's Bruce Almighty picked right up where the Matrix left off. And how did Reloaded fare this weekend? If you're around Joel Silver's office, don't ask.
It's been 20 years since Return of the Jedi premiered over the Memorial Day Weekend, and man, have things changed. In 1983, LucasFilm and 20th Century Fox opened ROTJ on a then-super-wide 1,002 screens. The space opera grossed a massive $30.5 million over the four-day weekend, breaking records left and right. Today, the top four films this weekend are each on more than three times as many screens, and openers over the last three weeks have doubled and tripled that gross. Nothing has really changed for Memorial Day weekend over the years; things have just gotten bigger. In the two years after ROTJ opened, more records fell. Indiana Jones and the Temple of Doom opened the following year, and outgrossed the Star Wars flick by $3.4 million. In 1985 Rambo: First Blood Part II became the widest release with 2,074 screens, more than twice that of ROTJ. Back then, Memorial Day Weekend was always a launching pad for big summer releases, but studios have gotten smarter since that time. Now they release the big films in the weeks just before the long weekend, and second and third week drops are eliminated due to the holiday Monday. The best example of this will always be Shrek. The computer-generated kids flick opened on May 18, 2001 to a then-jaw-dropping $42.4 million. What we really didn't see coming, though, was its second frame, the long weekend gross. Over the three-day portion of its second weekend, Shrek grossed $42.5 million, a 0.3% increase over the weekend before. This push helped Shrek find $267.7 million before its run was out.
Surprisingly, the number one film this Memorial Day weekend belongs to Universal and not Warner Brothers. Bruce Almighty scored big, raking in a massive $86.4 million over the four-day long weekend. Over the three-day portion of the weekend, Bruce grossed $70.8 million, good for ninth on the biggest openers of all-time list. Debuting on 3,482 screens, the Jim Carrey vehicle had a white-hot venue average of $24,806. Bruce saves Jim Carrey's career, as his last four Grinch-less films have all been disappointing. Speaking of the Grinch, Bruce Almighty beats the Christmas curmudgeon as Carrey's biggest open yet; the Grinch found $55 million over its debut weekend in November 2000.
<% sqlstr = "SELECT * FROM box WHERE" sqlstr = sqlstr + " movie like 'Majestic, The' OR" sqlstr = sqlstr + " movie like '%Grinch%' OR" sqlstr = sqlstr + " movie like '%Me, Myself%' OR" sqlstr = sqlstr + " movie like '%Man on the Moon%' OR" sqlstr = sqlstr + " movie like 'Truman Show, The' OR" sqlstr = sqlstr + " movie like 'Liar Liar'" sqlstr = sqlstr + " ORDER BY open DESC" max = 100 header = "Recent Jim Carrey films" tstyle = "release" skin = "bop" x = Drawtable(sqlstr,max,header,tstyle,skin) %>

Bruce Almighty was a good choice for Carrey. It re-teamed him with Universal and Tom Shadyac, the studio and director behind the star's last breakout hit, Liar Liar. These non-offensive comedies are all the rage these days. Look at Bringing Down the House. Not critically well received and with less than stellar word of mouth, BDtH has grossed a massive $129.3 million after opening in March. This film is not offensive, is good for a mature audience that is growing in North America, and might even be good for some families. Another example is My Big Fat Greek Wedding, a film that was by no means Oscar caliber, but sold $241 million worth of tickets. These are the Everybody Loves Raymonds of the big screen. Maybe a few laughs, maybe an emotional moment ,and everybody goes home happy with nothing to think about. It's not high art, but it sells tickets. If we are being dumbed-down, at least someone's making a profit.
Universal is going to have a very good summer, which is nothing new. After a slow start to 2003 with the horrible Life of David Gale, the big U kicks their year into overdrive with Bruce Almighty, but it certainly won't end there. Up next is the horribly-titled 2 Fast 2 Furious, which has a chance to open to $50+ million on June 6th, and is closely followed by Ang Lee's Hulk movie on June 20th. Also coming from Universal, the $100 million international hit Johnny English with Rowan Atkinson, American Pie 3 (aka American Wedding), and Seabiscuit, with Spider-boy Tobey Maguire.
Pulling up in a surprisingly low second is The Matrix Reloaded. WB, Village Roadshow and Joel Silver can't be happy with a 50.3% drop in the super-sequel's second weekend. Even with the big drop, Reloaded grossed $45.6 million over the four-day weekend, and has now outpaced the total gross of the original in only 11 days. To date, Reloaded has grossed $209.5 million and it still may be a little early to say, but it doesn't look like the upper $300 million range is in reach. For the investors, the worrisome thing is that the big percentage drop should have been lowered due to the holiday. With school and work out on Monday, more people can hit the cinema on Sunday, thus improving the drop. So what happened? From the size of the Bruce Almighty gross, my guess is that theatre owners did what they usually do; they shipped the second weekend picture into their smaller venues, giving the big auditoriums to the new film. The biggest reason for the drop is the initial width of the release and the amount of prints for The Matrix Reloaded. Anyone who wanted to see the film last weekend basically could, so it's tougher to keep up the numbers in the second weekend. Reloaded's venue count was unchanged at 3,603 and it had a still great venue average of $12,666. The problem for Reloaded is obviously word-of-mouth from people who choose to dismiss the greatness of this film. The Matrix Reloaded is lost on fans of films like Bringing Down the House and My Big Fat Greek Wedding. These folks are unwilling to invest the time needed to comprehend this puzzle of a picture, and instead slam it for being incomprehensible. I recommend WB plan as early a DVD release date as possible so fans can fall in love with the series all over again. I guess the more things change, the more they stay the same; the original Matrix found its biggest audience on DVD, and I imagine the same thing will happen this time around.
Another surprise is that Daddy Day Care actually held up very well in the face of Bruce Almighty - are people getting double doses of dumb at the movie theatre? In its third frame, DDC dropped only 4.7% and grossed $18.0 million over the long Memorial Day weekend. Sony, the studio distributing DDC made a smart move heading into the frame by finding 64 more sites into which to drop their movie, bringing the venue count up to 3,472, only ten venues less than Bruce Almighty. The Eddie Murphy kid flick had a screen average of $5,184 and has now grossed $73.1 million. The non-offensive comedy should top out at more than $100 million. Way to go, Eddie.
X2: X-Men United settles for fourth this weekend, but is still enjoying a healthy return at the box office. X2 grossed $13.1 million over the long weekend, dropping 24.5% compared to the last frame. X2 will have to wait a couple of more days to crack the $200 million mark, as its total sits at $192.0 million. The worldwide cume for the Fox flick has now crossed $350 million against a production cost of $125 million. Not bad for a couple weeks work, eh?
The other new and already forgotten release this weekend is The In-Laws with Michael Douglas and the super-talented Albert Brooks. Why WB chose to release this against Bruce Almighty and the second weekend of The Matrix Reloaded is beyond me, counter-programming or not. The In-Laws grossed $9.1 million from 2,652 venues over the long weekend. It had a lukewarm venue average of $3,443. Critics were not kind to the remake. Of the 91 reviews gathered at RottenTomatoes, only 39 were positive, leading to a rotten rating of 43%. This one is dead on arrival and shouldn't last in theatres long.
In at sixth is another DOA release, this time its Fox's Down with Love. The Ewan McGregor/Renee Zellweger comedy could only find $5.1 million this weekend from 2,117 screens. DWL dropped 26.6% in its second frame, and has now grossed a not-great $14.7 million.
The Lizzie McGuire Movie managed to hold onto a top ten spot this weekend, landing in seventh with a gross of $4.0 million. The little movie that opened big dropped 15.9% in its fourth weekend, and now has a cumulative gross of $37.3 million. Back in April, if I had asked whether a Renee Zellweger/Ewan McGregor movie would gross more than The Lizzie McGuire Movie, what would you have said?
Eighth spot goes to the Buena Vista flick Holes, now in its fifth week. Holes has turned into a nice little hit for Disney. This weekend the kids' flick grossed $3.0 million, but the total for the novel-based movie is impressive. After five weekends of release, Holes has grossed $60.0 million against a production cost of only $20 million.
Ninth and tenth both belong to Sony, and both are big hits for the studio. In at ninth is Identity, the old-school thriller. Identity grossed $2.6 million in its fifth weekend, and has now grossed $49.2 million against a production cost of $28 million. In tenth and thankfully enjoying its last weekend in the top ten is Anger Management. AM grossed $2.4 million in its seventh weekend and now has a total gross of $131.8 million, presumably below expectations.
Even though three films have debuted to more than $60 million over the last four weeks, box office is not keeping up with 2002 May totals. This weekend's grosses were up against a Memorial Day Weekend last year that included the second weekend of Star Wars: AOTC, Spider-Man's still potent fourth weekend, and debuts from Insomnia, Spirit: Stallion of the Cimarron and J.Lo's Enough. Four-day totals for last year came in at a massive $191.5 million. This year, the top ten lagged just slightly behind, finding $189.4 million.
Top 10 for Weekend of May 23-26, 2003

Rank

Film

Number of Sites

Change in Sites from Last

Estimated Gross ($)

Cumulative Gross ($)

1

Bruce Almighty

3,483

New

86.4

86.4

2

The Matrix Reloaded

3,603

No change

45.6

209.5

3

Daddy Day Care

3,472

+64

18.0

73.1

4

X2: X-Men United

3,067

-423

13.1

192.0

5

The In-Laws

2,652

New

9.1

9.1

6

Down with Love

2,118

-5

5.1

14.7

7

The Lizzie McGuire Movie

2,118

-540

4.0

37.3

8

Holes

1,762

-470

3.0

60.0

9

Identity

1,590

-606

2.6

49.2

10

Anger Management

1,809

-667

2.4

131.8

11

Bend It Like Beckham

523

-30

2.1

17.7

12

A Mighty Wind

588

-182

1.7

15.5