The Choice is the Matrix
John Hamann's Weekend Wrap-Up
May 16-18, 2003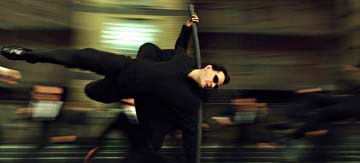 When was the last time the movie industry had this much speculation as to how a single film would perform over a non-holiday weekend? The Matrix Reloaded had every box office analyst there is up in arms over the super-sequel's potential gross. Many thought grosses would be impacted by the film's restricted rating, but it wasn't to be, as Reloaded's four-day totals will rock Hollywood for years to come.
So how did it do? The Matrix Reloaded blew apart expectations, grossing $135.8 million over its first four days of release and $93.3 million over the Friday-to-Sunday portion of the weekend. There are almost too many records broken to list them all, but here are a few: biggest opening day and biggest Thursday ($42.5 million), biggest four-day gross ($135.8 million vs. Spider-Man's $125.9 million), and of course, the biggest gross for an R-rated film (almost doubling Hannibal's open of $58 million). Hopefully this lays to rest the argument that an MPAA rating affects box office, but I'm sure there will be some to come out in the next week who say The Matrix Reloaded could have made more if it was rated PG-13. How much more? $5 million? $7 million more? If that's the case, we are talking about approximately 3% of the opening four-day gross, an amount I'm sure the Wachowskis would gladly pay to keep the film away from studio influence. In 2000, "voluntary" guidelines were laid out for how R-rated films could be marketed. Many studios promised to behave and not market their more adult fare to kids, keeping ads for R-rated flicks off under-18 programming and magazines. In the years since, though, they have gradually moved away from these self-imposed guidelines. When the R-rated 8 Mile came out last year, Universal did not hesitate to run ads on Buffy the Vampire Slayer, That '70s Show and The Bernie Mac Show. Still, to avoid any controversy, WB came out earlier in the month and said they were going to respect the guidelines. Why? WB knew they could market the film without actually marketing the film. They produced ancillary products like The Animatrix, a series of animated vignettes that could sell the Matrix franchise to anyone. They also released the video game, Enter the Matrix, on the same day as the movie. Thus, Warner Bros was able to advertise the entire franchise instead of the R-rated sequel, a rather perceptive move.
Moviegoers indeed chose to see The Matrix Reloaded this weekend, and Warner Bros made it as easy as possible for the fanbase to access The Matrix. WB opened the film at 3,603 venues, and had over 8,700 prints made. As discussed over X2's opening weekend, a release this wide does not come free. At the expense of $2,000 per print, that's a hard cost of $17 million just to manufacture enough copies of the film for North American release. Nonetheless, the box office success formula never changes. Amount of awareness plus size of release equals potential box office. Throw out the rating, throw out the release date; if people want to see a film, they will and that's all there is to it. If awareness is high, and there is no limit to how many people can see a film, then it all comes back to filling demand. It's no secret that this was the number one movie ever in terms of tracking/awareness, and no secret that it was one of the widest released films ever. Knowing the formula, all WB had to do was sit back and wait for the party to start. The Matrix Reloaded cost WB and Village Roadshow about $150 million, half of the $300 million associated with the making of the two films. The film should make its cost back by the end of day on Monday and should crack $200 million by Friday. Where revenues go with the two films, the video game and the DVDs is anyone's guess, but my early call is that it's a $3.5 billion to $4 billion gross. Think that number is too high? Remember that the Harry Potter series has made $1.9 billion worldwide so far from only two films.
Last week, speculation was huge as to how this film would do at the box office. Carl DiOrio from Variety thought the film would make $150 million in ten days. Sorry, Carl. Nicole Sperling at The Hollywood Reporter said $100-150 million over the first four days, which is right, but I know a few monkeys who could have gotten this right with a $50 million spread. Box Office Guru Gitesh Pandya had a very solid forecast as he predicted $90 million over the Friday-to-Sunday frame and $125 million over the Thursday-to-Sunday period. Also right in that range is BOP's own Reagen Sulewski who called for a $100.5 million Friday-to-Sunday and was nearly dead on with his forecast of $140 million over the four-day weekend. Way to go, Reagen!
There were other films out in release this weekend, and the two biggies from the last two weekends continued to perform somewhat admirably in the face of The Matrix Reloaded. Holding onto second spot and leapfrogging X2 is the high art that is Daddy Day Care. DDC grossed $19.2 million in its second weekend, down 30.5% compared to last week's frame. Daddy Day Care added 38 screens this weekend, bringing the venue total for the kid-friendly pic up to 3,408; the film had an average of $5,633. With the screen increase, the top three movies in release this weekend are all playing on more than 3,400 screens. The Eddie Murphy comedy has now grossed $51.4 million for Sony, and with the Memorial Day weekend looming and not much kid-friendly fare coming down the pike until Finding Nemo on May 30th, there's no reason why DDC can't gross $100 million before the end of its run. Not bad for a film with a $60 million production budget.
Third spot goes to the movie that was reigning champ for two weeks before Reloaded came along. X2: X-Men United grossed $17.1 million in its third weekend, and as expected, it dropped a large 57% in the face of Neo, Trinity and Morpheus. Fox's plan all along was to get as much out of the opening of X2 before The Matrix came along. They did - it grossed $155 million in the 13 days leading up to the release of the WB film. Considering that first film's domestic total was $157 million, the gross so far of $174 million has to be making the Fox people happy.
In at fourth is another Fox film; this time it's the new release Down with Love. I have to give the marketing on this one a zero. Fox didn't work hard enough to create awareness for this film, and the results suffered. Down With Love grossed only $7.6 million from 2,124 venues this weekend, leading to a venue average of $3,573. It should have done better. Starring always-Oscar nominated Renee Zellweger and Star Wars man Ewan McGregor, folks should have come for the star power alone. In addition, this movie is a send-up and a celebration of the Rock Hudson/Doris Day romantic comedies of the '60s, so there should have been some built-in awareness from the older set as well. It didn't help that critics bored into this movie; of the 101 reviews at RottenTomatoes.com only 56 were positive. Counter-programming in this case did not work, The Matrix Reloaded was too broad, incorporating all demographics into its want-to-see list. A better idea for Fox would have been to roll Down with Love out slower; last week it had a great one-screen average of over $40,000 - why not start it slow and then expand to hundreds of screens rather than thousands of them? Did My Big Fat Greek Wedding not teach these guys anything?
Fifth spot this weekend goes to The Lizzie McGuire Movie, which dropped two spots. The Buena Vista film took in $4.5 million in its third weekend, dropping 37%. The box office data for this flick could be titled The Rise and Fall of Lizzie McGuire. The film had a great opening weekend, pocketing $17.3 million. Still, the last couple of weekends have not been kind to Lizzie. The film has been unable to double to its opening weekend so far in its run. Lizzie has now grossed only $32.1 million, and looks to struggle to make it to $40 million, which is nuts after its fantastic opening.
Sixth and seventh were very close between two Sony films, Anger Management and Identity. Anger Management has been in the top ten for six weeks, and grossed $3.6 million, down 47.5%. Identity is in its fourth weekend, and that film grossed a similar $3.4 million. Totals for the two are $128.3 million and $44.8 million, respectively.
Buena Vista's Holes takes the eighth spot, and has proven to be an excellent little property for the Mouse House. Now in its fifth weekend, Holes grossed $3.0 million, down 38% compared to the previous frame. The production-only cost on this one was $20 million, and the film has now grossed a mighty $55.8 million.
Two "little movies that could" round out the top ten this week. Christopher Guest's ensemble comedy A Mighty Wind takes ninth place with $1.7 million and Bend It Like Beckham houses the tenth place spot with a gross of $1.5 million. Totals now for the two films are $12.1 million and $15.2 million.
Overall this weekend, the estimates for the top ten movies were obviously very healthy, but did this frame even hold a candle to what last year's May 17th weekend did? Last year, Star Wars Episode II: Attack of the Clones opened to $80 million and was followed by the third weekend of Spider-Man, which grossed $45 million. The top ten totals for the same weekend in 2002 came out at a massive $168.0 million. 2003 was not far behind; the top ten grossed an estimated $155.0 million, down 8% from last year.
Top 10 for Weekend of May 16-18, 2003

Rank

Film

Number of Sites

Change in Sites from Last

Estimated Gross ($)

Cumulative Gross ($)

1

The Matrix Reloaded

3,603

New

93.3

135.8

2

Daddy Day Care

3,408

+38

19.2

51.4

3

X2: X-Men United

3,489

-260

17.1

174.0

4

Down with Love

2,124

New

7.6

7.7

5

The Lizzie McGuire Movie

2,658

-167

4.5

32.1

6

Anger Management

2,476

-343

3.6

128.3

7

Identity

2,196

-422

3.4

44.8

8

Holes

2,232

-220

3.0

55.8

9

A Mighty Wind

770

+5

1.7

12.1

10

Bend It Like Beckham

553

-2

1.5

15.2

11

Malibu's Most Wanted

811

-1,197

.9

33.0

12

Pokemon Heroes

196

New

.2

.2