Spidey Very Strong in Second Weekend
John Hamann's Weekend Wrap-Up
May 10-12, 2002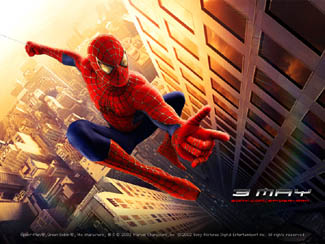 Was Spider-Man going to drop 50%? How about a 60% drop? Going into the May 10th-12th weekend, no one knew how much of a plunge Spider-Man would take from his record-breaking weekend of $114.84 million, mostly because no film had ever grossed that much in a single weekend. There were also two new films hitting the marketplace, Sony's The New Guy, and Unfaithful from 20th Century Fox. Would these two films perform better or worse as they debuted in the shadow of the biggest opener of all time? With six films grossing less than a million dollars on Friday night, the top ten was definitely top-heavy.
What was Sony going to be happy with this weekend? After watching huge opening-to-second-weekend drops last summer, the studio and the exhibitors had to be bracing for a huge drop this weekend. My thinking says they would have been happy with any gross over $55 million, which would have been a 52% drop. But without any serious second-weekend competition, and with the media constantly talking up the film, Spidey held even better than that, grossing a huge $72 million (estimated) in its second weekend, an extremely excellent weekend-to-weekend drop of only 37%. Spider-Man continued to have a fantastic venue average of $19,917 from 3,615 screens. This has to be much better than Sony's most hopeful projections.
Yes, records were shattered again this weekend. Spider-Man now has the record for top second-weekend gross, easily beating Harry Potter's $57.48 million second frame, which was helped by the US Thanksgiving holiday. That weekend-to-weekend drop was slightly lower, percentage-wise (36.33%), but only due to the lower opening weekend ($90.2 million vs $114.8 million). With an estimated total gross now of $223.6 million, Spider-Man becomes the fastest film to hit $200 million, doing so in only ten days. The previous record holder was The Phantom Menace, which did it in 13 days. Spider-Man is also the first film to have both its first and second weekends in the top ten weekend grosses of all time, grabbing first and fourth. The chart below gives examples of films that Spidey's ten-day gross has already beaten:

<% sqlstr = "SELECT * FROM box WHERE" sqlstr = sqlstr + " movie like '%Spy Who Shagged Me%' OR" sqlstr = sqlstr + " movie like '%Mission:Impossible 2%' OR" sqlstr = sqlstr + " movie like 'Terminator 2' OR" sqlstr = sqlstr + " movie like 'Mummy Returns, The' OR" sqlstr = sqlstr + " movie like 'Armageddon' OR" sqlstr = sqlstr + " movie like 'Toy Story' OR" sqlstr = sqlstr + " movie like 'Gladiator'" sqlstr = sqlstr + " ORDER BY open DESC" max = 100 header = "Spider-Man conquests after 10 days" tstyle = "release" skin = "bop" x = Drawtable(sqlstr,max,header,tstyle,skin) %>

Now that Spidey has become the fastest film ever to reach $200 million, where is the film headed? Can the web-slinger beat or match TPM's $300 million in 28 days? With the fantastic hold this weekend, it can be done. TPM only had one drop higher than 30% during the first six weeks of release. However, since the numbers for Spiderman are significantly higher, we will have to wait until next weekend to see how it holds up in the face of Attack of the Clones, the next film in the Star Wars saga. It's all gravy for Sony; when looking at domestic gross only, Spider-Man became profitable for the company on Tuesday, when its $135.8 million gross exceeded the reported budget of $130 million.
Two new films entered the marketplace this weekend; they didn't cut into Spidey's gross, but they did rip the legs off The Scorpion King, as it dropped to fourth this weekend. The second-place film this weekend was Unfaithful, Adrian Lyne's rip-off of his own film, Fatal Attraction. Unfaithful surprised this weekend, grossing $14.22 million (estimated) from 2,613 screens, good for a venue average of $5,442. How did this film manage to gross above $10 million this weekend? Counter-programming. Fox was smart putting this Richard Gere/Diane Lane flick in the path of Spider-Man, much like Universal did with Notting Hill a few years ago; Universal launched that film in the wake of The Phantom Menace, and it performed very well on a weekend that many analysts figured belonged to the Lucas epic. We also know that the best marketing for a film happens inside the theater, and with trailers drawing the eyes of the 20 million people who saw the opener last weekend, it's no wonder Unfaithful opened above $14 million.
Third spot goes to another Sony project, the much-delayed The New Guy. TNG opened to $9.5 million from 2,687 screens, good for a decent average of $3,536. Two weeks ago, The New Guy looked like a big loser, another teen comedy destined for the dollar bin at Wal-Mart. Questions were asked as to why Sony had decided to release two films back-to-back like this, but the strategy seems to have paid off somewhat, as The New Guy's costs shouldn't be too dramatic. TNG is really from Joe Roth's Revolution Studios, using Sony as a distributor. The teen flick is the sixth release from Revolution, which has about a dozen films on its release and production schedules, including Vin Diesel's xXx, which opens August 2nd.

<% sqlstr = "SELECT * FROM box WHERE" sqlstr = sqlstr + " movie like 'Animal, The' OR" sqlstr = sqlstr + " movie like 'Tomcats' OR" sqlstr = sqlstr + " movie like 'Black Hawk Down' OR" sqlstr = sqlstr + " movie like 'One, The' OR" sqlstr = sqlstr + " movie like 'America''s Sweethearts'" sqlstr = sqlstr + " ORDER BY open DESC" max = 100 header = "Revolution Chart" tstyle = "release" skin = "bop" x = Drawtable(sqlstr,max,header,tstyle,skin) %>

The decent numbers for the two openers again this weekend only further proves that competition is not the defining factor in opening-weekend box office. The New Guy has a similar demographic as Spider-Man, and it still performed decently. Would it have opened to more without Spider-Man drawing more of the weekend audience? Probably not.
On the other hand, the film seeming to benefit the most from a lack of competition is in fourth, and that's The Scorpion King. It was the kiss-of-death weekend for TSK as it grossed $4.36 million in its fourth frame, dropping a severe 52%. It's a funny image of DJ Qualls from The New Guy knocking out The Rock, but that's what happened. TSK no longer became the obvious second choice for Spidey sellouts; hence the huge drop. The Scorpion King has now grossed $80.4 million, and will tap out before $100 million, landing just short of $90 million. Don't worry about The Rock's future though; according to worldwideboxoffice.com, The Scorpion King has already gathered $41 million internationally to add to its domestic run.
Fifth went to Changing Lanes; the Samuel L. Jackson/Ben Affleck thriller grossed $3.5 million in its fifth weekend on the chart, down two from number three. The Paramount pic dropped 34% and brought its total up to a very honorable $57 million. Both of these stars have huge summer films approaching; Affleck's in Sum of All Fears, and of course Jackson is Mace Windu in Attack of the Clones.
Sixth is Murder by Numbers, with Sandra Bullock. This one didn't work with North American audiences for some reason. In its fourth weekend of release, the Warner Bros. pic grossed $2.27 million, bringing its total to a soft - for Sandra - $27.3 million. Next wide release for WB is Insomnia, starring Al Pacino and the recently-box-office-cursed Robin Williams; that film opens May 24th.
In its seventh weekend of release, Disney's The Rookie is in seventh place. The baseball movie grossed $2.14 million this weekend. It's total has now reached $67.7 million. Made for only $22 million, Disney made a good investment in this project.
Eighth spot goes to Panic Room, which grossed a small $1.5 million in its seventh weekend on the chart. The Fincher film has now grossed $93.1 million.
Ninth spot finds Ice Age still hanging on after nine weekends on the chart. The animated Fox flick grossed $1.4 million, bringing its gross up to $170.8 million.
Tenth spot went to Life or Something Like It, which was beaten by a raft of films that have been in theaters twice or three times as long as the Angelina Jolie flick. It grossed $1.3 million in its third weekend, and has a running (away) total of $13.1 million.
This same weekend last year was just as top-heavy at the box office. In 2001, A Knight's Tale opened to $16.5 million, but The Mummy Returns took the top spot with $33.7 million in its second weekend. The weekend drew $69.56 million, compared to this year's top-ten tally of $112.9 million, good for a 39% increase.
Next weekend things get really hairy. Star Wars fans are going to be disappointed when Attack of the Clones doesn't come close to Spider-Man's record. And it looks like Universal is plotting an interesting strategy with About a Boy. The film, being released next Friday, is based on Nick Hornby's book of the same name. It looks like Universal will open the film on about 1,200 screens, hoping to win by word-of-mouth against the might of AotC and Spider-Man. Check out BOP's Release Schedule for more information.
Top 10 for Weekend of May 10-12

Rank

Film

Number of Sites

Change in Sites from Last

Estimated Gross ($)

Cumulative Gross ($)

1

Spider-Man

3,615

New

72.00

223.6

2

Unfaithful

2.613

New

14.3

14.3

3

The New Guy

2,687

New

9.5

9.5

4

The Scorpion King

3,215

-250

4.36

80.4

5

Changing Lanes

2,510

-132

3.50

57.00

6

Murder by Numbers

2,116

-449

2.27

27.3

7

The Rookie

2,117

-234

2.14

67.70

8

Panic Room

1,350

-477

1.5

93.10

9

Ice Age

1,729

-408

1.40

170.80

10

Life or Something Like It

1,872

-735

1.30

13.10