Calm Between the Storms
John Hamann's Weekend Wrap-Up
May 9-11, 2003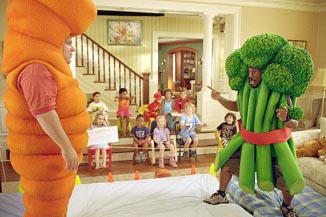 Last week: X-Men 2. Next week: The Matrix Reloaded. Would people take the weekend off to take a breather between blockbusters? Would Eddie Murphy's Daddy Day Care actually sell some tickets, or would X2: X-Men United shut the tired comedian down? Did the nasty weather in the Midwest on Friday and Saturday impact the box office? BOP's weekend wrap-up isn't taking the weekend off, Daddy Day Care or not.
In a race that was closer than expected, X2: X-Men United is the number one film at the box office for the second weekend in a row. Much speculation went into how this film would hold in its sophomore frame. Would good word-of-mouth pump the sequel up, or would the film's fan boy front-loading hurt the second weekend gross? The answer fell between the two extremes, which is great news for 20th Century Fox. X2: X-Men United grossed $41.40 million, dropping 51.6% compared to the weekend before. Spider-Man dropped 38% in its second weekend, but because sequelitis was guaranteed to plague X2, Fox had to be expecting a bigger drop. 45-50% would have been best case scenario, 50-55% expected, and 55-60% as a worst case figure. I really think the poor weather in the Midwest impacted the box office on Friday and Saturday, which led X2 to a higher-than-expected weekend multiplier (opening Friday divided by weekend gross) of 3.47. Now on a monster 3,748 screens, X2 had a theatre average of $11,046. The Marvel flick crossed the $100 million mark on Wednesday, its sixth day of release, and has now grossed a 'Marvel'-ous $149 million after ten days. Fox should have $160 million in the kitty before The Matrix Reloaded hits Wednesday at midnight, which I'm sure beats the goal at the studio.
Revolution Studios claims another hit this weekend as Daddy Day Care is the number two film at the box office. The Eddie Murphy kid-friendly flick grossed a decent $27.6 million this weekend from 3,370 venues leading to an average of $8,190. When did Eddie Murphy turn into Robin Williams? The change over hasn't completely happened yet, but he's certainly working on it. Eddie Murphy has now starred in seven flicks that aim at the younger set. They include this weekend's lone new release, The Adventures of Pluto Nash, two Dr. Dolittle flicks, Shrek, Mulan, and The Golden Child. Williams has been in 11 kid-targeted flicks, so Murphy still has some work to do to catch up to Rainbow Rudolph. Funny how things change; the two main influences on my swearing as a kid are now doing G rated flicks. Go figure.
<% sqlstr = "SELECT * FROM box WHERE" sqlstr = sqlstr + " movie like 'America''s Sweethearts' OR" sqlstr = sqlstr + " movie like '%Anger Management%' OR" sqlstr = sqlstr + " movie like 'Animal, The' OR" sqlstr = sqlstr + " movie like 'XXX' OR" sqlstr = sqlstr + " movie like 'Black Hawk Down' OR" sqlstr = sqlstr + " movie like 'Darkness Falls' OR" sqlstr = sqlstr + " movie like 'Maid In Manhattan' OR" sqlstr = sqlstr + " movie like '%Master of Disguise%' OR" sqlstr = sqlstr + " movie like 'New Guy, The' OR" sqlstr = sqlstr + " movie like 'One, The'" sqlstr = sqlstr + " ORDER BY open DESC" max = 100 header = "Films From Revolution Studios" tstyle = "release" skin = "bop" x = Drawtable(sqlstr,max,header,tstyle,skin) %>

After three consecutive $100 million plus hits (Nutty Professor 2, Shrek and Doctor Dolittle 2), Murphy had settled into mediocrity, and to an extent, into failure with his last three films. His most recent outing, I Spy, cost $70 million before prints and advertising and grossed only $33.5 million - and that's the best of the three. It's the release before I Spy that really bombed. The infamous Adventures of Pluto Nash cost Warner Bros $100 million and only made $4 million, making it one of the biggest bombs in movie history. Murphy must have thought he could make up for his abysmal Pluto Nash mistake for WB by making Showtime, but that went into the trash basket as well, grossing $38 million versus a budget of $85 million. So, Murphy's last three roles grossed $75.9 million total and cost $255 million. That's an average of a $25.3 gross against a cost of $85 million - not good, Eddie. Even with these abysmal results for the comedian, you can't bet against him. Since 1990, Eddie has starred in 18 films, six have grossed more than $100 million, and only three have opened to less than $10 million. Like it or not, that's an excellent track record despite the fact that his bombs are big; they include Best Defense, Harlem Nights, Holy Man and the sad, sad, Pluto Nash. It's no wonder Murphy has sold-out somewhat with Daddy Day Care, an easy-to-market family comedy. It also helps people forget that he was caught with a cross-dressing prostitute in his car at 4:45 a.m. a few years ago.
<% sqlstr = "SELECT * FROM box WHERE" sqlstr = sqlstr + " movie like 'I Spy' OR" sqlstr = sqlstr + " movie like '%Pluto Nash%' OR" sqlstr = sqlstr + " movie like 'Showtime' OR" sqlstr = sqlstr + " movie like '%Dolittle%' OR" sqlstr = sqlstr + " movie like 'Shrek' OR" sqlstr = sqlstr + " movie like '%The Klumps%' OR" sqlstr = sqlstr + " movie like 'Bowfinger' OR" sqlstr = sqlstr + " movie like 'Life' OR" sqlstr = sqlstr + " movie like 'Holy Man' OR" sqlstr = sqlstr + " movie like 'Mulan'" sqlstr = sqlstr + " ORDER BY open DESC" max = 100 header = "Eddie Murphy Movies" tstyle = "release" skin = "bop" x = Drawtable(sqlstr,max,header,tstyle,skin) %>

Third spot holds a bit of a surprise this weekend, as The Lizzie McGuire Movie took a nosedive compared to last weekend. Lizzie grossed only $7.8 million this frame compared to last weekend's opening take of $17.3 million. That's a big drop of 55% - 3.5 points more than X-Men 2. I think Lizzie's release last weekend was well played by Buena Vista, and instead of looking at this weekend like it's a big drop, I think we need to presume that last weekend's gross was inflated. Instead of X2 drawing people away from Lizzie last weekend, it actually drew kids to the cineplex, and worked well as an overflow film. Overcrowding wasn't happening for X2 this weekend, so Lizzie drops just as hard, something that I'm sure is no problem for Buena Vista. Also, Lizzie would have shared an audience with Daddy day Care, which would have impacted the drop as well. The Lizzie McGuire movie has now made $27.2 million, not bad against a cost of only $15 million.
In at fourth and holding well is Identity, Sony's second of three profitable films in the top five. Identity dropped only 33% this weekend, grossing $6.3 million from 2,618 venues, giving it a third weekend venue average of $2,406. The Sony film has taken advantage of good word-of-mouth and having few new films entering the marketplace. The horror/suspense flick with the excellent cast has now grossed $39.2 million against a cost of $28 million, and could make it to $50 million before all its said and done.
Fifth spot goes to another Sony vehicle, Anger Management, which is enjoying its fifth weekend in the top ten. The Adam & Jack picture grossed $5.5 million this weekend, dropping 35% in the process. Anger will have to wait at least another weekend to pass Bringing Down the House as the number one comedy so far this year. BDtH has grossed $127.6 million (it grossed $1.1 million for 13th last weekend), while Anger has now hit $122.9 million.
Buena Vista's Holes took another tumble in its third weekend, dropping one spot to sixth. The youth-oriented film grossed $4.6 million, dropping 33.5% compared to last weekend's gross of $6.9 million. It now has an impressive total of $51.5 million.
In seventh is Christopher Guest's A Mighty Wind from Warner Bros. After a couple weekends of hot limited release numbers, A Mighty Wind expanded to 765 screens this weekend. The gross though didn't expand like the theatre count. AMW grossed $2.87 million in its first weekend of wide release, and had an average $3,752. It's tough to compare A Mighty Wind with Guest's hugely successful Best in Show, as that film never saw a release wider than 497 venues. 'Show' showed for 30 weekends and grossed $18.6 million against a cost of $6 million. After four weekends of release, A Mighty Wind has grossed $9.4 million and carries the same cost that Best In Show did.
Malibu's Most Wanted is still hanging on in eighth. The Jamie Kennedy Experiment grossed a massive $2.1 million this weekend. It has now drummed up $31.8 million total.
Bend it Like Beckham added 79 screens this weekend, but was only able to move up one spot in the top ten to ninth. The Fox Searchlight soccer film grossed $1.7 million in its ninth weekend of release, and has now brought its North American gross up to $13.1 million. Not bad for a film that cost $3.5 million pounds.
Confidence loses what confidence it had, as the film drops three spots from seventh to tenth this weekend. The small Lions Gate film grossed $1.5 million in its third weekend of release and now has a total of $11 million.
Next weekend brings the film many of us have been waiting for, and that of course is The Matrix Reloaded. Set to take over 3,600 or more venues on Wednesday at midnight, it will be very interesting to see how the R rated sequel holds up in the annals of box office history. Check back to BOP all week as we forecast the opening weekend gross, and follow the film day by day over its opening weekend.
Overall this weekend, the performance of the top ten films came nowhere close to the record breaking second weekend of Spider-Man last year. The top ten in 2003 drew $101.4 million, which compares poorly with last year's top ten box office totals of $112.9 million.
Top 10 for Weekend of May 9-11, 2003

Rank

Film

Number of Sites

Change in Sites from Last

Estimated Gross ($)

Cumulative Gross ($)

1

X2: X-Men United

3,741

+7

41.4

149.0

2

Daddy Day Care

3,370

New

27.6

27.6

3

The Lizzie McGuire Movie

2,825

No change

7.8

27.2

4

Identity

2,618

-115

6.3

39.2

5

Anger Management

2,819

-652

5.5

122.9

6

Holes

2,452

-50

4.6

51.4

7

A Mighty Wind

765

+608

2.9

9.3

8

Malibu's Most Wanted

2,008

-322

2.1

31.8

9

Bend It Like Beckham

563

+80

1.7

13.1

10

Confidence

1,188

-683

1.5

11.0

11

Chicago

761

-64

.8

166.3

10

It Runs in the Family

1,042

-165

.8

6.6