'X'-pectations Met: $85.8 Million
John Hamann's Weekend Wrap-Up
May 2-4, 2003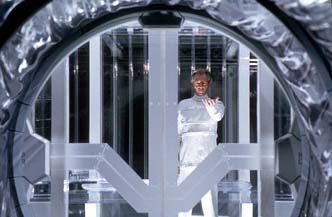 If the launch of X2 is any indication, I can't begin to tell you how excited I am for the prospects of the summer movie season. Going into the weekend, I was unsure whether or not X-Men 2 could live up to the huge expectations that the media was putting on it, but I'm happy to report how wrong I was. X2 packaged everything a studio needs for a super-hit; a record-breaking venue count, deafening buzz, and positive word-of-mouth before the movie hit screens. It also had great marketing, and a built-in comic book audience - many of the same aspects as last May's super-hit Spider-Man, and to an extent The Matrix Reloaded, which hits screens on May 15th.
X2: X-Men United jumped out of the gate in a huge way on Friday, grossing a massive $33.9 million (estimated) on its opening day. If X2's gross was $34 million over the entire weekend, it would have beat opening weekends from films like Bringing Down the House and Terminator 2, but that was just its Friday. X2's Friday gross was the fourth biggest day of movie business ever, behind two of Spider-Man's opening days ($43.6 million and $39.4 million), and the Saturday of Harry Potter and the Chamber of Secrets ($34.2 million). The Saturday number for X2 was even bigger, a boast that the first X-Men movie couldn't claim; X2 grossed $34.8 million (estimated) on its second day, good for third spot on the biggest days ever chart. With these figures, one would think that the final number would be in the $90 million area, but for some reason it's not. X2: X-Men United grossed a whopping $85.9 million, over the May 2nd - 4th weekend, exceeding most expectations, and setting the mark to beat for summer box office in 2003. The weekend estimate doesn't jive with daily numbers, so one would have to think that the Friday estimate was overshot by a few million. Whatever the case, if these estimates hold, X2 stands in fifth place on the all-time biggest openers chart behind only Spider-Man ($114.8 million), Harry Potter and the Sorcerer's Stone ($90.3 million), Harry Potter and the Chamber of Secrets ($88.4 million) and Star Wars Episode II: Attack of the Clones ($86.2 million). Kudos to Reagen Sulewski who estimated $88 million for X2's weekend last Thursday; when dealing with numbers this high, the target gets very large and naturally tougher to hit.
The first weekend in May can easily take the title as the best weekend of the year to open a tentpole/franchise film - but it hasn't been that way for long. If one were to look back to the first weekend in May 1998, they would see three big misses: He Got Game ($7.6 million open), Les Miserables ($5.0 million open), and the Patrick Swayze classic Black Dog ($4.8 million). It was recent summer geniuses Universal Pictures who released The Mummy a year later on May 7, 1999. The Mummy was the first film to pop over the first weekend in May, grossing $43.4 million, which at the time was the fourth biggest open ever for May, one of the biggest box office months of the year. The rest is history. In 2000, DreamWorks released Gladiator on May 5th; it grossed $34.8 million over three days and of course went on to win the Oscar for Best Picture. The following year, Universal was back with The Mummy Returns and that film became (at the time) the second biggest open in May with a $68.1 million open. Finally, last year on May 3rd, all records fell to Spider-Man, business cousin of the X-Men, as it grossed $114.8 million over its opening three days. Studios should be positioning now for this date in the future. Looking at next year, Universal has staked out the May 7th weekend for Van Helsing, Mummy director Stephen Sommer's vampire-hunter flick with X-Men star Hugh Jackman.
<% sqlstr = "SELECT * FROM box WHERE" sqlstr = sqlstr + " movie like 'Spider-Man' OR" sqlstr = sqlstr + " movie like 'Mummy Returns, The' OR" sqlstr = sqlstr + " movie like 'Mummy, The' OR" sqlstr = sqlstr + " movie like 'Gladiator' OR" sqlstr = sqlstr + " movie like 'I Dreamed of Africa' OR" sqlstr = sqlstr + " movie like 'He Got Game' OR" sqlstr = sqlstr + " movie like 'Les Miserables' OR" sqlstr = sqlstr + " movie like 'Black Dog' OR" sqlstr = sqlstr + " movie like 'Breakdown' OR" sqlstr = sqlstr + " movie like 'Austin Powers'" sqlstr = sqlstr + " ORDER BY open DESC" max = 100 header = "1st Weekend In May Releases " tstyle = "release" skin = "bop" x = Drawtable(sqlstr,max,header,tstyle,skin) %>

X2 set a record for the girth of its venue count of 3,741, another very smart move by the Fox people. They haven't been quiet about their need to have X2 gross as much as possible before The Matrix Reloaded nukes the box office on the 15th. Their wish was achieved this weekend as X2 had a venue average of $22,948. Making that many prints was a big experiment - domestically, Fox produced over 8,000 prints for X2, which would have cost Fox $2,500 per print. That's an additional cost of $15-20 million dollars, unless it was already added in to the film's $100 million budget.
As mentioned above, X2 had everything going for it - it even had critics on side. The score for X2 at RottenTomatoes is quite remarkable. RT gathered a huge 136 reviews, and only 18 were negative. That's a fresh rating of 87%, one of the highest scores we've seen at RT this year. The original scored well critically too. Ninety-nine out of a possible 123 reviews were positive for the first X-Men film - it received a fresh rating of 80%.
Where is X2 heading in terms of total box office? Next weekend will be smooth sailing for the film; its only competition is Daddy Day Care and the expansion of A Mighty Wind. Even with little market competition, the typical front-loading of this type of film will still drop the second weekend gross by more than 50%. What could be the best news of the weekend for X2 and Fox is that Saturday's estimate was bigger than Friday's, which usually means that word-of-mouth is very good. The first film dropped 10% from Friday to Saturday, so a 2.5% increase this time out is very positive. It will be interesting to see how close X2 can get to $200 million by the end of next weekend; after that, it will have to contend with the gang from The Matrix, the next power-sequel coming down the pipe.
In second spot, Hilary Duff's Lizzie McGuire movie did very well this weekend and quietly made for a financially successful weekend for Buena Vista Pictures, a division of the mighty Disney Corp. Lizzie McGuire proved that good things can come in small packages as the TV show turned movie grossed a powerful $17.1 million this weekend. Disney deserves a medal for releasing Lizzie against the X-Men; as again, counter-programming worked. BV sent Lizzie out to 2,825 venues and she brought back an excellent venue average of $6,035. The Lizzie McGuire Movie cost Buena Vista only $17 million, so the teen girl flick has achieved something the mighty X-Men could not - The Lizzie McGuire Movie is already profitable. On the problem side, the movie did not review well, but it probably won't impact the box office. RottenTomatoes found 73 reviews and only 26 were positive, leading to a rotten rating of 36%.
In third was last weekend's surprise performer, Identity from Sony Pictures. The "slasher flick with talent" grossed $9.5 million this weekend in the face of remarkable results from X2 and Lizzie McGuire. The film dropped 41% in its second weekend, and had a venue average of $3,476. The good news for Sony is that Identity is already a winner. The James Mangold film cost only $28 million, and has now grossed $30.3 million, with $15-20 million more to come.
In its fourth weekend, Anger Management also made for great counter-programming to the teen flicks out this weekend. The lone adult comedy in the top ten dropped only 43% this weekend, pulling in another $8.5 million from 3,471 venues. The film has now reached $115.4 million, which is great, but it has to be lower than Sony's expectations. Anger Management isn't going to make it to $150 million, and most likely won't be Nicholson or Sandler's biggest movie of their respective careers.
I spoke earlier of how well The Lizzie McGuire movie did, but the problem is, it did so well it wiped out Holes, Buena Vista's other release in the top five. Holes started out remarkably well two weekends ago, and held well in the last frame before dropping 48% this weekend, most likely due to the intense market competition for this demographic this weekend. Holes grossed $6.5 million from 2,402 venues (up 53 from last weekend - too little, too late) and had a venue average of $2,710. Whatever the case, the profit margin on Holes is large even after prints and marketing, as the production cost was only $20 million and the gross up to today is now $45 million.
Because X2 and Lizzie grossed a combined $102.9 million this weekend, the bottom of the chart is bound to suffer, and it did. Sixth spot went to Jamie Kennedy's Malibu's Most Wanted. MMW grossed $4.0 million in its third weekend, dropping 45% compared to last weekend. One can tell WB is letting this one out to dry - the film cost $15 million and has made $28.9 million - that's why the film lost 163 screens in only its third weekend.
Confidence pulls up in the number seven spot. The Lions Gate flick grossed only $2.5 million this weekend, dropping 45%. Its total has hit $8.5 million. Funny thing is, this film will most likely spend three weekends in the top ten, but might not gross $12 million.
In the "hardly worth reporting" department is It Runs In The Family in eighth with a gross of $1.6 million and Bulletproof Monk in tenth with a $1.5 million take. Their respective totals have hit $5.1 million and $21.6 million - one is going to lose a lot, and one is going to lose a little, but I'll leave it up to you to figure out which is which.
Because of the extremely low grosses of the bottom portion of the chart, I was hoping that a film like Bend It Like Beckham or A Mighty Wind might take the tenth spot, and to my surprise Bend It Like Beckham, in its eighth weekend, came in ninth with $1.5 million. Beckham is from Fox Searchlight and now has a total gross of $11 million. Even after eight weeks of expansion, the film is still only playing on 484 screens, so it had a decent average of $3,017. The offices at Fox will be a happy place on Monday morning.
Overall, 2003 came surprisingly close to the grosses from the same weekend in 2002. The tally of the estimates for the top ten in 2003 are just below those grossed last year when Spider-Man opened. In 2002, the top ten movies came in at $149.4 million ($114 million of that being Spider-Man); this year, top ten rattled out to $138.4 million, a 7% decrease compared to last year.
Next weekend, Daddy Day Care opens, and I'm really not looking forward to championing its box office success. Maybe BOP will give me a weekend off. Speaking of BOP, its been a busy week, we've got our picks for our 25 most anticipated movies of the summer up, and our forecasts for films opening in May.
Top 10 for Weekend of May 2-4, 2003

Rank

Film

Number of Sites

Change in Sites from Last

Estimated Gross ($)

Cumulative Gross ($)

1

X2: X-Men United

3,741

New

85.9

85.9

2

The Lizzie McGuire Movie

2,825

New

17.0

17.0

3

Identity

2,733

No change

9.5

30.3

4

Anger Management

3,471

-185

8.5

115.4

5

Holes

2,402

+53

6.5

45.0

6

Malibu's Most Wanted

2,340

-163

4.0

28.9

7

Confidence

1,871

No change

2.5

8.5

8

It Runs in the Family

1,207

No change

1.6

3.1

9

Bend It Like Beckham

484

+63

1.5

11.0

10

Bulletproof Monk

1,894

-1,061

1.5

21.6

11

Phone Booth

1,194

-919

1.4

42.4

10

What a Girl Wants

1,720

-820

1.1

34.4