These days, it's all about the marketing
John Hamann's Weekend Wrap-Up
March 1-3, 2002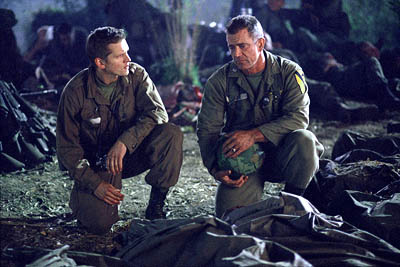 David and Goliath met at the box office this weekend, and while David put up a great fight, Goliath still took the prize. The two films in question were the two lone openers this weekend and both had essential things going for their box office successes: We Were Soldiers has Mel Gibson, and 40 Days and 40 Nights has a couple of great TV ads. Surprisingly, the two "keys to success" almost puts both films on equal footing. Obviously, Paramount spent too much time working on their new logo, and forgot to market We Were Soldiers, but thankfully they had Mel to guarantee at least a $15 million opening weekend.
Why does a movie studio spend $100 million on a film and then give it a crappy promotional campaign, almost guaranteeing a soft opening? Paramount must have felt chills when they saw the Black Hawk Down ad start to air in December, almost two full months before the film opened in wide release. That film would have posed more of a challenge to marketers because it didn't have a big name on which the ads could hang their hat. BHD employed an action packed trailer/TV ad, which had an extremely memorable tune and quickly showed the players in the film. The We Were Soldiers campaign rested solely on Mel putting his mug in the ads, softly telling the story, and hoping audiences would show up from there. What the WWS campaign did do was wait too long to get started, and once the ads had begun, they didn't give a clear enough indication of what this film was about.
WWS won the weekend, grossing $20.2 million from a whopping 3,141 screens, for a screen average of $6,427. That screen count is noteworthy due to its largeness. Was Paramount worried about serving a turkey up, trying to draw as many people as possible opening weekend, before word of mouth lands the following weekend? Were they expecting a large 'want-to-see' factor? Opening a film too wide can be a mistake. A film may do somewhat well over opening weekend due to the amount of theatres, but to the audience, a somewhat empty theatre is an indication to the audience. When at the water cooler on Monday, the question is asked: Was it busy? The answer is no, and the want-to-see factor is lessened. Below is a chart of films that opened on more than 3,000 screens, but we've excluded the huge movie going months of May, June, July, August, November and December. A large screen count in no way guarantees huge box office, but it does help.

<% sqlstr = "SELECT * FROM box WHERE scr > 2999 and m=3 or scr > 2999 and m=1 or scr > 2999 and m=2 or scr > 2999 and m=4 or scr > 2999 and m=9 or scr > 2999 and m=10 ORDER BY open DESC" max = 200 header = "Films that opened on over 3,000 screens in off-peak months" tstyle = "release" skin = "bop" x = Drawtable(sqlstr,max,header,tstyle,skin) %>

Where is We Were Soldiers in terms of Mel Gibson's box office successes? Mel's last film, Million Dollar Hotel was an arthouse flop that didn't work at all, and barely saw release. Before that though was What Women Want, which opened to $33.61 million in December of 2000, and went on to gross $182.81 million, Mel's biggest total gross ever. WWS is a Mel Gibson disappointment, as even the dark brooding Payback opened to $21 million. Conspiracy Theory, which he did with Julia Roberts, opened to a similar $19.3 million, and made it to $76 million. However, we will have to wait and see what the verdict is for We Were Soldiers. Cinemascores and critics reviews were both mostly positive, so We Were Soldiers may still have a chance at some decent business.

<% sqlstr = "SELECT * FROM box WHERE" sqlstr = sqlstr + " movie like 'What Women Want' OR" sqlstr = sqlstr + " movie like 'Patriot, The' OR" sqlstr = sqlstr + " movie like 'Chicken Run' OR" sqlstr = sqlstr + " movie like 'Payback' OR" sqlstr = sqlstr + " movie like 'Conspiracy Theory' OR" sqlstr = sqlstr + " movie like 'Ransom' OR" sqlstr = sqlstr + " movie like 'Braveheart' OR" sqlstr = sqlstr + " movie like 'Maverick'" sqlstr = sqlstr + " ORDER BY open DESC" max = 100 header = "Mel Gibson Chart" tstyle = "release" skin = "bop" x = Drawtable(sqlstr,max,header,tstyle,skin) %>

Some will blame a $20 million open (surely to be less than $20 million when final numbers are reported tomorrow) on the proliferation of war films on the market. To this, I say present a good film to audiences at any time, and the movie is destined to succeed. However, if the good film is marketed poorly, the movie will be left behind.
Second spot this week went to 40 Days and 40 Nights. The Josh Hartnett comedy grossed $12.5 million in its first weekend, marking a strong debut for the Miramax Films – Universal Pictures International Co-production. The sex romp about not having sex had a fair screen average of $5,618 from 2,225 screens. Cinemascores were radically mixed on the R rated film, with the under 21's giving A minuses and the over 35 crowd giving nothing better than a C. I think the opening weekend gross is indicative of the rating, as the 19 and over limitation severely hampers the potential of the demographic. And surprisingly, this market has gone from severely under-served to decidedly over-served. This is the seventh young adult-oriented film to hit theatres in 2002.

<% sqlstr = "SELECT * FROM box WHERE" sqlstr = sqlstr + " movie like 'OC' OR" sqlstr = sqlstr + " movie like 'Snow Dogs' OR" sqlstr = sqlstr + " movie like 'Crossroads' OR" sqlstr = sqlstr + " movie like 'A Walk To Remember' OR" sqlstr = sqlstr + " movie like 'Slackers' OR" sqlstr = sqlstr + " movie like 'Big Fat Liar'" sqlstr = sqlstr + " ORDER BY open DESC" max = 100 header = "Youth Oriented Films of 2002" tstyle = "release" skin = "bop" x = Drawtable(sqlstr,max,header,tstyle,skin) %>

John Q was able to hang on for third spot in its third weekend, grossing $8.4 million from 2,456 screens. The Denzel Washington thriller dropped 33%, and brought its total to $51.1 million. Headed for at least $65 million, John Q should end up in fourth spot among Denzel films released over the past few years.
The top three films were the only semi-strong things about this weekend's box office Disregarding the few blips further down in the chart, the majority of films saw rather large drop-offs. Fourth spot this week went to last week's number three film, Dragonfly, with Kevin Costner. Dragonfly grossed $6.81 million in its second weekend, down a better than expected 33% from last week. The total for the supernatural thriller now stands at $19.4 million.
Fifth this weekend goes to Disney's Return to Neverland, which was surprisingly able to pass QOTD. The animated flick grossed $6.50 million this weekend, and has turned into a great investment for the Disney organization, who can use a leggy, cheap investment right now. Down only 28%, the Peter Pan gross now stands at $35.3 million, on its way to $50 million.
Sixth spot went to Queen of the Damned, last week's number one film, down a devilish 61% to $5.83 million. While analysts were expecting a steep dip for Aaliyah's swan song, nobody predicted a dip from first to sixth. A percentage drop of 61% is even worse than Rollerball's second week dip of 56.2%, from which that film never recovered. QOTD's total gross now stands at $23.8 million.
Big Fat Liar moves down to seventh this weekend, grossing $4.75 million. BFL lost 207 screens, bringing its total down to 2,230. The Universal flick has now grossed $38.8 million.
Down a spot to eighth is A Beautiful Mind, the Ron Howard film grossed $4.41 million this weekend, down only 17%. Its total has now hit a massive $138.7 million in its eleventh weekend.
It didn't take long for Britney Spears' movie Crossroads to go from opening surprise to quick to exit. Crossroads slid four spots to ninth this week with a 42% drop and a weekend gross of only $4.04 million. With a total gross now of $31.2 million, hopefully the quick depreciation will make Britney a bit hesitant to do another film.
Tenth spot this weekend again goes to Lord of the Rings, after not having a top ten finish since the second weekend of February. LOTR grossed $3.13 million this weekend, bringing its mighty total to $287.4 million. Lord of the Rings passed Home Alone this weekend for 13th spot on the all time grossers list. Next up is The Empire Strikes Back, who sits at 12th with $290 million.
Eleventh and twelfth went to The Count of Monte Cristo and Black Hawk Down, which grossed $2.4 million and $2.2 million respectively.
The total for the top 12 in this first weekend of March was $81.185 million, up 8.4% from the same weekend a year ago. Last year The Mexican with Julia and Brad opened along with a surprise $9.7 million open for See Spot Run which led to a weekend top ten of $74.896 million. Compared to last weekend, box office was down 3.77%.
Next week a hot March continues with Dreamworks's The Time Machine, starring Guy Pearce and directed by Simon Wells. Also opening is All About the Benjamins, with Ice Cube trying to repeat his Next Friday grosses.
Top 12 for Weekend of March 1-3, 2002

Rank

Film

Number of Sites

Change in Sites from Last

Estimated Gross ($)

Cumulative Gross ($)

1

We Were Soldiers

3,143

New

20.20

20.20

2

40 Days and 40 Nights

2,225

New

12.50

12.50

3

John Q

2,456

New

10.40

10.40

4

Dragonfly

2,507

No change

6.80

19.40

5

Return to Neverland

2,626

-49

8.40

12.50

6

Queen of the Damned

2,511

No change

5.83

23.83

7

Big Fat Liar

2,232

-205

4.80

38.80

8

A Beautiful Mind

1,962

-107

4.40

138.70

9

Crossroads

2,301

-80

4.04

31.18

10

Lord of the Rings: The Fellowship of the Ring

1,303

-207

3.13

287.38

11

The Count of Monte Cristo

1,228

-125

2.40

48.00

12

Black Hawk Down

1,532

-270

2.20

104.57