March Box Office in a Panic
John Hamann's Weekend Wrap-Up
March 29-31, 2002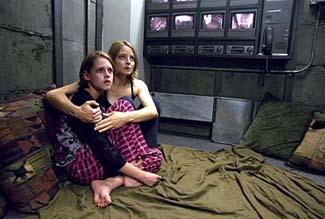 The last few weekends in March have been white-hot, and the month was capped off nicely with a trio of new releases over the Easter long weekend. Even with The Final Four and a busy weekend on CNN, theatrical films still held up very well. In fact, a stunning five films grossed over $10 million. Surprisingly, the Oscars didn't flash their power at the box office this year, leaving the Best Picture winner without an increase from last weekend.
The overall increases for the estimated weekend top 12 in March have been stunning when comparing this year to last year. The March 3rd weekend started the roll with We Were Soldiers and 40 Days and 40 Nights, leading to an 8.5% increase over the same weekend a year ago. The next weekend, The Time Machine opened to $22 million, leading to a 33% increase over last year. Then March really got moving with the release of Ice Age, which took in $46.31 million over the March 17th weekend. That opening led to a top 12 increase of 71%. Then last week brought Blade II and ET, which led to a 73% increase. This weekend was no different. Last year, Spy Kids opened to $26.5 million leading to a top 12 weekend gross of $82.331 million. This year, the top 12 grossed $114.37 million, leading to another stunning increase of 38.91% over last year. These March increases have led to a $168.8 million difference between 2001's March versus 2002's March.
The number one film this weekend is Panic Room, which marks the return to the screen of Jodie Foster and David Fincher. Panic Room excelled this weekend, grossing $30.2 million from a powerful 3,053 screens. Panic Room had the top screen average in the top ten at $9,892. Everything worked for Panic Room, especially the advertising. The estimated Friday opening was very large, estimated in the $11 million range. Reviews were good as Rottentomatoes.com gave it a 75% fresh rating, or 59 good reviews out of a possible 79. CinemaScores were also healthy. The average score was a B, with the stronger scores coming from women, obviously relating to a strong performance by Jodie Foster. Speaking of Foster, Panic Room is the biggest opening gross of her career.
The director of Panic Room, David Fincher, has had mixed success at the box office. His career in the movies started with what some think is his biggest disappointment, Alien3. That film opened strongly ($23.41 million), but faded fast (final gross: $55 million). Fincher then found a project that would make him a breakout success, directing Brad Pitt and Morgan Freeman in Se7en. That film opened to $14 million and became a word-of-mouth hit, with a final gross of $100.1 million. Next up was Michael Douglas in the psychological thriller The Game. The Game opened strongly - $14.3 million - but didn't find the leggy success that Se7en had, ending up with $48.26 million. It was then that Fincher went underground, re-teaming with Brad Pitt for Fight Club. Fight Club was a niche film and a little dark for breakout status. Fight Club opened to $11 million and grossed $37 million. Panic Room fits the Fincher mode well, and positive word-of-mouth should keep this flick around a while.
<% sqlstr = "SELECT * FROM box WHERE" sqlstr = sqlstr + " movie like 'Alien 3' OR" sqlstr = sqlstr + " movie like 'Se7en' OR" sqlstr = sqlstr + " movie like 'Game, The' OR" sqlstr = sqlstr + " movie like 'Fight Club'" sqlstr = sqlstr + " ORDER BY open DESC" max = 100 header = "Fincher Chart" tstyle = "release" skin = "bop" x = Drawtable(sqlstr,max,header,tstyle,skin) %>


Panic Room must have been a moderately budgeted affair for Sony, as the film mostly uses only one location, and has only about eight speaking roles, which would have saved a bundle. What may have increased costs for the studio may have been Nicole Kidman's departure two weeks into shooting due to a knee injury. It was at the point that Jodie Foster joined the film's cast, along with Forrest Whitaker, Jared Leto and Dwight Yoakam.
Panic Room hits at an appropriate time for Sony. Coming off a rough 2001, Sony has started with Black Hawk Down, Resident Evil and now Panic Room in 2002. This success comes from a studio that released over 20 films in 2001, with perhaps five of them ending up in the black. The good news won't end there for Sony; upcoming releases include Men in Black 2, Spider-Man and Stuart Little 2.
<% sqlstr = "SELECT * FROM box WHERE" sqlstr = sqlstr + " movie like 'Mothman Prophecies, The' OR" sqlstr = sqlstr + " movie like 'Black Hawk Down' OR" sqlstr = sqlstr + " movie like 'Ali' OR" sqlstr = sqlstr + " movie like 'Not Another Teen Movie' OR" sqlstr = sqlstr + " movie like 'One, The' OR" sqlstr = sqlstr + " movie like 'Riding In Cars With Boys' OR" sqlstr = sqlstr + " movie like 'Glass House, The' OR" sqlstr = sqlstr + " movie like 'America''s Sweethearts'" sqlstr = sqlstr + " ORDER BY open DESC" max = 100 header = "Recent Sony Releases" tstyle = "release" skin = "bop" x = Drawtable(sqlstr,max,header,tstyle,skin) %>


Ice Age was very strong this weekend, but not as strong as its Friday numbers would indicate. In its third round, Ice Age claimed the second spot in the top ten, grossing $18.58 million. Down 38%, Ice Age still played well on its ultra-wide 3,333 screens, offering a venue average of $5,575. Fox played their cards very well with this release, having the third weekend of release fall over the Easter long weekend to help the legs of this film. With the Friday holiday, Ice Age managed to almost completely hold its audience from the previous Friday, delivering an estimated $7.263 million this last Friday compared to the Friday before, when it grossed $7.473 million. But Easter Sunday does tend to keep the kids at home, giving Ice Age the large drop it received. Realistic competition for the kids' flick is still a long way off, and Fox could see a total of $175 million before the Ice Age is over.
In a surprising third finish was another opener this weekend, Disney's The Rookie. The G-rated baseball movie grossed an astonishing $15.8 million this weekend. Disney again worked their magic, further breaking the Dennis Quaid curse, giving the actor the largest opening gross of his career.
Disney opened The Rookie on 2,511 screens, a moderate amount in the era of the 3,000-plus venue opening. This gives The Rookie an opportunity to expand on its first weekend theatre count as word-of-mouth spreads. From those 2,511 screens, Disney gathered an impressive screen average of $6,292, second only to Panic Room in the top 12. Disney was smart with their marketing, with good timing throughout Grapefruit League season and during the road to the Final Four. The Rookie is the perfect family movie, and seems to have found a good niche this weekend. Reviews were fantastic for this picture; out of the 67 reviews posted at Rottentomatoes.com, only 12 were negative. CinemaScores were also fabulous. The overall grade was an A, with females again giving the best marks, this time A-pluses. Legs are a given for this flick; it's just a matter of how far word-of-mouth spreads.
Disney is a perfect three-for-three from its releases so far in 2002, with good things to come in the months ahead. They started it off with Snow Dogs, which played very well through January and February and has a gross so far of $79 million. Next up was Return to Neverland, and that animated flick has so far grossed $46.5 million. Now The Rookie hits theatres with an eye on $100 million. Next up for the studio is big-budget animation in Lilo & Stitch, where Disney goes back to basics with their animation after the disaster of last summer's Atlantis.
Fourth spot this weekend went to last weekend's number-one opener, Blade II. The front-loaded comic book sequel did the expected this weekend and lost 59% of its audience, grossing $13.175 million. For flicks like Blade II, it seems that the audience either needs to see these kinds of films first or never. Playing on 2,707 screens, Blade II had an average of $4,867 and looks to be on the way to be about $70 million, with a current gross of $54.92 million.
Clockstoppers, the brainy kids' flick, landed in fifth spot this weekend, with a slightly disappointing first weekend gross of $10.1 million. Why disappointing? Clockstoppers is from Paramount and Nickelodeon Movies, which also teamed to produce Snow Day, a film that had a higher opening weekend of $14.33 million in February 2000. What was the difference? When Snow Day opened that February, the young adult demographic hadn't been barraged by releases directly in its demo, making Snow Day a fresher film than Clockstoppers. Also, I think the Snow Day spread itself over a wider audience, where Clockstoppers may have been tied to a younger, more defined demographic. Nickelodeon's last co-venture with Paramount was Jimmy Neutron: Boy Genius. That film also did very well for the two companies, with an opening of $13.83 million on its way to an Oscar nomination and a final gross of $80.5 million.
Clockstoppers opened on 2,540 screens, 29 more than The Rookie, and had a screen average of $3,976. The target demo of under 21s loved Clockstoppers; the film received As and A-minuses. Overall though, CinemaScores were not as kind, but averaged out at a B+. Reviews weren't good. The most often-used word seemed to be "harmless," but with a 32% Fresh rating, its box office future could be in trouble.
ET's 20th-anniversary re-release stuck to the formula and dropped 57% and three spots to sixth, grossing $6.1 million in its second weekend. Re-releases tend to be front-loaded, with the fan base for the film showing up for the first night/first weekend showings. When Grease was re-released, it dropped 57% in its second frame. The grand total for ET now stands at $423 million. As for overall gross records, it looks like ET will pass The Phantom Menace, but it doesn't look like it will catch the original Star Wars, which has a lifetime gross of $461 million.
Seventh spot this weekend went to the fourth and final opener, Death to Smoochy. Smoochy keeled over this weekend, grossing only $4.285 million from 2,164 screens. The venue average was a soft $1,980. This can't be good news for Warner Bros., who reportedly spent $50 million on the comedy. Robin Williams is really in a cold streak right now. Bicentennial Man was an expensive miss, and before that was the little-seen Jakob the Liar. Patch Adams was an exception; it was awful, but grossed $135 million over Christmas of 1998. Robin needs to stick to these kind of characters; zany, but not killers of children's mascots. Talk about sticking it to your fan base. Ouch.
<% sqlstr = "SELECT * FROM box WHERE" sqlstr = sqlstr + " movie like 'Bicentennial Man' OR" sqlstr = sqlstr + " movie like 'Jakob the Liar' OR" sqlstr = sqlstr + " movie like 'Patch Adams' OR" sqlstr = sqlstr + " movie like 'What Dreams May Come' OR" sqlstr = sqlstr + " movie like 'Good Will Hunting' OR" sqlstr = sqlstr + " movie like 'Flubber' OR" sqlstr = sqlstr + " movie like 'Father''s Day' OR" sqlstr = sqlstr + " movie like 'Mrs. Doubtfire'" sqlstr = sqlstr + " ORDER BY open DESC" max = 100 header = "Robin Williams chart" tstyle = "release" skin = "bop" x = Drawtable(sqlstr,max,header,tstyle,skin) %>


In eighth was A Beautiful Mind, responding to its Oscar win last Sunday night. The Best Picture winner grossed $4 million in the post-Oscar frame. The Oscar win surprisingly didn't help ABM increase its weekend-to-weekend gross; it dropped 2%. The film has now grossed an awesome $161 million. With all the powerful releases in 2001, if ABM can reach $200 million, it will only hit seventh spot on the top of the year chart, but will be Universal's third entry in the top ten for overall gross.
Ninth spot goes to Mel Gibson's We Were Soldiers. WWS grossed $3.525 million in its fifth weekend, showing fair legs. The Vietnam War flick dropped 38% this weekend, bringing its total to $67.4 million. It should finish with about $75 million.
Landing in tenth is Showtime, the Eddie Murphy/Robert DeNiro comedy audiences have chose to ignore. In its third weekend, Showtime grossed $3.5 million, bringing its total to an unhappy $33.28 million. Showtime cost $85 million.
Eleventh went to Resident Evil, which dropped another 58% this weekend, grossing $2.8 million and bringing its overall gross to $34.2 million.
Twelfth went to Lord of the Rings, fueled by exposure at the Academy Awards on Sunday. It didn't win the awards it wanted to on Sunday, but still managed to hold its gross this weekend, finding another $2.3 million. Some will say that the hold was in part due to Peter Jackson adding the trailer for LotR: The Two Towers, the next film in the trilogy, but New Line did little to promote this fact. I think that if the film had won Best Picture, we would have seen those ads, but without the win, New Line is relying on fan word-of-mouth to get the message out about the new trailer. LotR has now crossed $300 million, standing at $301.2 million, and is the 11th film of all time to handle that feat.
Limited releases this weekend included No Such Thing, with Sarah Polley. No Such Thing grossed a small $29,000 from nine screens for a screen average of $3,222.
As I said above, the last weekend in March continued its brisk pace, up an astonishing 38.91% over last year. Compared to last weekend, box office was down 3.29%.
Next weekend we see the debut of a new National Lampoon flick in Van Wilder; another Ashley Judd/Morgan Freeman combo in High Crimes; and the once-delayed Big Trouble, with a host of serious names. Be sure to check out BOP's Release Schedule for more info on these soon-to-be-released movies.
Top 10 for Weekend of March 29th-31st

Rank

Film

Number of Sites

Change in Sites from Last

Estimated Gross ($)

Cumulative Gross ($)

1

Panic Room

3,053

New

30.20

30.2

2

Ice Age

3,333

-12

18.58

117.30

3

The Rookie

2,511

New

15.80

15.80

4

Blade II

2,707

No change

13.18

54.92

5

Clockstoppers

2,540

New

10.10

10.10

6

E.T. 20th Anniversary Edition

3,007

No change

6.10

24.30

7

Death to Smoochy

2,164

New

4.29

4.29

8

A Beautiful Mind

1,560

+105

4.00

161.00

9

We Were Soldiers

2,046

-813

3.53

67.40

10

Showtime

2,321

-596

3.51

33.28

11

Resident Evil

1,919

-609

2.80

34.20

12

Lord of the Rings: The Fellowship of the Ring

1,120

-197

2.30

301.20