War Slays Dreamcatcher
John Hamann's Weekend Wrap-Up
March 21-23, 2003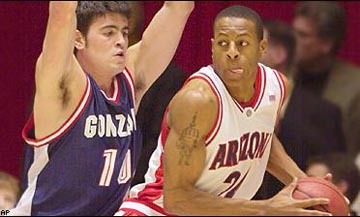 War took over North America's consciousness this weekend, and the round-the-clock coverage certainly had an impact on the box office. Nothing popped this weekend, not even WB's Dreamcatcher, which had the advantage of showcasing the nine-minute Matrix short, The Final Flight of Osiris. Also posing strong competition were the Oscars and March Madness, leaving films as the third or fourth choice for moviegoers. One film though worked well as counter-programming, and that was View From the Top, which really sells the fact that most moviegoers don't read reviews.
Studios, especially Warner Bros., must have been groaning as the Iraq war didn't go straight into shock and awe last Tuesday. That way, TV war junkies might have broken their habit and gone to the movies by the time the weekend came around. WB's Dreamcatcher looks to be hurt by the war the most, as their male target audience was most likely glued to the tube over Friday and Saturday nights, watching CNN's non-stop coverage of the US led war in Iraq. Much of this coverage doesn't allow TV ads, so studios couldn't even get their message out through advertisements. Also taking up attention spans of young and older adults is NCAA basketball's March Madness tournament. Last year, the annual tourney didn't slow down Blade 2; that film debuted to $32.5 million. Dreamcatcher, on the other hand, may have fallen victim to both the war and basketball, as it was in a dead heat with Bringing Down the House heading into Sunday. The audience for Bringing Down the House was busy watching the Oscars on Sunday, which makes for some very interesting estimates from studios this morning.
Dreamcatcher and Bringing Down the House started their battle for top spot at the box office on Friday, with Dreamcatcher getting the early lead. As BOP's Tim Briody reported on Saturday afternoon, Dreamcatcher grossed an estimated $5.5 million against House's $5 million on Friday. Would younger audiences attend enough matinees over the weekend to keep Dreamcatcher on top? Would the Oscar telecast bring down the House from top spot after two straight weekends? It's a tough weekend to estimate, but studios are picking Bringing Down the House as the number one movie this weekend. It grossed $16.2 million, edging out Dreamcatcher by less than a million. House added 70 venues this weekend, taking its total venue count up to 2,871, which gave the Steve Martin/Queen Latifah comedy a screen average of $5,642. House was down only 26.5%, and has brought its total up to an out-of-this-world $83.3 million. It's hard to believe, but House could gross another $10 million next weekend, and could see a total of $150 million before its amazing run is finished. House is the first three-weekend winner since The Lord of the Rings: The Two Towers, and the first for a release originating in 2003.
Second spot goes to the aforementioned Dreamcatcher, which had many forces working against it. Not only did it have Oscar, the war, and basketball, it also had to contend with bad reviews, horrible word-of-mouth, and a questionable advertising campaign. Dreamcatcher was forced to settle for second this weekend with a gross of $15.3 million from 2,945 screens. The Warner Bros. flick had a lukewarm opening weekend theatre average of $5,195. Considering the pedigree of the filmmakers; the film should have had no problem opening much bigger than it did. Lawrence Kasdan directs the Steven King adaptation; Kasdan directed classics such as Body Heat, Silverado and The Big Chill, and has written screenplays that include Empire Strikes Back and ROTJ. The screenplay for Dreamcatcher is from William Goldman, who adapted King's Hearts in Atlantis and Misery and has written such classics as Butch Cassidy and the Sundance Kid and The Princess Bride. Even with the talent behind the camera, the film still got a rough ride from critics. Only 27 of 92 reviews at RottenTomatoes were positive - that's only 29% fresh (or 71% rotten, depending on your point of view).
Dreamcatcher may have hit hard times, but it's been a good year for Warner Bros., and looks to improve on its Dreamcatcher mistake tout de suite. Kangaroo Jack started it off in 2003 for the legendary studio, as it grossed $65.4 million. They then distributed Gods and Generals which flopped, but they were only the distributor, so losses would have been minimal. Cradle 2 the Grave then made a quick profit for WB before disappearing quickly. Next up are three small films, The Blue Collar Comedy Tour, What a Girl Wants, and A Mighty Wind. If these three films do anything similar to their cinema cousins The Original Kings of Comedy, Big Fat Liar and Best In Show, WB will be very happy.
MGM's Agent Cody Banks held decently this weekend, landing in third and dropping only one spot from last frame. The Frankie Muniz teen flick lost a not-bad 34% of its audience; Spy Kids dropped 36% in its second weekend. Cody grossed $9.3 million from 3,360 venues and had an average of $3,014. Cody Banks looks to be a windfall for MGM. The teen spy flick had a production budget of only $20 million, and has now grossed $26.6 million through only two weekends. Maybe someday people will figure out that this is why Hollywood makes so many bad movies.
In a somewhat surprising fourth place finish is Gwyneth Paltrow's View from the Top from Miramax. I burned myself with my morning coffee on Saturday morning when I found out the comedy had grossed $2.7 million on Saturday, way beyond my expectations. View managed to gross $7.6 million over the weekend from a moderate 2,506 venues and had an average of$3,014. The film has been on the shelf for two years and has the quality of a straight-to-video release. View's weekend multiplier of 2.81 indicates a few things: bad word-of-mouth, the fact that it was the only date movie on Friday night, and that View was obviously good counter-programming for war coverage, college basketball, and even the Oscars. The marketing was smart in its extensive use of Mike Myers, which also could have led to some Friday night fans, even though his part isn't that big in the movie; he doesn't even appear in the print ad. Critics eviscerated View From the Top, the movie could only find six reviewers to give the film a thumbs up out of a possible 73 reviews. That's a sad 8%. If there's a surprise at the Oscars on Sunday, View could spend only one weekend in the top ten.
Last weekend's number three film, The Hunted, falls to fifth, but it's lucky to have finished so high on the chart after Friday's gross. Over the weekend, it grossed $6.6 million from 2,517 screens. The Tommy Lee Jones film dropped 51% compared to its first frame; its reported Friday gross was down 58%. No matter what the pickup was over the weekend, this is going to be a big miss for Paramount. The film's cost $55 million to produce, and has only grossed $23.4 million so far.
Down one spot to sixth is potential Oscar champ Chicago, which lost only 12% if its audience compared to last weekend despite the big show on Sunday night. Chicago grossed $6.2 million from 2,565 screens, for an average of $2,433 in its 14th weekend. So far the award-winner has grossed $134.1 million for Miramax with more still to come.
Seventh spot goes to another movie that didn't have to worry too much about world events, basketball and the Oscars - Piglet's Big Movie. Disney spun Piglet out onto 2,084 screens and Winnie the Pooh's little friend grabbed $6.1 million from young parents across North America. The estimate is odd in the face of the Friday gross that was released. Estimates had Piglet grossing $1.7 million on Friday, which means the film only had a weekend multiplier of 3.54 (films of the genre usually have a first weekend multiplier in the 4+ area). None of this really matters as the kids seem to like it. Under 21 Cinemascores were both A+'s, and that's the important thing.
Eighth is another big miss, this time it's Tears of the Sun, as the Bruce Willis movie took another big hit this weekend. Tears grossed only $4.5 million in its third weekend, dropping 51.3%. Sony's budget for tears was $75 million and the film has only made half of that back - its total sits at $38 million.
The DreamWorks hit Old School sits in ninth place, as the overage frat boy comedy continues to sell tickets. Old School grossed $4.0 million in its fourth weekend of release, and now has a total of $67.1 million.
Way down at the tenth spot is Boat Trip, a film that will only make a guest appearance in the top ten. The Artisan comedy grossed $3.7 million, and from the looks of it, has probably made its production cost back.
Next weekend will determine if three event flicks can all open versus a war and March Madness. Paramount's The Core launches on Friday and should be good counter-programming for world events. Also opening is John Travolta's Basic, which has received a big advertising push, and Head of State, which features Chris Rock and Bernie Mac.
Overall, box office was down compared to last year for the second weekend in a row. Estimates for the top ten films came in at $79.5 million this weekend, which falls a whopping 46% percent below last year's top ten gross of $116.33 million. People will be quick to blame the war for the drop in movie business, but I think again the problem is due to the quality of the product, not just world events.
Top 12 for Weekend of March 21-23, 2003

Rank

Film

Number of Sites

Change in Sites from Last

Estimated Gross ($)

Cumulative Gross ($)

1

Bringing Down the House

2,871

+70

16.2

83.4

2

Dreamcatcher

2,945

New

15.3

15.3

3

Agent Cody Banks

3,369

No change

9.3

26.6

4

View from the Top

2,508

New

7.6

7.6

5

The Hunted

2,517

+1

6.6

23.4

6

Chicago

2,565

-35

6.4

134.1

7

Piglet's Big Movie

2,084

New

6.1

6.1

8

Tears of the Sun

2,810

-163

4.5

38.0

9

Old School

2,033

-419

4.0

67.1

10

Boat Trip

1,714

New

3.7

3.7

11

How to Lose a Guy in 10 Days

1,840

-590

3.1

98.4

12

Willard

1,762

+1

1.4

6.3