Has summer started early?
John Hamann's Weekend Wrap-Up
March 15-17, 2002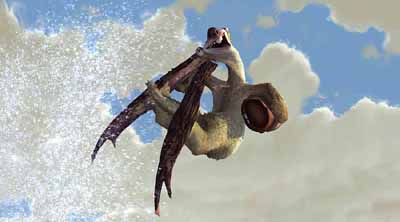 From out of nowhere, records fell again this weekend at the box office, and 20th Century Fox starts their year with a bang as Ice Age vaulted itself into the record book. The North American moviegoer was definitely busy this weekend, as all three openers grossed more than $10 million. This weekend will go down in history for the money made, but the box-office lessons taught will be the important thing to remember. History means nothing, and multiple A-list star power does not guarantee top spot on the chart.
The second weekend in March has always been a quietly strong weekend at the box office. Last year, Steven Seagal's Exit Wounds opened to a somewhat surprising $18 million, followed by the other opener that weekend, Enemy at the Gates, with $15 million. The year before, Erin Brokovich opened to $28 million, and the other opener, Final Destination, still managed to grab $10 million. 1999 was soft, with Forces of Nature grossing $13.5 million, and the King and I and True Crime failing to reach the $6 million mark. All of these films performed exactly as they were sold, with the level of marketing determining return on studio investment. This weekend was no different.
Perceived quality for Ice Age was top-notch, and it managed to break several records this weekend. The heavily-marketed Fox toon grossed $47.85 million in its debut to easily become the top opener in March, beating Jim Carrey's Liar Liar, which grossed $31.42 million in March 1997. Ice Age also becomes the top opener in 2002, beating the $33.63 million that Black Hawk Down put up back in January.
A hit kids' flick is a load off for the execs at Fox. Other than last summer's Dr. Dolittle 2, Fox hadn't had a hit with the youth demographic for a long time. Their last effort was Monkeybone, which must have been green-lighted by alcoholics, as it grossed $5 million and cost $75 million. Then there is Titan AE, which should have gone direct to video; it had a $75 million price tag, and an awful total gross of only $23 million. More will be in store now for Fox, as Ice Age will surely gross $150 million before Fox's next blockbuster, Star Wars Episode 2, hits theatres in May. Ice Age will also make things interesting next weekend when Universal re-releases ET for its 20th Anniversary; the Fox film should take at least a $35 million bite out of the box-office pie.
<% sqlstr = "SELECT * FROM box WHERE" sqlstr = sqlstr + " movie like 'Kung Pow: Enter the Fist' OR" sqlstr = sqlstr + " movie like 'Black Knight' OR" sqlstr = sqlstr + " movie like 'Shallow Hal' OR" sqlstr = sqlstr + " movie like 'Planet of the Apes' OR" sqlstr = sqlstr + " movie like 'Dr. Dolittle 2' OR" sqlstr = sqlstr + " movie like 'Monkeybone' OR" sqlstr = sqlstr + " movie like 'Dude, Where''s My Car?' OR" sqlstr = sqlstr + " movie like 'X-Men' OR" sqlstr = sqlstr + " movie like 'Titan AE' OR" sqlstr = sqlstr + " movie like 'Anastasia'" sqlstr = sqlstr + " ORDER BY open DESC" max = 100 header = "Recent youth-oriented Fox films" tstyle = "release" skin = "bop" x = Drawtable(sqlstr,max,header,tstyle,skin) %>


Marketing was key for Ice Age, as they did everything right. Fox attached itself to the Olympics, which is a huge draw for US viewers when broadcast live. Fox also gave Ice Age the maximum number of theaters possible, releasing the film on 3,316 screens. Obviously, Ice Age had the top venue average of the weekend, garnering an impressive $14,430 per theater. Ice Age clocks in at a sparse 80 minutes, so the 3,316 theaters would be able to turn-and-burn this film excessively. CinemaScores were also impressive, garnering an A+ from females under 18, and an A from their male compatriots. Of the openers, Ice Age was also the most well-received movie by critics, with 51 out of 73 reviews being positive at Rotten Tomatoes.
Way back in second place, but still a story to itself, is Resident Evil. The R-rated, video game-based action film grossed an impressive $18.2 million this weekend from 2,528 screens. RE had a venue average of $7,199. While the opening is great, Sony once again missed the potential on this one, dropping the ball in the marketing department. The studio obviously wasn't spending a lot of money on this release; fans did the poster and the TV ad didn't get enough play beyond the obvious choices. This film was hot, and Sony failed to capitalize. With an extra $10 million for ad budget, and another 300 screens, this could have been a $25-30 million open, which would have blossomed into $70 million. Now they are left with an $18 million open and what may be a final gross of $54 million.



How does the Resident Evil open compare to other video game-based films? Tomb Raider was automatically out of reach, and it couldn't catch the original Mortal Kombat (which had great marketing); that film opened to $23 million in August of 1995. It did beat the sequel, though; Mortal Kombat: Annihilation opened to $16.77 million in November of 1997.
<% sqlstr = "SELECT * FROM box WHERE" sqlstr = sqlstr + " movie like 'Tomb Raider' OR" sqlstr = sqlstr + " movie like 'Mortal Kombat' OR" sqlstr = sqlstr + " movie like 'Final Fantasy: The Spirits Within' OR" sqlstr = sqlstr + " movie like 'Mortal Kombat: Anihilation' OR" sqlstr = sqlstr + " movie like 'Super Mario Brothers *' OR" sqlstr = sqlstr + " movie like 'Double Dragon'" sqlstr = sqlstr + " ORDER BY open DESC" max = 100 header = "Adapted Video Game Flicks" tstyle = "release" skin = "bop" x = Drawtable(sqlstr,max,header,tstyle,skin) %>


Showtime is the laughable miss this weekend, coming in third with a surprisingly poor gross of $15.36 million. Warner Bros. released the Eddie Murphy/Robert DeNiro buddy comedy on 2,917 screens, and didn't get the expected result. Showtime had a lukewarm screen average of $5,266. We touched on perceived quality above, and that is exactly what this film was lacking. It had the screens, it had the marketing and it had the A-list star power, but it looked like garbage. William Shatner-mocking is old hat, and WB is paying for a tired premise with a lower-than-expected opening. Did audiences like it? The highest CinemaScore, a B+, was from the demo that will talk about this film the least, women under 18. The average score from all demos was a B-. Hopefully now DeNiro-will go back to Method acting, and Eddie Murphy will avoid the Robin Williams/must-do-PG movies schtick and go for more cutting-edge material.
Last week's number-one film, The Time Machine, did the expected and fell on its face in its second weekend, which it would have done with or without strong performances from the openers. The Guy Pearce sci-fi blockbuster grossed $10.94 million, down 52% from last weekend. DreamWorks added 14 screens to raise the total to 2,958 venues, for a screen average of $3,685. The total gross now stands at $40.1 million, on its way to $60 million. Marketing has been dropped for this project, and now the question is how much is DreamWorks going to lose on The Time Machine? With 19 days remaining in the shoot of this film, director Simon Wells dropped out due to exhaustion. DreamWorks hired Mouse Hunt director Gore Verbinski to try to finish the project and clean up the mess. With all of these troubles, how much did this film cost? IMDb at one point listed the budget above $120 million, but has now changed that figure to reflect the more sensible $80 million. It's a loser, that's for sure, but is it a $60 million loser or a $25 million loser? We will probably never know.
The top four films this weekend grossed an estimated $92.31 million, leaving little chance for holdovers to survive. Fifth spot this weekend went to Mel Gibson's We Were Soldiers, not spared in the face of all the competition, grossing $8.8 million in its third weekend. WWS dropped 38% and had a screen average of $2,800. Soldiers looks like it will end up with about $70 million domestically, and will need international grosses and home video to become a profitable project, which must be a disappointment for Paramount. Next up for the studio is at least directed at the demographic Paramount seems to understand. Clockstoppers, a youth-oriented film in the vein of Honey, I Shrunk the Kids, follows on the heels of Paramount's Orange County and Crossroads.
The sixth place film is Ice Cube's All About the Benjamins, dropping from third last week. The buddy comedy grossed $4.85 million in its second weekend, dropping an extreme 52%. The total for AAB stands at $17.435 million, heading for $25 million.
The seventh spot goes to Miramax's 40 Days and 40 Nights. The Josh Hartnett starrer grossed $4.6 million this weekend, dropping 35%, the second-best hold in the top ten. 40 Days may have slipped between Ice Age and the violent Resident Evil with appeal to young females. With a $17 million budget and a three-week gross of $30.1 million, 40 Days is another profitable youth-oriented feature for 2002.
Eighth spot this weekend is reserved for John Q, the Denzel Washington flick that held well in the face of serious competition. JQ scored $3.725 million this weekend, dropping 37%. The emergency-room thriller has now grossed $64.48 million.
Ninth this weekend belongs to A Beautiful Mind. The Oscar fave is still very much in the news, and grossed $3.4 million this weekend, one week before the Oscar ceremony. The Russell Crowe flick dropped a very small 12% this weekend, bringing its total to $149.2 million.
In tenth was Return to Neverland, which is finally losing some steam with the Ice Age competition. The Disney flick dropped 48%, grossing $2.3 million, bringing its total to $45.3 million. Eleventh goes to the other Oscar fave, Lord of the Rings, which grossed another $2.124 million in its 13th weekend, dropping 21%. LoTR passed The Sixth Sense for 11th on the all-time grossing films list; it now has a total of $294.33 million. If LoTR manages to score the Best Picture nod combined, with the release of the footage to the next film in the series, the film could exceed the gross of Harry Potter, which managed about $315 million.
Twelfth went to Dragonfly, which grossed $1.7 million, down 48%. Its total now stands at $28.2 million. In limited release, Harrison's Flowers wilted, scoring only $844,000 from 398 venues, which is poor for a high-profile limited release. Also opening small was Kissing Jessica Stein, which, since Wednesday, grossed $355,000 from 26 screens. Comparisons to last year are quite impressive, and should help 2002 move toward a new box-office record. The top 12 films this year grossed a stunning $124.209 million, compared to a not-so-stunning number last year of $72.56 million. That's a remarkable 71.2% increase from year to year, and could be a record in itself. Compared to last week's totals, box office was up 49.46%. The total for this weekend is key, because the holdovers will cause year-to-year increases in the next few weeks, good news for studios and exhibitors alike.
Next week could be another big weekend at the box office. Blade 2, the action sequel with Wesley Snipes, opens, and is expected to perform well. Universal's re-release of ET also has high expectations. In addition, Sorority Boys from Disney enters the teen comedy fray. For more information on these openers and all the approaching films, visit BOP's release schedule located here.
Top 12 for Weekend of March 15-17

Rank

Film

Number of Sites

Change in Sites from Last

Estimated Gross ($)

Cumulative Gross ($)

1

Ice Age

3,316

New

47.85

47.85

2

Resident Evil

2,528

New

18.20

18.20

3

Showtime

2,917

New

15.36

15.36

4

The Time Machine

2,958

+14

10.90

40.10

5

We Were Soldiers

3,143

No Change

8.80

53.64

6

All About the Benjamins

1,519

+14

4.85

17.44

7

40 Days and 40 Nights

2,312

-87

4.60

30.10

8

John Q

2,019

-363

3.73

64.48

9

A Beautiful Mind

1,533

-260

3.40

149.20

10

Return to Never Land

1,895

-603

2.30

45.30

11

The Lord of the Rings: The Fellowship of the Ring

1,101

-109

2.12

294.33

12

Dragonfly

1,790

-641

2.10

28.20