'House' Brings Down MGM
John Hamann's Weekend Wrap-Up
March 14-16, 2003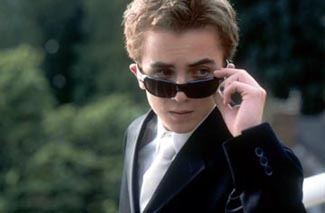 It was one of those weekends. Any one of the three new releases could have popped this weekend; the teen spy flick Agent Cody Banks, the Tommy Lee Jones thriller The Hunted, and even Crispin Glover's rat movie, Willard. Which of them worked? Well, none, really. The real winner this weekend is again Bringing Down the House, as the Eugene Levy comedy is still packing them in.
It's now the middle of March, and spring has sprung in a lot of places, but this weekend the box office certainly didn't spring with the season. The same weekend last year brought a trio of new releases that included the surprise hit Ice Age, a perfectly timed spring break movie. It opened to $46 million, which is more than the three openers grossed this weekend. In fact, the three openers last year (Ice Age, Showtime and Resident Evil) grossed a combined $79 million; the three new releases this year could only grab $32.5 million. Not only does this reflect poorly on the current year, it eliminates any flow to the box office heading into the summer. Last year, March hits included We Were Soldiers (open $20.2 million, total $78.1 million), Ice Age (open $46 million, total $176 million), Blade 2 (open $32.5 million, total $81.6 million), Panic Room (open $30 million, total $95.3 million), and The Rookie (open $16 million, total $75.6 million). For this year, yes, we have the surprise of Bringing Down the House, but what comes after that? There's nothing big this weekend. Dreamcatcher has a shot next weekend, but it will be severely front-loaded due to the nine-minute animated Matrix short showing before the WB film. The following weekend The Core from Paramount opens, and it will probably gross $30 million plus in its first weekend, but I would expect greater than 50% drops in the weekends that follow. Other than that, John Travolta's Basic might work, but it could get kneecapped by Head of State with Chris Rock and Bernie Mac as they open on the same weekend with The Core. This weekend is a big miss for the studios in 2003; let's see if Dreamcatcher can catch things up again in the next frame.
<% sqlstr = "SELECT * FROM box WHERE" sqlstr = sqlstr + " movie like 'Ice Age' OR" sqlstr = sqlstr + " movie like 'Showtime' OR" sqlstr = sqlstr + " movie like 'Resident Evil' OR" sqlstr = sqlstr + " movie like 'We Were Soldiers' OR" sqlstr = sqlstr + " movie like 'Blade 2' OR" sqlstr = sqlstr + " movie like 'Panic Room' OR" sqlstr = sqlstr + " movie like 'Rookie, The'" sqlstr = sqlstr + " ORDER BY open DESC" max = 100 header = "March 2002 Hard to Follow" tstyle = "release" skin = "bop" x = Drawtable(sqlstr,max,header,tstyle,skin) %>
Going back to this weekend's box office, Bringing Down the House is once again the number one film of the weekend by a landslide. The Buena Vista release opened to $31 million, and often, when a film does in excess of $30 million, a big drop is to follow, whether or not word of mouth is good. Oddly enough, this is not the case with BDtH. In its second frame, The Steve Martin/Queen Latifah laugh-fest dropped only 28%, grossing a fantastic $22.4 million. To put the drop into perspective, let's look at second weekend performance of other big opening weekend comedies. The original Rush Hour dropped 36% in its second weekend after a $33 million open. What Women Want dropped 36% even though its second weekend was just before Christmas. Runaway Bride dropped 41%, Sweet Home Alabama dropped 41%, Mr. Deeds dropped 50.5%, The Waterboy fell 38%, and The Nutty Professor 2 dropped a massive 57%. Comedies that opened similarly or bigger and had smaller drops are few and far between. Liar Liar dropped 19.2% (its second weekend could have been the Easter long weekend in '97), Catch Me If You Can dropped only 29.7%, but it had a Christmas release date that skews the percentage. The Santa Clause 2 dropped only 15% in its second weekend, and Meet the Parents fell only 26% in its second frame. The producers of Bringing Down the House should be very happy with their hold this weekend, and this film should have no problem making it to $100 million. Its total after two weekends already stands at a very healthy $61.6 million.
Touchstone Pictures was having a decent start to 2003 before Bringing Down The House came along. The Disney off-shoot started off the year bungling the wide release of Ed Norton's The 25th Hour. After a big success in NY and LA, Touchstone widened the film to 490 venues, where it had a decent debut of $2.8 million, but they left it on the same number of screens the next weekend, and the pic lost momentum. Touchstone got what it wanted - the Spike Lee directed film grossed $12.8 million against a budget of $4.5 million, but many fans of Ed Norton and Spike were left to wait for the DVD. Next up was the Al Pacino-Colin Farrell combination The Recruit, which was another successful gambit for the studio. The Recruit so far has grossed a little over $50 million against a budget I would estimate at between $50-60 million. Shortly after the release of The Recruit, Touchstone launched Shanghai Knights, surely with $100 million estimates running though their heads. It wasn't to be, as the Jackie Chan/Owen Wilson comedy has only grossed $56 million, but it only cost the studio $50 million. Currently, Bringing Down the House is Touchstone's last release until September. No matter, House had a production budget of only $20 million, so Touchstone execs can sit around and count their money for the next six months.
Second spot this weekend goes to Agent Cody Banks, MGM's attempt to cash in on the recent spate of successful teen flicks, and their own cash-cow, James Bond. The Spy Kids wannabe wasn't, and the film debuted to only $15 million, $10.5 million less than the $25.5 million open of its more popular predecessor. The story of its venue count is interesting as well. Last Thursday, the venue count was only around 2,800, and as the week progressed, the total grew, ending up at a massive 3,369 theaters. What was MGM trying do, get it open as wide as possible before word-of-mouth set in? Or were they so happy with the product and expected so much success that they opened it as wide as possible? Cinemascores were so-so at best. Target audience ate the film up, giving two A's, but then scores went downhill; its average was A-.
The Hunted limped into third this weekend, as Tommy Lee Jones couldn't convince moviegoers to see his Fugitive character for a third time. The Hunted grossed $13.5 million this weekend from 2,516 venues, good for an average of $5,366. The William Friedkin flick has some sad Cinemascores. The film got all C's from both older brackets, and C- from both sides of the under-21 audience. Ouch. This should disappear quickly.
In fourth, Tears of the Sun now looks to be a bit of a disaster for Bruce Willis. The action flick dropped a big 48.4% this weekend, selling only $8.8 million worth of tickets this weekend. Surprisingly, Willis doesn't have too many huge second weekend drops; he only has one drop in excess of 50% in the last seven years (Unbreakable). Tears of the Sun has now grossed $30.8 million against a budget of $75 million, and it looks like this film will be a big loser for Sony.
Fifth spot goes to bride-to-be Chicago, and the buzz is certainly still selling tickets. For the first time in its run, the movie-musical didn't increase its number of screens, but the weekly gross still continues to climb. This weekend, Chicago grossed $7.7 million, up 11%, as North Americans prepare for next Sunday's Oscar Ceremony. Miramax has handled the slow rollout of the film very shrewdly, and their efforts have paid off. The film has now grossed $125.5 million, and could see a whole lot more.
Sixth this weekend is Old School, once again holding well for its genre. Old School slipped only 26% in its third weekend, as it took in $6.8 million from 2,452 venues. Old School has now grossed $60.9 million, tops for Will Farrell (other than his cameo role Austin Powers 2).
Coming in at seventh is How to Lose a Guy in Ten Days, which is still holding on after six weekends in the top ten. Lose a Guy grossed $4.8 million this weekend from 2,430 theatres (495 less than last weekend) and still only dropped 28% compared to the previous frame. The Paramount flick has now grossed $93.9 million and will wind down its run crossing the $100 million mark.
Eighth place belongs to poor old Willard. I guess there weren't enough David Lynch types to prop this one up. Crispin Glover's Willard debuted with only $4.0 million from 1,761 venues. I thought there might be more Fear Factor fans interested in this flick. I hope Crispin Glover continues to get work.
Daredevil winds up in the ninth spot as it barely managed to hang on to a top ten spot for five whole weeks. Daredevil grossed $3.0 million, and has now fallen behind Lose A Guy in the battle for first 2003 film to reach $100 million. Daredevil has now grossed $96 million, which has to be a disappointment for 20th Century Fox.
Tenth was a battle between two very different films, Cradle 2 the Grave and The Jungle Book 2. Cradle won out, grossing $3 million (a 54% drop compared to last weekend), bringing its total up to $31.7 million.
Hoping to fire up the box office next weekend is the aforementioned Dreamcatcher, and joining it is the long delayed Miramax comedy View from the Top with Gwyneth Paltrow and Mike Myers. Also up for release is the original if not overly-wacky Boat Trip, about two straight guys on a gay cruise, and the not-so-original Piglet's Big Movie, from the people who just released The Jungle Book 2. Oy.
After last weekend's serious uptick over last year, we settle back into mediocrity with totals from this frame. Last year, the top ten came in at a massive $120.0 million, which leaves this year's top ten total of $89.1 million in the dust.
Top 12 for Weekend of March 14-16, 2003

Rank

Film

Number of Sites

Change in Sites from Last

Estimated Gross ($)

Cumulative Gross ($)

1

Bringing Down the House

2,801

No change

22.4

61.6

2

Agent Cody Banks

3,369

New

15.0

15.0

3

The Hunted

2,516

New

13.5

13.5

4

Tears of the Sun

2,973

No change

8.8

30.8

5

Chicago

2,600

No change

7.7

125.5

6

Old School

2,452

-255

6.8

60.9

7

How to Lose a Guy in 10 Days

2,430

-467

4.8

93.9

8

Willard

1,761

New

4.0

4.0

9

Daredevil

2,054

-724

3.0

96.0

10

Cradle 2 the Grave

2,150

-475

3.0

31.7

11

The Jungle Book 2

2,064

-489

2.6

43.8

12

Shanghai Knights

1,316

-589

1.6

57.3