Passion: Biggest Indie Ever
John Hamann's Weekend Wrap-Up
March 14, 2004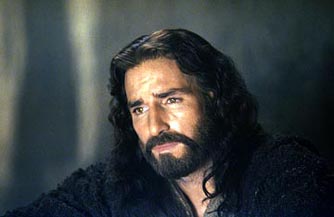 And the box office thunder rolled. Mel Gibson's The Passion of the Christ did indeed continue to roll this weekend, casting aside a new film from Johnny Depp and a kid-flick sequel in Cody Banks 2. With this weekend's gross, The Passion of the Christ leapfrogged former top indie grosser My Big Fat Greek Wedding to become the biggest independently produced film ever.
Way back in 1990, a small film finance company called Newmarket Capital Group helped Mel Gibson and Icon Productions finance his then-favorite project, Hamlet. Fourteen years later, the two companies got back together again via Newmarket Films for the unexpectedly huge Passion of the Christ. Now only three weeks into the release of the Passion, Bob Berney, president of Newmarket Films, is breaking a box office record his former employer, IFC Films, set only a year and a bit ago. Berney's IFC Films released My Big Fat Greek Wedding in 2002, and up until this weekend, it was the biggest independent film of all time, grossing $241.4 million. Not anymore. Not even close.
For the third straight weekend, The Passion of the Christ is the number one film at the box office, tossing newcomers aside like they were Satan himself. The Passion pulled in another $31.7 million this weekend after adding an additional 91 screens, bringing its massive venue count up to 3,221. This weekend's venue average was $9,830 and its percentage drop compared to last weekend was 41%. For comparison's sake, The Lord of the Rings: Return of the King dropped 44% in its third weekend, and had $290 million in the kitty. Box office god Spider-Man dropped a gorgeous 37% in its third weekend, and the un-catchable Titanic dropped a tiny 6%. The Passion of the Christ has pulled in a massive $264 million, moving it past some of the biggest hits of all time. The Passion moved ahead of the top-god flick Bruce Almighty which grossed $242.7 million last year, two Pixar films, Toy Story 2 ($245.8 million) and Monsters Inc. ($255.8 million), and Harry Potter and the Chamber of Secrets ($262 million). Next weekend it should rise to become the top R Rated film, passing The Matrix Reloaded at $281.6 million. Estimating where the Passion is going to top out at is a dangerous game, but at this point I'm going to estimate a finish around $350-375 million, putting it just out of the top five films of all time. If Sony hadn't released Secret Window this weekend, Newmarket Films would be the top movie company in 2004 in terms of market share, but it's still going to be very close. More on that tomorrow in the Monday box office update, where we compare weekend actuals to today's studio estimates.
Speaking of Secret Window, Sony and Johnny Depp's new thriller did better than expected this weekend, proving that Depp has gone from "strange film choice man", to huge box office star (it's amazing what a little Pirate film can do). Secret Window debuted strongly in second this weekend, pulling down $19 million in ticket sales over opening weekend, enough to chip away at the Stephen King box office curse. The thriller debuted at 3,018 venues, and had a very solid average of $6,296. Reviews were mixed for Depp and Secret Window, with RottenTomatoes.com finding 53 positive reviews out of a possible 101, giving the flick an almost-fresh rating of 52%. Even if the film has no legs, it will still be a win for Sony; the project cost the studio and its partners $40 million to make, which it will easily return in two and a half to three weeks. Next up for Depp is J.M. Barrie's Neverland, about the author of Peter Pan. The film is slated for release in October.
Third spot this weekend goes to that wacky duo Starsky and Hutch, played by our favorite over-the-top pair, Owen Wilson and Ben Stiller. Starsky and his "friend" Hutch grossed a decent $16 million in its second weekend, falling a bit bigger-than-expected 43%. Holdovers succumb to competition much easier than new films, and the similarly-targeted Secret Window has taken some of the punch out of the dynamic duo. However, with a gross now of $51.5 million, this is a profitable entry for Warner Bros. as the film cost the studio a slim $60 million to produce. Look for Starsky to finish just shy of $100 million.
Fourth spot goes to the very expensive Hidalgo, the Arabian horse movie starring LOTR King Viggo Mortensen. Hidalgo grossed an okay $11.7 million in its second weekend, dropping a troubling 38% compared to its opening weekend take of $18.8 million. Buena Vista spent over $100 million on this early March release, which appears to be too much, as the film looks to top out between $70 and $80 million, although international grosses on a film like this should be quite big considering LOTR's international fame and the foreign setting of Hidalgo. It has a stateside cume so far of $35.5 million.
Agent Cody Banks 2 failed to inspire many kid-sized moviegoers this weekend, but the opening weekend gross will be enough to keep Frankie Muniz in MGM's good books. Agent Cody Banks 2, released exactly one year after the original, pulled in a stifled $8 million this weekend from 2,973 venues. The open is a little more than half of the original's debut of $14.1 million, but should be enough to keep the $26 million sequel from falling too far into the red, especially after home video. However, MGM rushed ahead on this one too fast, as the target obviously wasn't ready for another entry into the Cody Banks franchise. MGM, do us all a favor, and quit it with the rushed sequels.
Sixth goes to the latest $100 million earner for Adam Sandler, 50 First Dates. Sandler's fifth $100 million plus earner grossed $5.3 million this weekend, dropping a not bad 31% (the smallest drop among holdovers) in its fifth weekend. The film now has a gross of $106.6 million versus a production budget of $75 million.
The bottom four films failed to have any impact on the weekend box office. Twisted landed in seventh with $3.1 million, dropping 40%. It now has an inexplicable gross of $21.1 million. Eighth is Confessions of a Teenage Drama Queen from Disney; it grossed $2.4 million this weekend, down 41%. The Lindsey Lohan teen girl flick has now pulled in an un-amazing $24.9 million. Ninth goes to LOTR: Return of the King, which is most likely spending its last weekend in the top ten. The Oscar winner grossed $2.1 million this weekend, bringing the cume for the epic up to $371.2 million.
Finally, David Mamet's new film Spartan failed to inspire even the art house crowd, as it grossed only $2 million from 832 venues, giving it a DOA opening weekend average of $2,439.
Overall, box office continues to triumph over last year, thanks mostly to Jesus. The top ten movies over the same weekend last year totaled $89.1 million. This year, Jesus and pals pulled in $101.2 million, which gives the box office an increase over last year of 12%.
Top Twelve for Weekend of March 12-14, 2004

Rank

Film

Number
of Sites

Changes in
Sites from
Last

Estimated
Gross ($)

Cumulative
Gross ($)

1

The Passion of the Christ

3221

+91

31.7

264.0

2

Secret Window

3018

New

19.0

19.0

3

Starsky & Hutch

3185

No change

16.0

51.5

4

Hidalgo

3065

+2

11.7

35.5

5

Agent Cody Banks 2: Destination London

2973

New

8.0

8.0

6

50 First Dates

2586

-454

5.3

106.6

7

Twisted

2208

-496

3.1

21.1

8

Confessions of a Teenage Drama Queen

1801

-379

2.4

24.9

9

The Lord of the Rings: The Return of the King

1307

-596

2.1

371.2

10

Spartan

832

New

2.0

2.0

11

Nascar: The Movie

68

New

1.5

1.5

12

Miracle

1205

-449

1.4

61.8