DreamWorks on Top
John Hamann's Weekend Wrap-Up
March 8-10, 2002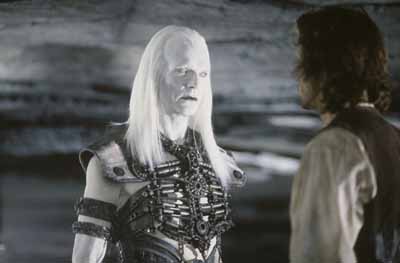 The Time Machine got off to a fair start this weekend, giving the first two weeks in March two $20 million plus openers. The difference is, this one didn't have a big star to drive audiences to movie theatres. The Time Machine had eye candy, CGI and a money shot, but it also oozed emptiness, making it feel like it's Summer 2001 all over again. New Line gave us All About the Benjamins, starring on-screen buddies Ice Cube and Omar Epps, who have parlayed their on-screen pairings into big box office dollars, considering budgets and release patterns.
DreamWorks gave us their first release since October 2001's The Last Castle, which wasn't exactly gangbusters for the studio. In fact, The Time Machine is DreamWork's first number one opener since last summer's Shrek, which debuted almost a year ago in May 2001. Dreamworks has been very shrewd in what they release over the past two years. They released only five films in 2001, and one of those five, one was a Woody Allen film, practically guaranteeing a total gross below $20 million. For 2002, DreamWorks has eight pics on the slate, almost doubling last year's output. The Time Machine puts them on good footing as they start their campaign for studio of the year, hoping for a year that matches their 2000 schedule, when they released Gladiator, Road Trip, What Lies Beneath, and Chicken Run over a three month period.
<% sqlstr = "SELECT * FROM box WHERE" sqlstr = sqlstr + " movie like 'Last Castle, The' OR" sqlstr = sqlstr + " movie like 'Curse of the Jade Scorpion, The' OR" sqlstr = sqlstr + " movie like 'Mexican, The' OR" sqlstr = sqlstr + " movie like 'Shrek ' OR" sqlstr = sqlstr + " movie like 'Evolution' OR" sqlstr = sqlstr + " movie like 'Legend of Bagger Vance, The' OR" sqlstr = sqlstr + " movie like 'Contender, The' OR" sqlstr = sqlstr + " movie like 'Almost Famous' OR" sqlstr = sqlstr + " movie like 'What Lies Beneath' OR" sqlstr = sqlstr + " movie like 'Chicken Run' OR" sqlstr = sqlstr + " movie like 'Road Trip' OR" sqlstr = sqlstr + " movie like 'Shrek' OR" sqlstr = sqlstr + " movie like 'Gladiator '" sqlstr = sqlstr + " ORDER BY open DESC" max = 100 header = "DreamWorks Chart" tstyle = "release" skin = "bop" x = Drawtable(sqlstr,max,header,tstyle,skin) %>


The Time Machine was the number one film this week grossing a not bad $22.5 million from 2,944 screens. Time Machine had a fair screen average of $7,643, the highest in the top ten. The budget for the DreamWorks film has been reported to be as high as $120 million, but the figure used the most is $80 million. With this weekend's sizable opening, the flick could have a chance at making back its budget. The Time Machine is another shot at super-stardom for Guy Pearce, who has slowly built a following after appearing in such non-mainstream fare as L.A. Confidential, Memento, and The Count of Monte Cristo, which is currently in release.
Will Time Machine makes its $80 million back? Well, with an opening of $22.5 million, it will only need a 3.55 opening to total gross multiplier, which is completely possible. Unfortunately, Cinemascores aren't great for the sci-fi flick; the overall grade was a C+, but the ticket buying youth seemed to like it, with an A- from males under 21 and a B from females in the same age group. Reviews weren't so hot either, with only 21 positive reviews out of a possible 84, for a rough 25% 'fresh' rating at Rotten Tomatoes. With more "could've been summer releases" like Resident Evil and Ice Age coming next week, it may be tough to keep drop-offs low in the upcoming weeks.
Second spot went to Mel Gibson's war epic from Paramount Pictures – We Were Soldiers. Soldiers got fired upon somewhat this weekend, as the flick grossed $14.45 million, dropping 28.5% from its opening weekend gross of $20.21 million. The screen count was flat compared to last week, staying at 3,144, equaling a screen average of $4,596. After I gave Paramount a lot of copy on their poor marketing campaign last weekend, it should be said that it appears Paramount was trying something a lot of star driven vehicles don't do – spend money on ads after the first weekend of release. Too often films open and are abandoned by the marketing department, but it doesn't seem to be the case here. I think the studio was hoping for a better hold this weekend, but they will have to be happy with a gross that now sits at $40.8 million, on its way to $80 million.
Third spot this weekend goes to New Line Cinema and Ice Cube with their urban comedy All About the Benjamins. AATB grossed a powerful $10.1 million this weekend from only 1,505 screens, for a downright remarkable screen average of $6,711, the second highest in the top ten. Ice Cube and Mike Epps re-team for the first time since the very successful Next Friday, the sequel to the 1995 film Friday. Cinemascores were fantastic for this release, with an average score of A-.
New Line was very smart in the release of this film, not wasting money on prints that weren't going to play well in non-urban areas. This has been done successfully a number of times, most notably with the aforementioned Next Friday, which did an amazing $16.9 million from only 1,103 screens over its opening weekend. Watch for Benjamins to slip next weekend as even the much-buzzed Next Friday dropped 52% in its second weekend.
<% sqlstr = "SELECT * FROM box WHERE" sqlstr = sqlstr + " movie like 'White Men Can't Jump' OR" sqlstr = sqlstr + " movie like 'Brothers, The' OR" sqlstr = sqlstr + " movie like 'How Stella Got Her Groove Back' OR" sqlstr = sqlstr + " movie like 'Player's Club, The' OR" sqlstr = sqlstr + " movie like '3 Strikes' OR" sqlstr = sqlstr + " movie like 'Next Friday' OR" sqlstr = sqlstr + " movie like 'Friday'" sqlstr = sqlstr + " ORDER BY open DESC" max = 100 header = "Urban Comedies" tstyle = "release" skin = "bop" x = Drawtable(sqlstr,max,header,tstyle,skin) %>


The four spot this weekend goes to last week's number two film, Josh Hartnett's 40 Days and 40 Nights. After an opening weekend gross of $12.23 million, the young adult film dropped 42% to $7.1 million this weekend. Miramax has to be somewhat disappointed that this film didn't hold better this week, as the big drop will push this film into the closet of forgotten teen comedies. With a screen count this week of 2,399 and a venue average of $2,960, look for this film to drop screens next weekend. Currently the total for 40 Days stands at $22.9 million.
Dropping to fifth this week is Denzel Washington's John Q. The New Line release continued to drop fairly slowly, grossing $6 million, down 29.5% from last weekend. Denzel's name above the title has almost ensured legs for his films over the last few years. His opening-to-total multiplier for his last films are: Training Day with a 3.38 (open $22.5m, total $76.26m), Remember the Titans with a 5.53 ($20.91m open, $115.6 total), and 4.43 for The Hurricane (open $9.01m, total $50.67). John Q now has a total of $59.1 million, after opening to $24 million.
It was a dogfight for the six, seven and eight spots on the chart this week. Sixth went to Disney's Return to Neverland, which has gone from quick money fix to a decent sized gross for the Disney Corporation. RTN grossed $4.7 million this weekend, giving it a total of $41.7 million after four weeks of release. Next week Disney sneaks its next release, The Rookie, in about 800 theatres. Maybe the magic of Disney can help break the Dennis Quaid curse.
Seventh spot went to Kevin Costner's Dragonfly. Released by Universal, this film dropped 39% in its third weekend, grossing $4.06 million. The film now has a total gross of $24.9 million.
Eighth this week belonged to A Beautiful Mind, the DGA award winning picture that still manages to draw viewers 12 weeks after its debut. The Ron Howard directed flick grossed another $3.91 million this weekend, dropping only 16%, and bringing its total to $144.3 million. ABM continues to cap off what was an excellent 2001 for Universal Films, with this film hanging on through the second quarter of 2002.
Ninth this week is Big Fat Liar, another release from Universal Films. The kid flick is losing steam now, grossing $3.43 million this week, down 31%. The surprise hit for Universal has now grossed an excellent $43.3 million.
Lord of the Rings grabbed the ten spot for the second week in a row, with another great hold leading up to the Oscars. LOTR grossed another $2.6 million, down a slim 22%. The total for the epic is now $291.1 million. It will most likely drop off the chart next weekend, but look for it to be back on the 22nd of March, when New Line adds the trailer for the second film in the trilogy.
Eleventh and 12th belonged to Crossroads and Queen of the Damned which grossed $2.45 million and $2.34 million respectively. QOTD dropped another 60% in its third weekend.
Last year, the March 9th weekend was a quiet one at the box office, as two films, 15 Minutes with Robert DeNiro and Get Over It with Kirsten Dunst, both opened softly. In fact, The Mexican was the number one film that weekend, even with a 40% drop. Therefore, compared to last year, box office was up 33.7%, as this year's top 12 grossed $83.67 million.
Next weekend will be a war as three large films open. The computer generated Ice Age from Fox opens for the kiddies, teens and young adults get Resident Evil, a film that could surprise, and older adults get Showtime with Eddie Murphy and Robert DeNiro. These releases should make for a very interesting weekend at the box office. For more information and early screen counts for these films, visit BOP's release schedule.
Top 12 for Weekend of March 8th-10th

Rank

Film

Number of Sites

Change in Sites from Last

Estimated Gross ($)

Cumulative Gross ($)

1

The Time Machine

2,944

New

22.50

22.50

2

We Were Soldiers

3,143

No Change

14.45

40.79

3

All About the Benjamins

1,505

New

10.13

10.13

4

40 Days and 40 Nights

2,399

+174

7.10

22.89

5

John Q

2,382

-74

6.00

59.09

6

Return To Neverland

2,498

-120

4.70

41.70

7

Dragonfly

2,431

-76

4.10

24.90

8

A Beautiful Mind

1,795

-167

3.90

144.30

9

Big Fat Liar

2,074

-158

3.40

43.30

10

The Lord of the Rings: The Fellowship of the Ring

1,210

-93

2.60

291.07

11

Crossroads

2,173

-128

2.45

34.33

12

Queen of the Damned

2,150

-361

2.34

27.93