Bringing Up the Box Office
John Hamann's Weekend Wrap-Up
March 7-9, 2003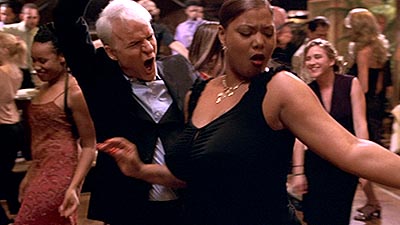 When will the madness stop? Doesn't Hollywood know that for every financially successful flick they put out, two others should flop? 2003 has been virtually pain free for most of the studios, and this weekend certainly continued that trend as Tears of the Sun and Bringing Down the House both move strongly out of the gate. Which one debuted higher? If you're guessing, throw out instinct.
The first two months of the calendar year have been much better for the Hollywood movie machine than the first two in 2002. Last year, January and February brought a string of financial disasters to movie theatres. January started 2002 with Impostor, a not-horrible movie that couldn't sell tickets due to inept marketing and a confused studio. Impostor made $6 million versus a cost of $40 million. Flops then took a few weekends off until February started. February 2002 was one of the worst months ever for studio output. The first week of February brought Slackers and Birthday Girl, which had a combined gross of about $9.7 million against a combined cost of $24 million. The second weekend in February saw Collateral Damage and Rollerball debut in the one and three spots in the top ten, but the positioning didn't do either film much good. Combined gross of the two films: about $59 million; combined cost: about $159 million, $100 million more than the two films grossed. The following weekend, Bruce Willis' Hart's War opened in seventh, and ended up grossing $19 million versus a cost of $60 or $70 million, depending on who you ask. Finally, the last weekend in February was a little better than the two previous weekends. Queen of the Damned grossed $30 million and only cost $35 million and Dragonfly made $30m and cost $60 million, so the openers only lost $35 million. Combined losses for flops in February: a nasty $199.3 million. That's gotta hurt. This year has been much better in comparison. The biggest flop so far this year will end up being Gods and Generals, Ted Turner's Civil War epic. Gods cost Ted about $60 million and will only gross about $15 million. Other financially troubled movies from 2003: Biker Boyz (cost $24 million, made $21 million), A Guy Thing (cost $20 million, made $15.5 million), and Dark Blue (cost $15 million, and might make $11 million). Whether or not the product in 2003 is better is a different question, but 2003 is way ahead financially, and after this weekend's openers it looks to stay that way at least for another weekend.
<% sqlstr = "SELECT * FROM box WHERE" sqlstr = sqlstr + " movie like 'Impostor' OR" sqlstr = sqlstr + " movie like 'Slackers' OR" sqlstr = sqlstr + " movie like 'Birthday Girl' OR" sqlstr = sqlstr + " movie like 'Collateral Damage' OR" sqlstr = sqlstr + " movie like 'Rollerball' OR" sqlstr = sqlstr + " movie like 'Hart''s War' OR" sqlstr = sqlstr + " movie like 'Queen of the Damned' OR" sqlstr = sqlstr + " movie like 'Dragonfly'" sqlstr = sqlstr + " ORDER BY open DESC" max = 100 header = "Jan-Feb 2002 Flop Chart" tstyle = "release" skin = "bop" x = Drawtable(sqlstr,max,header,tstyle,skin) %>
The number one film this weekend is a knock-down-can't-get-back-up-surprise. Bringing Down the House debuted in the number one spot this weekend by an unexpected landslide. The Steve Martin and suddenly hot Queen Latifah comedy grossed an out-of-this world $31.7 million over the March 8th weekend. This score will blow away box office tracking and prognosticators alike. Everyone I've read or spoken to had Tears of the Sun as the number one film of the weekend, but lo and behold, it was not to be (exception: The Hollywood Reporter, which usually hedges its bets considerably). Bringing Down the House opened at 2,801 venues, and made many theatre managers happy as it scored an average of $11,310. House sets an opening weekend record for Steve Martin, who has appeared in 32 features since 1978; his former biggest was in one my favorite films of all time, Bowfinger, which opened to $18 million in the summer of 1999. The film's other star is the Oscar nominated actress Queen Latifah, who sets the box office bar for herself with House. The real box office draw for House? Eugene Levy. Over the last four or so years, Levy has had supporting roles in five fairly big budget films that have grossed more than $50 million dollars. Levy has also had great starring turns in the recent Best In Show and the classic Waiting For Guffman. Levy has three more films coming out before August. In April, he teams with his Best In Show pals for A Mighty Wind, another mockumentary, this time about folk music. After that, Levy will appear in the Dumb and Dumber prequel, When Harry Met Lloyd, and American Pie 3, which is currently titled American Wedding. If everything clicks, one of the great character actors could have three $100 million grossers in one calendar year.
<% sqlstr = "SELECT * FROM box WHERE" sqlstr = sqlstr + " movie like 'Like Mike' OR" sqlstr = sqlstr + " movie like 'American Pie' OR" sqlstr = sqlstr + " movie like 'Down to Earth' OR" sqlstr = sqlstr + " movie like 'Best in Show' OR" sqlstr = sqlstr + " movie like 'American Pie' OR" sqlstr = sqlstr + " movie like 'Almost Heroes' OR" sqlstr = sqlstr + " movie like 'Multiplicity'" sqlstr = sqlstr + " ORDER BY open DESC" max = 100 header = "Recent Eugene Levy Films" tstyle = "release" skin = "bop" x = Drawtable(sqlstr,max,header,tstyle,skin) %>
Tears of the Sun is forced to be the bridesmaid this weekend, but its gross is definitely no schlump. The Bruce Willis action/war flick settled for second but grossed $17.2 million in the process. Tears opened on Friday with a strong $5.9 million and had a not so good 2.9 multiplier, which can be an indicator of not great word of mouth. The Antoine Fuqua film opened on 2,973 screens and settled for a venue average of $5,785. The gross for Tears comes in Willis' middle range, beating films like Bandits, The Siege and Mercury Rising, but fails to compare with the opening weekends of Unbreakable, The Sixth Sense and Armageddon. Tears also falls short of Sony's Black Hawk Down, which opened to $28 million; Sony also released Tears of the Sun.
Audiences seem to like the Bruce Willis war product. Cinemascores were quite good, as under 21 males gave the film an A, and both sets of males over 21 gave the film a B+. Surprisingly, women liked the film just a little bit more. The 21-34 females gave the film an A, the over 35 women gave the film an A-, and a B+ came from the under 21 club. Reviews were a slightly different story. Only 35 reviewers out of a possible 98 liked the film, leading to a rotten score of 36% at RottenTomatoes.
Even with the heavy duty competition from Bringing Down the House, Old School still found a home in third, dropping one spot from last weekend's second place finish. DreamWorks' bad boy comedy scored another $9.3 million from 2,707 venues (35 less than last week) and had an average of $3,417. In the face of the large House, Old School dropped only 34%, which is a valiant effort. The Todd Phillips effort has now grossed $50.8 million, and should see $80 million plus before the end of its run.
Fourth goes to Oscar fave Chicago, which continues to sell tickets at an alarming rate. The Rob Marshall-directed flick dropped only 11.5%, as it grossed $7.0 million from 2,600 venues; it added another 153 venues to put it prime Oscar position. Chicago's total has now reached $114.5 million; last year's Oscar frontrunner A Beautiful Mind had grossed $144.2 million by this weekend last year before going on to just over $170 million.
Fifth spot goes to the still powerful but certainly wounded How to Lose a Guy in 10 Days. The Paramount flick grossed $6.8 million in its fifth weekend, and if a movie can have more release weeks than its ranking on the top ten chart, usually the studio has a winner. The Kate Hudson cute-pic dropped a not bad 34%, and now has a box office total that stands at $86.9 million against a cost of $50 million.
Way back in sixth is last week's champ, Cradle 2 the Grave, which dropped a massive 60% this weekend. The urban kung fu flick grossed a disappointing $6.6 million in its second weekend, but the good news for Warner Bros is that Cradle was cheap to produce. The film cost only $25 million, and has now grossed $26.9 million, so all involved should be happy wherever this film ends up.
In seventh spot is last weekend's number three film, and it's Bennifer trying to look like a Super Hero as his film falls rapidly down the chart. Daredevil grossed an ugly $5.2 million as the high profile Fox flick slid a massive 54% this weekend. Daredevil has now grossed $91.5 million, and looks like it just may limp to $100 million.
Eighth goes to The Jungle Book 2, the film that has Haley Joel Osment and John Goodman wasting their talent - no, they don't have any… oh forget it. JB2 grossed $4.3 million, as the Disney flick didn't hold as well as it had in previous weekends, dropping 39% compared to last weekend. Jungle Book 2 now has a gross of $39.5 million, which, lucky parents, could mean a Jungle Book 3 in your future. How's that for birth control!
Near the bottom of the pile is Shanghai Knights, which finds itself in the eighth spot after five weekends in the top ten. SK grossed $2.7 million, and now has a gross of $54.7 million.
Kevin Spacey's Life of David Gale comes in tenth. The death row flick grossed $2.1 million, and now has a total score of $17.1 million. Not good Kev - for our sake, make better choices.
Out of the top ten this weekend are The Recruit after five so-so weekends and Gods and Generals after two very bad weekends. Up for release next weekend is the great-looking Willard, starring the ultra-creepy Crispin Glover and a whole bunch of rats; also opening is Agent Cody Banks with Big Fat Liar's Frankie Muniz, and The Hunted, with the always-reliable Tommy Lee Jones.
Overall the estimates for the top ten films compare quite favorably with the same weekend in 2002, mostly thanks to the one-two punch of Bringing Down the House and Tears of the Sun. 2003 estimates came in at $92.6 million, 2002's films only drew $78.9 million. That's a 15% increase for 2003.
Top 12 for Weekend of March 7-9, 2003

Rank

Film

Number of Sites

Change in Sites from Last

Estimated Gross ($)

Cumulative Gross ($)

1

Bringing Down the House

2,801

New

31.7

31.7

2

Tears of the Sun

2,973

New

17.2

17.2

3

Old School

2,707

-35

9.2

50.8

4

Chicago

2,600

+153

6.9

114.5

5

How to Lose a Guy in 10 Days

2,897

-26

6.8

86.9

6

Cradle 2 the Grave

2,625

No change

6.6

27.0

7

Daredevil

2,778

-456

5.2

91.5

8

The Jungle Book 2

2,553

-261

4.2

39.5

9

Shanghai Knights

1,905

-610

2.7

54.7

10

The Life of David Gale

2,003

+131

2.1

17.1

11

The Hours

962

-48

1.5

35.3

12

The Recruit

1,071

-437

1.4

50.3