Old School Continues to Party
John Hamann's Weekend Wrap-Up
February 28-March 2, 2003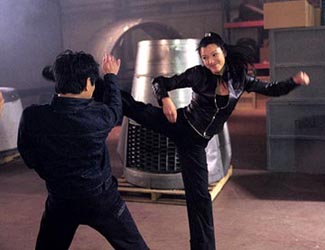 Only one film, Cradle 2 the Grave, debuted in North American theatres this weekend; it was the number one film of the weekend, but it isn't the story of the day. The story this weekend is the hold for Old School, as films of this type usually don't hold well at all. Because of the single new release on the chart this weekend, holdovers had the most to benefit, and benefit they did.
The last weekend in February/first weekend in March was, up until the year 2001, a dumping ground for movies reminiscent of the last weekends in August. In 2002 and 2001, decent films like We Were Soldiers ($20.2 million) and The Mexican ($20.1 million) opened in the top spot, and were followed by films like 40 Days and 40 Nights ($12.2 million) and See Spot Run ($9.7 million). On the other hand, the years before 2001 were a different story. In 2000, the badness of the new crop was prevalent. Madonna's Next Best Thing opened to only $5.9 million, and was followed by Bette Midler's Drowning Mona ($5.8 million) and one of the biggest flops in history, Garry Shandling's What Planet Are You From? ($3 million). At least financially, 1999 got a bit better. Nic Cage's absolutely horrible 8MM opened to $14.3 million; other new releases that year included The Other Sister ($6.6 million) and 200 Cigarettes ($3.2 million). 1998 was a disaster, but it debuted one of the greatest films ever, Dark City, which only opened to $5.6 million. It was followed by such classics as Krippendorf's Tribe ($3.3 million), Caught Up ($2.4 million), and Kissing A Fool ($2.3 million). This means that the average opening for a new film between 1998 and 2000 was a paltry $5.2 million, which would be good enough reason for me not to open my film over the last weekend in February.
The number one film of the weekend is Cradle 2 the Grave, as the one two punch of Jet Li and DMX along with some great marketing made the grade for this movie. Cradle, from Warner Bros., grossed an impressive but not groundbreaking, $17.1 million. The well-put together film debuted in 2,742 venues and had a screen average of $6,240. Cradle had a strong Friday, grossing $6.2 million, which led to an internal multiplier of 2.77 - about average for this type of film. Usually these urban action movies are frontloaded, and Cradle 2 the Grave is no exception.
Jet Li (and his agent) have made some great movie choices for his films in North America. Only once (Black Mask) has Jet starred in a film that didn't open well ($4.2 million). His other choices have included: Lethal Weapon 4 (open $34.1 million), Romeo Must Die ($18 million open), Kiss of the Dragon ($13.3 million open), and The One ($19.1 million open). What we don't see from these numbers is that while Jet's movies open well, they have a tendency to drop off very quickly. Even with all the big openings, Jet hasn't had a film gross more than $56 million (Romeo Must Die), except of course for Lethal Weapon 4. Jet Li will next appear in Hero, which is an Oscar nominated film in the foreign language category from China. Although it's nominated now, we unfortunately won't get to see the film until November 2003.
<% sqlstr = "SELECT * FROM box WHERE" sqlstr = sqlstr + " movie like 'Lethal Weapon 4' OR" sqlstr = sqlstr + " movie like 'Romeo Must Die' OR" sqlstr = sqlstr + " movie like 'Kiss of the Dragon' OR" sqlstr = sqlstr + " movie like 'One, The' OR" sqlstr = sqlstr + " movie like 'Black Mask'" sqlstr = sqlstr + " ORDER BY open DESC" max = 100 header = "Jet Li's North American Releases" tstyle = "release" skin = "bop" x = Drawtable(sqlstr,max,header,tstyle,skin) %>
Holding very well in second spot is DreamWork's Old School, which looks like it could be turning into a big hit for the studio. Old School grossed $13.9 million in its second weekend, dropping a miniscule (for the genre) 20.5% compared to last week. The comedy added 53 screens this weekend, bringing its total up to 2,689 - the film had a venue average this weekend of $5,154. Old School had a Friday gross of $4.4 million and an internal multiplier of 3.15. It now has a total of $37.2 million, and could make its way to $75 million.
In at third is Daredevil, as the former champion dropped two spots from number one. The Fox film slid a better-than-last-week 39%, grossing $11.0 million from 3,234 venues (a big drop of 240 screens compared to last weekend). It had a venue average of $3,401. So far, Daredevil has grossed $84.1 million and the film should easily make it to $100 million now, but not by much. Next up for Fox is Phone Booth with Colin Farrell and Kiefer Sutherland; the much talked about sniper film will debut in April unless its date shifts again.
Fourth this week goes to How to Lose a Guy in 10 Days, the leggy rom-com from Paramount. Lose a Guy grossed another $10.1 million in its fourth weekend of release, dropping only 12.6%. The Mathew McConaughey/Kate Hudson flick has now grossed $77.5 million, and will continue to vie with Daredevil over the next few weeks to see which film will become the first 2003 release to make it to $100 million. At this point, the race is a coin toss, but we should know the victor as soon as next weekend. The last time Paramount had a $100 million dollar earner? It was the Sum of All Fears, which opened way back in late May of 2002.
Chicago grabs the five spot this week, climbing over The Jungle Book 2. Chicago grossed $8.1 million in its tenth weekend of release, down only 1% from the weekend before. Chicago added 92 venues to bring its total up to 2,447; it had a still healthy average of $3,322. Chicago broke the $100 million mark on Saturday, and now has a total of $105.2 million. If memory serves correctly, Chicago is the biggest movie musical since Grease.
Sixth goes to The Jungle Book 2, the Disney feature that has held well since opening three weeks ago. JB2 grossed $6.8 million, down only 22.4% compared to last weekend. Made for only $20 million, JB2 has now grossed $33.6 million. Like Return to Neverland, Disney's plan of recycling old stories into new movies is definitely working, like it or not.
Shanghai Knights comes in at seventh this weekend. The Jackie Chan/Owen Wilson action comedy grossed $4.8 million in its fourth weekend of release. Knights is holding better now, dropping only 26% compared to last weekend. The total for the Touchstone release has now hit $50.7 million, and should top out just above $60 million.
Kevin Spacey's Life of David Gale lands in eighth. Gale grossed $4.4 million in its second weekend of release, down 38% compared to its debut gross of $7.1 million. The Universal flick has to be a big disappointment for the studio, as the second weekend drop will result in the death penalty for this picture. David Gale gives me the same feel that Pay It Forward did - that these types of films are manipulative and audiences are shying away from them. David Gale now has a gross of $13.5 million; it will fall shy of Pay It Forward - and it only grossed $33.5 million by the end of its run.
In ninth is Ted Turner's financial fiasco Gods and Generals. The over-long and under-done Civil War epic is not striking a chord with audiences, as the $60 million dollar epic could only find $2.8 million worth of business this weekend. Gods has made just over 10% of its production cost as its total stands at $8.8 million.
Tenth spot goes to the five-weekend-old The Recruit. The Al Pacino flick grossed $2.6 million this weekend, bringing its total up to $48 million.
The top ten movies came in at $81.6 million over the weekend, up only 1% compared to the same frame last year.
The only film knocked out of the top ten this weekend is Kurt Russell's Dark Blue. Dark Blue ends up being another big miss for MGM/UA. The slow weekend means we will get some high profile releases next weekend; they include the Bruce Willis action movie Tears of the Sun and Bringing Down the House with Steve Martin and Queen Latifah. For information on these and all the other upcoming spring releases, visit BOP's Release Schedule for more information.
Top 12 for Weekend of February 28th - March 2nd

Rank

Film

Number of Sites

Change in Sites from Last

Estimated Gross ($)

Cumulative Gross ($)

1

Cradle 2 the Grave

2,625

New

17.1

17.1

2

Old School

2,742

+53

13.9

37.2

3

Daredevil

3,234

-240

11.0

84.1

4

How to Lose a Guy in 10 Days

2,923

No Change

10.1

77.5

5

Chicago

2,447

+92

8.1

105.2

6

The Jungle Book 2

2,814

-1

6.8

33.6

7

Shanghai Knights

2,515

-11

4.8

50.7

8

The Life of David Gale

2,003

+1

4.4

13.5

9

Gods and Generals

1,533

No Change

2.8

8.8

10

The Recruit

1,508

-170

2.6

48.0

11

Dark Blue

2,176

No Change

2.2

73.5

12

The Hours

1,010

No Change

2.0

33.0