Thank You Fish
John Hamann's Weekend Wrap-Up
May 30-June 1, 2003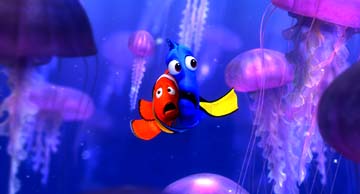 Is there a more bankable production house than Pixar? Finding Nemo, the fifth picture from Pixar set animated box office records this weekend and kept the current hot streak at theatres alive. The last weekend in May/first weekend in June is a tough frame to open a film, but that didn't distract the Disney/Pixar team. Finding Nemo blossomed at the box office and becomes the fourth film in May to debut above the $60 million mark.
Finding Nemo did not flounder this weekend. The computer-generated feature took in an unexpectedly large $70.64 million, breaking the record for highest opening weekend gross for an animated film. Monsters Inc., Nemo's Pixar brother formerly held the record; it grossed $62.58 million over its opening weekend in November 2001. Finding Nemo opened strong on Friday with a $20.885 million, and recorded a stunning 3.38 multiplier (weekend gross divided by Friday gross). Usually movies for kids have high Friday to Sunday multipliers, but when the grosses get above $20 million for the Friday, it becomes hard to maintain those numbers over an entire weekend. No film opening over a regular Friday to Sunday weekend (including the Harry Potter films) has had higher than a 3.0 multiplier - until Finding Nemo came along of course. The high multiplier usually indicates fantastic word of mouth and leads to a long run at theatres. Critics certainly liked it. RottenTomatoes gathered 104 reviews, and could only find one solitary scrooge who didn't like the movie. That's a 99% fresh rating, one of the best all time at RT, and the Disney Pixar team will be taking the positive spin all the way to the bank. Monsters Inc. finished with a worldwide gross over $500 million, so this film is huge for both Disney and Pixar. If the companies split the cost of Finding Nemo, they split a production cost of only $94 million, and will make at least three times that domestically.
It's an interesting time in the relationship between Disney and Pixar. After releasing four films that have grossed $1.7 billion worldwide, Pixar is considering a move towards financing their own material, instead of the current deal with Disney where costs and profits are split evenly between the two. If Pixar were able to do this, Disney would become what LucasFilm is to 20th Century Fox; nothing more than a distribution partner. Finding Nemo's superlative opening weekend gross is going to put Pixar into a position of strength during negotiations. The next few months could be very interesting in their relationship; Pixar no longer needs Disney's deep pockets, but they do need their marketing expertise and business knowledge.
I've often wondered why Disney/Pixar chose this weekend to release such an important film for their business relationship. The same weekend in May 1998 was an unmitigated disaster at the box office. Studios have shied away from opening their big dogs in this frame, until now. 1998 housed the second weekend of Godzilla, and while it still finished first, it saw a disastrous 59% drop from its opening weekend gross. The other Memorial Day opener that year was Fear and Loathing in Las Vegas, and that film tumbled 59% in its second frame as well. The most dramatic drop though was Quest For Camelot, WB's attempt at animation; it dropped 63% in its third weekend. This year's strong frame changes all of that, and leads a powerhouse May into a powerhouse June. Summer box office records will fall if June and July do anything close to that of May.
Second spot goes to last weekend's behemoth, Bruce Almighty. The Universal film was set for a tumble over the post Memorial Day frame, the inflated Sunday last weekend ensured it. Bruce dropped a not completely bad 47.6% this weekend, pulling in a still mighty $35.62 million. Universal added 7 sites, bringing Almighty's venue count up to 3,490; the film had an average of $10,206. The Jim Carrey flick crossed the $100 million mark on Thursday, and now has a total gross of $135.7 million. Bruce was relatively cheap for Universal; the cost for the comedy came in at about $81 million before prints and marketing. Next weekend, Universal continues with its attempts at summer dominance. 2 Fast 2 Furious launches next weekend all by its lonesome, and the trend says that it's going to be big, big, big.
Third this weekend goes to another new release, The Italian Job which houses a great cast that include Ed Norton and Mark Wahlberg. The Italian Job fit itself nicely into a busy marketplace, finding a demographic that wasn't being filled this weekend. The action-caper flick grossed $19.3 million over its opening weekend from only 2,633 venues. It had a fantastic venue average of $7,330.
Critics loved The Italian Job. Of the 113 reviewers who saw the film, 83 liked it, leading to a 73% fresh rating at RottenTomatoes. If the film can hold well over the next few weekends, it could possibly make it to $100 million for Paramount. A big total gross would be great news for the studio. It has two big question marks coming up: Rugrats Go Wild and the Tomb Raider sequel.
In at fourth and dropping hard again is The Matrix Reloaded. The film dropped 62% compared to last weekend, grossing $15.04 million in its third frame. Reloaded isn't becoming the cash cow that Warner Brothers and Village Roadshow thought it would be, even though its gross now sits at $232.1 million. Don't shed any tears though, The Animatrix comes out on DVD on Tuesday, and the video game is selling briskly, despite some uneven reviews. As I mentioned last week, the profits on this will be made on DVD, and then in third film. Reloaded will cover all the costs and Revolutions will be pure profit. Not a bad deal for everyone involved, including Keanu Reeves, who is receiving 15% of the gross.
In at fifth is that kids flick that won't go away, Daddy Day Care. Thankfully, in the face of Finding Nemo, Daddy Day Care got walloped. The Eddie Murphy flick dropped 51%, and grossed only $6.8 million in its fourth weekend of release. DDC has now gathered $82 million, and will need a few more weeks to get to the once-magical $100 million mark.
X2: X-Men United is another film that has an exceptional rise and fall. After debuting to $85.56 million, the Marvel movie has had drops of 53%, 57%, a long weekend aided 39%. This weekend the film went back to old habits and dropped 52%, grossing only $5.03 million. It will take another day to cross the $200 million mark; its gross today sits at $199.3 million.
Seventh spot goes to our final new release of the weekend, this time its Stan Winston's Wrong Turn. Wrong Turn got bloody this weekend, grossing only $5.01 million from a miniscule 1,615 venues. It had a venue average of $3,102. The 20th Century Fox film had a production budget of only $10 million, and that should be recouped before the end of its run.
Eighth is The In-Laws, one of the two sophomore films this weekend. The Albert Brooks/Michael Douglas remake slid hard this weekend, dropping 50%, grossing only $3.67 million. The In-Laws has now grossed a miniscule $14.4 million. Albert Brooks at least can say he's in Finding Nemo. All Douglas has is Catherine Zeta-Jones. Poor bastard.
Ninth and tenth are so far back there it's not funny. Ninth goes to Down With Love, it grossed $1.57 million and has amassed a gross of only $17.2 million. Tenth goes to The Lizzie McGuire Movie, it grossed $1.02 million, but can at least boast of total haul of $39.2 million.
Overall this weekend, box office for 2003 is way ahead of 2002. Last year the box office was led by Bennifer's Sum of All Fears and the top ten still grossed $114.3 million. This year, thanks to the mighty fish, the top ten estimates tallied $163.7 million, a 30% increase over last year.
Top 10 for Weekend of May 30-June 1, 2003

Rank

Film

Number of Sites

Change in Sites from Last

Estimated Gross ($)

Cumulative Gross ($)

1

Finding Nemo

3,374

New

70.64

70.64

2

Bruce Almighty

3,490

+7

35.6

135.7

3

The Italian Job

2,633

New

19.3

19.3

4

The Matrix Reloaded

3,453

-150

15.04

232.1

5

Daddy Day Care

3,128

-344

6.80

82.0

6

X2: X-Men United

2,533

-534

5.03

199.3

7

Wrong Turn

1,615

New

5.01

5.01

8

The In-Laws

2,652

No Change

3.67

14.4

9

Down With Love

1,300

-818

1.57

17.2

10

The Lizzie McGuire Movie

1,330

-788

1.02

39.02