Austin Powers Strikes Gold (Again)
John Hamann's Weekend Wrap-Up
July 26-28, 2002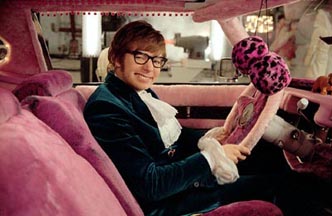 Lately it seems that every TV channel I go to is playing one of the first two Austin Powers movies, especially if said channel is a subsidiary of AOL Time Warner Inc., the studio that owns New Line Cinema. Austin Powers in Goldmember rolled into theatres this weekend, and the fanbase of the franchise came out in force. In my years of watching movies come down the pipe, I've never seen marketing like this, brilliant, different, and definitely very effective. Awareness was huge, and with last weekend disappointing at the box office, a huge windfall resulted for the New Line release.
Goldmember played very similarly to the second Austin Powers movie, The Spy Who Shagged Me. Both films had Thursday previews which led to huge weekends. The sequel grossed $54.57 million, after doing about $2.5 million in its Thursday preview. Adjusted for inflation, today that opening would be an opening of $61 million. This time around previews grossed $3.55 million, foreshadowing an even bigger opening for the third movie in the series.
The audience actually expanded for the third part of the saga, as Goldmember grossed a surprising $71.5 million in its opening weekend. Debuting on 3,613 screens, the Mike Myers pic had a staggeringly good screen average of $19,776. I must say that I didn't think this was going to happen. In fact, about a month ago, I thought this film might be DOA. The trailers weren't as good as The Spy Who Shagged Me (the Dr. Evil/Darth Vader trailer is one of the best ever), and I thought (at the time) the female lead, Beyonce Knowles, was weak as well. Then the marketing kicked into overdrive. TBS started to constantly show the first two movies on TV, often showing them back to back, and on consecutive weekends. The studio planned costume parties in various cities across North America. At a bar last night, I put my drink down on a coaster that featured Austin Powers. Mike Myers and Robert Wagner received stars on the Hollywood Walk of Fame (has that ever turned into a grotesque marketing vehicle - it seems that if you have a feature coming up, your odds of getting a star on the Walk increase exponentially - those aren't for sale are they?). Anyway, the marketing efforts obviously paid off.
Austin Powers in Goldmember is now the number one opener for the power month of July, knocking the aberration that was last year's Planet of the Apes off of the top spot. The monkey movie opened to $68.5 million a year ago this weekend, and slid quickly in the weeks that followed. APinG also becomes the biggest comedy open ever, beating out last year's Rush Hour 2 - that New Line film opened to $67.4 million in August of 2001. As for all time records, the estimate for Goldmember puts it in fifth, just missing The Lost World ($72 million). APinG is exactly what the folks at New Line were hoping for - a financial bridge between the two Lord of the Rings movies, and a great showcase for that film's trailer.

<% sqlstr = "SELECT * FROM box WHERE" sqlstr = sqlstr + " movie like 'Spider-Man' OR" sqlstr = sqlstr + " movie like 'Harry Potter and the Sorcerer''s Stone' OR" sqlstr = sqlstr + " movie like 'Star Wars: Episode II - Attack of the Clones ' OR" sqlstr = sqlstr + " movie like 'Lost World, The ' OR" sqlstr = sqlstr + " movie like 'Planet of the Apes' OR" sqlstr = sqlstr + " movie like 'Mummy Returns, The' OR" sqlstr = sqlstr + " movie like 'Rush Hour 2 ' OR" sqlstr = sqlstr + " movie like 'Star Wars: Episode 1-The Phantom Menace ' OR" sqlstr = sqlstr + " movie like 'Monsters, Inc. ' OR" sqlstr = sqlstr + " movie like 'Pearl Harbor' OR" sqlstr = sqlstr + " movie like 'Hannibal' OR" sqlstr = sqlstr + " movie like 'Mission:Impossible 2 '" sqlstr = sqlstr + " ORDER BY open DESC" max = 100 header = "All time biggest openers" tstyle = "release" skin = "bop" x = Drawtable(sqlstr,max,header,tstyle,skin) %>


As for word of mouth, Cinemascores were right where the studio wants them. Younger audiences (under 21) loved this flick, giving it scores of A- and A. No wonder New Line went for the PG-13 rating. As the audience got older, the score went down: both sexes in the 21-34 category gave a B+, and over 35s weren't impressed, giving only a C+ and C rating. The average ended up at a B+. The first Austin Powers film only garnered an average Cinemascore of B-, the second averaged a B+. As for reviews, APinG received 61 positive reviews out of a possible 114, for a rotten average of 54%. The first Austin Powers scored a fresh 64%, the second a rotten 59%.
The rest of the box office pack continues to disappoint and may have led to the huge opening for Austin Powers. There just aren't enough good choices out there. Last week saw the lowest total for a summer weekend since 1997. Road to Perdition also didn't hold as well as its home studio, DreamWorks, would like. The early Oscar fave came in second, grossing $11.0 million in its third weekend, down 28.5% from last weekend despite adding 91 screens, bringing its total to 2,250 venues. RTP had a venue average of $4,898. The Tom Hanks flick dropped 30% in its second weekend, so the trend here isn't great. Look for Perdition to finish with about $95 million.
DreamWorks is not having a great year. They started with a big miss with The Time Machine, then had a little miss with Hollywood Ending, then had a slight profit with Spirit: Stallion of the Cimarron. Road looks to be in the same boat as Stallion; the domestic gross will make it look profitable on paper, but International grosses and home video will be needed to put these films into the black. Next up is Jackie Chan's The Tuxedo, which looks awful, followed by the very promising Ring. Both these films debut in October, within a week of each other. If you have seven releases over 52 weeks, why put two films back to back?
Third spot this week goes to Stuart Little, which is starting to feel a little bit like Babe 2: Pig in the City, just not to the same degree. The Mouse sequel grossed $10.7 million this weekend, down 29% from its second place opening of $15.11 million last weekend. The total for Stuart Little 2 now stands at $34.8 million, and looks to have little chance of making its $100 million plus production budget back.
Fourth goes to another sequel in the bunch, this time Men In Black II. With pop culture icon Austin Powers entering the chart, it should suffer due to competition right? Wrong. MiB2 dropped just about the same amount it did last weekend, as the sci-fi sequel grossed $8.7 million, losing 40% of its audience. The total for the Sony sequel now stands at $173.6 million, with Sony eyes on the $200 million prize.
K-19 is dying in fifth this week. The Harrison Ford flick got hammered in its second weekend, as it dropped 43% and grossed only $7.3 million. It's not the worst second weekend drop for a Harrison Ford flick; Random Hearts dropped a stunning 57% in its second October weekend in 1999. K-19 carries a $100 million budget, Random Hearts only cost $64 million, and ended up grossing about half of as it finished with around $31 million. If Paramount is lucky, K-19 will gross half its production cost back, ending with $50 million. Its current total is $25 million.
Landing unspectacularly in sixth this weekend is Disney's The Country Bears. TCB failed to gather any interest from young moviegoers this weekend. Based on the theme park attraction, Disney should have sent this one straight to video. TCB eked out $5.21 million this weekend from 2,553 venues, good for a theatre average of $2,041.
The gross of The Country Bears takes a bit of the shine off the year Disney is having, but not by much. Hits big and small have populated the Disney chart this year, and there are more to come before year's end. The next four from Disney are Spirited Away, Tuck Everlasting, The Santa Clause 2, and Treasure Planet. Check out the chart below for releases over the last six months.

<% sqlstr = "SELECT * FROM box WHERE" sqlstr = sqlstr + " movie like 'Snow Dogs' OR" sqlstr = sqlstr + " movie like 'Return to Never Land' OR" sqlstr = sqlstr + " movie like 'Lilo & Stitch'" sqlstr = sqlstr + " ORDER BY open DESC" max = 100 header = "Disney 2002 Chart" tstyle = "release" skin = "bop" x = Drawtable(sqlstr,max,header,tstyle,skin) %>


Seventh this week is Mr. Deeds, another Sony entry on the chart. Deeds continued its solid run, grossing $4.2 million in its fifth weekend, down 42.5% from its $7.3 million gross last weekend. The total for the Adam Sandler flick has now hit $116.1 million, on its way to $135 million.
Eighth is Reign of Fire, which suffered another huge drop this weekend. At one point this flick looked very promising, but then had a modest opening weekend followed by two huge drops. The gross this weekend for the futuristic looking flick was $3.3 million, good for a severe drop of 54.4%. The total for Reign is now at $36.3 million.
Last week, only $30,000 separated the two films at the bottom of the chart. Ninth and tenth were neck and neck again this weekend. Ninth goes to Minority Report, which grossed $3.1 million. The total for the Fox flick now stands at $123.4 million. Tenth is My Big Fat Greek Wedding, which makes a surprise appearance on the chart. The arthouse flick grossed $3.0 million, bringing its 15-week total to a fabulous $35.4 million. It is quickly becoming the arthouse surprise of the summer.
Two films I didn't peg for quick departures are out of the top ten this week. Eight Legged Freaks dropped more than 55% this week and failed to make an appearance after finishing in sixth last weekend. Crocodile Hunter is also out of the top ten after only being there only two weeks, I thought this flick might have stronger family film legs than what we've seen. The big hitter next weekend is Touchstone Pictures' Signs with Mel Gibson. The super-stupid Master of Disguise also opens next weekend, but by the look of the TV ads, this flick will be lucky to make the top ten. Also opening is Martin Lawrence's new stand up movie, Runteldat. Totals for the week are all about Austin Powers. Without the huge opening of the New Line flick, box office would have been brutalized by last year's figures. Austin Powers made up more than half of this weekend's top ten gross of $128.09 million. But even with Austin, box office this weekend couldn't keep up with last year's one two punch of Planet of the Apes and Jurassic Park III. Last year's totals equaled $140.4 million, which means this years totals were down 8.7% from last year.
Top 12 for Weekend of July 26-28, 2002

Rank

Film

Number of Sites

Change in Sites from Last

Estimated Gross ($)

Cumulative Gross ($)

1

Austin Powers in Goldmember

3,613

New

71.5

71.5

2

Road to Perdition

2,250

+91

11.0

65.6

3

Stuart Little 2

3,282

+27

10.7

34.8

4

Men in Black II

3,542

-99

8.7

173.6

5

K-19: The Widowmaker

2,830

+2

7.3

25.0

6

The Country Bears

2,553

New

5.2

5.2

7

Mr. Deeds

2,309

-514

4.2

116.1

8

Reign of Fire

2,005

-624

3.3

36.3

9

Minority Report

1,365

-307

3.1

123.3

10

My Big Fat Greek Wedding

569

+39

3.0

35.4

11

The Bourne Identity

1,155

-474

2.6

110.2

12

Lilo & Stitch

1,780

-347

2.6

134.1