First the Dow, then Tiger Woods,
Now the Box Office
John Hamann's Weekend Wrap-Up
July 19-21, 2002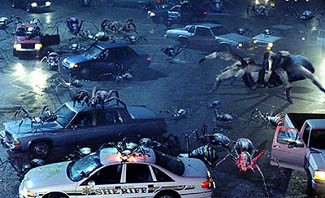 After stratospheric numbers for the last few months, the box office finally fell back to Earth this weekend. Opening films like Stuart Little 2 and K-19 didn't live up to expectations, and Eight Legged Freaks, the lone Wednesday opener, was pronounced dead before it got to its first Friday. Drop-offs were also higher than expected. Road to Perdition lived up to second weekend expectations, but the remaining three openers from last weekend all dropped more than 50%. Of the seven new releases over the last two weeks, only one looks like it will make money for its studio, snapping a trend that's been prevalent since Spider-Man opened in May.
What the heck is going on here? What happened to the hot streak? Last year over this weekend, the top four films grossed more than the top ten did this weekend. Usual rules involving sequels and A-list stars have been discarded. There were no non-movie "big events" like the Olympics or the Oscars this weekend. Yes, the stock market is in a bit of a slide, but usually that drives people to the movies rather than repelling them. So what happened, and is this a trend that's going to continue next weekend with Austin Powers in Goldmember?
Final numbers confirmed that first place this weekend went to Road to Perdition, which held well in its second weekend. After adding 362 venues to Perdition's release, it dropped only 30.2%, and obviously had the best hold in the top ten, grossing $15.41 million. Now on 2,159 screens, the Tom Hanks film had an average of $7,138, also the best in the top ten for the second weekend in a row. Road to Perdition becomes the first film since Bridget Jones' Diary in April of 2001 to debut below first place but then later assume the top position on the charts.
DreamWorks has to be pleased with the hold from Perdition this weekend, but I'm not sure if the buzz is there to take it much further. It will be interesting to see if DreamWorks decides to continue to expand this release in the weeks to come; it now has a total of $47.30 million. Maybe they will keep the venue count low, and re-release the film at Oscar time.
The number two film this weekend (by a whisker) was Stuart Little 2, grossing a fraction of its expected level. The Sony sequel made only $15.12 million, putting it just about on pace with the opening weekend gross of the original Stuart Little. That film grossed $15.02 million in December of 1999, and when we adjust for inflation, it comes out at $16.78 million, which shows how poorly the sequel did. Did home video do nothing for this franchise? SL2 opened on 3,255 screens, 377 more than the original, and had a screen average of $4,734. That compares with the $5,219 screen average that the first film generated. Yes, the first film ended up generating $140 million by the end of its run, but that's unlikely to happen here, as it is the crazy summer season.
So why did SL2 not live up to expectations? Many will rush to blame the economy. I'd say that parents got smart. This is a kids' film with little value or crossover appeal for adults. It's more of a drop-the-kids-off-and-pick-them-up-after-the-show type film than a stay-and-watch-the-film-with-the-kids-and-be-bored-for-77-minutes. Younger patrons equate to a much lower average ticket price than a Scooby-Doo or even a Lilo & Stitch, where there was at least some adult interest. There was much in the press lately that this film was tracking very young, meaning that late shows were most likely quite empty, another factor keeping Stuart from breaking out, short running time or not.
CinemaScores and reviews were both fantastic for Stuart Little 2, so maybe it's still a little early to be sticking the fork into this one. Under-21 CinemaScores were the best, of course, scoring an A and an A+, averaging an A. Not that reviews matter much to a film aimed at the six-to-12 set, but critical response was excellent. Sixty-three out of a possible 77 reviews at Rotten Tomatoes were positive, good for a Fresh rating at 82%. The first film did not score as well; it only generated a Fresh rating of 65%.
Third spot this weekend goes to another Sony flick, Men in Black II. MIIB held better this week than last, dropping 40.4%, as opposed to the 52% drop last week. MIIB grossed $14.55 million from a still very huge 3,641 screens. The sci-fi sequel had an average of $3,996 and now has a total of $158.13 million. The Tommy Lee Jones/Will Smith movie looks to finish off with about $200 million.
Fourth spot goes to an actor who isn't used to coming in fourth, Harrison Ford. Ford's K-19 got off to a disappointing start this weekend, grossing only $12.78 million from 2,828 screens, for a venue average of $4,519. Buzz was never great for the submarine movie, and audiences stayed away. This is Ford's worst opening weekend since he tried light comedy in 1995's Sabrina; that film opened in December to only $5.56 million. For Harrison Ford summer movies, we have to go back all the way to July 1991 and Regarding Henry; that film opened to only $6.15 million, but unlike K-19, Henry was available on only 800 screens.
<% sqlstr = "SELECT * FROM box WHERE" sqlstr = sqlstr + " movie like 'What Lies Beneath' OR" sqlstr = sqlstr + " movie like 'Random Hearts' OR" sqlstr = sqlstr + " movie like 'Six Days Seven Nights' OR" sqlstr = sqlstr + " movie like 'Air Force One' OR" sqlstr = sqlstr + " movie like 'Devil''s Own, The' OR" sqlstr = sqlstr + " movie like 'Sabrina' OR" sqlstr = sqlstr + " movie like 'Clear and Present Danger' OR" sqlstr = sqlstr + " movie like ' ' OR" sqlstr = sqlstr + " movie like ' '" sqlstr = sqlstr + " ORDER BY open DESC" max = 100 header = "Recent Harrison Ford Films" tstyle = "release" skin = "bop" x = Drawtable(sqlstr,max,header,tstyle,skin) %>

For Paramount, K-19 is another middling entry from their 2002 slate. Their biggest-grossing film so far is The Sum of All Fears, which is probably Paramount's best due to work that Harrison Ford did on the Jack Ryan series in the early '90s. Legs won't save K-19. Reviews were lukewarm, scoring a 67% Fresh rating at Rotten Tomatoes. CinemaScores were not much better. The average score was a B, with the older crowd of over-35s giving the low marks of B- and a straight B. This might sound okay, but to a frequent CinemaScore watcher, these scores are definitely troubling. Maybe Harrison Ford should try and get Steven and George moving on Indy 4 as soon as possible.
<% sqlstr = "SELECT * FROM box WHERE" sqlstr = sqlstr + " movie like 'Orange County' OR" sqlstr = sqlstr + " movie like 'Crossroads' OR" sqlstr = sqlstr + " movie like 'We Were Soldiers' OR" sqlstr = sqlstr + " movie like 'Clockstoppers' OR" sqlstr = sqlstr + " movie like 'Changing Lanes' OR" sqlstr = sqlstr + " movie like 'Sum of All Fears, The ' OR" sqlstr = sqlstr + " movie like 'Hey Arnold! The Movie' OR" sqlstr = sqlstr + " movie like ' ' OR" sqlstr = sqlstr + " movie like ' '" sqlstr = sqlstr + " ORDER BY open DESC" max = 100 header = "Recent Paramount Releases" tstyle = "release" skin = "bop" x = Drawtable(sqlstr,max,header,tstyle,skin) %>
From fifth spot down is a dogfight, as all films left in the chart grossed within $3 million of each other. Fifth is another film saying, "Ouch!", today, Reign of Fire. After getting off to a so-so start last weekend with a $15.6 million open, Fire dropped hard this weekend, grossing $7.32 million, good for a drop of 53.2%. The total for the Buena Vista flick stands at $29.25 million, and it won't come close to recouping the production budget of $105 million.
Mr. Deeds claims the number six spot and is another entry from Sony, the studio that claimed 9,719 North American venues this weekend. Deeds held better this weekend than last, dropping 33% and grossing $7.31 million from 2,823 screens. Deeds took a little longer than expected to cross the $100 million barrier, but did it Thursday night; the total for the Adam Sandler flick now stands at $107.63 million. Mr. Deeds is Sandler's third $100 million grosser; The Waterboy and Big Daddy both did about $160 million. Deeds should finish with about $130 million, which is another win for the studio this summer.
Seventh goes to another opener disappointment this week, WB's Eight Legged Freaks. Freaks grossed $6.49 million over the Friday-to-Sunday portion of its release, and has grossed $9.10 million since its release on Wednesday. This film looked to have all the ingredients to be a surprise summer hit: fun premise, some scares, and a good marketing campaign. I'm not sure why WB wanted to release this on the Wednesday; if people weren't talking it up by Friday, it wasn't going to work over the weekend. For some reason, the marketing seemed to come to a screeching halt on Tuesday night. The studio released Freaks in 2,530 venues, and scored a disappointing three-day average of $2,565. Freaks probably won't make it to $30 million. Chalk it up as another miss by the producer of Godzilla and Independence Day, Dean Devlin, who at least can say this is the best-made film on his resume.
Speaking of precipitous drops, Halloween: Resurrection couldn't dig up much new business this weekend, as it landed in eighth. H:R followed the trend of the weekend, dropping 55.1% for a gross of $5.52 million. Does the distributor, Dimension Films, care? No. Films like this are made to break even at the box office and then do well on home video and DVD. The production cost pretty much equals its gross so far of $21.95 million. Dimension has its lone tent-pole release coming in two weeks, when Spy Kids 2 hits your local cineplex.
The positions of ninth and tenth were hotly contested over the course of the weekend. When Friday numbers came out, the official estimates were separated by only $10,000 between the estimated gross of the ninth place film, Crocodile Hunter and tenth Lilo & Stitch. One studio estimated ninth to be Lilo & Stitch, followed by Minority Report. It was that close. With final numbers, we have Lilo & Stitch in ninth, pulling a gross of $4.97 million for a total of $128.43 million, while in tenth we have Crocodile Hunter grossing $4.67 million, for a total of $18.73 million.
Next weekend's releases include New Line's Austin Powers in Goldmember, which already appears to be in trouble, due to questionable buzz. Austin Powers 2 shocked the box-office world when it grossed $54.57 million in June of 1999, so hopefully the franchise will surprise again. The other opener next week is Disney's The Country Bears, a film you could not pay me to see, but kids will probably love it.
As for year-to-year totals, this weekend is an atrocity for 2002 box office. Last year, Jurassic Park III led the way, grossing more than $50 million over its opening weekend, followed by the star-studded America's Sweethearts; the latter film grossed over $30 million. Overall in 2001, the top ten at the box office grossed $130.5 million, compared to the sad total of $94.14 million the top ten garnered this weekend. That's a stunning drop of 27.9% compared to last year. One soft weekend in July can really hurt the box office, as now it will need at least another weekend to get rolling again.
Top 12 for Weekend of July 19 - July 21, 2002

Rank

Film

Number of Sites

Change in Sites from Last

Estimated Gross ($)

Cumulative Gross ($)

1

Road to Perdition

2,159

+352

15.41

47.30

2

Stuart Little 2

3,255

New

15.12

15.12

3

Men in Black II

3,641

+30

14.55

158.13

4

K-19: The Widowmaker

2,828

New

12.78

12.78

5

Reign of Fire

2,629

No Change

7.32

29.25

6

Mr. Deeds

2,823

-416

7.31

107.63

7

Eight Legged Freaks

2,530

New

6.49

9.10

8

Halloween: Resurrection

2,094

+140

5.52

21.95

9

Lilo & Stitch

2,127

-813

4.97

128.43

10

The Crocodile Hunter: Collision Course

2,525

No Change

4.67

18.73

11

Minority Report

1,672

-747

4.40

118.00

12

Like Mike

1,790

-646

4.30

41.30