MIB Reign Twice As Long
Despite Hell and Crocodiles
John Hamann's Weekend Wrap-Up
July 12-14, 2002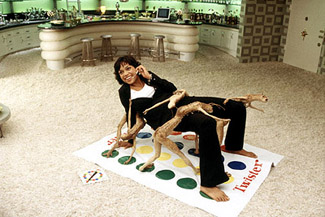 It was a fiery weekend at the box office, as three of the new releases dealt with Hell, fire-breathing dragons, and a killer that never dies. Ever. Road to Perdition, Reign of Fire, Halloween: Resurrection, and the most current sign of the apocalypse, The Crocodile Hunter: Collision Course, all opened against MIIB this weekend to varying degrees of success. Tom Hanks shows once again the power of having his name above the title, as Hanks makes second place seem like first over this box office weekend.
There were many factors at play this weekend. Tom Hanks brought his star power to Road to Perdition; there were effects and great marketing for Buena Vista's Reign of Fire; Crocodile Hunter possessed a good dose of pop culture; and a built-in teen horror movie audience was waiting for Halloween: Resurrection. Much was made of two films that perceivably didn't get the screens they needed to hang with the Men in Black at the top of the list: Perdition and Halloween. DreamWorks' Road to Perdition decided to play the word-of-mouth card by debuting in only 1,797 venues, a similar ploy to Sam Mendes' first film, American Beauty, also from DreamWorks, but on a different scale. Halloween: Resurrection went the small, urban route and was left to fend for itself on only 1,954 venues, but still was able to position itself near the top of the chart.
Holding onto the top spot this weekend is MIIB. The Sony sequel took an expected post-long weekend beating this week, dropping 52.1%. MIIB grossed $25 million from 3,611 screens (up 54 venues from last week) for an average of $6,923. This is a great example of how sequels compare to originals, because in this case the original had the same unique release pattern as the sequel (both opened on a Wednesday before a holiday weekend). In its second weekend, the original film dropped only 41%, grossing $30.06 million, so already the difference has shown itself. With the bigger drop and lower gross, MIIB is showing its sequel-itis and reinforces the rule: sequels generally open bigger and fade much, much faster. The original Men in Black grossed $250 million, and only dropped more than 40% once (in its second weekend) in its first eight weeks of release. While it is still very early, the sequel will have to work hard to get to $200 million. It will be much easier to see where MIIB is going after next weekend's grosses are in. So far, Will and Tommy have brought in $133.3 million.
Debuting on 1,814 fewer screens than MIIB, the Tom Hanks starrer Road to Perdition still finishes in a strong second place. RtP grossed $21.64 million this weekend from 1,797 screens, for a superb venue average of $12,042, the best in the top ten. Only two films have had bigger grosses on fewer screens; fittingly, one was Forrest Gump, which opened to $24.4 million from 1,595 screens. The other film is the Blair Witch Project, which grossed $29.9 million from 1,101 screens when it expanded wide after creating huge buzz on 31 screens. The Perdition opening is perfect for DreamWorks, who, with positive word-of-mouth, can expand a picture like this onto more screens and can create more buzz after the film is released. CinemaScores here are good, but not over the top. Perdition received A minuses from the under-21s and 21-34s. Over-35s gave B plusses. For reference, every category gave Forest Gump A plusses, and hated Blair Witch, which had an overall average of C plus.
Why did this film succeed? Competition is over-rated at the box office, but Perdition succeeded due to a severe lack of mature films in the marketplace. Minority Report and The Bourne Identity have seen their day, so RtP represents the only film in the top eight that appeals to the over-40 crowd. With appeal for women (Tom Hanks) and for men (gangsters), this flick was a lock to succeed. Perdition was also review-friendly; of 107 reviews, 89 were positive at Rotten Tomatoes for an 83% Fresh rating. Look for this film to hang in the top ten for many weeks to come.
<% sqlstr = "SELECT * FROM box WHERE" sqlstr = sqlstr + " movie like 'Cast Away' OR" sqlstr = sqlstr + " movie like 'Green Mile, The' OR" sqlstr = sqlstr + " movie like '%Toy Story%' OR" sqlstr = sqlstr + " movie like 'You''ve Got Mail' OR" sqlstr = sqlstr + " movie like 'Saving Private Ryan' OR" sqlstr = sqlstr + " movie like 'Apollo 13' OR" sqlstr = sqlstr + " movie like 'Forrest Gump' OR" sqlstr = sqlstr + " movie like '%That Thing You Do%'" sqlstr = sqlstr + " ORDER BY open DESC" max = 100 header = "Tom Hanks films" tstyle = "release" skin = "bop" x = Drawtable(sqlstr,max,header,tstyle,skin) %>

Third spot goes to another opener, Buena Vista's Reign of Fire. RoF grossed only $16.02 million this weekend, coming in lower than what some analysts were expecting. RoF battled on 2,629 screens for a fairly good venue average of $6,094. The big idea of men fighting dragons was propped up by the Buena Vista Marketing Department, which did not let this production go the way of 2000's Dungeons and Dragons.
Buena Vista Pictures is the arm of Disney that looks after Touchstone and Miramax, and their year-to-date hasn't been great. Their last three films, Bad Company, Big Trouble and Sorority Boys, have all flopped. Bad Company grossed less than $30 million and cost over $70 million. Big Trouble grossed less than $10 million and had a budget of $45 million. Sorority Boys was a wash, as it grossed $10 million against a production budget of $12 million. Although no budget info is available, Reign of Fire must be good news for the company, as $60 million seems like a lock for this summer picture.
Surprising in fourth spot is Halloween: Resurrection, the eighth film in the series. The horror flick that brings Michael Myers back again grossed $12.3 million this weekend from only 1,954 screens, equaling a not-bad venue average of $6,295. The last entry in the series, 1998's Halloween: H20 grossed $16.19 million over the Friday-Sunday period of its five-day open of $24.75 million. That film opened on 2,607 screens, and had a similar average of $6,210. Surprisingly, H:R had decent CinemaScores, which averaged a B plus, and you can probably figure out what the Rotten Tomatoes score was yourself.
Landing in fifth was Mr. Deeds, as the Sony one-two punch of MIIB and Deeds faded a bit this weekend. Just like the Will Smith/Tommy Lee Jones sequel, Deeds also lost a huge portion of its audience, dropping 40.2%. The Adam Sandler comedy was able to keep it in the double-digits this weekend, as the film grossed $11 million from a still nvery wide 3,239 screens. Through three weeks, Deeds has grossed $94.1 million, against a budget of $50 million.
Sixth this week is a good idea that is six months late. Steve Irwin's The Crocodile Hunter: Collision Course grossed $10 million from 2,525 screens against a budget of only $15 million. MGM is desperate for good news, since flops like Hart's War and Windtalkers have really hurt the studio. The family-friendly Crocodile Hunter attracted good CinemaScores, with a B-plus average. Reviews were interesting, with the overall score coming in at 47% positive, but in RT's Cream of the Crop section, the score was a more impressive 67% Fresh. This flick isn't going to save the year for MGM, but at least it's not a critical and financial disaster, breaking the recent trend.
Seventh spot was close again between the live action Like Mike, and the animated Lilo & Stitch. The prepubescent Jordanaire edged out the Disney alien with a $7.62 million gross and a 37.4% drop. Lilo & Stitch continued to show strong summer legs in eighth place, grossing $7.56 million and dropping 40%. The totals for the two films are $32.6 million and $118 million respectively.
Ninth goes to Minority Report, which will probably spend its last weekend in the top ten (already?) after only being on the chart for five weeks. In its fourth frame, the Fox production grossed $7.41 million, dropping 41%. While Minority Report was able to cross the $100 million mark, this film has to be chalked up as a miss, even with a total of $110.3 million.
After having the adult market almost to itself last weekend, tenth this week is The Bourne Identity. Universal's spy flick grossed $5.77 million, dropping 37% in its fifth and last weekend on the chart. Its total now stands at a remarkable $99 million, and has performed so well that the studio has green-lighted a sequel.
Off the chart this weekend are The Sum of All Fears, The Divine Secrets of the Ya-Ya Sisterhood, and The Powerpuff Girls. Look for a further shakeup next weekend when three more power players hit the scene. Opening on Wednesday is Eight Legged Freaks, and on Friday we get the Stuart Little sequel and Harrison Ford's new flick, K-19. With four big new releases this week and three next week, the top ten is churning titles fast. BOP has set up a great chart called The Summer Scoreboard, where you can check out how all the films released over the summer have performed. Click here to see how the season is shaping up so far.
Overall, the top ten this year outgained the top ten from last year, when Legally Blonde, The Score, and Final Fantasy all started their runs with opens above $10 million. The total for those openers was $50.1 million, similar to the top three openers this year, which tallied $49.96 million. The top ten total for 2002 ends up 21% higher than 2001, with combined grosses of $124.32 million and $103.1 million respectively.
Top 12 for Weekend of July 12 - July 14

Rank

Film

Number of Sites

Change in Sites from Last

Estimated Gross ($)

Cumulative Gross ($)

1

Men in Black II

3,611

+54

25.0

133.3

2

Road to Perdition

1,797

New

22.1

22.1

3

Reign of Fire

2,629

New

16.0

16.0

4

Halloween: Ressurrection

1,954

New

12.3

12.3

5

Mr. Deeds

3,239

+8

11.0

94.1

6

The Crocodile Hunter: Collision Course

2,525

New

10.0

10.0

7

Like Mike

2,436

+26

7.6

32.6

8

Lilo & Stitch

2,940

-282

7.6

118.0

9

Minority Report

2,419

-310

7.4

110.3

10

The Bourne Idenitty

2,199

-313

5.8

99.0

11

Scooby-Doo

2,475

-782

3.7

144.9

12

My Big Fat Greek Wedding

498

-1

2.2

27.0