Two Towers Wins Third Straight Weekend
John Hamann's Weekend Wrap-Up
January 3-5, 2003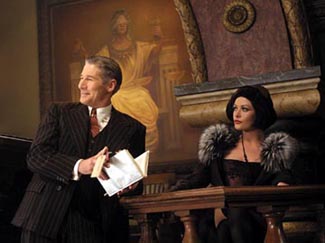 The Lord of the Rings: The Two Towers starts 2003 out on a high note, as the sequel continues to outpace the first installment in the series, The Fellowship of the Ring. TTT had an amazing run over the Christmas season, and is now continuing its awesome reign. Spider-Man will be watching his back in the weeks to come as Peter Jackson's epic continues to lurch toward the webslinger's awesome total. The other big story this week comes from two films angling for Oscar, About Schmidt and Chicago.
Lord of the Rings: The Two Towers is, for the third weekend in a row, the number one film at the box office. The Two Towers grossed $25.7 million over the first weekend of the year from 3,622 venues, meaning TTT had a venue average of $7,082. For the second year in a row, a LOTR film starts the year with a win and surprisingly, TTT is still grossing ahead of the original series. In its third weekend, Fellowship of the Ring grossed $23 million, which is 11.5% less than what TTT did this weekend. After only three weekends (or 19 days since it opened on a Wednesday) TTT has grossed $261.7 million. How does that rank with the other big boys of the box office? Extremely high. After three weekends, the first LOTR film sat at $205.5 million, Star Wars Episode I: The Phantom Menace had $255.75 million, Attack of the Clones had $232.32 million, the first Harry Potter flick had $219.7 million and Spider-Man was out in front with $285.5 million. TTT's only competition for total gross amongst these films is obviously Spider-Man, and when one looks closer at the comic book hero's gross, we can see that it grossed over $1 million for only ten weekends; the original LOTR stayed over $1 million for 17 weeks. On the other hand, Spidey took in $45 million over its third weekend, and didn't have a big drop until its fifth weekend (49.7%, $14.3 million), so Two Towers will need to hold very well over the next couple of weeks to have any chance at catching the Sony super-hero. BOP will be happy to keep you up to date as the race continues. All of this aside, the box office success of The Two Towers is astounding, and will be referenced for many years to come.
In at second is another box office phenomenon - the Spielberg/Hanks/DiCaprio triumvirate, Catch Me If You Can. Catch grossed $21.3 million this weekend, down only 29%, from a weekend with a holiday Friday and a holiday Sunday. The DreamWorks release added a handful of screens this weekend, bringing its total to 3,170, good for an average of $6,710. The lack of Oscar talk must be slightly troubling for D'Works, but a total of $97.6 million will quickly quell those fears. Catch will be director Steven Spielberg's second $100 million dollar film in 2002, a feat he hasn't accomplished in his storied career (the other was Minority Report which grossed $132 million after being released in June). With a gross of $97.6 million so far, Catch is helping DreamWorks close out 2002 on a high note after a so-so year. Check the chart below to see how DreamWorks did in the year 2002.
<% sqlstr = "SELECT * FROM box WHERE" sqlstr = sqlstr + " movie like 'Time Machine, The' OR" sqlstr = sqlstr + " movie like 'Hollywood Ending' OR" sqlstr = sqlstr + " movie like 'Spirit: Stallion of the Cimarron' OR" sqlstr = sqlstr + " movie like 'Road to Perdition' OR" sqlstr = sqlstr + " movie like 'Tuxedo, The' OR" sqlstr = sqlstr + " movie like 'Ring, The' OR" sqlstr = sqlstr + " movie like 'Catch Me If You Can'" sqlstr = sqlstr + " ORDER BY open DESC" max = 100 header = "DreamWorks Chart" tstyle = "release" skin = "bop" x = Drawtable(sqlstr,max,header,tstyle,skin) %>

Third spot goes to WB's Two Weeks Notice, a film that I thought would disappear very quickly. The Sandra Bullock film grossed $11.6 million this weekend, its third weekend above the $10 million mark. With questionable word-of-mouth, not-so-great reviews, and another high profile rom-com on the chart, I thought the very reliable Sandra B. might have a less-than-stellar entry on her resume with TWN. Not so, as Two Weeks Notice dropped only 25% compared to last weekend and now has a total of $69.3 million, which pushes it closer to the other rom-com, Maid In Manhattan. With good holds over the next couple of weekends, Two Weeks Notice has an outside shot at $100 million, which, after a bad year for WB, would make the folks at the studio very happy. TWN has a budget of $60 million, and Sandra Bullock films tend to match domestic performance overseas.
Fourth spot goes to the other romantic comedy, Maid in Manhattan. In its fourth weekend on the chart, Maid grossed $9 million, down only 28% from the holiday weekend. Maid did very well over the Christmas season; from December 23rd - January 3rd, the Sony film grossed almost $35 million. The total for the J-Lo pic stands at a very impressive $76.7 million. Maybe Jennifer can give Madonna script-picking tips.
At fifth we have our first new film on the chart for 2003, and it's a great choice: Jack Nicholson's About Schmidt. After playing extremely well in limited release, About Schmidt platformed into 816 venues this weekend, and grossed $8.8 million. Schmidt had an excellent screen average of $10,723, second best in the top ten. The New Line picture will be an interesting box office specimen; it's destined for Golden Globe and Oscar glory due to Nicholson's astonishing performance, but the subject matter does not lead to excellent word-of-mouth. Cinemascores reflect this somewhat - the average score for Schmidt is only a B, while the review total at RottenTomatoes was excellent; 93 positive out of a possible 111 for an excellent 84% fresh rating. The total for About Schmidt stands at $12.2 million.
Sixth this week goes to Gangs of New York, the second Leo DiCaprio film in the top ten. Gangs struggled a bit this weekend, dropping 32.5% with a gross of $7.4 million. Now on 2,184 screens, the period piece from Marty Scorsese had a venue average of $3,210. Gangs will have to do very well overseas to recoup its cost of $100 million. The domestic total so far stands at $47.2 million, which is actually better than my best case scenario for this film.
Drumline keeps the beat in seventh this weekend, dropping one spot from its sixth place finish last weekend. Drumline grossed $5.6 million, down only 31% compared to last weekend. That's where the bad news ends for Fox and Drumline. Fox spent only $20 million making this picture, and marketing was focused and targeted, which reduces those costs. The total now for Drumline now stands at $47.8 million and the teen flick should end up doubling in revenue what it paid out in costs. Oh, and it probably saved Orlando Jones' career.
Next up in eighth is Paramount's The Wild Thornberrys Movie. I love the box office story of this film. TWT opened on December 20th to a disappointing $6 million. Over the Christmas season (Dec. 23rd - Jan 2nd), Thornberrys grossed about $20 million, which included a weekend gross above that of its opening. Now here we are in January, and the kid flick's weekend gross continues to be very close to that of its opening weekend. In its third weekend, TWT grossed $5.5 million, a drop of 25% compared to last weekend, and only a 8.5% drop compared to its opening weekend gross, even though it lost 131 venues heading into the weekend. Its total stands at $31.5 million, outpacing its production budget of $25 million. Congrats to Paramount on pulling this one out of the fire.
In at ninth is a film we will see in the top ten for at least eight weeks, and that film is Chicago. The beautifully filmed musical cracked the top ten for the first time this weekend, even though it's only playing at 304 venues in the US and Canada. The gross this weekend is $5.0 million, which leads to an exceptional venue average of $16,513, the best in the top ten. Made for only $40 million, the leader in Golden Globe nominations with eight noms should be around for a long, long time. Its current total has now hit $9.3 million, and BOP will have much more on the box office success of this film in the weeks to come.
Harry Potter and the Chamber of Secrets managed to hold on to a top ten position this weekend, placing tenth after eight weekends on the chart. Potter grossed $4.5 million this weekend, dropping 30% compared to last weekend. What Potter lost this weekend though was its battle between the blockbuster holiday season series; LOTR: The Two Towers passed Potter this weekend and will never look back. Potter has now grossed $252 million.
The total for the top ten estimates this weekend comes in at $104.4 million, outpacing last year's top ten total of $98.2 million by 6.25%. Next week we get our first new wide release of the year; for 2003 that honor goes to Just Married, featuring Ashton Kucher and Brittany Murphy. Check out BOP's Release Schedule for more information on films opening in January, and all the way through 2003.
Top 12 for Weekend of January 3 - 5, 2003

Rank

Film

Number of Sites

Change in Sites from Last

Estimated Gross ($)

Cumulative Gross ($)

1

The Lord of the Rings: The Two Towers

3,622

No Change

25.7

261.7

2

Catch Me If You Can

3,170

+14

21.3

97.6

3

Two Weeks Notice

2,755

No Change

11.6

69.3

4

Maid in Manhattan

3,056

+118

9.0

76.7

5

About Schmidt

816

+782

8.8

12.2

6

Gangs of New York

2,305

+115

7.4

47.2

7

Drumline

1,653

-16

5.6

47.8

8

The Wild Thornberrys

2,881

-131

5.5

31.5

9

Chicago

304

+227

5.0

9.3

10

Harry Potter and the Chamber of Secrets

2,015

-490

4.5

252.0

11

The Hot Chick

2,160

-86

3.6

29.8

12

Die Another Day

1,808

-67

3.0

153.8