Butterfly Effects Box Office
John Hamann's Weekend Wrap-Up
January 25, 2004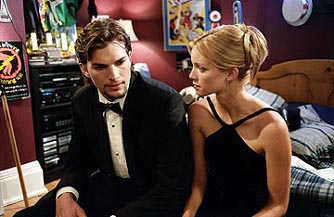 Film distributor New Line is on a roll at the box office. After big success with The Lord of the Rings: Return of the King, Elf, and a host of others, New Line trotted out The Butterfly Effect with Ashton Kutcher this weekend. Kutcher was up against his That 70s Show co-star Topher Grace, whose Win A Date With Tad Hamilton! would have been better off called Win A Date With Ashton Kutcher.
Yes, New Line Cinema is hot, hot, hot at the box office right now. They've had a string of hits that have included big, big hits like the aforementioned Return of the King and Elf (the two have a combined domestic gross of over $500 million and counting) and a string of smaller hits like The Texas Chainsaw Massacre, Secondhand Lions, and Freddy vs Jason (the three grossed over $200 million combined). All of these titles outgrossed their production budgets, and even the studio's less successful 2003 films weren't car accidents. The Butterfly Effect continues this winning streak for the company that was almost folded a few years back, as the opening weekend gross has outpaced the film's tiny production budget of $13 million.
The number one film of the weekend is The Butterfly Effect, Ashton Kutcher's attempt to jump from silly comedy to psychological thriller in a single bound. The attempt at acting range didn't put off the Punk'd star's target audience, as the film grossed a somewhat better than expected $17.1 million (estimated) over the weekend from a moderate 2,605 venues. Butterfly had a venue average of $6,564 and a not-bad weekend multiplier of 3.2. Usually, horror films aimed at a young audience will be frontloaded on Friday, dropping that multiplier into the 2.5-2.75 range, but Butterfly escaped that fate. Word-of-mouth seems to be better than critical notices; review-compiling website Rottentomatoes.com found 100 critics to weigh in on Butterfly, and only 31 gave it a passing grade. Having seen Butterfly, I will say that the film will work better with audiences (and obviously did) than with stuffy critics, but can it draw beyond opening weekend? Only time will tell; however, with the $13 million budget already recouped, New Line can drop the Final Destination franchise and work on this one.
Second spot over the weekend appears to go to Along Came Polly, but that could change on what's becoming "Switcheroo Monday," when actual numbers replace Sunday estimates. Polly's estimate for the weekend came in at $16.6 million, down 40% from its holiday inflated Friday-to-Sunday gross of $27.7 million. It took Polly two weekends to do what The Butterfly Effect did in one -- recoup its production budget. Polly cost Universal and partners $42 million to make, and the Ben Stiller/Jennifer Aniston comedy has now grossed $53.5 million in ten days. Chalk this one up as a marketing win for Universal; word-of-mouth was bad and reviews were bad, but Universal saved it from a Duplex sort of fate.
Coming in at third is the other opener, Win A Date With Tad Hamilton! Despite DreamWorks' best efforts, Tad Hamilton failed to open in the double-digits, pulling in a so-so opening weekend gross of $7.5 million from 2,711 venues. It had sad sack venue average of $2,711, and if Friday numbers were correct, it carried a poor 2.94 date-movie multiplier, much worse than The Butterfly Effect's 3.2. Aside from the aggressive marketing, Tad had little going for it heading into the weekend. Its best asset was it lineup of young stars that included Topher Grace of That 70s Show, a soap star in Josh Duhammel, and Kate Bosworth. Tad reviewed better than Butterfly Effect, but with the demographic for both films, reviews mean little. While budget data is unavailable, this one doesn't look like it will hurt DreamWorks too much. Still, it's now been almost a year since DreamWorks had a decent sized hit with Old School, so the studio's investors are going to be getting a bit antsy soon.
Big Fish swims into fourth spot, holding well compared to last weekend. Big Fish grossed $7.3 million in its third weekend of wide release, down only 29% compared to its $10.3 million three-day gross last weekend. The hold is incredible because percentage drops should be somewhat higher following a long weekend due to a larger availability of patrons on the Sunday night prior to a Monday holiday. The good hold is partly due to attention received by the Golden Globes telecast on Sunday night; awareness for award-worthy films goes up as awards season begins. Also helping the hold is the fact that both of this weekend's openers were aimed at young adults, giving films that skew older like Big Fish an opportunity to excel. Speaking of awards, Big Fish could use a little awards help. It now has a cumulative gross of $49.1 million versus a production budget of about $70 million.
In at fifth is The Lord of the Rings: Return of the King, as it began to slow somewhat in its sixth weekend of release. ROTK grossed $6.9 million over the January 23-25th frame, down 33%, and has a huge total gross of $337.9 million. In comparison, LOTR: The Two Towers grossed $6.6 million in its sixth weekend, and had a total of $308.8 million. New Line has to hope the film's momentum is increased tonight at the Golden Globes. Big wins or not, ROTK should pass Finding Nemo next weekend to become 2003's biggest box office earner.
Cheaper by the Dozen continues to show great legs in sixth, as it has performed admirably through January after its release on Christmas Day. Cheaper grossed $6.6 million in its fifth weekend of release, down 27% from its gross last weekend. Cheaper has grossed three times its production budget, as the $40 million film has now pulled in a domestic total of $122.8 million, with $20-25 million still to come.
Seventh spot is another film looking for big award success; this time it's Miramax's Cold Mountain. Cold Mountain held quite well this weekend despite the awards from the Foreign Press Association. The Anthony Minghella film grossed $5.3 million, down a small 24%, partly due to the lack of new films targeted at older females. Cold Mountain has now grossed $72.9 million as it slowly works to recoup its production budget of $78 million.
Somehow in at eighth place is Torque. I thought Torque might completely drop out of the top ten this weekend but it held on, grossing $4.4 million, a drop of 56% compared to its three-day gross last weekend. The biker flick has now grossed $17.2 million.
Ninth is Sony's Something's Gotta Give, which crossed the $100 million mark last weekend. Something grossed $4.1 million in its seventh frame and now has a total of $107.1 million. The film is Jack Nicholson's third $100 million earner in five tries.
Rounding out the top ten is Mystic River, as WB brought the award-worthy release's venue count back up to 1,327. The move worked to a degree, as the film garnered a weekend gross of $3.1 million and pulled a screen average of $2,339. The total now for the film stands at $58.5 million against a production budget of only $25 million.
Overall this weekend, box office was in a dead heat with last year. The top ten movies for the same weekend in 2003 came in at $76.8 million despite being the same weekend as the Super Bowl. This year top ten estimates came in at $78.6 million, a virtual tie with last year.
Check back tomorrow to see if The Butterfly Effect is still the winner after actual numbers are released on Monday.
Top Ten for Weekend of January 23-25, 2004

Rank

Film

Number of Sites

Change in Sites from Last

Estimated Gross ($)

Cumulative Gross ($)

1

The Butterfly Effect

2,605

New

17.1

17.1

2

Along Came Polly

2,995

+11

16.6

53.5

3

Win a Date With Tad Hamilton!

2,711

New

7.5

7.5

4

Big Fish

2,438

-76

7.3

49.1

5

The Lord of the Rings: Return of the King

2,558

-445

6.9

337.9

6

Cheaper by the Dozen

2,810

-215

6.6

122.8

7

Cold Mountain

2,802

No change

5.3

72.9

8

Torque

2,463

No Change

4.4

17.2

9

Something's Gotta Give

2,143

-359

4.7

107.1

10

Mystic River

1,327

1,194

3.1

58.5

11

Calendar Girls

966

+1

2.4

21.8

12

The Last Samurai

1,115

-288

2.1

105.5