Black Hawk Up, Snow Dogs Everywhere
John Hamann's Weekend Wrap-Up
January 20, 2002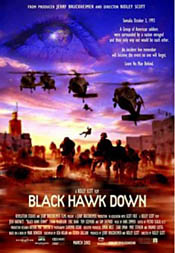 Like the Phoenix, the Black Hawks have risen again. The Martin Luther King, Jr. weekend soared in terms of box office, delivering two films that did extremely well, considering their respective budgets and box office goals. Black Hawk Down and Snow Dogs both surprised industry analysts by delivering fantastic results this weekend. In addition, some Oscar bound also-rans continued to build on the excellent word of mouth that has been growing since Christmas.
Black Hawk Down, the Ridley Scott war movie about Americans shot down in Somalia, was the number one movie this weekend. BHD grossed $29 million this weekend, an amazing tally for the slow box office month of January. Increasing its venue count from 16 to 3,101, BHD had a fantastic screen average of $9,352. Coming off some fabulous totals in limited release, awareness was the key for BHD this weekend. Simply put, the war flick had a fantastic TV ad. The use of The Space Between by Dave Mathews combined with the military action probably added $10 million to the opening. The extended media again played a huge role in the opening of this film. CNN loved the comparison between current events and Ridley Scott's film, and the uncertain picture in this year's Oscar race garnered BHD some significant media attention as well. Screen counts were huge and awareness was even bigger. It's almost a surprise that this film didn't open above $40 million.
Ridley Scott is cooking with gas. After having a tough time of it in the early 90s with movies like White Squall and 1492: The Conquest of Paradise, Scott has reversed his fortunes in the last five years. In 1997, he directed GI Jane with Demi Moore and hasn't looked back since. Black Hawk Down gives Ridley Scott three successive $30 million dollar openers: Gladiator, Hannibal and now BHD. Check out the chart below for more information.
<% sqlstr = "SELECT * FROM box WHERE" sqlstr = sqlstr + " movie like 'Thelma and Louise *' OR" sqlstr = sqlstr + " movie like 'Black Rain' OR" sqlstr = sqlstr + " movie like '1492: Conquest of Paradise' OR" sqlstr = sqlstr + " movie like 'White Squall' OR" sqlstr = sqlstr + " movie like 'G.I. Jane' OR" sqlstr = sqlstr + " movie like 'Gladiator' OR" sqlstr = sqlstr + " movie like 'Hannibal'" sqlstr = sqlstr + " ORDER BY open DESC" max = 100 header = "Ridley Scott Chart" tstyle = "release" skin = "bop" x = Drawtable(sqlstr,max,header,tstyle,skin) %>


When looking at the record book, Black Hawk Down would be the number one January opener if we didn't count the Star Wars Special Edition. The George Lucas re-release had an opening weekend gross of $35.91 million in January of 1999. The war film may have had a chance, but the NFL Football playoffs also shifted into high gear this weekend, becoming a player in the box office game. NFL Playoffs tend to remove the male filmgoer from the equation - the 8:00PM Saturday game on the East Coast definitely came into play this weekend. But to counteract this, MLK weekend is a day off school for the kids, and a state holiday for most American workers, so the effect is subdued due to stronger Sunday night showings. BHD had an estimate of $10.12 million for Friday night, so its internal multiplier (Friday night's gross divided by its total weekend gross) was 2.86 which means NFL Football had a measurable impact on the weekend's box office, if the Friday estimate proves correct.
Sony/Columbia needed Black Hawk Down, in fact they were probably desperate for BHD. The last film from the studio was Ali, which unfortunately did not live up to expectations. While Ali has grossed almost $50 million, the negative cost for the film was $95 million, a figure Columbia will have to wait a very long time to see returned through video and PPV sales. Their last big hit was way back in July with America's Sweethearts, a film that cost $48 million, and grossed a little over $90 million. Like Ali, BHD had a budget of $95 million, but in this case, Sony is locked onto a winner, and should have a return on investment in less than four weeks.
<% sqlstr = "SELECT * FROM box WHERE" sqlstr = sqlstr + " movie like 'Animal, The' OR" sqlstr = sqlstr + " movie like 'Baby Boy' OR" sqlstr = sqlstr + " movie like 'Final Fantasy: The Spirits Within' OR" sqlstr = sqlstr + " movie like 'America''s Sweethearts' OR" sqlstr = sqlstr + " movie like 'John Carpenter''s Ghosts of Mars' OR" sqlstr = sqlstr + " movie like 'Two Can Play That Game' OR" sqlstr = sqlstr + " movie like 'Glass House, The' OR" sqlstr = sqlstr + " movie like 'Riding in Cars with Boys' OR" sqlstr = sqlstr + " movie like 'One, The' OR" sqlstr = sqlstr + " movie like 'Not Another Teen Movie'" sqlstr = sqlstr + " ORDER BY open DESC" max = 100 header = "Sony/Columbia Chart" tstyle = "release" skin = "bop" x = Drawtable(sqlstr,max,header,tstyle,skin) %>


Implausibly, Snow Dogs was the number two film this week. The Walt Disney Pictures release somehow managed to gross an amazing $17.5 million this week from 2,302 screens, for a remarkable screen average of $7,602. Snow Dogs is a throw back for Disney, which brings to mind the times of The Shaggy D.A. How did this movie gross more than $5 million? I really don't know, but I can say there was positive response to the ad on TV, from grownups and kids alike. The above the title name of Cuba Gooding, Jr. must have also helped somewhat, as Cuba has quietly done some decent grossing films over the last two years like Pearl Harbor, Men of Honor and Rat Race. Also, word of mouth screenings were well-attended last week. The studio said they played 960 sneaks last weekend, which were well received. In fact, 85% of those screenings were sold out according to Disney.
Cinemascores were great for Snow Dogs, showing that this isn't a quick one-off for Disney, and that they weren't dumping it by releasing it in January. Cinemascores were actually better for Snow Dogs than for the critically acclaimed Black Hawk Down and The Shipping News. Kids loved it, giving the film an A from that key demo. The astonishing thing is that older audiences liked it almost as much as their kid counterparts, as both B+'s and A-'s were given from the older sets.
In terms of MLK weekend itself (which last year was a week earlier), Black Hawk Down is the true champ. The previous topper was 2001's Save the Last Dance, which grossed $23.44 million. In fact, the [previous] top three MLK weekend openers were aimed at the youth set. Number two is Varsity Blues, which grossed $15.92 million, and third is Next Friday starring Ice Cube, which grossed $14.44 million over MLK weekend in 2000.
In third was the still powerful Lord of the Rings. LOTR grossed another $13.03 million this weekend from 3,266 venues. The venue count was down by 115 screens in the blockbuster's fifth weekend, but it still managed to hold well, dropping only 19% from last week. The total box for Peter Jackson's epic now stands at $245.97 million. In comparison, after 33 days of release, Titanic's haul stood at $245.07 million. The difference between the two films is that Titanic grossed a massive $36 million in its fifth outing, which was also MLK weekend.
In the fourth spot was A Beautiful Mind, the drama from Ron Howard and Universal Films. A Beautiful Mind, up for many Golden Globes at tonight's ceremony, grossed $11 million this weekend, down 28%. As the Golden Globe awards become more prevalent in the regular viewer's award schedule, the more of an effect it has on the winner's box office. Mind has stuck its head above the murky Oscar waters, and it has a chance at cleaning up through awards season. Look for its box office fortunes to grow as well. With a total now at $73.9 million, $100 million feels like a lock - the main question is how far past that mark it can go.
Dropping to fifth this weekend was Orange County, which grossed $9 million from 2,317 screens. OC was down a hurtful 50% when comparing its opening Friday gross to this weekend's Friday, but the Martin Luther King weekend helped this release to hold at least a bit of its opening weekend audience. With the Sunday number propping up the overall slightly, OC dropped 40% and raised its total to $26.93 million, on its way to $40 million.
Landing in sixth this weekend was the Christmas blockbuster, Ocean's Eleven. Steven Sodeberg's crime caper grossed $5.71 million in its seventh weekend, bringing its total to an astounding $170.57 million. Ocean's Eleven dropped 26% compared to last week.
Seventh went to Buena Vista's The Royal Tenenbaums. TRT held well, but not phenomenally, dropping 33% this weekend, grossing $4.3 million over the three day period, bringing its total to $36.3 million. TRT added 92 venues this week, giving it a screen average of $4,313. Unless something odd happens during awards season, look for Tenenbaums to gross about $50 million.
Eighth spot this week was reserved for Kate and Leopold, the time travel romance flick starring Meg Ryan and Hugh Jackman. After a good hold last week, K&L dropped 28% this week, giving it a weekend total of $3.4 million. The Miramax release has grossed $42 million since being released Christmas Day.
Holding at ninth again this weekend, Robert Altman's Gosford Park added 140 screens this weekend to keep its position on the chart, during a busy weekend. The Oscar caliber release from USA Films grossed $3.31 million from 658 screens, giving it a venue average of $5,030.
Tenth spot went to Cameron Crowe's Vanilla Sky. The Tom Cruise starrer grossed $3.1 million in its sixth weekend, bringing its total to $93.16 million.
Jimmy Neutron managed eleventh spot, bringing the kids out to the tune of $3 million dollars. After five weeks, the Paramount release has grossed $72.83 million. Twelfth went to Harry Potter, which grossed $2.51 million, bringing its amazing total $308.71 million, just shy of eighth spot on the all time box office chart. Harry Potter will pass Return of the Jedi this week. The George Lucas flicked has grossed $309 million since its release in 1983.
Comparing weekends is tricky this week. Martin Luther King, Jr. Weekend actually fell a weekend earlier last year. During the three-day portion of that holiday weekend, the top 12 grossed a whopping $124.96 million. This year the top 12 grossed $104.85 million, a drop of 16%.
Next weekend, the movie market is assaulted with four new releases, as well as the possible expansion of The Shipping News and I Am Sam. The four new films include buzz film The Mothman Prophecies, A Walk to Remember with Mandy Moore, The Count of Monte Cristo with Guy Pearce and the odd looking Kung Pow!: Enter the Fist.
Top 10 for Weekend of January 18-20, 2002

Rank

Film

Number of Sites

Change in Sites from Last

Estimated Gross ($)

Cumulative Gross ($)

1

Black Hawk Down

3,101

3,085

29.00

30.80

2

Snow Dogs

2,302

New

17.50

17.050

3

Lord of the Rings: The Fellowship of the Ring

3,266

-115

13.02

245.97

4

A Beautiful Mind

2,225

+3

11.00

73.90

5

Orange County

2,317

No change

9.00

26.93

6

Ocean's 11

2,670

No change

5.71

73.90

7

The Royal Tenenbaums

997

+92

4.30

36.30

8

Kate & Leopold

2,381

-86

3.40

42.00

9

Gosford Park

658

+140

3.31

11.20

10

Vanilla Sky

2,355

-415

3.10

93.16