Thieving Kangaroo Jacks Martin and Julia
John Hamann's Weekend Wrap-Up
January 17-19, 2003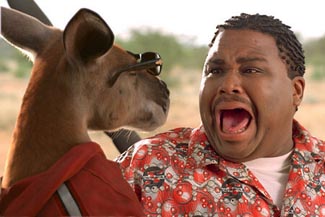 It was the best of weekends, it was the worst of weekends. There was literally something for everyone over the Martin Luther King, Jr. holiday weekend in the US, a frame that will sadly go down in history due to the auspicious debut of the crapfest that was Snow Dogs last year. The MLK weekend has become infamous for studios releasing stupid looking films for preadolescents, which is often balanced off by films seeking Oscar and Golden Globe glory. This year's stupid movie was Kangaroo Jack, another film with a headshaker TV ad, although it was evened out by expansions of The Hours, Chicago and About Schmidt.
This weekend is nutty at the box office. The AFC and NFC Football playoffs and The Golden Globe awards reduce the power of films aimed at adults, leaving the playing field open for films targeted at kids, and to a lesser degree, films aimed at women. Last year's kid flick entry, Snow Dogs, had a first Friday gross of $4.2 million, and was able to muscle out a $17.8 million in its opening weekend. These numbers translate to an internal multiplier (Friday gross divided by weekend gross) of 4.25, which is very high, even over a long weekend. On the other hand, last year's MLK winner was Black Hawk Down, but its internal multiplier was only 2.83; obviously affected by football. This year, three new movies opened - Kangaroo Jack, National Security and A Guy Thing - one aimed at pre-teens, one at urban males, and one aimed at couples. Would the multipliers follow the logic? Would Kangaroo Jack win the weekend after opening in third spot on Friday?
Well, it was close. The number one film over the MLK weekend was Kangaroo Jack, but only by a nose. The brainless looking Warner Bros. film grossed $17.7 million over the three-day portion of the weekend from 2,818 venues. The film had a venue average of $6,272. How a film about a thieving Kangaroo can top the North American box office, I don't know, especially when there is so much good product out there. While there are many good films to see, there isn't much for kids. The Wild Thornberrys sat in the tenth spot last weekend, and that film was aimed at a younger audience than KJ. The real bad news is that there isn't another legitimate kids flick until The Jungle Book 2 (sigh) opens in the middle of February, but Shanghai Knights opens a week earlier and will hopefully kneecap Kangaroo Jack by then. The bad news is that Knights is three weeks from now, so we may have to see those stupid ads on the tube for a few more weeks.
Why do I think this film is going to hold for so long? Cinemascores. Both male and females under 21 loved this film, giving it As on their Cinemascore ballots. Obviously, scores dropped as viewers got older, but the film still managed an overall grade of A. In comparison, Snow Dogs, a movie that is basically a carbon copy of KJ, scored almost the exact same marks from Cinemascore, so get ready to hear more about this film in the weeks to come, like it or not. Reviews were obviously ugly for this one, so instead of farming out the review ratio, let's look at some juicy quotes from reviews that you certainly won't see in the advertising. Jan Stuart at Newsday said, "(the leads) are mere pawns in the larcenous career of Jerry Bruckheimer, who will carry on making a plethora of movies that are anathema to anyone with half a brain." Lou Lumerick of the New York Post says, "This is barely enough story to sustain a Three Stooges short, let alone an 88 minute movie." Lastly, and my personal favorite, Ty Burr of the Boston Globe says, "Will parents be able to sit through KJ without plunging sharp sticks into their eyes? The short answer? Yes. Barely." Parents, take your kids to see something else. Please.
Moving on. The latest in the black/white buddy cop genre is Martin Lawrence and Steve Zahn in National Security, another film that looks like it's ready for a trip to the Raspberry Awards. Believe it or not, this gem was the number two movie at the box office, finishing quite the one-two punch for moviegoers this weekend. National Security grossed $15.7 million from 2,729 screens, leading to a venue average of $5,753. Cinemascores averaged a B+, and reviews were horrible. Why people parted with their hard-earned money for this one is a mystery to me. Memo to Steve Zahn: Have Jack Black read your scripts before signing any future deals.
In at third is another head-scratcher. Just Married, the Ashton Kutcher/Brittany Murphy farce fared well against its competition from the Jason Lee/Julia Stiles film A Guy Thing. Just Married benefited from the long weekend as it grossed $12.5 million this weekend, dropping only 29%. JM is excellent counter-programming this weekend. It isn't carried by the football audience, and is just lowball enough to miss the Golden Globes audience. Just Married cost Fox only $18 million, which it was able to recoup over its opening weekend. This weekend's gross should pay for prints and advertising, so anything grossed after this weekend is gravy for the studio. Talk about a great investment. The total so for for JM is $34 million.
Fourth spot goes to LOTR: The Two Towers, which just managed to stay ahead of Catch Me If You Can for the second weekend in a row. The brilliant epic from Golden Globe nominee Peter Jackson grossed $11.4 million in its fifth weekend, bringing it very close to the $300 million mark. TTT dropped 367 venues this weekend, bringing its total down to 3,110; it had a venue average of $3,658. The film lost 23% of its audience compared to last weekend, but now has a massive gross of $299 million. If TTT manages to win the best picture race at the GG's, it will become a major contender in the Oscar race, and a win could mean more riches for the folks at New Line. Check back in at BOP tonight to see who received Golden Globes.
Catch Me If You Can continued to battle with Lord of the Rings. Over the MLK weekend, Catch grossed $11.3 million from a still large 3,050 venues, producing an average of $3,705. Now in its fourth weekend, the Oscar worthy film dropped 23% compared to last weekend's gross. The total for the Spielberg film stands at $135 million, pulling it ahead of Spielberg's other blockbuster from 2002, Minority Report, which grossed $132 million. The film only has one nomination at tonight's Golden Globes. The nom is for Leo DiCaprio in the lead actor field, and a win would be surprising, so the GG's shouldn't affect Catch at all. Look for a final gross in the $160 million range.
The slow rollout of Miramax's Chicago continued this weekend. In its fourth frame, the often- Oscar winning studio added 157 venues to the musical's count, and the strategy so far seems to be working great. Chicago grossed $8 million from 557 venues, gathering an excellent venue average of $14,362. The increase in venues led to a percentage gain over last weekend of 29%, and Chicago now has a four-weekend gross of $27.7 million. Chicago has the most to gain from tonight's Golden Globes, as it carries eight nominations to the ball tonight. It needs to win a few trophies to help its winning streak stay intact.
Way down in seventh is our last new wide release in the top ten; that honor goes to MGM's A Guy Thing. Jason Lee and Julia Stiles were trumped this weekend by a surprisingly strong Just Married, but still carried a decent gross for a seventh place finish. A Guy Thing grossed $7.1 million from 2,515 venues over its opening weekend, generating a venue average of $2,823. Amusingly enough, A Guy Thing had the worst Cinemascores of the openers, averaging a B-. AGT also reviewed badly; at RottenTomatoes, only 15 reviewers out of a possible 52 liked the film, leading to a 22% rotten rating. Want a sign of a bad weekend? Of the 167 reviews posted for the three new wide releases, only 31 were positive. That's about 18% if my math is right. Yikes is the only word that seems appropriate. Check the chart below to see how MGM has done with their last seven flicks.
<% sqlstr = "SELECT * FROM box WHERE" sqlstr = sqlstr + " movie like 'Die Another Day' OR" sqlstr = sqlstr + " movie like 'Barbershop' OR" sqlstr = sqlstr + " movie like '%Crocodile Hunter%' OR" sqlstr = sqlstr + " movie like 'Windtalkers' OR" sqlstr = sqlstr + " movie like 'Deuces Wild' OR" sqlstr = sqlstr + " movie like 'Hart''s War' OR" sqlstr = sqlstr + " movie like 'Rollerball'" sqlstr = sqlstr + " ORDER BY open DESC" max = 100 header = "MGM Chart" tstyle = "release" skin = "bop" x = Drawtable(sqlstr,max,header,tstyle,skin) %>

New Line's other film in the top ten, About Schmidt, also had a fantastic weekend at the box office. The Jack Nicholson tour de force added 81 screens to its run this weekend, and the benefit was noticeable. About Schmidt grossed $6.3 million from 946 screens, good for a venue average of $6,633. The film had a slight drop compared to last weekend of only 2%. Jack should win a Golden Globe tonight, so it will be interesting to see how that helps the film at the box office next weekend. The total for Schmidt stands at $30.1 million. About Schmidt is not a film for everybody, so it's really great to see it finding an audience.
In ninth this weekend is The Hours, another release doing the slow rollout for awards season. Last weekend The Hours was in only 45 venues; this weekend Paramount rolled the film out to 402 loactions, and the play seems to have worked. The Hours grossed $4.7 million this weekend for a venue average of $11,753, the second best in the top ten. The Hours has seven Golden Globe nominations and hopes to parlay those noms into further box office success. After a couple of weekends in limited release, The Hours has now grossed $7.4 million.
Tenth spot goes to Two Weeks Notice, the Sandra Bullock/Hugh Grant rom com. The WB film fell a hefty six spots but still grossed $4.1 million this weekend, and now has a cumulative gross of $85.1 million.
Films knocked out of the top ten include Maid In Manhattan (how many romantic comedies can play at the same time?), Antwone Fisher, Gangs of New York and The Wild Thornberrys. Next weekend brings a quieter frame as only one new film hits screens and one expands. The excellently-marketed Darkness Falls hits screens, while George Clooney's Confessions of a Dangerous Mind expands, a film that has a few Box Office Prophets going crazy about its goodness.
Overall this weekend box office was down compared to last year's Sunday estimates. Last year we estimated the top ten at a boffo $104.9 million; this year, estimates came in a bit lower due to the absence of a blockbuster like Black Hawk Down. Top ten estimates tallied $98.7 million this year for a drop of 6%.
Top 12 for Weekend of January 17-19, 2003

Rank

Film

Number of Sites

Change in Sites from Last

Estimated Gross ($)

Cumulative Gross ($)

1

Kangaroo Jack

2,818

New

17.7

17.7

2

National Security

2,729

New

15.7

15.7

3

Just Married

2,769

+3

12.5

34.0

4

The Lord of the Rings: The Two Towers

3,110

-367

11.4

299.0

5

Catch Me If You Can

3,050

-175

11.3

135.0

6

Chicago

557

+195

8.0

27.7

7

A Guy Thing

2,515

New

7.1

7.1

8

About Schmidt

946

+81

6.3

30.1

9

The Hours

402

+357

4.7

7.4

10

Two Weeks Notice

2,240

-515

4.1

85.1

11

Gangs of New York

2,170

-170

4.1

61.0

12

Maid in Manhattan

2,171

-755

3.1

88.4