Lord of the Rings vs. MTV
John Hamann's Weekend Wrap-Up
January 13, 2002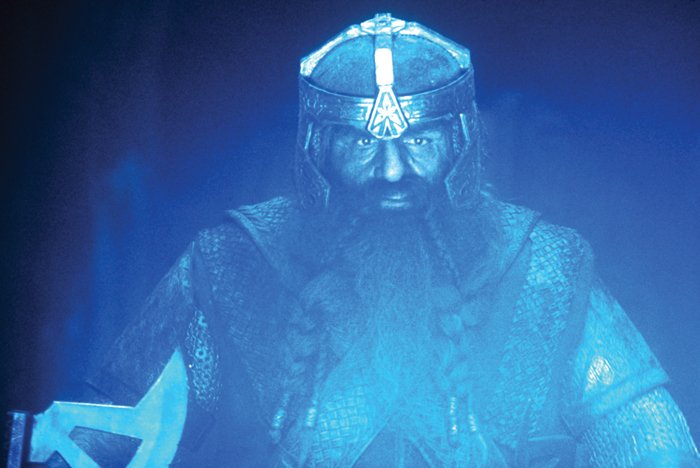 The second week of January has become a spawning ground for MTV Films. As was demonstrated last year with Save the Last Dance, MTV has mastered the youth marketing business, and it almost got Orange County to the top of the box office pile this weekend. Unfortunately for MTV, the teen comedy had to contend itself with glory bound A Beautiful Mind and behemoth Lord of the Rings, which took the title for fourth straight weekend.
Yes, LOTR is still the reigning box office champ for 2002 with its fourth consecutive win. Following a 41% drop last week, the folks at New Line were able to stop thinking about chasing Titanic grosses and put an effective Oscar campaign together for this film. LOTR grossed $16.15 million this weekend, down another 30% from last weekend. This brings the total for the monster Christmas release to $228.3 million. As discussed last week, its final total will be dependent now on how it does at Oscar time. With a weak batch of Oscar-worthy films for 2001, this type of feature could do very well with the Academy. Such a performance could mean a serious up-tick in box office grosses through February and March. Will it be able to beat Harry Potter? Likely not, but I wouldn't hesitate to bet that the sequel to LOTR will out-gross the sequel to Harry Potter. New Line has been quite shrewd in its launch of the first film in the trilogy. Although the legs may not live up to the loftiest expectations, $300 million certainly looks achievable, but $400 million is definitely out of the question.
In second this weekend was Universal's A Beautiful Mind. The Russell Crowe Oscar candidate gained 367 screens, but it wasn't enough to match last week's impressive expansion gross of $16.57 million. A Beautiful Mind grossed $15.81 million, down a mere 5% from last weekend. Its screen average from 2,220 screens was a very solid $7,111. The total for A Beautiful Mind now stands at $59 million, on its way to at least $100 million. Like LOTR, it is tough to say where Beautiful Mind will end up, as the Oscar factor will once again come into play with this release. Russell Crowe is definitely showing he can play with the big boys. After Gladiator grossed $187 million, Crowe had a serious miss with WB's Proof of Life (total: $32.6 million), but now seems to be back on track with this $60 million-budgeted feature.
<% sqlstr = "SELECT * FROM box WHERE" sqlstr = sqlstr + " movie like 'Gladiator' OR" sqlstr = sqlstr + " movie like 'Proof of Life' OR" sqlstr = sqlstr + " movie like 'Insider, The' OR" sqlstr = sqlstr + " movie like 'Mystery, Alaska' OR" sqlstr = sqlstr + " movie like 'L.A. Confidential' OR" sqlstr = sqlstr + " movie like 'Virtuosity' OR" sqlstr = sqlstr + " movie like 'Quick and the Dead, The'" sqlstr = sqlstr + " ORDER BY open DESC" max = 100 header = "Russell Crowe Movies" tstyle = "release" skin = "bop" x = Drawtable(sqlstr,max,header,tstyle,skin) %>


Orange County, the new teen flick from Paramount and MTV took third spot this weekend, grossing $15.1 million from only 2,317 screens for a fair theatre average of $6,517. Even with the pedigree of Save the Last Dance (open: $23.4 million Fri - Sun), many box office watchers picked OC for third spot at best this weekend, considering the strength of the competition. Nevertheless, teen flicks have always been tough to predict, with Save the Last Dance being a prime example. OC was the number one film on Friday, grossing an estimated $5.38 million, but couldn't hold on through the weekend.
OC certainly had some hooks going for it. There was a funny TV ad, but the print campaign was brutal. The extended media (mostly TV not used to covering films) is becoming quite a player in the movie marketing business, making hits out of films like The Fast and the Furious (Street Racing is bad!) and Eyes Wide Shut (Sex! Sex! Sex!). This newly influential branch of the media grabbed on to Orange County due to the family tree of two of the stars (Colin Hanks, son of Tom and Schuyler Fisk, daughter of Sissy Spacek) and the film's director (Jake Kasdan, son of Lawrence).
Jack Black is also (thankfully) becoming a force to be reckoned with at the box office. Gwyneth Paltrow and Jack opened Shallow Hal to an impressive $22.5 million, and JB also had memorable roles in the under-appreciated Saving Silverman, and the unforgettable High Fidelity with John Cusack. What's next for Black? He has a role in the upcoming animated film Ice Age and Run Ronnie Run, a takeoff from the HBO series Mr. Show.
Before we move on to the rest of the list, let's have a closer look at MTV Films. MTV is owned by Viacom, which also not surprisingly owns Paramount Pictures and Nickelodeon. The first foray into the movie business for MTV was a monster hit, 1996's Beavis and Butthead Do America. Since then, it has been widely divergent with regards to box office. Check out the chart below for the numbers from MTV Films.
<% sqlstr = "SELECT * FROM box WHERE" sqlstr = sqlstr + " movie like 'Dead Man on Campus' OR" sqlstr = sqlstr + " movie like 'Beavis and Butthead Do America' OR" sqlstr = sqlstr + " movie like 'Election' OR" sqlstr = sqlstr + " movie like 'Wood, The' OR" sqlstr = sqlstr + " movie like 'Varsity Blues' OR" sqlstr = sqlstr + " movie like 'Save the Last Dance' OR" sqlstr = sqlstr + " movie like 'Original Kings of Comedy, The' OR" sqlstr = sqlstr + " movie like 'Joe''s Apartment' OR" sqlstr = sqlstr + " movie like '200 Cigarettes'" sqlstr = sqlstr + " ORDER BY open DESC" max = 100 header = "MTV Films" tstyle = "release" skin = "bop" x = Drawtable(sqlstr,max,header,tstyle,skin) %>


In fourth this week is the unstoppable Ocean's 11. O11 grossed another $7.54 million from 2,670 screens, bringing its total to $162.5 million. Word of mouth has definitely clicked for this film. The remark I've heard the most about O11 is how inoffensive it is thereby spreading the demographic out extremely wide by not offending anyone. Ocean's 11 has almost no swearing, no nudity, no sex talk, and little violence. It plays the same for Grandma and Grandpa as it does for grandson and granddaughter. In addition, Grandma is far more likely to have heard of George Clooney than Jack Black. Ocean's 11 is -the- perfect Christmas movie - fun, inoffensive, adult, and with star power that goes on forever. Unfortunately, Oscar noms are unlikely for this flick, so it will have to settle for about $175 million before making even more money on DVD and Home video.
In fifth this week is Wes Anderson's madcap comedy The Royal Tenenbaums. The Buena Vista release grossed $6.37 million, dropping only 25% as it added 154 screens. Its screen average was $7,072. Buena Vista has clearly made a wise investment with Mr. Anderson's third film. TRT had a budget of only $21 million, and has grossed $29.9 million so far on its way to at least $40 million. Tenenbaums will be an interesting film to watch on the chart, as there is a large 'love it or hate it' feeling with this title. Cinemascores were mostly negative, save for the 21-34 year old set, which seems to really like it. At IMDB, its group average is 8.6/10, making it the 123rd most enjoyed film on their database, which is impressive due to the staggering amount of films listed at IMDB.
Sixth this week is another Paramount release, Jimmy Neutron: Boy Genius. Jimmy is down somewhat compared to last week where it arrived in fourth with a gross of $9 million. This week, the film dropped 39% by grossing $5.5 million on 2,810 screens, down 341 from last week; however, with a total of $69.1 million and a budget of only $25 million, Paramount should be laughing all the way to the bank, and scrambling to make a sequel.
Moving up from eighth to a tie for seventh is Kate and Leopold, the Christmas release that seems to be finally gathering some steam, albeit way too late. K&L grossed $5 million, down only 18% from last week. Still on 2,467 screens, the Hugh Jackman/Meg Ryan romcom had a screen average of $2,027 in its third week, and managed to bring its total to $37.5 million. This tally is great news for distributor Miramax, which has only had two titles do better in the last year, Serendipity with John Cusack, which grossed a little over $50 million, and the excellent Bridget Jones' Diary with Renee Zelwegger, which grossed over $70 million.
Vanilla Sky, the weird Tom Cruise movie, also tied for seventh spot. Vanilla also grossed $5 million in its fifth weekend, down 30% from last weekend's $7.13 million. The total for the flick now stands at $88.4 million, and just about proves that big Tom can carry any film to $100 million.
Ninth spot this weekend was quite a surprise, as Gosford Park, the latest entry from Robert Altman, grossed $3.79 million from a miniscule 518 screens. Gosford Park has the second best venue average in the top ten at $7,037 and brings its total box office to $6.7 million before making it to 600 screens. Gosford Park is being released by USA Films, whose last big hit, Traffic, also expanded through January, on its way to a gross of $124.1 million. Gosford Park will never see that kind of business, but with a powerful release, this film may garner some Oscar attention in the weeks to come.
Tenth spot this weekend went to Harry Potter and the Sorcerer's Stone. Probably in its last weekend in the top ten, Harry dropped another 43% to $3.40 million. Its awesome total is now at $305 million, good for tenth place on the all-time list just behind Independence Day, which had a final tally of $306.2 million.
The fight for eleventh this week ended up with Ali winning the prize by grossing $3.2 million at 2,521 venues, bringing its total to an unimpressive $54.41 million. Ali was down 54% compared to last weekend. The budget for the Warner Bros. flick was a staggering $105 million, and the failure from a business angle may hurt Will Smith's chances at an Oscar nomination.
The Miramax release In the Bedroom finished 12th this weekend. The Oscar hopeful expanded to 424 screens and grossed $3.0 million. The small film from Todd Field was up 83% this weekend and now has a box office total of $8 million.
As far as other limited release films, Brotherhood of the Wolf from Universal Films grossed an amazing $473,000 from only 21 screens, for an average of $22,524. Also, Black Hawk Down continued to roll in limited release grossing $725,000 from 16 screens, for an average of $45,313, bringing its total to $1.45 million. The Shipping News may be picking up steam, as it grossed $1.25 million, up 10% over last weekend.
The top 12 films didn't have a chance of competing with last year's monster number. The Jan 11-13, 2002 crop grossed $89.87 million, down 28.08% compared to last year's holiday-inflated MLK weekend tally. Compared to last weekend, box office was down 14.11%.
Next weekend is Martin Luther King, Jr. weekend in the US, and a very big film hits theatres. Black Hawk Down, which has been lurking in limited release over the last few weeks, is set to break out and test the boundaries of the top January releases ever. Also opening is Snow Dogs, the strange new release from Walt Disney Pictures. Check out BOP's release schedule for more information on these two upcoming releases.
Top 10 for Weekend of January 11-13, 2002

Rank

Film

Number of Sites

Change in Sites from Last

Estimated Gross ($)

Cumulative Gross ($)

1

The Fellowship of the Ring

3,381

0

16.15

228.27

2

A Beautiful Mind

2,222

+369

15.80

59.00

3

Orange County

2,317

New

15.10

15.10

4

Ocean's 11

2,670

-100

7.54

162.47

5

Royal Tenebaums

905

+154

6.40

30.00

6

Jimmy Neutron: Boy Genius

2,810

-341

5.50

69.06

7

Vanilla Sky

2,770

-72

5.00

88.44

8

Kate & Leopold

2,467

0

5.00

37.40

9

Gosford Park

518

387

3.79

6.74

10

Harry Potter and the Sorcerer's Stone

2,170

-511

3.40

305.04