Moviegoers Say "I Do"
John Hamann's Weekend Wrap-Up
January 10-12, 2003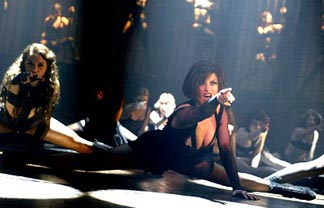 You can tell it's January. The first month of the year is known for expanding Oscar releases, but it's also known for something else: box office hits that have no reason to perform as well as they do. Just Married, the new film starring Ashton Kutcher and Brittany Murphy, blew past The Two Towers and Catch Me If You Can this weekend to grab the box office crown.
January is a funny month at the box office. One only has to look at the top opening weekends historically to realize this. Some of these titles include Orange County, Varsity Blues, She's All That, and Snow Dogs. All of these films opened over $10 million and a couple opened in the top spot. Are audiences hungry for silly comedies during the serious Oscar season? Is it the blight of new product after the high profile, arty Christmas season? Since Christmas Day of 2002, now 16 days ago, only one film has opened in wide release (Catch Me If You Can). In the 16 days before Christmas, eight films opened, giving moviegoers all the product they could possibly want. The glut this year is being filled by Just Married, a well marketed, inexpensive film from Fox that fits an under-served demographic very well. Check the chart below for other January successes.
<% sqlstr = "SELECT * FROM box WHERE" sqlstr = sqlstr + " movie like 'Snow Dogs' OR" sqlstr = sqlstr + " movie like 'Save the Last Dance' OR" sqlstr = sqlstr + " movie like 'She''s All That' OR" sqlstr = sqlstr + " movie like 'Varsity Blues' OR" sqlstr = sqlstr + " movie like 'Civil Action, A' OR" sqlstr = sqlstr + " movie like 'Orange County' OR" sqlstr = sqlstr + " movie like 'Next Friday' OR" sqlstr = sqlstr + " movie like '%Legends of the Fall%' OR" sqlstr = sqlstr + " movie like 'Wedding Planner, The' OR" sqlstr = sqlstr + " movie like '%Higher Learning%' OR" sqlstr = sqlstr + " movie like '%Beverly Hills Ninja%' OR" sqlstr = sqlstr + " movie like 'Walk To Remember, A' OR" sqlstr = sqlstr + " movie like 'Metro*' OR" sqlstr = sqlstr + " movie like 'Count of Monte Cristo, The'" sqlstr = sqlstr + " ORDER BY open DESC" max = 100 header = "January Successes" tstyle = "release" skin = "bop" x = Drawtable(sqlstr,max,header,tstyle,skin) %>

Like it or not, the 20th Century Fox comedy Just Married is the number one film this weekend, trumping powerful films from Steven Spielberg and Peter Jackson. Just Married grabbed a very impressive $18.0 million from 2,764 venues this weekend, for an exciting site average of $6,512. Is Ashton Kutcher the new Pauly Shore? Kutcher was one of the brainiacs in Dude, Where's My Car? the ultra-stupid (but funny) flick that netted Fox an opening weekend of $13.9 million and an overall gross of $46.7 million. Dude cost Fox only $13 million, and Kutcher's antics have helped keep the Fox sitcom, That 70s Show, on the air. With Just Married, Kutcher will definitely become employee of the year at Fox, as Just Married must carry a similar budget to that of Dude.
What did audiences think of Just Married? The audience that Fox was targeting loved it. Under 21 females gave Just Married its best Cinemascore, an A, and grades dropped as viewers got older. Male under 21s gave the film a B+ and the average score ended up being an A-, but I think the Cinemascore people were being kind. If you thought reviewers were going to like this film, I'd love to sell you some oceanfront property in Idaho. Of the 63 reviews counted at RottenTomatoes, the film only had 13 fans, which resulted in a 21% fresh rating at RT. With a film like this though, reviews are meaningless; it's only the word of mouth that counts. I'd expect some fairly serious drops for Just Married during the honeymoon, and a final gross in the $55 million range, which isn't bad for a film that probably cost Fox $20-30 million to make. Lastly, worldwide box office numbers should come in at about half the domestic gross, so this is a real keeper for Fox.
Second this weekend is The Lord of the Rings: The Two Towers, which slips out of the number one spot for the first time since it debuted. TTT grossed $15.0 million this weekend from 3,477 venues and had a venue average of $4,300. TTT hemorrhaged audience this weekend; the film dropped 40% compared to its gross last weekend, another big drop that wasn't expected. What we are finally seeing with TTT is what we at BOP call the sequel effect. When high profile sequels are released, often the target audience will rush out to see the film, delivering huge opening weekends, which are followed by higher than average drops. At the beginning of its release, it didn't look like TTT was going to suffer from the sequel effect, but what happened was that the sequel effect just took longer to kick in, mostly due to the Christmas season effect on the box office. Don't get me wrong. I'm not calling LOTR: TTT a failure by any means, but after a fantastic start, TTT is going to have to work harder than we once thought to catch the box office total of Fellowship, and after this weekend, we can completely rule out any chance of it catching the Spider-Man gross. Fellowship's total was $313 million, the total for TTT stands at $283.6 million. A Golden Globe win next weekend should easily put this film over the top.
The battle between Lord of the Rings: The Two Towers and Catch Me If You Can continued this weekend, with the Leo DiCaprio flick coming in just short of the film from Middle Earth. Catch grossed $14.8 million this weekend, good for third spot on the chart. I think the folks at DreamWorks really wanted the win this weekend, as they added 55 screens to the film's total, bringing it up to 3,225 venues; the film had an average of $4,582. The bad news for DreamWorks is that their film dropped 30% this weekend, although that number may be inflated due to some folks having Friday January 3rd off. The total for Catch has hit $119.5 million; the film should make it to $150 million, and could see more if Oscar is kind, but right now, that seems doubtful.
In at fourth is Two Weeks Notice, the Sandra Bullock/Hugh Grant romantic comedy. In its fourth weekend in the top ten, Two Weeks Notice grossed $6.7 million from 2,755 screens, for an average of $2,432. Even though the WB flick was off 40% this weekend, TWN is still going to come very close to being a $100 million earner, although it should sputter out with about $95 million in the bank. Its current total stands at $78.9 million, against a budget of about $60 million.
About Schmidt gets to spend a second weekend in fifth spot, as the Jack Nicholson platformer took in $6.3 million over this January frame. New Line Cinema, the studio behind Schmidt, added 49 screens this weekend to bring the venue count up to 865, resulting in a venue average of $7,225. Even with the additional screens, Schmidt still lost 27% of its audience compared to last weekend. It will be interesting to see if New Line decides to expand this flick further after the Golden Globes are given out next Sunday. The current total for Schmidt has hit $21.4 million, against a production budget of $30 million.
Chicago, the grandiose film adaptation of the Broadway musical, lands itself in sixth spot this weekend, and was able to gain on its gross from last weekend even though it only added 58 screens to its repertoire. Now on a still-small count of only 362 venues, the Miramax musical grossed $5.6 million, up 13% compared to its debut in the top ten a week ago. Chicago had a great venue average of $15,470, the best in the top ten. Many are comparing Chicago to Moulin Rouge, but how does it stack up box office wise so far? It's a tougher question than it looks. Moulin Rouge started on a small number of screens like Chicago, but Fox wanted to take advantage of counter programming in the summer and expanded their film after two weekends from two venues to over 2,200. This may not have been the smartest choice, as Moulin only took in a so-so total of $13 million from its first weekend expansion. Chicago, on the other hand, is playing the awards expansion game. Miramax plans to expand their film on January 24th, the weekend after the Golden Globe winners are announced, as excellent counter programming against the Super Bowl. Chicago has netted $17.1 million in only a limited release.
Seventh spot this weekend goes to Scorsese's Gangs of New York, the historical epic that is also being released by Miramax. Gangs grossed $5.0 million from 2,340 venues this weekend, good for a site average of $2,137. So far, Gangs of New York has grossed $55.1 million.
Tied for seventh is Maid in Manhattan, the Jennifer Lopez romantic comedy. Maid also was estimated at $5.0 million this weekend, down 42% from its last frame. The total for the Sony flick has now hit $83.7 million.
Fox's Antwone Fisher makes its debut on the chart this weekend, but sadly it's in ninth, as the Fox marketing seems to be able to handle a Just Married much better than an Antwone Fisher. AF grossed only $3.8 million in its first weekend of wide release from 1,006 venues, coming in at a not-very-good venue average of $3,777. The total for the Denzel Washington-directed film stands at $10.5 million.
Tenth spot goes to Adaptation, the Oscar buzz film that comes from the folks who created Being John Malkovich, director Spike Jonze and writer Charlie Kaufman. Starring Nicolas Cage, Meryl Streep and Chris Cooper, Adaptation managed $2.9 million as it expanded from 109 to 560 screens, good for a venue average of $5,179. Total box office currently sits at $9.5 million, with further success dependent upon awards recognition.
Films sliding out of the top ten this weekend include The Wild Thornberrys Movie, Drumline and Harry Potter and the Chamber of Secrets. Entering the fray next weekend are National Security, the new film from Martin Lawrence and Steve Zahn, as well as A Guy Thing, with Jason Lee and Julia Stiles. Also starting a sad assault on moviegoer's brains is Kangaroo Jack, a film I pray dies a slow and fantastic death for making me sit through the marketing.
Overall this weekend the top ten grossed $82.9 million, very close to the same weekend in January last year when the top ten estimates came in at $89.9 million. That comes in at a 8% decrease compared to last year.
Top 12 for Weekend of January 10-12, 2003

Rank

Film

Number of Sites

Change in Sites from Last

Estimated Gross ($)

Cumulative Gross ($)

1

Just Married

2,764

New

18.0

18.0

2

The Lord of the Rings: The Two Towers

3,477

-145

15.0

283.6

3

Catch Me If You Can

3,225

+55

14.8

119.5

4

Two Weeks Notice

2,755

No change

6.7

78.9

5

About Schmidt

865

+49

6.3

21.4

6

Chicago

362

+58

5.6

17.1

7

Maid in Manhattan

2,926

-124

5.0

83.7

8

Gangs of New York

2,340

+35

5.0

55.1

9

Antwone Fisher

1,006

+814

3.8

10.4

10

Adaptation

560

+451

2.9

9.5

11

Drumline

1,540

-113

2.85

51.4

12

Narc

822

+816

2.7

3.1