Fish Big at Quiet Box Office
Monday Update
January 12, 2004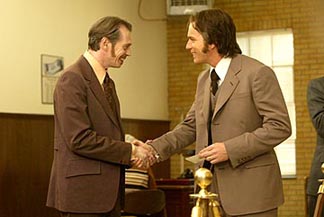 The close race at the box office was decided on Monday after Big Fish and The Lord of the Rings: Return of the King finished about $400,000 apart after estimates were released Sunday. I've seen closer races get less press, so it's interesting that such a row was made about these numbers.
With final numbers in, we do have a flip-flop at top spot at the box office (shocked! shocked I tell you!). The now second place Tim Burton film was estimated at $14.5 million on Sunday, and was downgraded today to $13.8 million after final numbers were counted, a huge $700,000 drop. Whether it's first or second, call it a decent haul for the Sony film, as Big Fish didn't have much to hang its hat on in terms of marketing. Beautiful imagery in the TV ad and trailer drew audiences, instead of a big name.
LOTR: Return of the King is once again back on top, and returns to the "repeat champion" position. Its estimate of $14.1 million was increased to $14.2 million after final numbers were released. The mega project has a running total of $312.3 million, so any worries about placement in its fourth weekend of release really should be put aside.
Openers were close to their weekend estimates. Mandy Moore's Chasing Liberty was estimated at $6 million for the weekend, with the actual coming in at a slightly bigger $6.1 million. My Baby's Daddy estimate was not as close, with the $7.8 million estimate lowered to $7.5 million. Rankings did not change.
The only other big miss in the estimate department was for Something's Gotta Give. The Diane Keaton/Jack Nicholson comedy was downgraded from $8.2 million to $7.7 million. Because of the poor estimate, Cold Mountain ends up passing the comedy in the top ten, as it was relegated to fifth after being estimated in fourth.
The column below has been updated with final numbers.
John Hamann's Weekend Wrap-Up
January 11, 2004
Anybody see a tumbleweed blow through their local movie theatre this weekend? If your theatre was showing either of the opening films, Chasing Liberty or My Baby's Daddy (or is it Mama?), you just may have. It was expanders and holdovers strutting their stuff at the box office, as Big Fish and Return of the King stole the show away from the openers.
After some incorrect estimates were released Sunday, New Line's The Lord of the Rings: Return of the King has had its crown returned, as it earned the top spot at the box office for the fourth straight weekend. It grossed $14.2 million from 3,532 venues, 171 less than last weekend, earning a venue average of $x,xxx. It was down a surprising 50% compared to the previous weekend. Four consecutive weekends at number one is a tough feat to accomplish in this world of turn and burn movie marketing. By my count, in the last six years, only five films have spent four or more consecutive weekends at number one. They include the obvious Titanic, which was crowned box office champ 15 consecutive times, a feat we probably won't see again. The Sixth Sense was on top for five consecutive weekends and LOTR: Fellowship of the Ring, Saving Private Ryan and The Grinch stayed on top for four weekends. The best news for New Line is that Return of the King will outgross all of these films (except Titanic) by the end of its run. In fact, with its $14.2 million gross this weekend, Return jumped four spots up the all-time biggest domestic box office hits list from number 17 to number 13. The finale crossed the $300 million mark on Friday, the film's 24th day of release. As Tim Briody said yesterday, that makes it the second fastest film ever to $300 million, losing out to Spider-Man's 22 days, but ahead of The Phantom Menace's 34 days.
The million-dollar question is still this: where is Return of the King headed in terms of total box office? The film now has a four-weekend gross of $312.3 million, and should still be able to rack up another $50 million before the end of its run, more if it claims the Oscar for Best Picture. Without a best picture win it looks like the film will finish with $365-$375 million, about $25-$35 million ahead of The Two Towers.
It's that time of year. Films that debuted in small Oscar qualifying runs in December often will carry fantastic word-of-mouth heading into their wide release, and that's exactly the case with Tim Burton's Big Fish. The beautiful father/son story is the number two film at the box office this weekend, almost bumping Peter Jackson's third installment of the Lord of the Rings off the top spot after three sessions at number one. Big Fish expanded from 125 to 2,406 venues this weekend, with the fantasy bringing in $13.8 million in its first weekend of wide release. The Sony film had a venue average of $5,739.
Big Fish was not a cheap investment for the studio - the production budget came in at around $70 million, so the film will have to continue to carry good word-of-mouth if it hopes to recoup its production budget domestically. January releases miss the big daily numbers that Christmas releases get; however, competition for dollars is more subdued with a weaker crop of openers debuting in the first month of the year. The movie did work critically, but not to the extent that some of the Oscar hopefuls have received. RottenTomatoes found 138 reviews with of them 107 fresh, giving it a positive percentage of 78%. I think the film will work better with moviegoers than critics; my full house on Friday gave it a rousing round of applause as the credits rolled. Big Fish may work well with the Cheaper by the Dozen or the My Big Fat Greek Wedding crowd. Stripping it down, it's a movie about family, and that has sold well at the box office over the last couple of years. It currently has a total of $23.4 million, as it had earned about $9.6 million heading into the weekend. People, please, skip Chasing Liberty and go and see Big Fish. You won't be disappointed.
Down one spot to third is the Fox family comedy, Cheaper by the Dozen. After several weekends of strong play and strong holds, Cheaper faltered this weekend, grossing $11.8 million with a hefty weekend-to-weekend drop of 46%. The film lost 69 venues this weekend, bringing its total down to 3,238; it had a venue average of $3,628. The good news for Fox is that Cheaper was able to cross the $100 million mark on Sunday, which is great news for a film with a production budget of $45 million. Its total now sits at $101.1 million.
Cold Mountain, the Nicole Kidman/Jude Law romantic epic ends up fourth this weekend. After finishing about $200,000 short of Something's Gotta Give last weekend, the Anthony Minghella film passed its rival this weekend, grossing $7.9 million. It dropped 32% compared to the previous frame, but brought its total up to a decent $55.3 million. The film cost Miramax $78 million, and as the Golden Globes and Oscar approach, the film's holds should improve.
It was a very close race between three films for fifth, as the two openers, and Something's Gotta Give fought tooth and nail for a top five spot. The winner of the small war for mediocrity was Something's Gotta Give. The ensemble comedy grossed $7.7 million, down a still large 34%. The Sony film is now in its fifth frame of release, and is approaching $100 million. It has a current total of $92.5 million, and should reach $125 million by the end of its run.
Sixth spot goes to new release My Baby's Daddy, the urban comedy that to me looks a lot like Daddy Day Care. The film, which stars Eddie Griffin and Anthony Anderson, grossed a better-than-expected $7.5 million from a small 1,447 venues, giving it the weekend's second best venue average of $5,218. The urban comedy from Miramax was shot way back in mid-2002, but was dusted off this weekend for some decent revenue. Budget information on Daddy is scarce, but I'm sure $20 million domestic and decent DVD revenue will keep Miramax in the black on this one, a resolution the studio will be no doubt happy with given the start date for this project.
Way down in seventh is Mandy Moore's Chasing Liberty, WB's attempt to cash in on the often-successful January teen romance. This one wasn't as successful as the studio would have liked, as Liberty had an opening weekend of $6.1 million from 2,400 venues. The film cost WB a lite $26 million to make, but even if it makes three times its opening weekend, it will still come up quite short of the production budget, at least domestically. Reviews weren't great; of 82 reviews posted at RottenTomatoes, only 18 were positive, leading to a quite rotten score of 22%. For Mandy Moore, Liberty is a slight increase on How To Deal's open of $5.8 million, but is way down from what A Walk To Remember grossed in its opening frame ($12.2 million). Mandy, I see a sitcom in your future.
Eighth is Paycheck, John Woo's kick at the Phillip K. Dick can. Paycheck grossed $5.2 million this weekend, down 48% from its $9.8 million gross last weekend. The sci-fi action film now has worked up a total gross of $46.4 million against a production budget of $60 million.
Pulling up in ninth is The Last Samurai, Tom Cruise's waning shot at Oscar. TLS grossed $4.6 million in its sixth weekend, down 38% compared to the previous frame. The film was on the doorstep of $100 million, but failed to step through; The Last Samurai will have to wait until next weekend as it has a current gross of $97.2 million.
Tenth is Julia Roberts in Mona Lisa Smile, a film that had little impact at the box office despite its stellar lineup of actresses. Mona Lisa grossed $4.4 million in its fourth weekend of release, down 47% from the previous frame. The Sony film now has now reached $56.9 million in domestic sales.
Overall, box office was on pace with last year, when Just Married rung up decent sales. The top ten movies last year came in at $82.9 million, with $18 million of that coming from the Ashton Kutcher comedy. This weekend the top ten rang up a similar $83.1 million, 1% ahead of last year.
Top Ten for Weekend of January 9-11, 2004

Rank

Film

Number of Sites

Change in Sites from Last

Estimated Gross ($)

Cumulative Gross ($)

1

The Lord of the Rings: The Return of the King

3,532

-171

14.2

312.3

2

Big Fish

2,406

+2,281

13.8

23.4

3

Cheaper by the Dozen

3,238

-69

11.8

101.1

4

Cold Mountain

2,302

+86

7.9

55.3

5

Something's Gotta Give

2,876

+68

7.7

92.5

6

My Baby's Daddy

1,447

New

7.5

7.5

7

Chasing Liberty

2,400

New

6.1

6.1

8

Paycheck

2,762

No Change

5.1

46.4

9

The Last Samurai

1,901

-500

4.6

97.2

10

Mona Lisa Smile

2,500

-214

4.4

56.9

11

Peter Pan

2,614

-199

4.2

40.0

12

Calendar Girls

957

+212

3.7

12.4