King Sneaks Up On $300 Million
John Hamann's Monday Box Office Update
January 5, 2004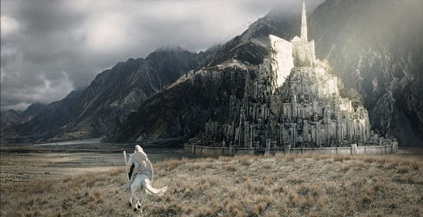 Monday Update
Studio estimates proved poor for the January 2nd - 4th frame, as almost the whole top ten was downgraded from the Sunday estimates. Obvious confusion reigned on Friday, as the box office was obviously overestimated. One might think the lack of new, big first weekend releases would keep holdover estimates in check, but that certainly wasn't the case.

Friday's estimated gross for The Lord of the Rings: Return of the King came in at $11.1 million, with the estimate for the weekend gross at $30.8 million. Something had obviously gone goofy as the weekend multiplier for the three-weekend-champ would have been 2.77, yards away from the 3.3 multiplier the sequel Two Towers earned over the same weekend last year. Yes, there was a lot of football going on this weekend, but the same was true last year, so that should be written of as an excuse. Instead of the weekend estimate being incorrect, the Friday number was the problem, as the official weekend total for The Return of the King came in this afternoon at $28.2 million, giving the film (if the Friday number was indeed $11.1 million) a weekend multiplier of 2.54 (which is obviously incorrect). The total so far sits at $290.4 million, with $300 million less than a week away.

The estimate for the second weekend of Cheaper by the Dozen was quite close. The initial estimate was $21.9 million, with the actual ending up at $21.6 million. Cheaper gives another indication that the Friday numbers were loaded up somewhat. The broad family film should have had a mult in the 3.3-3.5 range, but ended up at 2.43. Its current total sits at $85.6 million.

Other estimates that didn't groove with final numbers included Something's Gotta Give, which was estimated at $12.5 million, but came in this afternoon quite lower at $11.7 million. The total for the film has now moved down to $81.2 million. The estimate for Mona Lisa Smile wasn't quite right either, as it was downgraded from $8.7 million to $8.3 million. Smile's estimate was far enough off to vault Peter Pan into sixth place and move Mona Lisa down to seventh.

Below, actuals have replaced estimates, and the order has been fixed to reflect the correct top ten at the box office. Check back to BOP later in the week to see what Kim Hollis predicts for new entries (that probably should have gone STV), My Baby's Daddy and Chasing Liberty.
Sunday Weekend Wrap-Up
With the holidays over, one might think North Americans would busy themselves with things other than movies this weekend. Surprisingly, that wasn't to be, even though new offerings at your local theatre were few and far between. Holdovers held strong, with four films doing more than $10 million worth of business to start the New Year off.

Yes, the first box office weekend of the year belongs (again) to a Lord of the Rings movie. Return of the King refused to slow down in its third weekend, drawing $28.2 million worth of business, falling only 40% compared to a busy moviegoing weekend in the last frame. How do the three LOTR films compare to each other in terms of box office? In their third weekends respectively, Fellowship of the Ring grossed $23 million, dropping 41%; The Two Towers grossed $25 million, dropping 49%. Simply put, Return of the King is trashing its colleagues. The real and most remarkable difference, though, is in total box office. The Lord of the Rings: Return of the King has now grossed an awesome $290.4 million after only 19 days of release. Through the same period, Fellowship had grossed a much smaller $205.5 million and The Two Towers had accumulated $261 million, about where Return started from this weekend. It took the first film in the series 102 days to cross the fabled $300 million mark, with the second taking only 34 days to hit $300 million. By my calculations, Return of the King should hit the mark on Friday, only its 24th day of release. That would make it the second fastest film to reach $300 million, coming just behind champ Spider-Man, which took only 22 days to hit that mark.

How will New Line make up for the huge hole that the completion of the trilogy has put in its schedule? The easy answer is that they won't - they don't have to. So far, the three LOTR films have grossed about $2.3 BILLION worldwide, with a large part of the series' $300+ million production budget doled out three years ago. With the pressure clearly off, New Line has a series of so-so entries for 2004 that start with Ashton Kutcher's The Butterfly Effect, another teen horror flick in the vein of the Final Destination franchise. New Line will follow that up with Laws of Attraction, a rom-com with Pierce Brosnan and Julianne Moore, and they have the third part of the Blade trilogy, this time titled Trinity. It may be interesting to see if New Line's entire 2004 schedule can match the overseas gross of Return of the King.

Second spot this weekend goes again to Cheaper by the Dozen, which is holding excitedly well, much like its broad comedy brethren from the last few years like My Big Fat Greek Wedding. Cheaper by the Dozen grossed $21.6 million in its second weekend, down a very small 22% compared to the last frame. CBTD looks to be bailing Fox's fourth quarter out, as they haven't had a film with a domestic gross higher than its production budget since X-Men 2, which opened last May. Sources indicate Cheaper had a production budget of $45 million, and the comedy has now pulled in a gross of $85.6 million stateside. Surprisingly, Cheaper could be Steve Martin's second $100 million dollar film released in 2003, after Bringing Down the House grossed $132.7 million after opening last March.

It was a close race for a top five spot at the box office this weekend. Sony was doing everything it could to give Something's Gotta Give a bit of a lift; the distributor added 99 venues this weekend to bring the count up to 2,808 sites. They also seemed to tweak the marketing somewhat heading into a weekend dominated by football. The move worked very well. Something's Gotta Give moved ahead of Cold Mountain by grossing $11.7 million, down only 12% compared to the previous frame. The Jack Nicholson/Diane Keaton flick has now grossed $81.2 million, and looks to be headed for $100 million plus by the end of its run.

In at fourth is Cold Mountain, which got off to a fair to middlin' start last weekend. However, at $78 million, Cold Mountain was obviously not a cheap film to make, so it will need better than middlin' results if it's going to be a hero for Miramax. In the first frame of 2004, Cold Mountain grossed a very positive $11.6 million from 2,216 venues, an increase of 53 sites compared to last weekend. The Jude Law/Nicole Kidman historical epic dropped a very small 19% from its debut last weekend, but it will need to win some Oscars if it hopes to recoup the production budget. It has a two weekend total of $43.7 million.

Fifth this weekend goes to John Woo's Paycheck, a film that looked like another expensive miss after its so-so start last weekend. Paycheck fought back a bit in its second frame, grossing $9.8 million, down a not-bad-for-the-genre 27% compared to last weekend. Paramount is the offending studio on this Ben Affleck flick, as they put out $60 million for the sci-fi adventure. Unfortunately, with the small drop and a current total of $38.6 million, it looks like Mr. Affleck will continue to get work.

Sixth goes to Peter Pan, the very expensive miss distributed by Universal. Peter Pan grossed a healthy $8.8 million in its second weekend, down only 23% from last weekend where it was dominated by Return of the King and Cheaper by the Dozen. It's no secret that Peter Pan cost $100 million to make, but what you may not know is that the cost will be shared by high-profile production houses like Universal, Columbia, Revolution, and Village Roadshow. So far, the beautiful-looking film has grossed $34.2 million, and will need many more small-drop weekends if it hopes to finish respectfully.

Mona Lisa Smile is seventh this weekend, as the perceived Christmas disappointment grossed $8.3 million in its third frame, down 25%. While not a spectacular earner, MLS cost Sony and Revolution only $65 million to make, and has grossed $50 million after three weekends of primetime release, which shows how important daily box office is over the Christmas break.

Tom Cruise and The Last Samurai are eighth this weekend, as the WB flick continues to hurl itself towards the $100 million mark at the domestic box office. Now in its fifth weekend, TLS grossed $7.4 million, down only 10% from last weekend's holiday inflated weekend. The Oscar wannabe has now taken in $90 million, and should pass the $100 million mark next weekend.

Ninth spot goes to Calendar Girls, a film that is below most people's radar. Out on 745 screens across North America, Calendar Girls pulled in a respectable $4.4 million, giving it a fair venue average of $5,959. The Buena Vista release now has a total of $7 million, and will need good word-of-mouth to stay in the top ten next weekend.

Tenth spot came down to a face-off between Christmas movies, as Elf and his nemesis Bad Santa duked it out for the bottom spot of the top ten. The winner was Bad Santa, as it ends its box office top ten run after six weeks on this chart. Bad Santa grossed a lowly $2.9 million, but brought its tally up to a very impressive $56.9 million.

Overall this weekend, box office was pretty much on par with last year when LOTR: The Two Towers dominated proceedings. Box office for the first weekend in 2003 came in at $104.4 million. 2004 got off to a slightly better start with $114.8 million, 12% ahead of last year's haul.
Top Ten for Weekend of January 2-4, 2004

Rank

Film

Number of Sites

Change in Sites from Last

Estimated Gross ($)

Cumulative Gross ($)

1

The Lord of the Rings: Return of the King

3,703

No change

28.2

290.4

2

Cheaper by the Dozen

3,307

+9

21.6

85.6

3

Something's Gotta Give

2,808

+99

11.7

81.2

4

Cold Mountain

2,216

+53

11.6

43.7

5

Paycheck

2,762

No change

9.8

38.6

6

Peter Pan

2,813

No change

8.8

34.2

7

Mona Lisa Smile

2,714

+39

8.3

50.0

8

The Last Samurai

2,401

-156

7.4

90.0

9

Calendar Girls

745

+703

4.4

7.0

10

Bad Santa

1,710

No change

2.9

56.9

11

Stuck on You

2,064

-336

2.8

30.7

12

Big Fish

125

+1

2.5

8.5