A Box Office Weekend to Forget
John Hamann's Weekend Wrap-Up
February 3, 2002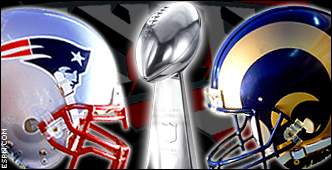 For the second week in a row, there are suprises in the top 10 no one expected. The Super Bowl hit this weekend, and that was enough to keep the two new releases out of the top 10 this weekend. Snow Dogs, the $33 million dollar investment for Disney continues to reap benefits, and looks like it will continue to reap those benefits for a few more weekends to come. But what happened to the two new films this week, Slackers and Nicole Kidman's Birthday Girl?
For some reason, The Superbowl didn't hit the box office all that hard this year. Black Hawk Down, the war movie from Ridley Scott managed to hold on as the number one film this weekend, it grossed an estimated $3.6 million on Friday night, good for the number one spot at the box office. However, like last week with the NFC and AFC Championship games, the weekend estimates do not support the theory that the Superbowl would cut Black Hawk Down off at the knees, letting films with a higher female audience percentage climb the chart closer to the top. It is a complete surprise that A Walk To Remember didn't finish higher, along with A Beautiful Mind. Because Sunday numbers are estimated, the studios are forced to guess how their films were affected by Super Bowl weekend. Check back tomorrow for actual numbers to see what really happened this weekend. New releases this weekend were dumped; Birthday Girl got zero support from its studio until reviews started to come in, and Slackers was picked up from the defunct studio Destination Films, which must have seen this Slacker of a film coming.
Even with the Super Bowl capturing a large part of its audience on Sunday, Black Hawk Down will hang on as the number one film this week, unless estimates are way off. After botching the estimate last week, Sony is reporting a gross this weekend of $11.5 million, down 32% from last weekend's gross of $17.01 million. The estimated Friday figure this week was $3.6 million, also down 32% from last weekend. BHD gained another 42 screens, bringing it total to 3,141, for a screen average of $3,659. The total for BHD now stands at $75.5 million on its way to $100 million.
Somehow, the number two film this weekend is still Snow Dogs. How this film manages to continue to gross big numbers is mystifying. Snow Dogs grossed $9.9 million this weekend, from a still potent 2,426 screens. The film dropped only 24%, and had a screen average of $4,034. Its total now stands at a whopping $50.8 million.
Snow Dogs is a great example of timing. Walt Disney Pictures found a great release date for this title, effectively marketed the film, and used word of mouth to carry the box office totals upward. They've done the same thing twice now in six months, as they brought The Princess Diaries to the screen this past July. The release of TPD was a similar situation to Snow Dogs - its biggest star was a non-singing Julie Andrews - but they effectively branded that title with Disney logo, put together a great marketing campaign and served it up to a hungry teen audience. These films are not cheap though. The Princess Diaries cost $30 million to make and grossed $108 million, Snow Dogs cost $33 million and has so far grossed $50.8 million.

<% sqlstr = "SELECT * FROM box WHERE" sqlstr = sqlstr + " movie like '%Max Keeble%' OR" sqlstr = sqlstr + " movie like '%Princess Diar%' OR" sqlstr = sqlstr + " movie like 'Parent Tra%' OR" sqlstr = sqlstr + " movie like 'Disney''s The Kid%' OR" sqlstr = sqlstr + " movie like 'Crazy/Beautiful' OR" sqlstr = sqlstr + " movie like 'Bubble Boy%' " sqlstr = sqlstr + " ORDER BY open DESC" max = 100 header = "Disney/Buena Vista Live Action Teen Flicks" tstyle = "release" skin = "bop" x = Drawtable(sqlstr,max,header,tstyle,skin) %>


The Count of Monte Cristo rose to third this week, grossing $9.0 million from 2,211 screens, a 214 screen increase from its debut last week. Fortunately, the increase in screens softened the blow somewhat, as Count dropped 21% this week, bringing its gross to $23.6 million. Look for the Universal release to end up with about $50 million in sales at the box office. The Count should perform well overseas, as it sports a plot based on an Alexander Dumas novel and contains stars that will have more of an appeal on foreign shores.
The next source of box office befuddlement comes from the number four film, A Walk to Remember, a film I for which I have yet to see a TV commercial. Walk managed to gross $8.79 million this weekend from 2420 screens, for an average of $3,632. What's going on here? Why does a film with no stars and extremely targeted marketing now have a gross of $23.28 million? Yes, having the pop star helps, but the religious angle is a boost as well. After estimates were high coming off last weekend, Dan Fellman, Warner Bros. distribution president, said he expected churchgoers to come out in higher numbers last Sunday. Well, maybe they decided to wait until this weekend, as Walk's percentage drop was only 28%. After missing the weekend estimate last week by $1.2 million on the high side, let's see if it's closer this week.
Fellman also spoke of how Warner Bros. met with numerous church groups throughout the US before the opening of Walk. This was clearly a smart move. Films like Omega Code and Left Behind have found strong followings at the box office and on home video. WB should win an award for counter-programming; they are tapping a hugely under-served section of the audience, at exactly the right time. Knowing that the Super Bowl would immediately follow the NFC/AFC championship this year, WB knew they'd have two weeks of clear sailing with an audience that clearly doesn't watch football.
In fifth this week is A Beautiful Mind, the Oscar-bound film from Universal Films. ABM grossed another $8.51 million this weekend, from 2,250 screens, up 15 from last weekend. After last week's miniscule drop of less than two percent, ABM dropped 26% this week, but brought its total to $104.6 million. ABM crossed the $100 million mark on Saturday, its 44th day of release. A Beautiful Mind becomes the 18th film from 2001 to cross the $100 million mark.
Landing in sixth this week is The Mothman Prophecies, the thriller from Sony. The Richard Gere/Laura Linney film grossed $7.5 million this week from 2,331 screens, a drop of 33%. It had a screen average of $3,218 and its total now stands at $21.4 million.
Moving back up the chart is Lord of the Rings, as it moves up one spot to seventh this week. The New Line release dropped another 394 screens this weekend, and only lost 16% of its audience. LOTR grossed $6.58 million this weekend from 2,309 screens. With its total gross now at $267.15 million, it's going to take an Oscar victory to get LOTR to $300 million and it will somehow have to sweep the Oscars to catch 2001's leader, Harry Potter, which has now grossed $313 million.
I Am Sam hits the eighth spot, and is slowly losing stamina as it continues along on only 1,303 screens, only up 35 venues from its impressive wide debut a week ago. This week, the Sean Penn melodrama grossed $6.54 million, dropping 21%. The total for the New Line film now stands at $17.53 million. Sam had the best venue average in the top ten, at $5,017.
Still waiting for Birthday Girl? It didn't land in the ninth spot, that went to the brainy flick Kung Pow: Enter the Fist. Kung Pow grossed $3.76 million this weekend, and miraculously has raised its total beyond $10 million, all the way to $12 million.
It is way down here in tenth that we finally get to have a look at one of the two films that opened this weekend, and its probably not the one you might think it would be. Tenth goes to the gross-out college flick Slackers, which I can sadly say I have been privy to. Slackers took $3 million away from hungry college kids in your neighborhood, robbing them of beer money. The comedy opened on 1,893 screens and had a venue average of $1,585. Slackers was once a Destination film, a now defunct studio that made some really bad movies (Bats, Beautiful, and Eye of the Beholder as a few examples), but was picked up by Sony Screen Gems. Check out the chart below for the car accident that was Destination Films.

<% sqlstr = "SELECT * FROM box WHERE" sqlstr = sqlstr + " movie like 'Bats' OR" sqlstr = sqlstr + " movie like 'Beautiful' OR" sqlstr = sqlstr + " movie like 'Eye of the Beholder' OR" sqlstr = sqlstr + " movie like 'Thomas and the %' " sqlstr = sqlstr + " ORDER BY open DESC" max = 100 header = "Destination Films" tstyle = "release" skin = "bop" x = Drawtable(sqlstr,max,header,tstyle,skin) %>


Cinemascores were much better than I thought they would be for Slackers. Only women over 35 gave Slackers an F - the under 34 crowd of course liked it much more giving B and B-'s. The average turned out to be a C+, which in my opinion, stands for Crap in Cinemascore land.
Tied for tenth was the other teen/college flick OC. Orange County also grossed $3 million this week, bringing the total for the Jack Black comedy to 37.92 million. Finally in twelfth spot is the new release from Nicole Kidman and Miramax, Birthday Girl. Counter-programming didn't work here as Birthday Girl gathered only $2.5 million from 1,000 screens, for an obvious screen average of $2,500, good for 9th this week in terms of screen average. Miramax really fumbled the release of this film. They seemed to make a firm decision to not take advantage of the roll that Nicole Kidman seems to be on following Moulin Rouge and The Others. One might think the film was awful the way the promotional push was going, but the film scored well at RottenTomatoes, receiving the rotten rating, but still had more positive ratings than negative (35 positive vs. 31 negative). It will be interesting to see where Miramax takes this release from here. It is now nine days until the Oscar nominations are announced, so Birthday Girl won't have the crutch of a potential Kidman nomination until BG's third week of release.
Brotherhood of the Wolf continues to play well on a small number of screens, which increased to 393 this weekend. Wolf scored $1.8 million this weekend, for a venue average of $4,580.
Overall, this weekend was much better than last year's Super Bowl weekend. In 2001, the counter-programming was The Wedding Planner, starring Jennifer Lopez, and the teen comedy Sugar and Spice. That year, the top 12 grossed $72.334 million vs. the Super Bowl, while this year vs. the big game, the box office made off with $80.557 million, an increase of 11.4%. Compared to last weekend in 2002, box office was down 26.9%.
Next weekend is big business as two bumped films take on Frankie Muniz from Malcolm in the Middle. Arnie's Collateral Damage faces off with MGM's troubled word of mouth action pic Rollerball, and Frankie Muniz's Big Fat Liar.
Top 12 for Weekend of Feb 1-3

Rank

Film

Number of Sites

Change in Sites from Last

Estimated Gross ($)

Cumulative Gross ($)

1

Black Hawk Down

3,143

+42

11.50

75.50

2

Snow Dogs

2,454

+14

9.90

50.80

3

The Count of Monte Cristo

2,211

+204

9.00

23.60

4

A Walk To Remember

2,420

+9

8.79

23.28

5

A Beautiful Mind

2,250

+13

8.50

104.60

6

The Mothman Prophecies

2,331

No Change

7.50

21.40

7

The Lord of the Rings: The Fellowship of the Ring

2,309

-394

6.58

267.15

8

I Am Sam

1,303

+35

3.76

17.53

9

Kung Pow: Enter the Fist

2,475

-3

3.76

12.00

10 (tie)

Slackers

1,893

New

3.00

3.00

10 (tie)

Orange County

2,225

-92

3.00

37.92

12

Birthday Girl

1,000

New

2.50

2.50