Daredevil Vaults Over Old School
John Hamann's Weekend Wrap-Up
February 21-23, 2003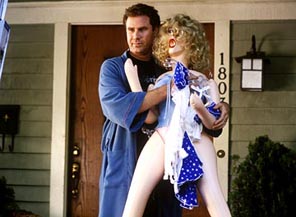 It was comedy versus comic book at the box office this weekend as Old School faced off against Bennifer's Daredevil over the post-President's/Valentine's Day weekend. Would men be unleashed after Valentine's Day to attend these male driven flicks? New on the slate this weekend were a slew of male-driven features; in addition to Old School, we had Dark Blue, a new cop movie with Kurt Russell, Gods and Generals, the four-hour long Civil War epic and The Life of David Gale, Kevin Spacey's comment on the death penalty. It's no wonder How to Lose a Guy in 10 Days and Chicago are doing so well.
The February 21st - 23rd weekend brought four new releases to moviegoers, the most at one time so far in 2003. My thinking is that a few of the flicks released this weekend were meant for last weekend's calendar, but they scurried to avoid a matchup with Daredevil. It could also signify that the end of February draws near, that the winter of moviegoing is upon us, and spring won't happen until the 3rd of May, when X2 (the sequel to X-Men) opens. Last year, the winter of moviegoing brought only a few good large-budget films like When We Were Soldiers, Ice Age and The Rookie, until Spiderman opened on May 3rd. What looks good for winter this year? The Hunted, with Tommy Lee Jones might work, Willard with Crispin Glover looks nutty, Anger Management with Jack and Adam Sandler will certainly work - at least for a weekend, and Bulletproof Monk with Chow looks fun. That's four decent-looking movies over the next nine weeks. There could be more, of course, and hopefully we will get some surprises over the next two months, but it is still a long time until the moviegoing summer is on us.
I think most people thought that Daredevil wouldn't have a problem repeating this weekend in the number one spot, after a four-day gross last weekend of $45 million. It was much closer than expected, but top spot this weekend does go to last week's champ, Daredevil. After whipping How to Lose a Guy by about $25 million last weekend, its lead over the rom-com dropped to only $7 million this weekend. As predicted, the 20th Century Fox event picture lost a large portion of its audience base; when comparing Daredevil's three-day gross last weekend against this weekend's gross, the flick dropped 53%. Daredevil grossed only $18.9 million from 3,471 venues (782 more than Old School), which equated to a screen average of $5,443. Maybe Ben should have moved his wedding to J-Lo up to this weekend, and televised it live on Fox. So far, Daredevil has made $70.3 million, and if Daredevil doesn't prop up its percentage drop next weekend, it will have trouble making it to $100 million.
In second spot is DreamWorks' Old School. Director Todd Phillips returned from 2000's Road Trip, and brought his lucky charm with him. Old School grossed $17.5 million from 2,689 venues, giving the late-stage fratboy comedy a fantastic venue average of $6,512. Old School had a slightly better opening weekend than Road Trip, as RT opened to $15.5 million on its way to $68.5 million, against a cost of only $16 million. For DreamWorks, Old School is key, as their first outing in 2003, Biker Boyz, was a disaster, spending only two weeks in the top ten. With only five scheduled releases in 2003, and three of them coming before May, DreamWorks needed Old School to work, and it did.
Even with the big "R" rating (director Todd Phillips is credited at IMDB as "Gang Bang Guy"), who is Old School marketed towards? The under-21 club, of course, and who, according to Cinemascores, liked this film the most? Do I really need to say it? Cinemascores were somewhat kind toward Old School this weekend, the aforementioned under-21 males gave the film an A, which is great news for DreamWorks, but scores fell after that. All other sectors under the age of 34 gave the film a B+, but then predictably, scores fell to C and C+ for the over-34 crew. Critically, Old School is a knock down surprise. Of the 95 critics reviewing the film, a whopping 57 gave the film a positive review, giving the comedy a fresh rating of 60%. Can that even be possible? For Old School, I'd expect at least Road Trip results box office wise, and they could even be better if word of mouth gets out to the segment of the population that wouldn't normally see this film.
<% sqlstr = "SELECT * FROM box WHERE" sqlstr = sqlstr + " movie like 'Road Trip' OR" sqlstr = sqlstr + " movie like 'American Pie' OR" sqlstr = sqlstr + " movie like 'American Pie 2' OR" sqlstr = sqlstr + " movie like 'Tomcats' OR" sqlstr = sqlstr + " movie like 'National Lampoon''s Van Wilder' OR" sqlstr = sqlstr + " movie like 'Night at the Roxbury, A'" sqlstr = sqlstr + " ORDER BY open DESC" max = 100 header = "Old School Related Comedies" tstyle = "release" skin = "bop" x = Drawtable(sqlstr,max,header,tstyle,skin) %>

Third spot this weekend goes to How to Lose a Guy in 10 Days, the romantic comedy from Paramount Pictures. With last Friday being Valentine's Day, one would have to expect a large drop from the film this weekend. Lose A Guy dropped a not-that-bad 36.5% compared to last weekend's Friday-to-Sunday gross, pulling in $11.9 million from 2,923 venues. It had an average of $4,064. After Friday's grossed were counted, Lose A Guy and Daredevil were virtually tied in terms of cumulative gross at $57.7 million. After Daredevil's drop this weekend, it will be interesting to see which of these films comes out on top. Lose A Guy's total after the weekend has now hit $64.9 million, with $100 million not completely out of the question.
Fourth spot goes to The Jungle Book 2. The retread scored $8.6 million, holding very well with only a 25% drop compared to last weekend. It has now grossed $25.1 million.
Fifth goes to Oscar fave Chicago, which added 87 screens this weekend to pull its venue count up to 2,355. The slight venue increase seems to have helped its hold this weekend, as the Rob Marshall-directed musical grossed $8.5 million in its ninth weekend of release. Chicago dropped 33% compared to last weekend's holiday inflated three-day frame, and now has a sparkling total of $94.4 million. Chicago will cross the $100 million mark next weekend.
In sixth we have Kevin Spacey's The Life of David Gale, from Universal Films. To my eye, it looked like Universal was unsure how to market this picture, and the result was a $7.2 million open from 2,002 venues. Life of David Gale had a venue average of $3,581. Critics were kinder to Old School than David Gale, as critics tore into this one due to its manipulative tendencies. David Gale is the first wide release of 2003 for Universal, which looks to have a busy year ahead. U's next three films are huge - Jim Carrey's Bruce Almighty is next up towards the end of May, 2 Fast 2 Furious hits June 6th, and they followed up with The Hulk on June 20th.
Shanghai Knights lands in seventh this weekend with a gross of $6.4 million. Touchstone Releasing had to have higher hopes for Knights than its current total of $44.4 million reflects - sequel, big name stars in an action movie, yet it's struggling to gross $50 million. It cost the studio $50 million to make this one, probably $70 million with marketing. However, this film will probably gross at least another $40 million internationally, so a third film in the series may not be completely out of the question.
Eighth spot goes to Ted Turner's 216-minute epic Gods and Generals, a cinematic gamble that isn't going to pay off. Gods and Generals grossed $4.8 million from 1,533 venues, giving it a first weekend screen average of only $3,118. Turner personally put up the $60 million cost of the Civil War epic, and all he's going to end up with is egg on his face. It has been speculated that Turner quit Time Warner because WB wouldn't give Gods a wide release in December so that it could qualify for Oscars. This seems odd due to the critical drubbing the film is receiving. RottenTomatoes gathered 80 reviews, and could only find seven positive for an ugly 9% fresh rating. Sorry Ted.
Our last new release of the weekend, Dark Blue, takes the ninth spot, as the United Artists flick was lost on moviegoers. Dark Blue could only manage $3.8 million from 2,176 venues. Cinemascores were the worst of the new release batch, its highest rating was a B from males under 21, and sunk as low as a C for females of the same group. Critically, the Kurt Russell pic fared much better. RT counted 43 positive reviews from a possible 85, for a 51% fresh rating.
Tenth goes to The Recruit, the Al Pacino/Colin Farrell CIA flick. The Recruit managed $3.5 million in its fourth weekend of release. The Buena Vista flick has amassed $44.4 million.
Out of the top ten this weekend are Final Destination 2, Deliver Us From Eva, Kangaroo Jack (woohoo!), and The Hours. The only flick up for release next weekend is Cradle 2 The Grave, which will most likely suck, but will also most likely do very well at the box office. For information on flicks coming up in March, visit BOP's release schedule.
The total estimates for the top ten came in at $91.1 million, 14% ahead of last year's estimates, which came in at $78.3 million. Last year, Queen of the Damned was the top movie at the box office, as it grossed $15.2 million.
Top 12 for Weekend of February 21 - 23, 2003

Rank

Film

Number of Sites

Change in Sites from Last

Estimated Gross ($)

Cumulative Gross ($)

1

Daredevil

3,474

+3

18.9

70.3

2

Old School

2,689

New

17.5

17.5

3

How to Lose a Guy in 10 Days

2,923

No Change

11.9

64.9

4

The Jungle Book 2

2,815

+7

8.6

25.1

5

Chicago

2,355

+87

8.5

94.4

6

The Life of David Gale

2,002

New

7.2

7.2

7

Shanghai Knights

2,526

-229

6.4

44.4

8

Gods and Generals

1,533

New

4.8

4.8

9

Dark Blue

2,176

New

3.8

3.8

10

The Recruit

1,678

-658

3.5

44.4

11

Final Destination 2

1,518

-720

2.9

40.8

12

The Hours

1,010

+7

2.4

30.0