Denzel Beats Bruce and Arnie;
Britney Scores
John Hamann's Weekend Wrap-Up
February 18, 2002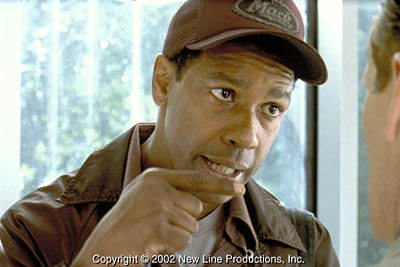 The long weekend in the U.S. brought out five new films that had varied results, from surprisingly good to surprisingly bad. Denzel Washington's John Q was the number one film this week, beating big-budget, star-driven vehicles from Bruce Willis and Arnold Schwarzenegger. Denzel Washington is hot with an Academy Award nomination for Training Day, which certainly didn't hurt the opening weekend of John Q. But it was Britney Spears who surprised, following more on the heels of the Spice Girls than Mariah Carey and her Glitter.
Denzel Washington's John Q was the top dog this week, grossing $24.05 million over the President's Day long weekend. The hospital thriller debuted at 2,466 venues, and had an average of $9,752, the best in the top ten. John Q is Denzel's third $20 million plus opening following Remember the Titans and Training Day. After tough times in the late 90's with films like The Siege and The Preacher's Wife, Denzel seems to have found his niche in the intense adult drama genre, opening films that aren't extremely commercial.

<% sqlstr = "SELECT * FROM box WHERE movie like '%Training Day%' OR movie like '%Remember the Titans%' OR movie like '%Hurricane, THE%' " sqlstr = sqlstr + " OR movie like '%Bone Collector%' OR movie like '%He Got Game%' OR movie like 'Fallen' " sqlstr = sqlstr + " OR movie like '%Preacher''s Wife%' OR movie like '%Courage Under Fire%' ORDER BY open DESC" max = 100 header = "Denzel Washington Films" tstyle = "release" skin = "bop" x = Drawtable(sqlstr,max,header,tstyle,skin) %>

The much talked about teen flick, Crossroads, the movie debut of Britney Spears, opened strong in number two this week, grossing $17.00 million from 2,380 screens. For the sixth weekend in a row, films aimed at the 10-18 age group have performed extremely well, with Crossroads close to the top in terms of opening weekend. The venue average for the flick was $7,143. The budget for Crossroads was a sparse $10 million, so all parties should be pleased with Britney's first foray into the movies.
How front-loaded was Crossroads this weekend? The reported Friday number for the Paramount flick was $5.11 million, so it had an internal four-day weekend multiplier of 3.33. Often, film companies can tell if their film will have legs or not based on that internal multiplier. Drop-off from Friday to Saturday can mean bad things for a film's box office legs, especially when referring to the school set. Crossroad's multiplier should have been a lot higher than the usual 3.5 for a teen flick, as the long weekend's Sunday is treated as a Saturday because of the Monday holiday.
Paramount is on a bit of a roll. As they did in 2001 when the studio got off to a great start by releasing the hit teen flick Save the Last Dance, they've started well again in 2002 with two teen flicks - Britney's Crossroads, and the already come and gone Orange County. Paramount has a big year coming up with The Sum of All Fears, Harrison Ford's K-19: The Widowmaker and the next installment in the Star Trek franchise.

<% sqlstr = "SELECT * FROM box WHERE movie like '%Orange County%' OR movie like '%Jimmy Neutron%' OR movie like '%Rat Race%' " sqlstr = sqlstr + " OR movie like '%Tomb Raider%' OR movie like '%Save the Last Dance%' OR movie like '%Along Came a Spider%' " sqlstr = sqlstr + " OR movie like '%Snow Day%' ORDER BY open DESC" max = 100 header = "Recent Paramount Releases" tstyle = "release" skin = "bop" x = Drawtable(sqlstr,max,header,tstyle,skin) %>

Third spot went to another opener, Return to Neverland, from the Disney Machine. The Peter Pan sequel grossed an eye opening $16.10 million this weekend from 2,605 screens. Disney recycled another old title for profit this weekend, as the animated film had a venue average of $6,180. Neverland beat last year's President's Day offering from the studio, Recess: School's Out, which grossed $13.45 million from 2,624 screens. In 2000, Disney released The Tigger Movie the weekend before President's Day, and that film grossed $9.43 million in its first weekend. Neverland got better reviews and Cinemascores than expected, so it will be interesting to see how the sequel to the animated classic holds up in the upcoming weeks.

<% sqlstr = "SELECT * FROM box WHERE movie like '%Recess%' OR movie like '%That Darn%' OR movie like '%Tigger%' " sqlstr = sqlstr + " OR movie like '%My Favorite Martian%' ORDER BY open DESC" max = 100 header = "Disney loves February" tstyle = "release" skin = "bop" x = Drawtable(sqlstr,max,header,tstyle,skin) %>

This weekend helps to prove the box office fallacy that reviews have an effect on opening weekend box office. None of the films opening this weekend were well received by critics, and the openers garnered mixed reviews at best were relegated to the bottom of the opener pile. John Q, the number one film, received only 14 positive reviews out of a possible 71 at Rottentomatoes.com. The number two film, Crossroads, had only five positive reviews out of 61. Hart's War, the film that will be considered the flop out of the group, scored the best with 42 positive and 32 negative reviews. In terms of Cinemascores, audiences loved John Q (avg. A) and Return to Neverland (avg. A), but were mixed on Crossroads (avg. B) and Hart's War (avg. B).
Surprising in fourth spot was Universal's Big Fat Liar. The Frankie Muniz comedy grossed $11.87 million, pretty much flat compared to last weekend's second place $11.5 million. Universal really picked up the marketing going towards BFL's second weekend of release. Playing on 2,535 screens, Big Fat Liar had a great screen average of $4,682. Is Big Fat Liar playing even younger than expected? Last weekend, Nicci Rocco, the distribution president for Universal Pictures, said that "Probably 60% of the audience was under 13." Whatever the target for BFL, the film is playing broader than expected. With a cost of only $15 million, this is another huge coup for Universal, considering they have two questionable titles that might not perform to expectations: Dragonfly, opening next week, and The Scorpion King, coming in April. Big Fat Liar now has a gross of $25.4 million, on its way to a possible $50 million.
Fifth spot went to the Oscar nominated A Beautiful Mind. Using the nomination bounce, ABM grossed $9.72 million this weekend from a still very potent 2,065 venues. The film was up compared to last weekend's gross of $6.30 million thanks to the eight nominations it received from the Academy, including a Best Picture nomination. This weekend's gross brought the film's total to $126 million. It will gross $175 million easy with a Best Picture win.
Dropping five spots to sixth is Arnold's Collateral Damage. The aging action star's film was down from its opening gross of $15 million, even with the help of the fat Sunday and holiday Monday this week. The film grossed $9.91 million over the four day frame, bringing the total to $29.4 million. Look for the Warner Bros. film to end up with about $45 million.
Seventh spot went to the Bruce Willis star vehicle Hart's War. The four-day gross for the war pic was $9 million from 2,459 screens, for a venue average of $3,660. This makes two disasters in a row for MGM, who last week opened Rollerball to $9 million. Rollerball didn't even manage to make the chart this weekend, landing in thirteenth. With no budget data available, its hard to estimate how big of a disaster Hart's War is. Nevertheless, with a $10 million dollar shoot in Prague, and a big salary for Willis, the budget must be in the $40-50 million range. The studio will be lucky to recoup $25 million of that domestically.
Next up for MGM is unfortunately Deuce's Wild, a film with worse word of mouth than Rollerball. Deuce's Wild, which stars Steven Dorff and Faruza Balk, has been on the shelf for nearly two years. Other than the upcoming James Bond flick and John Woo's Windtalkers, MGM has little in terms of hot upcoming product.

<% sqlstr = "SELECT * FROM box WHERE movie like '%Rollerball%' OR movie like '%Bandits%' OR movie like '%Original Sin%' " sqlstr = sqlstr + " OR movie like '%Ghost World%' OR movie like '%Legally Blonde%' ORDER BY open DESC" max = 100 header = "Recent MGM Releases" tstyle = "release" skin = "bop" x = Drawtable(sqlstr,max,header,tstyle,skin) %>

Eighth this week went to Black Hawk Down, which failed to receive an Academy Award nomination for Best Picture. Combine that with a loss of 814 screens and one would figure BHD to lose a healthy portion of its audience. It didn't. BHD grossed $7.4 million from 2,150 screens, compared to a three-day total of $8 million last week. For the three-day portion of the weekend, BHD was only off 23%. The total for this war flick stands at an excellent $96.6 million and should cross $100 million next weekend.
A surprise ninth this week goes to the Fox Searchlight pickup Super Troopers. The oddball comedy grossed $7.28 million from only 1,778 venues this weekend, for a great average of $4,094. Fox Searchlight picked up this wacky comedy at the 2001 Sundance Film Festival for a mere $3-5 million dollars. They spent a fortune on TV and print for this broad comedy, but it looks like it was well worth the investment. It will be interesting to see if Fox Searchlight decides to expand the venue count in upcoming weeks.
Snow Dogs, the phenomenon from Disney, made the most of the holiday weekend's Saturday and Sunday, grossing $7 million, good for tenth spot in the top 10. The film now has a staggering total gross of $68.4 million, on its way to $80 million.
Next weekend, Warner Bros. releases the probably awful Queen of the Damned, and Universal sends out Dragonfly with the cursed Kevin Costner. Check BOP's release chart for more information.

Top 10 for Weekend of February 15-18

Rank

Film

Number of Sites

Change in Sites from Last

Estimated Gross ($)

Cumulative Gross ($)

1

John Q

2,466

New

24.05

24.05

2

Crossroads

2,380

New

17.00

17.00

3

Return to Neverland

2,605

New

16.10

16.10

4

Big Fat Liar

2,534

+3

11.87

25.40

5

Collateral Damage

2,824

No change

9.91

29.40

6

A Beautiful Mind

2,081

-139

9.72

126.00

7

Hart's War

2,459

New

9.00

9.00

8

Black Hawk Down

2,150

-614

7.40

96.60

9

Super Troopers

1,778

New

7.28

7.28

10

Snow Dogs

2,286

-168

7.00

68.40