Barbershop Cuts Miracle Down
John Hamann's Weekend Wrap-Up
February 8, 2004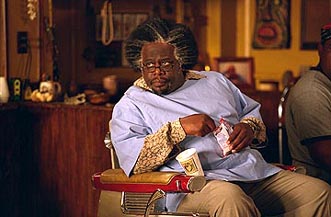 The box office regained its health this weekend, as three distinctly different new films vied for their share of a large box office pie. Disney's Miracle, MGM's Barbershop 2 and Fox's Catch That Kid opened, with two performing admirably, and one barely registering a blip on the box office radar.
Ice Cube's Barbershop was a hit that came out of nowhere in September 2002. The MGM film took in a surprise $20.6 million over its first three days before going on to gross $75.8 million. MGM, a studio never shy about "sequelizing" its winners, comes out with a follow-up not two years past the original's release date. Barbershop was also huge on home video and DVD, so the crossover potential for the sequel was huge, as long as MGM sold it right. The studio spent $30 million on the sequel, more than twice what was spent on the original, as it had a minor league budget of $12 million. Heading in, MGM had to be once bitten, twice shy with the Barbershop, as their much hyped sequel to their uber-hit Legally Blonde disappointed at the box office last summer. The first Legally Blonde opened to $20.4 million, with the sequel's opening weekend coming in similarly at $22.2 million over the last July 4th weekend. Would the Barbershop franchise suffer the same fate?
The answer to that question is yes and no. Barbershop 2: Back in Business is the number one film of the weekend, but the $25.1 million opening, while great for February, isn't far off the original's $20.6 million opening. MGM opened the film much wider than the original, throwing the film out to 2,711 venues versus the 1,605 the first film enjoyed. Barbershop 2 had an opening weekend venue average of $9,259 - well away from the original's first weekend average of $12,852. With the built-in audience, a wider release, and a soft box office the weekend before, shouldn't Barbershop have opened bigger? One could make an argument for Barbershop overload, but I think the correct defense is that it is the slow box office month of February, and a large portion of the opening weekend audience (and the crossover potential) went to Disney's Miracle, which posted strong numbers in second this weekend. Barbershop is not Legally Blonde 2 - there is no disappointment here - the difference being that Barbershop 2 is reviewing a lot better than Legally Blonde 2, which should lead to successful word-of-mouth for the urban sequel. The original Barbershop had an opening-to-total multiplier of 3.67, and even if the sequel's mult slips to 3.5, MGM is still looking at a total gross in the $75-85 million range, not bad against a production budget of $30 million.
Second spot goes to Disney's latest sports movie, Miracle, with Kurt Russell, who was in desperate need of a hit. Miracle grossed an inspired $19.4 million over the February 6th - 8th weekend from 2,605 venues, good for a screen average of $7,464. A great ad campaign from Disney made Miracle a success; they used a great mix of patriotism and the "exciting sports movie" theme to sell this to a wide range of moviegoers, and the plan worked perfectly. The opening weekend gross is almost twice that of the biggest Mighty Ducks movie (D2 opened to $10.4 million), and well ahead of The Rookie (open $16 million), Disney's baseball movie that has re-invented the sports film. Surprisingly, Miracle is right on target with Seabiscuit ($20.9 million open), the expensive horse racing film that debuted in July 2003 behind a huge ad campaign from Universal and its partners. Miracle's charm could give it legs like Seabiscuit, which made about six times its opening weekend gross, but the February release may hinder its chances. Miracle is actually reviewing better than Seabiscuit (80% fresh for Miracle versus 79% fresh for Seabiscuit), and is a little more family-oriented than the horse racing film. Miracle cost Disney about $60 million to make, a figure the hockey movie should have no problem overcoming.
Finishing in third this weekend is last weekend's winner, the hip-hop film You Got Served. The film that came out of nowhere dipped a large 52% (which is actually better than expected considering the competition from Barbershop 2), pulling in $7.7 million in its second weekend. Even with the huge drop-off, You Got Served is a big, big hit for Screen Gems. The film cost the studio only $8 million to make, and it has now made more than three times its production budget back after only two weekends. The total for the movie now sits at $26 million, with at least another $15 million still to come in.
Fourth spot goes to the film that will not die, Along Came Polly. The Universal flick spent its fourth straight weekend in one of the top four spots at the box office, pulling in $7 million. The Ben Stiller/Jennifer Aniston film dipped 25% this weekend, but brought its total gross up to a remarkable $75.2 million, despite tepid reviews and questionable word-of-mouth. Up next for Universal is their remake of Dawn of the Dead, which debuts in March. They could have called Polly Dawn of the Dead, but that's an argument for another time.
New Line's The Butterfly Effect winds up in fifth, as the Ashton Kutcher thriller begins to slip a little. Butterfly grossed $6.7 million this weekend, down 30% from the previous frame. The film now has a $41.5 million gross against a production budget of only $13 million, making it another big win for New Line.
Way down in sixth is newcomer Catch That Kid from 20th Century Fox. Catch That Kid had the perfect weekend for release, as there was little kid competition. What Fox may have not seen coming was Miracle, which probably cost Catch any chance it had at a top three finish this weekend. Catch That Kid posted a weak opening weekend gross of $6 million from 2,844 venues (the second largest count in the top ten). The film had a venue average of $2,118, which says to me they should have put more money in advertising and saved on the print cost. The saving grace for Fox is that Catch That Kid was made on the cheap, as it cost the studio only $18 million to make, so once again, a big screen release may work as advertising for DVD sales.
Seventh this weekend is Lord of the Rings: Return of the King. The Oscar fave continues to shine despite its huge gross, as the third film in the series continues to draw either new or repeat business. Return of the King grossed $4.4 million (down only 18%) in its eighth weekend, bringing its total up to $351.2 million. Its next goal is to pass Jurassic Park's $357 million gross, a feat it should accomplish in the next ten days.
Mystic River, Clint Eastwood's latest attempt at a Best Picture win, finishes in eighth place. River grossed $3.5 million this weekend, down a small 19% from the previous frame. The little film that could has now grossed a stellar $69.8 million.
Ninth is Charlize Theron in Monster, a film that is making its debut in the weekend box office top ten. Monster made $3.5 million this weekend from only 890 venues, giving it the fourth best average in the top ten at $3,939. The Newmarket release cost only $6 million to make and has now made more than twice that, as its total sits at $15.3 million, with more to come.
Pulling up in tenth for the second weekend in a row is Miramax's Cold Mountain. The Jude Law/Nicole Kidman flick grossed $3.2 million in its seventh weekend of release, down 20% from last weekend. Its total now sits at a comfortable $82.9 million.
Overall, box office is much improved over last weekend, but is still struggling to meet totals from a year agi. Top ten estimates this weekend came in at $86.7 million, yards ahead of the $68.4 million generated last weekend, but 10% behind last year's big time totals of $96.3 million.
Estimates seem extremely optimistic, so be sure to check back to BOP tomorrow for our analysis of final weekend numbers.
Top Ten for Weekend of February 6-8, 2004

Rank

Film

Number of Sites

Change in Sites from Last

Estimated Gross ($)

Cumulative Gross ($)

1

Barbershop 2: Back in Business

2,711

New

25.1

25.1

2

Miracle

2,605

New

19.4

19.4

3

You Got Served

1,943

+10

7.7

26.0

4

Along Came Polly

2,958

-94

7.0

75.2

5

The Butterfly Effect

2,519

-86

6.7

41.5

6

Catch That Kid

2,844

New

6.0

6.0

7

The Lord of the Rings: Return of the King

1,878

-378

4.4

351.2

8

Monster

892

-224

3.5

15.3

9

Mystic River

1,370

No change

3.5

69.8

10

Cold Mountain

1,917

-583

3.2

82.9

11

Big Fish

1,617

-663

3.2

59.7

12

The Perfect Score

2,208

No change

3.0

8.6